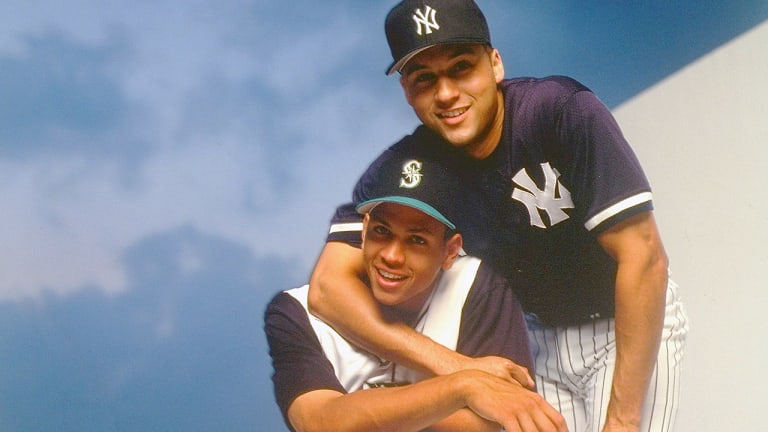 Long On Shortstops
The Yankees' Derek Jeter is part of a rich crop of young players who are redefining the position
Measuring Derek Jeter, the 1996 American League Rookie of the Year, against Alex Rodriguez, the league's batting champion, is as unavoidable for the foreseeable future as it is on this February night inside the steamy cinder block gymnasium at the Boys Club of Miami. "Let's see what you've got," Rodriguez says to Jeter, his friend and foil. Dressed in jeans and leaning on the bleachers, Jeter is reluctant to take the court. He came here only to watch Rodriguez in one of his regular pickup basketball games, which ended abruptly in its second hour after a hard foul ignited three fistfights, none of which involved the Seattle Mariners shortstop.
Jeter cannot resist the challenge. "All right, Al," he says. The shortstop of the world champion New York Yankees grabs a ball and starts draining jump shots. Within a minute or two, Rodriguez and Jeter are battling each other in a slam-dunk version of H-O-R-S-E. The 6'3", 185-pound Jeter stands flat-footed about four feet from the basket, takes two short steps and easily power slams the basketball--blue jeans be damned. Rodriguez, 6'3" and 205 pounds, matches that move, but he gets less height on his jump than Jeter does. Rodriguez then stands at the foul line, throws the ball down so that it bounces off the floor and then the backboard, before he catches it and jams it in one vicious swoop. On his first two attempts Jeter fails to get the proper bounce. His third try is only slightly better, and he is left too far from the rim to throw the ball down. "I've got to go," Jeter says, mindful of his flight home to Tampa.
"C'mon with me to New York, DJ," Rodriguez says. He has been trying all evening to persuade Jeter to fly with him the next morning to an awards show, having failed at dinner with his A material: "Cindy's going to be there. Cindy Crawford!"
Jeter insists on leaving, but before he does, he walks to the corner of the court, placing his heels where the sideline meets the baseline. He heaves a 25-foot jumper. It goes in.
There are many nights on which Rodriguez and Jeter--playing in sold-out ultramodern ballparks around the country--demonstrate why they are state-of-the-art shortstops, possessing an unprecedented combination of size, speed, power and agility at what historically has been a little man's position. In front of about six people at the Boys Club of Miami, this, too, is one of those nights.
With Cal Ripken Jr. pushed to third base and Ozzie Smith and Alan Trammell to retirement, there remains only one active shortstop who has started an All-Star Game: Barry Larkin of the Cincinnati Reds, and he turns 33 in April. Fear not for the most crucial position in baseball, though. The best crop of young shortstops to come along in 56 years--and the most multitalented group ever--already is redefining the position and putting a fresh face on the game.
This week, as most players report to spring training, at least nine teams plan to start a shortstop who is either no older than 23 or has no more than one full season of major league experience. Nomar Garciaparra and Tony Batista, a pair of 23-year-olds who battered Triple A pitching last season before being promoted to the majors, are expected to replace veterans as starters for the Boston Red Sox and the Oakland A's, respectively. Benji Gil, 24, a sparkling fielder who missed virtually all of last year because of a back injury, returns as the Texas Rangers' shortstop. Mark Grudzielanek, a late bloomer who turns 27 in June, has a hold on the Montreal Expos' job after his breakout .306 season last year.
At the head of the class are five others who are already setting standards at the position: Rey Ordonez, 24, of the New York Mets, an acrobat in spikes; Edgar Renteria, 21, of the Florida Marlins, a .309 hitter last season with more range than Cecilia Bartoli; Alex Gonzalez, 23, of the Toronto Blue Jays, who hit 14 home runs and successfully handled more fielding chances per nine innings than any other regular shortstop in '96; and Rodriguez, 21, and Jeter, 22, the only shortstops who started 140 games and hit .300 or better with at least 10 home runs last season. Those two are the prototypes of the new generation of shortstops. "I'd love to make an All-Star team," Gonzalez says, "but with these two guys around, it's going to be real hard over the next 10 or 15 years."
Not since 1941 have so many young shortstops arrived with this much potential. Of the 16 regular shortstops that year, 10 were entering their first or second full season, including three future Hall of Famers: Lou Boudreau, Pee Wee Reese and Phil Rizzuto. They epitomized the classic shortstop--short, slick fielders with limited pop at the plate. The average size of the 18 shortstops in the Hall of Fame is 5'10" and 167 pounds.
From 1942 through '73 only two shortstops debuted who would have Hall of Fame careers: Luis Aparicio and Ernie Banks. No shortstop who broke in between Banks (1956) and Robin Yount ('74) is likely to make the Hall of Fame. It was a pitcher-dominated era in which defensive-oriented shortstops such as the Baltimore Orioles' Mark Belanger, a lifetime .228 hitter, carved out long careers.
"In 1966 I was one of five or six shortstops in the [Triple A] International League who were considered future stars," says Yankees scout Gene Michael, a former shortstop. "Mark Belanger, Bud Harrelson, Bobby Murcer and Gil Garrido were there, too. They called it the year of the shortstop. The only one with pop was Murcer, and he wound up in the outfield. It didn't used to matter if you could hit much."
Yount began a renaissance at the position that was carried on by Trammell (1977), Smith ('78) and the 6'4" Ripken, who in 1982 became the tallest every-day shortstop in history when he was installed there by offensive-minded Baltimore manager Earl Weaver. "Cal Ripken broke the mold," Toronto general manager Gord Ash says.
Rodriguez, who grew up in Miami with a life-sized poster of Ripken in his bedroom, represents the next level of evolution. He is Ripken with speed, not to mention more power and the ability to hit for a higher average. Try to picture Pee Wee and the Scooter staging a slam-dunk competition, and you can understand how far the position has come since 1941. Moreover, most of the top young shortstops today might not even have received the opportunity to play major league ball in '41, six years before Jackie Robinson broke the color barrier. Rodriguez's parents are Dominican. Jeter's father is black, his mother is white. Ordonez was born in Cuba, which is also the homeland of Gonzalez's father. Renteria is one of only four players born in Colombia to have reached the majors.
In 1993, 10 shortstops were playing in their first or second full season in the majors: Mike Bordick, Andujur Cedeno, Royce Clayton, Wil Cordero, Gary DiSarcina, Ricky Gutierrez, Pat Listach, Pat Meares, Jose Offerman and John Valentin. Four years later only three remain at the position with the same club: Valentin (Boston, where he is being pressed by Garciaparra), DiSarcina (Anaheim Angels) and Meares (Minnesota Twins). "There's a big difference this time," Michael says. "That group didn't have the same kind of talent this one does."
"It's cyclical," says Baltimore general manager Pat Gillick about the influx of young shortstops. "Sometimes good players at a position just come in bunches. Shortstop still places a premium on defense. We got Bordick [a free-agent pickup in December] for his defense. But more and more of these young players are turning it into an offensive position."
Rodriguez is bigger than third baseman Mike Schmidt (6'2", 195 pounds) or centerfielder Willie Mays (5'11", 187) were in their prime. Rodriguez's first full season was the best ever by a shortstop. No one who has played the position had more hits (215), more extra-base hits (91), more doubles (54), more total bases (379), more runs (141) or a better slugging percentage (.631) than he did in 1996. Rodriguez blasted 36 home runs, two less than Rizzuto hit in his career, and stole 15 bases, only seven fewer than the Scooter's single-season high. Rodriguez even committed five fewer errors (15) than Cleveland Indians shortstop Omar Vizquel, but was runner-up to Vizquel in the Gold Glove award voting. Imagine if Rodriguez had been healthy all year--he missed 15 days early in the season with a hamstring injury that never fully healed. "I played almost the whole year at about 85 percent," he says. "I expect to steal more bases this year."
Like Rodriguez, Jeter has transfixing green eyes, a tight fade haircut and physical attributes that send baseball scouts and teenage girls swooning. When Jeter allowed a 14-year-old girl to pose on his lap for a picture at a Yankees fan festival in January, the overwhelmed teen broke into a crying fit.
"We get mistaken for each other all the time," Rodriguez says. The two shortstops talk at least twice a week during the season and share each other's apartments whenever their teams meet. One difference: Jeter is a morning person, Rodriguez is not. One Saturday night last August when Seattle played in New York, Rodriguez told Jeter to wake him the next morning so he could be at Yankee Stadium for a 9:30 workout. Jeter, whose team had no early hitting practice that day, dutifully walked into Rodriguez's room, smacked him on the hip and said, "C'mon, boy. It's time to get your butt to the ballpark."
"Now that's a friend," Rodriguez says. "That's how much I trust him."
Says Jeter, "I'm Alex's biggest fan. I brag on him so much that my teammates are sick of me talking about him. Last year we talked all the time, especially early in the season. We both knew if we didn't get off to a good start, we might be shipped out."
Actually, Jeter almost didn't make it to Opening Day. With one week left in spring training Yankees owner George Steinbrenner, acting on the advice of his "baseball people," wondered aloud if Jeter was ready and whether the club should trade for an established shortstop. Manager Joe Torre thought it was too late to make such a move. The Yankees stayed with Jeter, who rewarded them by hitting .314, including .350 after the All-Star break. Jeter is not polished defensively--he needs to improve his range moving to his left--but his 22 errors last year represented a huge improvement over the 56 he made in Class A in 1993 and was much better than the 47 charged to Reese in '41. "He weighed 158 pounds when we signed him," Michael says of Jeter, "and he's continued to get bigger and better every year."
Gonzalez is another friend of Rodriguez's--they played high school ball in Miami and in the off-season go out together in search of sailfish--who brings sock to shortstop. The 6-foot Gonzalez hit the weight room after last season and added nine pounds, bulking up to 195. "My goal this year is to double my numbers in home runs and stolen bases [16]," he says.
The 6'1" Renteria added 10 pounds over the winter and is now 185, though he sheepishly admits to "the McDonald's diet." According to Marlins Latin American scouting director Al Avila, "Renteria is the type of guy who's going to hit .300 year-in and year-out while getting to the point where he should hit 10 to 15 home runs a year." On defense Renteria is so smooth that he makes difficult plays look routine. Only Gonzalez, Bordick and Milwaukee's Jose Valentin gobbled more balls per nine innings last year. "Back home I am like Michael Jordan is here," says Renteria, who was runner-up to the Los Angeles Dodgers' Todd Hollandsworth for National League Rookie of the Year. "The only games on television in Colombia are Marlins games."
The smallish Ordonez (5'9", 159 pounds), who defected from Cuba in 1993, may not be a hero in his homeland, but he's a favorite of highlight-tape editors across America's television newsrooms. His best glovework is equal to that of Ozzie Smith's. Trouble is, Ordonez also made 27 errors last year and had a lowly .289 on-base percentage. "Rey has an awful lot to learn about offensive play," says Mets manager Bobby Valentine. "He definitely made too many errors, but most of them came from not being aware of the situation, like the speed of the runner. If it were tennis, he'd have a lot of unforced errors."
Rodriguez, meanwhile, plays the position as if he studied his whole life for it. He is part of America's cable-ready generation, a satellite-fired society bombarded with games. Since he was 11 years old, Rodriguez has watched hundreds of baseball games with a critical eye, absorbing tendencies and habits of players. "When I got to the big leagues," he says, "no one had to tell me that Cal Ripken was a pull hitter or what Darryl Strawberry did with two strikes. My knowledge shortened the learning curve for me, big time."
The next great baseball hero is so young that he cannot remember Ripken playing in the 1983 World Series. "The first one I clearly remember is '84: Tigers-Padres," Rodriguez says. He is so young that only recently did he move out of his mom's house. "I had to," he says. "I didn't fit in my bedroom anymore. I had clothes hanging out of closets and stuff hanging out of windows."
It is past midnight, and Rodriguez, still clad in his basketball clothes, is sitting in the backyard of his new Miami home, an abundance of stars above him. It is a rare moment of repose. In his last week before spring training, Rodriguez will attend three awards dinners (none, alas, at which he will meet Cindy); chat up the folks at GQ about a photo spread and a Manhattan advertising firm about a milk ad campaign; do two photo shoots for national magazines and visit Ripken at his house in Maryland.
Rodriguez's home is not yet fully furnished, but displayed prominently in the foyer is a basketball autographed by another of his heroes, Magic Johnson, who redefined point guard the way Rodriguez is revolutionizing shortstop. Rodriguez grew up watching Magic and the other great basketball stars--Jordan, Bird and Barkley--enthusiastically sell their sport. Baseball stars are infamous for shirking such ambassadorship, but Rodriguez is equipped to make a difference. Is it fair to ask someone four years removed from high school to be a flag bearer? Did Pee Wee and Scooter have to worry about endorsement strategies, charitable foundations and media training while learning pitchers' tendencies and improving their footwork around the bag?
"I believe the game is just taking off," Rodriguez says, "and maybe as a group we young shortstops can help. The opportunity is there for us. Baseball always comes first, though. You're in trouble the minute you start thinking you're a media strategist or marketing guy and not a baseball player.
"I want to get better. I love it when people say that last season was a career year for me, that I can't do it again. I love to hear people say that. That's a challenge to me, a major challenge."
Rodriguez, still revving as if it were noon, walks into his den and pops a highlight tape into his VCR. A coffee-table book about Joe Montana is so worn that its cover curls perpetually open. Rodriguez is a voracious reader whose tastes run to the motivational tomes of Pat Riley and Anthony Robbins. The tape begins with a title, Alex Rodriguez. Hitting. 1996. Sitting on a kitchen chair turned backward, he faces the big-screen TV with his chin resting on his crossed arms atop the chair back. His eyes, like his house, are aglow. He is alone with his perfect, edited self. Every pitch is a swing. Every swing is a hit.