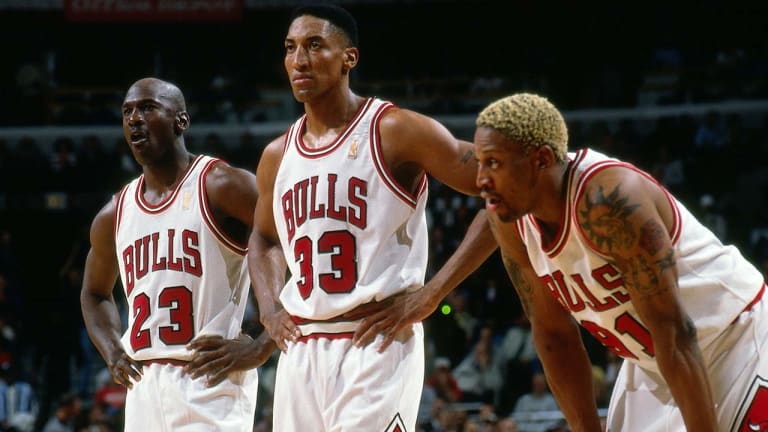 A Cut Above
More than ever it seems no team can catch the Bulls. Is that good for the NBA?
The NBA should write B.B. King a nice royalty check, because one
of his hits is the theme song for this season. The Thrill Is
Gone, baby, and it's been gone for quite a while, probably since
Michael Jordan laced 'em up in training camp. Seven weeks remain
in the regular season, but is there any reason the engravers
should not get started on the championship trophy right now?
Does anyone envision a scenario (other than an injury to Jordan)
in which the Chicago Bulls—50-7 at week's end, seven games
better than their nearest competitors, the Detroit Pistons—do
not breeze to their second straight title and their fifth of
this decade? "When the Bulls are ready to hang it up," Detroit
coach Doug Collins said a few weeks ago, "we just want to be
ready to take over for them." There's a pep talk right out of
Rockne, huh?
• MORE NBA: Tracker: Curry's Warriors vs. Jordan's Bulls
But Collins is only giving voice to what logical minds concluded
some time ago. This NBA season has been tailor-made for
narcoleptics: Fall asleep, and you won't miss a thing. In a way,
the Bulls' cold-blooded efficiency has worked against them.
While their effort to break the record for regular-season wins
was big news last year—they succeeded with a 72-10 mark—the
fact that it took them only one more game this season to reach
50 wins has largely been overlooked. There was more excitement,
more juice, connected to the Chicago crusade of 1995-96. It was
Jordan's first complete season after almost two years away, and
fans were eager to see if he was still the game's best player.
(He was.) It was Dennis Rodman's first season with the Bulls,
and fans were curious to see if he would be a cross-dressing
virus that would kill the team. (He wasn't.) And there was
belief in some quarters that the NBA's young up-and-comers, the
Orlando Magic in the East and the Seattle SuperSonics in the
West, had the guns to stop Chicago in the playoffs. (They didn't.)
There is none of that now, and the lack of a team strong enough
to challenge the Bulls is particularly disheartening for the
league. Even when the Boston Celtics were stringing together 11
championships in 13 seasons between 1957 and '69, there was
always a threat in the shadows—Bob Pettit's St. Louis Hawks or
Wilt Chamberlain's Philadelphia Warriors and 76ers. No one's
lurking this year. Chicago isn't significantly better than it
was last season, yet the gap between the Bulls and everyone else
seems wider. Seattle is running in place. Shaquille O'Neal's
move to the Los Angeles Lakers broke up the Magic. All that
seems to stand between the Houston Rockets and mediocrity is one
more injury to Charles Barkley. The New York Knicks have several
new faces but are still the good-but-not-good-enough Knicks of
past seasons. Perhaps the Lakers or the Miami Heat would look
more dangerous if not for injuries to their respective
mainstays, O'Neal and Alonzo Mourning.
At this checkpoint, then, the most intriguing question seems to
be, Is Chicago's supremacy good or bad for the NBA?
Beyond that, one wonders what will happen when the Bulls are
dominant no more, when Jordan takes to the links permanently and
coach Phil Jackson goes off to compose haiku on a mountain in
Montana. Jordan, 34, and Jackson have committed to at least one
more season, and Scottie Pippen, 31, is in the next-to-last year
of his contract. Barring an unforeseen turn of events, they will
all be back next year, and Rodman says he wants to stay in the
cast of Chicago too. But after that? Can anybody really imagine
the league without its red-and-black showpiece?
Anyone who doesn't think today's NBA is primarily a Bulls market
probably thinks Jordan is still playing outfield for the
Birmingham Barons. "People look at the Bulls like they look at a
historical landmark," says that noted historian Rodman. Don't
laugh. So utterly has Chicago bulldozed opponents that it's like
the Statue of Liberty: No one can muster antipathy toward it.
"They're a class act," Phoenix Suns forward Mark Bryant says of
the Bulls. "People love the way these guys handle themselves."
Never in NBA history—perhaps never in sports history—have
popularity and dominance so spectacularly coalesced.
"People certainly didn't have the love fest with us that they
have with Jordan and Chicago," says K.C. Jones, a member of the
Celtics dynasty of the '60s. In the '80s Boston and L.A. were
both popular and successful, but they had to share the
affection. As for the lead-dog franchise that followed them...
well, as erstwhile Detroit Bad Boy Rodman says, "When I was with
the Pistons, we were hated everywhere we went. I don't think the
Bulls are disliked anywhere in the world."
Not even in Cleveland, where anti-Bulls vitriol, directed
primarily at longtime Cavaliers tormentor Jordan, used to run
deep. Cleveland fan Joe Morford, a lawyer from suburban Shaker
Heights, took in the introductions before the Bulls-Cavs game on
Feb. 27 at Gund Arena and shook his head. "Jordan got a bigger
hand than any of the Cleveland starters, even [All-Star guard
Terrell] Brandon," said Morford.
After the Cavs pulled off a 73-70 upset, Brandon was
philosophical about Bullmania. "It's a problem when the home
fans cheer for the opposing team," he said. "But there are a lot
of part-time fans who just want to see the Bulls."
Fans like Neishal Kumar, an Alexandria, Va., teenager who says
he spent $1,000 to buy a pair of seats behind the visitors'
bench at the Washington Bullets' USAir Arena for the Feb. 21
Bulls-Bullets game. Kumar bought his tickets from none other
than superheckler Robin Ficker, who said he passed up the game
to watch his son in a high school wrestling tournament. So it's
come to this in the National Bulls Association: Taking the place
of a man who shouts insults at Jordan & Co. was a worshipful
pilgrim wearing a number 23 Bulls jersey. President Clinton was
also at the game, prompting this thumbs-down comment from
Bullets point guard Rod Strickland: "We've played [25 home]
games. He came to see Mike. He didn't come to see us." Gee, Rod,
he really wanted to catch that Bullets-New Jersey Nets classic a
week earlier, but he was busy.
Theories about the Bulls' universal popularity vary. "If you
took Jordan off that team," says former Celtics coach Red
Auerbach, "they'd be booing the crap out of them all over the
place." That from someone who, except in Boston, got the crap
booed out of him all over the place.
Another oft-booed expert, Suns coach Danny Ainge, agrees that
there are Bulls haters but not Jordan haters. "Michael is the
Muhammad Ali of the sport, the prince of basketball," says Ainge.
Denver Nuggets swingman Bryant Stith eloquently sums it up.
"People don't hate [the Bulls]," he says, "because their leader
appeals to the majority of people in the entire sports arena."
Yeah, that's what Red meant.
Jordan disagrees, though here his diplomatic instincts might be
doing the talking. "Every facet of our team has its own little
support group," says Jordan. "You have Phil's Zen followers.
Dennis has his followers. I have mine, and Scottie has his. Even
Jud [Buechler] has his. Winning brings more attention, but it
has to do with the personalities." Is there any doubt, though,
that the single fact of being a Bull has turned Rodman from an
eyesore into an icon? What might be called the Nike-ization of
the NBA is also at work here. Whatever foibles a player has,
they can be expunged or magically transmogrified into positives
through movies (Space Jam) and countless feel-good ads. When
you're a Bull, you're a champion, and when you're a champion,
you're a winner as a human being. Image is everything.
Unbalanced neurotic becomes lovable pet rock.
Whatever you think of Rodman, he has become an important patch
in the Bulls' quilt, part of the free-flowing, gung ho,
all-for-one style that is another reason for their popularity.
"The Bulls are fluid, fast-paced, fun to watch," says Nets
assistant coach Don Casey. Yes, Chicago is a rare open tap in a
clogged-up league.
"They can freelance, and their coaches give them freedom," says
the Cavs' Brandon. "A lot of coaches—way over half in the
league—don't allow that." Indeed, there's almost as much
play-calling in the NBA as there is in the NFL. And while most
coaches are slowing down the game in an attempt to isolate their
best players, Chicago's triangle offense gets everyone involved.
Of course, the Bulls have one huge advantage: Jordan ("the great
eraser of mistakes," as Nuggets coach Dick Motta calls him)
could bail out any offense. But with the exception of sixth man
Toni Kukoc, it's doubtful that any of Chicago's role
players—Steve Kerr, Luc Longley, Bill Wennington, even
Rodman—would be more productive playing on any other team.
Chicago's offense has been so successful that it has nullified
the axiom that imitation is the sincerest form of flattery. No
one dares imitate the Bulls, even though NBA teams usually play
follow the leader. Quinn Buckner briefly installed the triangle
when he took over as the Dallas Mavericks' coach in 1993, but he
soon discovered that Jimmy Jackson and Jamal Mashburn each
interpreted the triangle as meaning he got three times as many
shots as everybody else.
Granted, the Bulls (Jordan included) didn't exactly take to this
offense when it was installed in 1989. Like all systems, the
triangle takes time to learn and mature players to execute. But
Chicago stayed the course, on and off the court. The Bulls are
one of the few franchises that have kept players around long
enough to run an offense that requires cohesion and timing. (The
only other team with comparable stability, the Utah Jazz, has
stuck with a predictable pick-and-roll offense that invariably
wins 50 games but bogs down in the playoffs.) Chicago ownership
has taken care of the mainstays, Jordan and Pippen, and filled
in the remaining spots with specialists who are comfortable in
their roles.
"There's a reason there's so much coach control today," says
Phil Jackson. "When you have young, inexperienced teams, you
have situations in which coaches are afraid to let the players
play. There are more talented, skilled players than ever. But
that doesn't necessarily add up to better teams."
That is why the Bulls, overall, are not just good for the
NBA—they're essential, if only to serve as a model. All over
the league young, unprepared players are being handed the ball
and, with it, the hopes of a franchise. Here it is, son. Now go
sell us some tickets! With the spectacular but undisciplined
Allen Iverson serving as bandleader this season, what chance did
the 76ers have of becoming anything other than a sometimes
exciting but deeply flawed sideshow? Do you think Iverson,
christened franchise savior, wants to hear about a motion
offense that restricts his shots? Do you think his coach, Johnny
Davis, is confident enough in his job to install a system that
takes time to work?
This situation is not unique to Philadelphia. Now that a player
can become a free agent after only three years in the league,
player movement is at an alltime high. (The Bulls, who held on
to 11 of the 12 players from last season's opening-day roster,
are an obvious exception.) Too many franchises are paying too
much money to young players who have neither the maturity nor
the supporting cast to succeed. But coaches can't take the time
to sit and school the youngsters because ownership is impatient.
Other franchises are going after quick-fix free agents and
breaking up whatever chance a coach has of building cohesion.
And too many coaches are trying desperately to keep control by
slowing down play and, consequently, turning off the sport's
electricity. After Seattle slogged by the Cavaliers 72-66 in
Cleveland on Feb. 25, Sonics guard Hersey Hawkins said, "A
couple times I looked in the stands and was amazed people were
still there."
They are for now, Hersey. But will they be when the Bulls aren't
around to build and sustain the buzz? Will the game's popularity
go into serious decline in the three or four years it might take
fans to, as Jordan says, "decrease expectations"?
Commissioner David Stern is sure it won't. "People said we were
in trouble when Oscar Robertson or Magic Johnson or Larry Bird
left the game," says Stern. "Great stars leave, great stars
replace them."
Even a skeptic such as Barkley, who has criticized some of the
league's young players, says the future is bright. He singles
out the Minnesota Timberwolves, the Lakers and the Heat as
franchises with potential and pizzazz. In fact, says Ainge,
"it'll be better when the Bulls break up. More teams will feel
they have a chance to win it all."
Maybe, but those on-the-rise teams should still study Chicago.
No, those clubs won't have Jordan, a once-in-a-millennium
player. But they should note that the Bulls built slowly, role
player by role player. They should note that the Bulls put their
coach clearly in charge. They should note that the Bulls did not
drain the fun out of the game but kept it—what was Casey's
word?—fluid, employing a style that is at once disciplined and
wide open. And the other teams should note that Rodman's
occasional transgressions notwithstanding, the Bulls played with
class and sportsmanship.
But even if there is another model franchise by the turn of the
century, it will not be enough. There had better be two or
three. No single team could lead the NBA caravan as
spectacularly as the Bulls and Jordan have. "I think some
players are just happy to be on the same court with Mike, the
fans to be in the same arena," says Atlanta Hawks center Dikembe
Mutombo. "I cannot imagine that it could be like that with
anybody else."