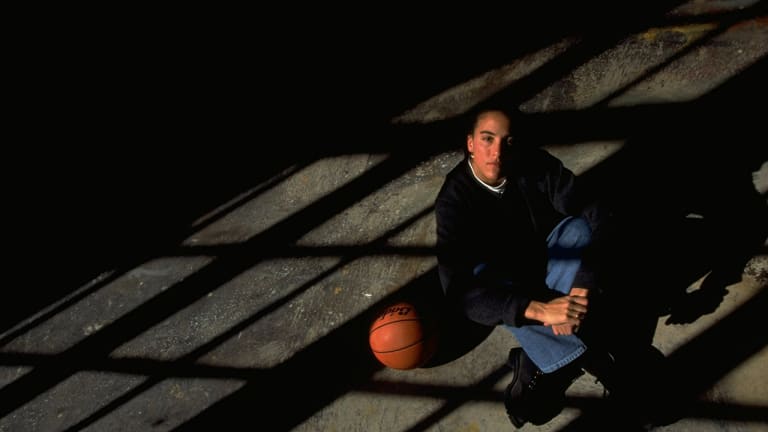 Out of the Shadows
Like her father, the distinguished writer John Edgar Wideman, Stanford point guard Jamila Wideman has had to docnfront a dark family legacy while attracting the limelight with her surpassing gift
Who's to say? Maybe it's enough for you. After all, they're playing the game on a shiny hardwood surface, and it moves with such beauty and ferocity across that surface . . . maybe that's sufficient. Perhaps you can stick your hand on a radiator and know all you need to know about heat. But if only you could hear, in the silence between sneaker squeak and ball bounce, the other drama being played out. If only you could see what brought each of these 10 people to this shiny wood, what makes them race and leap and dive across it, then you would know the true heat and beauty of the game.
There's no time for that, of course. But what if you understood, say, just one of the 10? Then you would have at least some notion of this other place where the game unfolds, this furnace room that heats it. Say, for instance, the most obvious player out there, the littlest and quickest one, the relentless feet and the ponytail—did I fail to mention that this is women's basketball? No, too late, now she's over there in the corner, the one in the Stanford uniform playing jaw-to-jaw defense, pressing even when her team isn't pressing, the one thieving and threading through everyone else, dribbling behind her back, between her legs, deceiving left, dishing right, running the whole damn show—no, you must look quicker. Over there, streaking up the sideline now, everyone's all-American in high school, one of the leading characters in a best-selling book, the daughter of one of America's most distinguished writers, the sister of the damned, the niece of the doomed—missed her again, huh? Right baseline now, the 5'6" point guard who helped steer Stanford to the Final Four the last two years only to be shipwrecked each time in the semifinals, and who's hell-bent to not let it happen to her No. 3-ranked team again this year, this month, her final shot. Too late, too late again—she's just too quick, and there are just too many pieces to her; the eyes cannot fix Jamila Wideman with one look.
Even when you think you've caught her, you haven't, because how can you see black when you're looking at white, or see a murder in a man-to-man press, and how can you hear the point guard's brother saying, "I feel helpless for the destruction I have caused, and hate myself for it," or her other brother saying, "In a single overwhelming instant I realized that I was . . . the sole Black male Wideman of my generation not behind bars or beneath the ground," or her father saying, "Fear marched along beside guilt. . . . Fear that I was contaminated and would carry the poison wherever I ran," or her mother saying, "I'm not going to check either box! The baby's not black! The baby's not white! I don't care who you send in here to convince me!" And how could you possibly, as Jamila flies past midcourt on a two-on-one break, flip to page 2 of one of her dad's novels and read words that could have been ripped right from her throat: See, cause I wanted to scream. I wanted to cut loose and tell somebody how scared I was. . . . Needed to scream worser than I ever needed to pee . . . or needed anything I can think of. But I knew if I'da screamed I'd be gone. If I screamed I'd be like them other poor suckers screaming and flying away. That scream would take me with it.
Stop. Stop right there. Calm is what's called for here. A little distance. The writer who's going to have any chance of understanding the furnace can't jam his head inside it.
But it's easy for the writer to lose his bearings when he's an outsider stepping inside the door of a family of writers such as the Widemans and trying to write what is too close, too suffocating for them to write. There's John Edgar Wideman, the black father and two-time PEN/Faulkner Award-winning author, upstairs in his writing room in Amherst, Mass., working on his 14th book. There's Judy Wideman, the white mother who at 52 earned her law degree and ranked second in her class, down the hall from John, writing briefs in her battle against the death penalty. There's their son Danny, at 28 the editor of a published anthology of black authors' works, bent over his notepad at his new home in Durham, N.C., writing his own books of nonfiction and fiction. There's Danny's brother, Jake, 27, writing haiku and short stories as he serves a life sentence in Florence, Ariz. And there's their sister, Jamila, 21, in her apartment near Stanford, writing in stream-of-consciousness flurries in her journal. But perhaps the smoke is still too dense where the Widemans are, the blank page too flammable for this story to come from their hands.
An entirely different story could be written from inside the guts of the couple whose son was murdered by Jamila's brother. Who can imagine what it was like for them to send a child to summer camp 11 years ago and then get a phone call saying he was dead? But this is not a story about the death, nor a back-and-forth story about the families, nor any attempt to put the Widemans' grief up against the grief of the parents who got that call. It's a story about a young woman who will be on TV this month trying to lead her team to a national title, one who knows now that so much of who she is, as a person and a player, is connected to her family history and to a tragedy. So here the writer goes, stepping gingerly, sensing how much there is to be learned about a game, but beyond that about a person, and a family, and a country, all engaged in a similar struggle, the struggle that everything rides on, to see if all their pieces, their many pieces, can be held together, or if they must blow apart.
Start simply this time. Start one summer evening, 1986, with a 10-year-old at a summer camp in the woods of Maine, the only girl among 350 boys. Jamila, the one exception, because her mom's father, Mort Goldman, owns and runs Camp Takajo, and because she can run circles around half the boys, and because she can bunk in the nearby cottage her grandfather built so her family of five could live at the camp each summer. It's not just any evening. Tonight's the musical variety show, and Jamila's got the curtain-closer. Her 17-year-old brother, Danny, one of the camp counselors, will accompany her on piano. Her uncle John Henry will be playing trumpet. Too bad her 16-year-old brother, Jake, won't be there—he's off on the camping trip out West that the older campers traditionally take—but she knows her parents will be. Everything she and her two brothers have ever done, Judy and John have been right there, hooting and hollering for all they're worth . . . so where are they now, Jamila wonders, her eyes sweeping the audience seat by seat?
She's going to sing If You Don't Believe, a song she loves by Deniece Williams. Jamila, you see, has this dilemma, the same one her brothers have. Her dad is black, and for a week each year, they visit their relatives in one of America's bleakest ghettos, the Homewood section of Pittsburgh. But Jamila's skin is white, or perhaps a pale olive—you might guess she's Italian—and she has lived her 10 years in a middle-class white section of Laramie, Wyo., the ranching and college town where her father teaches literature and creative writing. How can she straddle Laramie and Homewood? Already she's beginning to form a way of talking, slipping in a y'all here and there, droppin' a consonant at the tail of a verb, nothing extreme, just a gentle, middle-ground diction that flies just fine in either world. Already she has sucked in the sociopolitical discussions whizzing around her dinner table, drawn a deep breath, climbed onto the cafeteria stage of her elementary school at lunchtime, grabbed the microphone and talked half of the school into walking out to demand a holiday on Martin Luther King Jr.'s birthday. Done it so adroitly, in fact, that her principal immediately called an assembly so the issue could be discussed before the entire school. Already she has stood up, when her fourth-grade teacher tried to downplay the horror of U.S. slavery by emphasizing how many other civilizations have engaged in the practice, and declared, "My family were slaves once!" Standing this evening in front of a campful of affluent Jews and singing this black woman's soul song is one more hook-and-eye attempt to stitch the pieces together.
Nervous? Sure she is. But not too nervous. Jamila is accustomed to the head-turning, the stares, the buzz each time she races onto the basketball court for the layup drill before a game against another all-male camp—That little squirt, that GIRL, she's on their team? She's going to START? She can live with that. She has been watching her dad play every weekend in pickup games against college players half his age. She's been mimicking his moves, practicing one-on-one, no-holds-barred, against her two older brothers. She's been provoking the whole crowd at Laramie High to roar with each of the little squirt's 15-foot shots at halftime of her brothers' high school games, and to boo Danny and Jake's team when it comes out of the locker room and displaces her on the court.
She's a precocious child with deep, dark, sensitive pools for eyes, calm and wise way past her years. At five Jamila could already do what the great point guards do, what most adults go to their graves without mastering: make the imaginative leap from her own consciousness to someone else's. One day the Widemans were wedged in an endless line of cars on a bridge, exhausted after a long day of travel, and the children were listening to their father fume about all the people blocking the way. "John, John, why don't you hush up?" came a squeaky voice from the backseat. "Don't you know you're just traffic to all those other people?"
"Even as a baby," her father says, "Jamila was looking into another dimension." Perhaps because she already had. She had come into the world nine weeks too soon, born in a bloody mess that nearly took both her and her mother's lives, arriving with a malfunctioning heart valve and necrotizing enterocolitis and then swiftly contracting salmonella poisoning. A doctor at Colorado General Hospital in Denver had studied the X-rays of the two-pound, 14-ounce creature and announced that even there, in that cutting-edge neonatal ward to which an ambulance had rushed Judy Wideman from an hour and a half away, there was no good reason to hope. But somehow, inside the incubator's glass walls, those arms, thinner than John's pinkie, and that little head, so tiny that Judy's mother knitted a cap for Jamila by sizing a small orange, and that wrinkled torso hung on. It astonished John, and then it didn't astonish him, when he saw his preschooler wave and call out cheery hellos as they drove past the cemetery in Laramie each day—"Hiya, Vass!"—conducting little conversations by name with the people beneath the stones.
In infancy she began to enter yet another realm that few children do. Every year during her family's visit to Pittsburgh, their Volvo station wagon would pull off a city street into a vast, barren stretch of cracked concrete. Jamila would get out of the car and stare up at the 40-foot walls, the barbed wire, the armed guards atop the ramparts, and then walk through the thick steel doors, the metal detector and the sentries' piercing stares to visit Uncle Robby, John's brother, sentenced to life in Western State Penitentiary for being an accessory to a murder in a 1975 robbery. She took it all in—the deadening chill of the prison, the guard barking, "That's enough!" if her relatives hugged Uncle Robby a few seconds beyond the limit, or touched him at any time after that hug, or circled their chairs around him to talk. She felt his warmth each time Uncle Robby flopped on the visiting-room floor and played with her. "An instant simpatico between the two," John recalls. "Jamila would go right to him and ask him the questions the adults couldn't, like 'Why are you here? How long will you be in the cage? Are you happy?' She was the one who transcended the circumstances and saw her uncle as a person and made the guards and the bars disappear."
Already, at 10, she's taking in her parents' anger over the warehousing of so many black males in U.S. prisons with little or no attempt at rehabilitation, the anguish over injustice and prejudice and the concept of the "good seed" and the "bad seed" brothers that led her father to write his 1984 account of his and Robby's lives, Brothers and Keepers. Already Jamila has observed that Mom's the one who always goes to the motel reception desk to get a room when the family travels, and Dad's the one stopped by cops for no discernible reason except DWB, driving while black. Already, in fourth grade, she accompanies Mom to law school. Some remarkable harvest will come forth from this daughter—that's clear to her parents. But where, where are they this evening for her big camp number, and why do Danny's eyes keep cutting and running each time she asks? She goes onstage anyway. "She sang so beautifully that night," remembers Danny.
If you don't belieeeve all the tears in my eyes
I cried for ya!
If you don't belieeeve all the nights with you gone
I sighed for ya!
And if you don't belieeeve while you're away
That my life gets emptier with each breath that I take. . . .
She bows before the audience's standing ovation, returns to the family's cottage and finds her parents. She'll never, ever sing like that again.
Jake? The brother who flopped on the floor with her to play with R2-D2 and C-3PO, her Star Wars action figures? The boy who divvied up teams with her and played out the NCAA tournament brackets, one-on-one, in the driveway? What happened to Jake? He's missing, vanished, and his camping roommate, Eric Kane, is dead from a . . . what? A knife buried in his chest? Where could Jake be? Could the bad man have killed Eric and kidnapped Jake? Will they find Jake dead somewhere too?
Right here, right now, we could launch a novel. We could make an entire chapter from each of the pieces of this puzzle and try to comprehend why the second son of Judy Wideman, the passionate and tenacious woman who has dry-walled the old Fish and Game building in Laramie to expand an alternative school, procured the school's loans and leases, driven the kids on field trips, helped teach the reading class and served as president of the school's board . . . why the second son of JohnEdgar Wideman, the All-Ivy basketball star at Penn from 1961 to '63, the Phi Beta Kappa who would become only the second black in a half century to win a Rhodes scholarship, the subject of an article in Look magazine entitled "The Astonishing John Wideman" before he graduated, the future winner of a MacArthur Foundation "genius grant" . . . why the brother of Danny Wideman, named Person of the Year by the Plainsman Times of Laramie in his senior year of high school . . . and why the brother of Jamila Wideman, the snatched-from-death's-jaws wunderkind . . . why Jake Wideman, a soft-spoken, seemingly gentle boy with good grades, unafflicted by drug or alcohol problems and already starting on the varsity basketball team as a high school sophomore, would wake up in a Flagstaff, Ariz., motel room and kill a sleeping companion with whom he hadn't even quarreled . . . we could write that novel and still be left clutching, on its final page, a puff of smoke. We could shift point of view, attempt the imaginative leap into any of the Widemans' blood and tissue during the months that follow the murder, go from Jamila jolting awake night after night, racked by nightmares and insomnia for nearly three years, to her father walking alone through the Maine woods, dropping to his knees, digging his fingers into the soil, sinking his face into the earth and praying to the universe, "Take me, take me, take me in Jake's place," and still never even sketch the horror and the heartbreak. But this isn't a novel. This is just journalism, and every sentence only raises five more questions that need five more pages to answer, pages that simply don't exist.
So let us remain here, just near enough to the fire and the anvil, just long enough to glimpse what manner of young woman is being forged. Because the hammer blows are ceaseless. The news that her brother will be tried as an adult rather than a juvenile: Would that happen, Jamila's family wonders, were Jake not a black man's son? The realization that her parents now must fight tooth-and-nail to keep Jake from being executed. The news that Jake has also confessed to a murder that occurred a year earlier in Laramie (for which charges will eventually be dropped after he recants and exculpatory evidence comes to light). The reports that Jake has twice attempted suicide in jail. The news that a $70 million civil suit against the Widemans, which could bankrupt the family, is being filed by the victim's family. The news that articles are appearing in newspapers and magazines all over the country poking through the ashes of the Widemans' family life, pointing to the rage expressed by John in Brothers and Keepers, searching for the answer, the explanation, the certainty that will permit everyone else to sleep restfully at night, assured that this murder or something like it couldn't happen to one of their children. Every one of these hammer blows finds Jamila, even as the adults think, pray that she's too young to feel them all. Guilt, shame, fear, anger: They're all in her journal. She'll realize that years later, when she looks back at her words. They're all in her 10-year-old heart.
So it's recess time, sixth grade, and the new girl in school, the little spindly one, is walking into the schoolyard. Jamila and her family have just moved to Amherst, Mass.; they had been planning to do that even before their world exploded, so her father could begin teaching at the University of Massachusetts. She is two weeks late for school because of the family chaos, and this morning the whole story is breaking in The Boston Globe, and she's walking on eggshells, the new girl, the one whose past has just vanished behind her in Laramie, disappeared so abruptly that she never even had a chance to say goodbye to most of her friends—the family gone in a cloud of rumors and gossip. She's the silent stranger, wondering who among her new schoolmates has seen the newspaper, who knows her secret, who's going to nudge whom and say, "Don't go near Jamila. You know what runs in her family," like the two kids she overheard just before she left Laramie. At recess the boys go one way, toward the basketball court. The girls go another way, off to talk. Jamila pauses. The precocious little girl, the one who would step onstage to sing or lead a protest—where is she now? Gone, gone. Jamila stands there, looking around . . . then freezes her insides and heads for the basketball court. The boys sneer, roll their eyes, giggle. Jamila doesn't budge. Then the game begins and she's moving, whipping passes, flicking in jump shots, and for 20 minutes, a half hour, everything, everything goes away.
The boys take the new girl in; she's a novelty, she's one of them. What about the girls, though, staring at her as if she's a traitor? Jamila has a secret, and people with secrets can't afford to have enemies. That's it: Since she's basketball buddies with the boys, she'll play matchmaker for the girls. She'll be everyone's confidante, everyone's listener and problem-solver; it's so much easier to walk the mile in their shoes than in her own. "I got good," she says, "at being evasive. It's so hard when so much of who you are is tied to something you can't express." Banter, that helps too. She'll keep it quick whenever she can, quick and easy and light. She'll blend in without explaining herself. She'll hide right in plain sight.
God, how she'll need to. The day a classmate walks up and blurts out, "Isn't your brother a murderer?" and the day her teacher wheels a TV in front of the class and shows a movie about a teenage boy who commits murder and is condemned to death, she's certain everyone is staring right through her. Where can she turn? Suddenly she's an only child in a new house strangled by silence—Danny off at Brown, Jake in prison—a home where anguish seems to feed on the family's very flesh and blood. Her mother contracts a life-threatening illness; Jamila's grandfather Mort (who as owner of Camp Takajo is also a target of the $70 million civil suit, which will eventually be settled out of court) learns that he is suffering from heart disease, which will soon kill him; and her father is racked by pain from stenosis, a condition that causes muscle deterioration in his left arm and the left side of his chest and forces him to suffer each time he tries, like Jamila, to find refuge on a basketball court, to make everything, everything go away. "Imploding," says Danny. "It seemed as if my whole family was imploding."
A teacher notices Jamila playing basketball and recommends that she do something audacious: try out for the Amherst Regional High girls' team as a seventh-grader. No seventh-grader in the school's history has started on the varsity in a team sport. Jamila walks out onto the court that first day of tryouts, braces glinting, bones showing, 4'6" and 80 pounds, her mom the only parent in the gym, watching like a hawk from a corner seat. "All you could see," recalls the coach, Ron Moyer, "was this wisp of a thing, a ponytail and a basketball, and then once in a while you'd see a body. She was a water bug. Nobody could take the ball from her. The two senior captains came up to me after the first practice and said, 'Coach, you're going to keep her, aren't you?' I said, 'Who?' They said, 'You know, the little one.' I said, 'Well, I'm intrigued.' I got so intrigued, I was hypnotized for the next day and a half. The major concern wasn't whether she was good enough to start on the varsity, it was whether she'd be maimed for life if anyone fell on her. I told her mother what I thought: She's too quick to get hurt.
"When I think back on Jamila, I just smile. Always ready to go. Always the first one on the court and the last one off. It was clear that here was a kid who had learned from her parents the price you have to pay for excellence. I could get her to do everything and anything except put the ball in the ball rack at the end of practice. The boys' team could be walking on the floor to practice, my dinner could be ready at home, but I couldn't get her to leave the court."
Here's the safe harbor for the little girl while the storm howls overhead. Here's where she can have intimacy and feeling without ever articulating intimacy or feeling, where she can let everyone know who she is through sweat and gesture, through a bounce pass under a defender's arm to a teammate streaking backdoor. Senior year, playoffs, dead ball, game already sewn up: That's the only highlight footage we're going to run here. Nothing from the game in her sophomore year in which she single-handedly halts Monument Mountain High's 81-game winning streak by dervish-dribbling through her opponents' famous full-court press. Nothing from the game against Springfield Central High two years later in which she lickety-splits her team to a 15-point first-half lead and her coach makes a mercy substitution, sitting Jamila down, only to notice the opposing assistant coach crab-crawling in front of the official scorer's table toward the Amherst bench and whispering, "Pssst! Coach Moyer! Leave her in! Our kids want to see her play. Our kids want to say they played against her." No, none of that. Just the dead ball during the playoff game her senior year in one of those big airport-hangar arenas. Twenty-two-point Amherst lead, 6:29 left in a game in which Jamila has notched 25 points, 11 rebounds and seven steals, in which three girls have tried and failed to cover her, and she has held the enemy star to six points . . . when an errant pass whizzes out of bounds, rolls 30 yards, then vanishes down a long tunnel. Good, a breather, some aerobics for the ref, a ball boy, a fan, right? But there goes Jamila like a cannon shot, leaping over a barricade, disappearing down the tunnel and reemerging on the fly with the ball a second later. "Pure adrenaline," she tells the media afterward. "I wanted the ball back. I wanted to finish the game." Insane, a teammate calls her intensity, her perpetual motion.
Then, as always, she sags in the locker room, the fastest one becoming the slowest, staring off into emptiness, nothing bad left inside her, because there's nothing left inside at all. Jamila, who can't discuss her internal narrative with a therapist or with her brother Danny or with her parents, who wraps herself in a thick coat, mittens and hat on winter weekends and takes jump shots and double-pump scoop shots in the driveway. Jamila, who will go six years as a high school varsity starter without missing a practice or a game. The one Wideman who isn't getting sick, who isn't imploding.
Thank god, Jamila thinks, for Jenny Pariseau, her backcourt mate, her best friend, so effervescent, so good at saying something smooth, something outrageous, veering the conversation somewhere else when it's skidding toward Jamila's family. She feels so light with Jenny at her side, silly enough to lose some of her wariness. On a team bus ride the two of them swarm all over the new assistant coach like Gypsies on the Paris Metro, pilfer the wallet from her pocketbook, memorize all the numbers and facts on her identification cards and then astound her by playing Siamese swamis—go on, ask us anything, we know all about you. Your middle name? Where you were born, your mother's name, your Social Security number? The swamis know all, no problem.
Cute. Coach is laughing, kids are laughing, Jamila's laughing, her guard dropping a little lower. It's at times like this that the innocent question might come out of nowhere: So, what about you, Jamila. Do you have any brothers or sisters?
Uh . . . yeah . . . I have a brother at Brown, playing ball there.
That's it?
Well . . . there's another brother, living out in
Arizona. . . .
What's he do?
Nothing much, just hanging out. . . . Is that dishonest? What if the person asking her already knows and is thinking, Liar, liar, liar? What if someone ambushes her, spills the truth in the cafeteria, at a table full of classmates? What if she doesn't mention Jake, and that person drops by her house and notices him in a family photograph? Talk about him? She can't even bear to think of Jake, alone in that place, surrounded by. . . . Who can really know her if she keeps this piece of herself hidden? Should she wait and see if a new relationship is going somewhere before she tells—but then, if it does go somewhere, doesn't it only grow harder and harder to tell? Where does she take this kind of pain and confusion when she's the star, cozy in a fine house, the child of the privileged? What does she say when one of her best friends demands, "What is it, Jamila? Why don't you ever talk about your feelings? Why do you keep everything inside?"
And oh, by the way, do people need to know that Jamila's half black, too? Why does she have to indulge in the foolishness of declaring that, of making herself vulnerable to everyone's narrow notions of race—oh, so THAT'S why your uncle and brother are in prison and your cousin Omar has been shot dead—when she's Jamila, an individual, none of the above? But knowing that if she fails to make the declaration, the steel trap is set, ready to spring, just waiting for the moment when another new acquaintance does a double take at the tall, handsome black man waiting outside the locker room and whispers, "Jamila, who is that?" Knowing, if she fails to make the declaration, that she must squirm through a book or a dinner-table discussion at home about some character who toadies up and tries to pass for white. But how can she explain to other kids what it's like to whiplash from a week at one grandma's house, surrounded by boarded storefronts and cracked sidewalks and fire-gutted buildings, a house crowded with aunts and uncles and nephews and nieces and teenage cousins with babies, loud with laughter and music and games of whist and sometimes with gunshots and sirens in the night . . . to another grandma's house five hours' drive away, a million-dollar, six-bedroom mansion surrounded by trees and grass and next to a stream—and make them understand how warm, how loved she feels in both homes?
Why is it her task, why now, in adolescence, when all a kid craves is to be like everyone else? If she just keeps playing the role of hoops star, team captain, Rock of Gibraltar, academic whiz, the ever-calm one everyone else depends on, the one who always selects the right words or gestures to bring out the best in her teammates, the wise and nonjudgmental Jamila who's wonderful at discussing their issues, team issues, the girl whom every faction at Amherst High—the skateboarders, jocks, druggies, geeks—trusts with its problems and feelings . . . doesn't that grant her a free pass when mirror time comes?
Nigger. When a peer casually tosses off that word, or pockets a whole race inside a stereotype, or bangs the drum for the death penalty—is it her duty to stand up and protest, to attract all the attention that makes her skin crawl, to clear her cobwebbed throat and sing what she feels: Excuse me, that's my kind you're talking about, my dad, my brother, the kid sealed away for life without getting the psychological help he needs, and if you're going to divvy up the world that way, us-and-them it, then you have to count me, everybody's all-American, everybody's confidante, on the other team. But if she does that, if she refers to her brother's needs, will she be seen as being unfeeling to the dead boy and the plight of his family, for whom she also aches?
This is the zigzag that occurs in Jamila's mind with virtually every social encounter, the ricochet through levels and layers that occurs behind those calm, dark eyes and long, curly eyelashes, beneath each spoken word. One day, after putting it off for years, after leaving Brothers and Keepers on her bookshelf to gather dust, she finally picks it up to read. Some pages bring tears to her eyes, some pages make her wince, as she reads of the terrible price her father has paid for running away from his history. Of all his huffing and hiding in the halls of academia and on the plains of Wyoming in order to cope, and how it's all undone when his brother, Robby, can no longer even squint and see the American dream that John seems to have by the tail, undone completely when Robby shows up on John's Laramie doorstep as a fugitive in 1976, just a few months after Jamila's birth, only to be arrested a day later and imprisoned for life. She reads of John—who in 1963 told Look magazine, "So far the things I've wanted to do haven't been held back from me because of my being a Negro. So the problem is not my own problem, not something I feel I have to cope with or resolve"—looking back two decades later and confessing in print what lay just beneath those words: "Fear marched along beside guilt. Fear of acknowledging in myself any traces of the poverty, ignorance and danger I'd find surrounding me when I returned to Pittsburgh. Fear that I was contaminated and would carry the poison wherever I ran. Fear that the evil would be discovered in me and I'd be shunned like a leper." Hadn't she seen the toxin suddenly spill when she watched Dad play pickup ball? Hadn't she seen or heard about him calling wind fouls—demanding the ball back if the breeze blew his shot astray—screaming at opponents, picking up an overaggressive 6'10" player and slamming him onto the court?
It's beginning to happen now, in Jamila's last two years of high school: She's growing more aware—damn her Wideman wits—that each one of those zigzags pulls her one step farther away from purity, from just being, and drives her right back to the one place where she can feel that purity: the straight lines, the shiny wood. Jamila's growing more aware—damn her family's penchant for swallowing shards and regurgitating words—of the cost of fleeing your past, your genes, your shadows, your Robbys and your Jakes. And then she opens a book by a man named Ralph Ellison.
It goes a long way back, some 20 years. All my life I had been looking for something, and everywhere I turned someone tried to tell me what it was. I accepted their answers too, though they were often in contradiction and even self-contradictory. I was naive. I was looking for myself and asking everyone except myself questions which I, and only I, could answer. It took me a long time and much painful boomeranging of my expectations to achieve a realization everyone else appears to have been born with: That I am nobody but myself. But first I had to discover that I am an invisible man!
Hit the floor! Incoming salvo! From that opening paragraph of Chapter 1 of Invisible Man, the novel she's assigned to read in 11th grade, about a black man who realizes that no one sees him as an individual, she feels the ground shaking, the walls crumbling, the sudden rendezvous with self. The realization that because of society's fears, and her own fears, not only is Jake the Invisible Man, but she is too! "Invisible," she says, "because such a big part of my life was unspeakable and unknown. Basketball was the only part of me most people knew. I couldn't articulate a thing until I read that book. It became a bible for me. It made me begin to confront questions: Do I fit into an easy box, or be who I am, or become so many things, take on so many roles, that I become nothing, like the Invisible Man? Where were the other people like me? And then I realized . . . there isn't anybody." She leans over a keyboard to write her five-page report on Invisible Man. Six hours and 30 pages later, she's done. Oh, yes, an odd literary compadre, the Invisible Man, for a girl in sports headlines every week, a girl with 150 college scholarship offers.
Hit the floor! Now the Los Angeles riots of 1992 are raging on her TV screen, and her father is out there with pen and pad—it's another jolt telling her that she's connected to those people running wild in the streets 3,000 miles away, that she mustn't succumb to the temptation to be what she looks like, a white kid in the suburbs that the rage and riots never reach.
She writes a poem entitled Black and submits it for publication in her school newspaper, never telling her parents. Part of it reads:
I walk the tightrope between the fires
Does anyone know where I fall through?
Their forked daggers of rage reflect my eye
Their physical destruction passes me by
Why does the fire call me?
O.K. Let the ones she has never explained any of this to, which means virtually everyone, read that and scratch their heads. It's a start, at least. But it's not enough. To each game she plays, she carries her fanny pack, bringing to battle all the pieces of her life that she's trying to hold together: the medallion with the outline of Africa, the miniature African mask, the necklace Jake sent her from prison with the carved-peach-pit charm showing a mother monkey carrying a baby monkey on her back, the basketball card of Kenny Anderson (a lefty point guard, just like her), the picture of Michael Jordan and the little book containing the autographs of Nelson Mandela, Desmond Tutu and Spike Lee. But she never shows her teammates these pieces inside the fanny pack. So it's not enough.
A criminal-rights and civil-rights lawyer—that's what she vows to become when basketball's done. She'll appeal Jake's case one day, she daydreams, like any little sister might. She'll delicately but relentlessly carve apart the system that locks away a 16-year-old—who, yes, has done something terrible—and throws away the key without offering him the smallest chance to reform. But she knows she'll never really get the chance to represent him. So this too is not enough.
She holds little conversations with Jake in her head before she falls asleep. She thinks, on her 16th birthday, This is where the trail ended for him. Over and over it occurs to her that everything she does from this point on—the run for the state championship, the prom, the graduation, the parties, the first day of college—he will never experience. She sits in the quiet before a big game and reflects on this, rededicates herself to seizing the moment for them both, but this too is not enough. Why doesn't she write letters to him? Why does she hold back when she has the chance to walk alone with Jake through the prison yard during her yearly visit? How, for that matter, do you reach for the stars while you're reaching back to someone who is chained to a stake? How does a girl do it, a family do it, a country?
Funny how basketball is always the answer when there are no answers, the thread running through everything: the game Jamila's family plays at either grandma's house, the game she and Dad and Danny and Jake played on the court in Phoenix the day before Jake turned himself in to the police. The game Jamila and her father could play on the driveway without a hitch in conversation. The sport that gave the Widemans an entree back into the community, a way to begin emerging from their nightmare—for Judy to godmother a dozen girls, wash their practice uniforms, compile their team yearbook, videotape their games, cook their ritual chicken-and-pasta dinners; for John to feel as if he were passing something on instead of giving it up, to stand tall in a packed gymnasium and whoop for all he was worth, even when Judy ordered him to move out of earshot of her camcorder.
The whole town of Amherst, a community of college professors and old hippies, gets swept up in the gust: the quest of Jamila and her pal Jenny to make 10 other girls want success as badly as they do, to carry the Lady Hurricanes across the threshold they have stumbled on for five straight seasons and win the state title their senior year. The crowds grow so thick that people must be turned away; little girls and boys form lines for Jamila's autograph; and a new girls' youth league is spawned by the surge of interest in the game. A local writer, Madeleine Blais, smells a story, smells a book. Something about sisterhood, about a group of girls shaking off the shackles of sexism and societal conditioning and their own inner fears to hurl themselves at a goal. Dangerous, dangerous. . . . Jamila refuses to open up her heart or her journals, as her teammates do, but still ends up on the cover of the book and of the Sunday New York Times Magazine. In the state-championship game she leads her team on an astonishing 37-0 run and finishes with 27 points, 13 steals, 11 rebounds and eight assists as Amherst annihilates the defending champions (who entered the game 24-1) by 38 points.
And when it's over, Jamila goes back to her home court, waits until all her teammates leave, then lies down after midnight on the shiny wood and sobs.
Then Jamila was gone. Three thousand miles gone, to a university that offered her one of America's finest educations, finest women's basketball programs, finest climates and, yes, 3,000 miles between her and her past.
Here is what happened to Jamila at Stanford: She chose a double major of political science (to prepare herself for law school) and African-American studies, and wrote a research paper on the inhuman conditions at a California prison. She found herself surrounded by people of all races and mixtures of color and listened to them talk of their experiences. She made it known to her coaches and to the sports publicists at the school that her family history wasn't to be discussed with the media. She found herself saving the small mementos, ticket stubs even to mediocre movies and concerts, as if someday her past might vanish if she didn't hang on to hard proof.
She was named captain and starting point guard as a freshman, for which there was no precedent at Stanford. Her scoring dropped from her high school years, but that was fine. It was as if her teammates couldn't wait to get the ball in her hands, knowing she would get it back to them.
In her final regular-season game that first year she made a spin move, but her ankle didn't. The injury—a severe sprain and deep bone bruise—cost her a chance to make the U.S. Olympic Festival West team, relegated her to the bench for much of her sophomore year and made Michael Dillingham, the San Francisco 49ers' physician, fear she might have to give up basketball. And it taught Jamila, in the most painful way, just how many pieces those ligaments had been holding together.
"It was as if my voice had been taken away," she says. "Basketball was my voice, and I couldn't speak. I felt so empty, so devastated, any catastrophic word you can come up with. But I couldn't let out my fears." Finally, in February of her sophomore year, she broke down, cried and told teammate Kate Paye her feelings, her past and the story of Jake.
Here is what Jamila learned: that it was terrible to sit on the bench and not even be able to recognize her game when she did play—but she survived. And that Kate didn't recoil when Jamila told her the truth. And that many others had lived through nightmares, but their telling of those nightmares didn't diminish what people thought of them. And this, too: that basketball, though it had saved Jamila from the fire, also had denied her some of the light, consumed so many hours that she'd had no time to get involved with issues of race and justice that cried out to her on campus. Basketball cocooned her in a little capsule with 11 other women, cocooned her sometimes even from herself.
Jamila learned one more thing she might never have suspected: that while so many people around her had no idea what they wanted to do with their lives, she was sure. She had a passion, a commitment to civil rights, a depth of feeling about them that she couldn't have had without her family history. Her pain, once she began to face it, also became her gift.