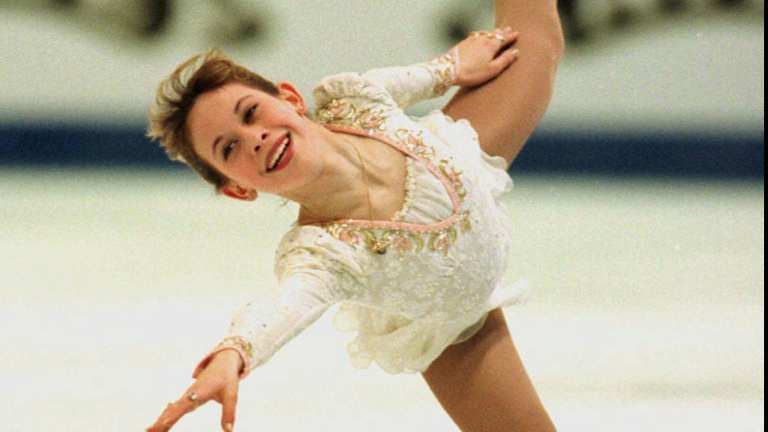 THEY'RE THE TOPS
With whirling athleticism, Elvis Stojko and Tara Lipinski shone at a world championships beset by sadness.
The sad news descended on the World Figure Skating Championships in Lausanne, Switzerland, last Thursday like two blows from a hammer. First came word that Scott Hamilton, a four-time winner of the men's title at this event between 1981 and '84, would have to undergo chemotherapy in Cleveland for testicular cancer. The malignancy had already spread into his lower abdomen, but doctors were cautiously optimistic about a full recovery, reporting an 80% success rate in treating that form of the disease.
About eight hours later it was learned that Carlo Fassi, 67, a distinguished name in figure skating, an amusing raconteur and a devoted family man, had died of a massive heart attack in a Lausanne hospital. He had been taken there by ambulance during one of the morning practice sessions, complaining of indigestion and dizziness. A two-time European men's champion and a bronze medalist for Italy in the 1953 world championships, Fassi was best known as the coach of four Olympic gold medalists: Peggy Fleming, Dorothy Hamill, John Curry and Robin Cousins. Fassi and his wife, Christa, had been coaching out of Lake Arrowhead, Calif., for the last few years, and they had two skaters in Lausanne, 19-year-old Nicole Bobek of the U.S., one of the favorites in the women's competition, and 26-year-old Cornel Gheorghe of Romania.
So many of the skaters, coaches and officials attending these championships had been influenced by either Hamilton or Fassi or, more likely, both, that in the span of a few hours a pall was cast over the entire event. It made for a tough three days, yet in other ways they were unforgettable: days exactly like the sport, which for all its emphasis on illusion--making the difficult appear easy, making the ordinary appear glamorous--still reflects the human condition in all its beauty, sadness and grit. The competition was, appropriately, the beginning of the healing process, brilliant skating in unspoken tribute to a great champion and a revered coach.
The splendid singles skating had begun the day before the sobering news arrived. Wednesday's competition produced probably the best collection of men's short programs ever. Eleven triple-triple combinations had been landed, compared with just two a year ago. All four of the top contenders--defending champion Todd Eldredge of the U.S., Alexei Urmanov and Ilia Kulik of Russia, and Canada's Elvis Stojko—had been virtually flawless, a turn of events that did not work in favor of the 25-year-old Stojko, whose artistic marks are almost always lower than those of the other three.
This time was no different: The judges put Urmanov first, Eldredge second, Kulik third and Stojko—a two-time world champion—fourth. The free program, which would account for two thirds of the scoring, still remained, but the fourth-place standing had the Stojko camp fuming. "The face is not so nice," said a Russian choreographer sympathetic to Stojko. "The hair is ugly. The body? Too short, too thick. The music and costumes? So ugly. But the entire package is good. You understand? The package works."
The 5' 6", 150-pound Stojko has learned to be something of a minimalist, rare in a sport in which posturing and preening and waving one's arms theatrically toward the rafters is considered art. At his best, which he was in Lausanne, he skates as Hemingway wrote and Brando acted, with understatement and barely concealed passion and power. Is he pretty? No. He cannot arch his back as Urmanov does or skate as fluidly as Eldredge or point a toe as balletically as Kulik. With his short arms and muscular upper body, he looks a little like Mike Tyson mingling with Calvin Klein models. But there is an honesty to Stojko's presentation that appeals to spectators in ways those of other skaters do not.
"It's all related to the O.J. trial," says 1976 Olympic bronze medalist Toller Cranston, a choreographer and artist whose elegant skating style was about as far from Stojko's as one can imagine. "People are sick of bells and whistles and tricks and lies and mirrors. They want it straight. They want all the cards on the table. Elvis does that. He does it his way."
Dressed as some sort of no-frills knight errant and skating to the soundtrack from the movie Dragonheart, Stojko in the first half minute of his long program unleashed the most powerful weapon in his, or any other skater's, arsenal: a quadruple toe loop-triple toe loop combination. He is the only man to have landed this breathtaking jump in competition, having done it for the first time two weeks earlier at the Champions Series final in Hamilton, Ont. Here Stojko made it look easy. One-two-three-four...touch down...one-two-three...touch down. He wasn't a blur. You could count the revolutions. Stojko added seven other triples, including two triple Axels, and then finished with a series of whirling butterflies--the body goes horizontal while the legs go haywire--that brought the spectators out of their seats.
For a while it looked as if Eldredge, skating next, might match Stojko. Eldredge has no quadruple jump in his repertoire—not yet, anyway—but he has become the best spinner among the men, and his first seven triple jumps were perfect. However, in the last minute of his program, with the title still within his reach, he tried too hard on a triple Axel, the same jump he'd missed during the qualifying round. He singled it, and then he fell while making a last-ditch attempt to turn a double Axel into a triple in the closing seconds. "I knew I needed all eight triples to beat him," Eldredge said after finishing second. "I'm disappointed I didn't win, but I'm not disappointed with my performance."
When the 19-year-old Kulik, inconsistent all season, self-destructed, and Urmanov unexpectedly withdrew with a pulled groin muscle he'd injured in practice the day before, Stojko had his third world crown in four years. That's a pretty good record of consistency, and it may be time to recognize this unlikely looking champion as the man to beat in the Nagano Olympics next year.
It was a decidedly different story on the women's side. Five skaters had won the women's crown in the last five years, and 14-year-old Tara Lipinski from Sugar Land, Texas, was bidding to be the sixth in six. The 4' 8" Lipinski had beaten 16-year-old Michelle Kwan, the defending champion from Torrance, Calif., twice in the last month, at the U.S. nationals and at the Champions Series final, and had been so consistent she'd been unflatteringly called "the robotic shrimp." Kwan, meanwhile, was struggling for the first time in her career, going through a crisis of self-confidence that she began referring to as "my coma." The only other skaters mentioned as serious contenders were China's Chen Lu, who had won in 1995 but arrived in such poor condition—she'd missed four months of training because of a foot injury—that she failed to qualify for the free-skating program, and Bobek, the bronze medalist at the U.S. nationals.
Fassi's death hit Bobek hard. "He always cared," she said haltingly a few hours after hearing the news, her eyes puffy and red behind a pair of dark glasses. "He took the place of a father for me. He was always there for me. From what I understand, one of Carlo's last words to Christa was to please be with me for the competition."
Bobek, whose real father left home when she was a toddler, got all of three hours sleep before the short program on Friday afternoon. She was an emotional tinderbox when she stepped onto the ice. "My warmup felt great, but right before I did the program, I looked at Christa and began crying," she said afterward. "I know how hard it was on her, but it meant so much to have her with me."
The crowd groaned as Bobek stumbled out of the triple Lutz on the front end of her combination jump and then fell outright on her triple toe loop. The judges had no recourse but to place her eighth. Emotionally drained, she eventually fell to 13th after struggling through her long program, dropping to her knees in prayer at its conclusion. It was the most charged moment of the week.
Kwan also missed the combination jump in her short program, stepping out of her triple Lutz, and placed fourth. Lipinski, as usual, was perfect, and the judges correctly put her first. That meant that even if Kwan were to beat her in the long program, Lipinski could still become the youngest world champion ever by finishing second. (When she won the first of her 10 world titles, in 1927, the legendary Sonja Henie was a month older than Lipinski is now.)
"In the car on the way back from the arena after the short program, Michelle was very angry, in tears, saying terrible things about how stupid she was to miss that jump," Kwan's coach, Frank Carroll, would say when the competition was over on Saturday night. "Suddenly she stopped short. 'Why am I doing this to myself?' she said. 'Scott Hamilton's fighting for his life.' She realized that winning this world championship wasn't life or death. She used to see Carlo at the rink every day. I reminded her of that conversation before she went out for her long program."
Kwan, at that point, had little to lose. Lipinski, skating before her, had already earned another standing ovation by landing all seven of her triple jumps, plus two double Axels that had so little elevation that "you couldn't have put a piece of paper under them," in the words of one rival coach. Because of Lipinski's size and youth, it is now fashionable to speak of her accomplishments snippily, as if being 14 gives her an unfair advantage that the other skaters never enjoyed. The fact is, Lipinski has musicality and poise that are far beyond her years, and crumbling under pressure is not reserved for those who have reached puberty. Richard Callaghan, Lipinski's coach, virtually had to push her onto the ice the first time she appeared at practice after winning the U.S. nationals. She has nerves just like everyone else, but she has controlled them while spinning in the storm of her precocity. Callaghan acknowledges that he'll have to change Lipinski's double Axel technique--she doesn't follow through with her right leg, as she should to give the jump lift--but she is otherwise the complete skating package, if a diminutive one, and a pleasure to watch.
At her best, though, Kwan is still the top female skater in the world, as she proved in her long program. "Today I got my act back together," she said after landing six of the seven triple jumps she had planned--she doubled her final Lutz--and showing a presence on the ice more compelling than that of any of her competitors. "I told myself, We have to put this in perspective. Let's just go out and have fun."
In a split decision Kwan won the long program, but Lipinski took home the world title—perhaps a mixed blessing for Lipinski, given the difficulty of winning back-to-back crowns and the pressures she will now face as next year's Olympics approach. Asked about the future of their rivalry, Kwan laughed and said, "I don't know how long she plans to keep skating, but for the next 25 years, I'll be there. Always."