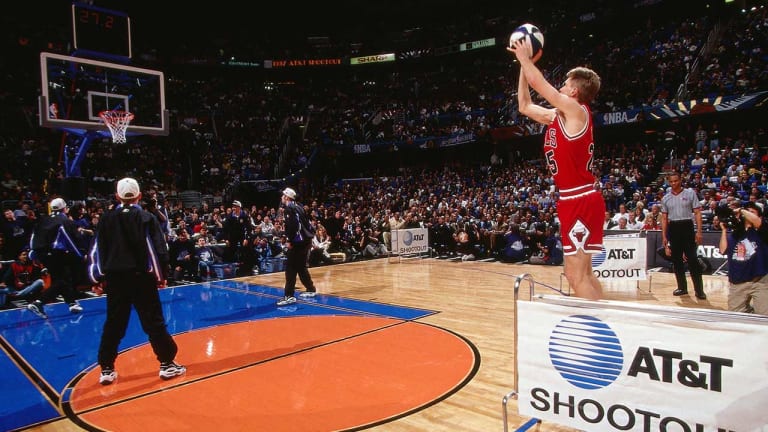 Publish date:
STRAIGHT SHOOTER
AFTER NINE YEARS IN THE NBA, THE BULLS' STEVE KERR IS STILL A HARDWORKING OVERACHIEVER
Two of his dinner companions have ordered draft beers served in yard-tall glasses, and Steve Kerr, the Chicago Bulls' boyish-looking, 31-year-old sharpshooting guard, seems nauseated by the notion. Sitting in a crowded Philadelphia brew pub during a road trip in mid-March, Kerr flashes his all-American smile and tells the waiter, "I'll have a Sprite."
So this is how it's going to be? The Bulls don't play again until the next night in New Jersey, but Kerr won't allow himself even one small step on the wild side? "I quit drinking," he deadpans, and then he and teammate Jud Buechler burst into laughter.
"Yeah," Buechler says, "you haven't had a beer since...9:15 this morning." The two have hangovers the size of the Liberty Bell, courtesy of an all-night romp with Bulls forward Dennis Rodman on a rented tour bus. Following the Bulls' 108-104 victory over the Philadelphia 76ers the previous night, Kerr and Buechler accompanied Rodman and his entourage, which predictably included several voluptuous women, on a jaunt to an Atlantic City casino. Beers were chugged, chips were lost, and a good time was had by all--except one woman in the group who was carted off by casino security after she was caught by surveillance cameras stealing a $1,000 chip from Rodman.
The bus didn't get back to the team's hotel until 9:30 a.m., at which time Kerr and Buechler went straight to the lobby-level restaurant and walked right into Bulls coach Phil Jackson and his assistants. Jackson asked Kerr how late he had been out, but before Kerr could tell "my bold-faced lie," Jackson said, "I saw the bus pull in." Other than making Kerr and Buechler endure a late-morning practice, Jackson did not punish his players.
"That's how cool Phil is," Kerr says. "Dennis had sort of been away from us, in a spiritual sense, and Phil felt that we needed to bring him back in, which in Dennis's case means going out and getting hammered. Not only did he encourage me and Jud to go, he was telling [second-year forward] Jason Caffey, 'You ought to go on the bus. It will be a good experience.' How many other NBA coaches would tell one of their young players to go out and get s---faced with Dennis Rodman?" Caffey, however, thought better of the idea and skipped the trip to Atlantic City.
Jackson's welcome-back gesture to Rodman gave new meaning to the expression "take one for the team," and it is clear by the glazed-over look on Kerr's face that he followed his coach's orders to the letter. It is a look I know well--not so much from my previous adventures with Rodman but from my earliest drinking experiences. Back at Palisades High in L.A. in the early '80s, Kerr and I shared a lot of laughs and dreams. For the school newspaper, The Tideline, we cowrote a sports column called The Riptide, sort of a Liz Smith meets Lizzie Borden spoof of various schoolmates.
The closest I ever got to a meaningful basketball confrontation came when Kerr and I played two other friends in a full-court, games-to-100, best-of-seven series on a playground with 9 1/2-foot baskets. Pride and a case of beer were on the line, and the series dragged on for two weeks. Shortly before Game 7, I told Kerr, "I appreciate the way you're getting me the ball, but this is serious now. Shoot the ball and let's win." He did, and we did. Fifteen years later he's being fed by Michael Jordan.
With his frail-looking (6'3", 181-pound) frame, freckled face and milky skin, Kerr can walk onto any playground in the country with no chance of being picked first. Yet two nights after his escapade with Rodman, he's at the Continental Airlines Arena defending New Jersey Nets rookie guard Kerry Kittles in crunch time. All over America, whenever quicker, stronger gym rats see Kerr in action, they must wonder, How can that guy be out there instead of me?
That's a question even Kerr concedes is valid. It is why, he says, "I don't have any fans my age. Almost all of my fans are either grandmothers who think I look like their grandsons or eight-year-old boys, who can relate to me."
Even so, Kerr has carved out a niche as one of the NBA's best long-range shooters; his career percentage from behind the three-point line, .475 through Sunday, is the best in league history. (For punctuation, this year he won the Long Distance Shootout during All-Star weekend.) His signature shooting style--quick jump, arm and fingers fully extended, hair flying--is one born of a million practice shots. The Houston Rockets' Charles Barkley recently said that if he had to pick one player to sink a game-winning shot, it would be Kerr. And Kerr's reaction? "I thought he was joking."
But Kerr couldn't have lasted nine years in the NBA--and become a key (though, at $750,000 this season, relatively low-paid) role player on the league's best team--without displaying other attributes. He rarely turns the ball over, and, says Jackson, "he's a real conscious person. His awareness level is high, and he doesn't get easily rattled." At both ends of the floor Kerr is as active as a mouse in a maze. Though he lacks quickness and would figure to be a defensive liability, he makes bigger, stronger, quicker players at least work for their points.
Against the Nets on this Friday night Kerr scores 13 points, the last three of which come when he swishes a long jumper with 1:45 remaining to cut the Nets' lead to 95-93. With the score tied at 95, and 22 seconds to go, Jordan cuts into the lane and kicks it back to Kerr, whose open three-point shot goes in and out. The Nets go on to win 99-98.
The next night, in Chicago, in the second quarter of the Bulls' 99-79 victory over the Atlanta Hawks, Kerr awkwardly launches a shot that looks like a knuckleball and dies well short of the rim. On his team's next possession, Kerr squares up and attempts another trey. The shot just misses, but the fact that he came back firing right after a bad miss counts for something. "He might not have been confident enough to shoot it a couple of years ago," Kerr's wife, Margot, says from her seat in the Bulls wives' section at the United Center.
There were times in Kerr's career when he was in awe of his surroundings, and none more so than the latter part of the '94-95 season, his second with the Bulls. After finding lukewarm success in stints with the Phoenix Suns, the Cleveland Cavaliers and the Orlando Magic, Kerr had become a significant member of the Bulls immediately following Jordan's retirement in October 1993. But according to Jackson, when Jordan returned to the team in March '95, "it was tough on Steve because our players had used our offensive system to get their shots, and now everything had changed. All of a sudden players were putting on the brakes and saying, 'Oh, well, we'd better watch Michael go one-on-one.' There was tension, and it boiled over the next year in training camp."
The Kerr-Jordan relationship was further strained in the off-season when the two players took opposing sides in the NBA players' union split during labor talks with league owners. The bitterness came to a head during a practice in which Kerr and Jordan were repeatedly pushing off while defending each other.
Talk about gall. Kerr, who hadn't been in a fight since elementary school, takes a hard shove from His Airness and suddenly starts swinging. "I knew I had two choices," Kerr says. "Either let it go and be obedient to Michael forever, or fight and probably get my ass kicked. I picked a real winner for my adult fighting debut." He wound up with a black eye.
When Kerr arrived home, he found an apology from Jordan waiting on his answering machine, and the relationship quickly changed for the better. Previously Jordan rode Kerr for everything from a missed shot to a lack of aggressiveness. That stopped after their fight, and Kerr has become a Jordan favorite.
The two players have a lot in common, including the fact that their fathers were murdered, a subject they've never discussed with each other. The obvious trait they share is the seriousness with which they take their jobs. Kerr has been known to cry following an emotional playoff defeat and has trouble sleeping after a rough game. A big difference between the two is that Kerr is a master of self-deprecating humor, but according to teammates, Jordan can't laugh at himself.
"If you beat Michael in a game of H-O-R-S-E, could you tease him about it?" I ask. "No way," Kerr answers quickly. What if Kerr's four-year-old son, Nicholas, beat one of Jordan's kids in a game of one-on-one? Kerr shakes his head no.
"I know what this story is going to be about," Margot says while sitting in a Chicago restaurant an hour after that Saturday-night game against the Hawks. "Father died; blew out his knee; so much to overcome." She moves her hands as if playing a violin. "Aren't people sick of it by now?"
Fred and Ethel Mertz had nothing on the Kerrs. Margot and Steve met on a blind date during their sophomore year at Arizona and married five years later. Full of spunk and sometimes serpent-tongued, Margot is fiercely supportive of her husband, unless he happens to be in the same room with her. In high school Steve was so shy around girls that his only dates came when he was asked out. That guy wouldn't have lasted five minutes with Margot.
Anyone familiar with Kerr's story knows what caused him, in his words, "to grow up in a hurry--pardon the cliche." Shortly before 3 a.m. on Jan. 18, 1984, during his freshman year at Arizona, Steve was awakened in his dorm room by a telephone call. Vake Simonian, a Presbyterian minister and a family friend, delivered the bad news: Steve's father, Dr. Malcolm Kerr, a noted Middle East scholar and the president of the American University in Beirut, Lebanon, had been assassinated. A group of unknown assailants gunned down Dr. Kerr, 52, as he stepped from a university elevator, an apparent act of anti-American terrorism. "I was an 18-year-old kid who had just left home, and it scared the hell out of me," Kerr says. "It's a lot different reading in the newspaper about someone dying than actually having it happen to you. It's an instant dose of perspective. It makes every day more precious when you realize it could all be gone in an instant."
Nevertheless he scored 15 points in a game two nights later. The tragedy steeled him for the challenges to come. During his sophomore and junior years Kerr developed into a solid starter. Then, as a member of the college all-star team representing the U.S. in the 1986 world championships in Madrid, he suffered torn anterior cruciate and medial collateral ligaments in his right knee, an injury that was initially diagnosed as career-ending. He sat out a year and returned in 1987-88, helping Arizona to the first Final Four appearance in school history. The Suns made him a second-round pick in the draft.
His father's death also made Kerr more introspective. For the past several years he has been keeping a journal, writing down anecdotes and his thoughts about life in the NBA. Once Margot found one of his notebooks and wrote a fictitious one-page entry detailing an affair she was supposedly having. When Steve found the passage a couple of weeks later while sitting in a hotel room, he cracked up.
Kerr didn't always take things in stride. Until he reached high school, he was one of the world's worst losers, the type of kid who'd go 3 for 3 in a Little League game, fly out to centerfield his fourth time up and throw his bat against the backstop. At the Kerrs' home in the Chicago suburb of Lake Forest on the Sunday evening after the Hawks game, it's quickly apparent that Steve has passed his competitiveness on to Nick, who falls behind in a floor-hockey game, tells his opponent to switch sides and then transposes the score.
Sports are a constant topic of conversation in the Kerr home, yet come Monday morning there is no sports section to be found in the house. "Steve doesn't want the paper here," Margot says, "because he's so sensitive to criticism." Can it be that Kerr, notorious for ribbing people who take themselves too seriously, is so serious about his own endeavors that he can't face the reproach of others?
This touchiness can be traced to a time when no one else believed in his athletic potential. A good player on a good high school team and a B student, Kerr was seriously recruited by just one college--Gonzaga, in Spokane--but when he went there for an official visit he was embarrassed in a pickup game by a lightning-quick Gonzaga point guard named John Stockton. After the workout (which was a violation of NCAA regulations), a Gonzaga coach pulled Kerr aside and said, "I like you, but you're just not quick enough to play at this level."
Kerr applied to Colorado and planned to walk on there. But when he played well in a Los Angeles summer league, he drew the attention of Arizona and Cal State-Fullerton, two schools that had a scholarship available. Fullerton offered him a full ride first, but Kerr was more intrigued by Arizona, where coach Lute Olson had been hired five months earlier to revitalize the program. It was mid-August and school was about to start, but for three days Kerr was unable to reach Olson to determine whether a scholarship offer was forthcoming. So Kerr verbally accepted the scholarship from Fullerton, but when he told his father, who was about to return to his job in Beirut, Malcolm hit the roof.
"He asked me where I really wanted to go," Steve recalls, "and I said Arizona. So my dad got on the phone and tracked down Lute. Lute told him, 'It was a miscommunication; we had a scholarship open for him all along.' Yeah, right."
In late October, Malcolm flew back to the U.S. and spent several days with Steve in Tucson, bunking with him in his dorm room. "The last time I ever saw my father," he says.
Practice ends Tuesday at the Berto Center, the Bulls' workout facility, and Kerr is the last one to leave the court, shooting his customary 100 free throws. Ninety-nine go in. Given Kerr's work ethic and heady play, many basketball people assume he is destined to coach. But everyone he knows in that profession has advised him against it. Now Kerr's setting his sights on a broadcasting job after he retires. (He has one year left on his contract.)
Stashed somewhere in the Pacific Palisades home where Ann Kerr still lives is a cassette tape that could ruin her son's broadcasting career before it gets started. It's a greatest hits compilation of the on-air prank calls made by Steve and some friends when they were teenagers. On one call he engaged a radio psychologist for 45 minutes, posing as a kid who suspected he was adopted, before letting loose and mimicking the radio station's jingle.
If Steve ever had any doubts that Margot was the perfect woman for him, they were dispelled after her own radio call-in debut a few years ago. Kerr was playing for Cleveland at the time, and after Cavaliers coach Lenny Wilkens told the team that little-used reserve swingman Jimmy Oliver would start that night, Margot called a sports-talk station without revealing her identity and suggested it would be a good move if the Cavs started Oliver. "What a horrible idea," the unsuspecting host bellowed. "We'll see," Margot replied.
Last year a Chicago sports-talk host, former Chicago Bears tackle Dan Jiggetts, was ripping Bulls center Luc Longley for being overweight. Margot called in from her car, this time identifying herself as Kerr's wife, and sprang to Longley's defense. She told Jiggetts, "From what I've seen, Dan, you're not so svelte yourself." Jiggetts cracked up, and a radio star was born. Now Margot is a frequent caller on Chicago talk shows.
On Tuesday night the United Center is rocking for a rematch of last year's NBA Finals pitting the Bulls against the Seattle SuperSonics. Jordan, Rodman and Scottie Pippen of the Bulls and Gary Payton and Shawn Kemp of the Sonics have their moments, but the game doesn't pick up until the fourth quarter. With 9:57 to go Kerr nails a three-pointer to tie the game at 62, then makes two steals (one of which leads to a hoop) in 33 seconds. The game goes into overtime, and the Sonics take an 80-78 lead. With 2:59 remaining, Longley delivers a bounce pass into the paint to Kerr, who goes right to the basket fearlessly. He gets nailed by 6'5" Nate McMillan, but the ball goes through the hoop. The free throw, of course, is good. His totals: 13 points on 5-of-6 shooting, with two assists and three steals. With three seconds to go, Jordan hits a pair of free throws, and the Bulls win 89-87. As the buzzer sounds, Kerr and Jordan slap hands and revel in the moment.
It's one of those images those who grew up with Kerr would like to freeze and preserve for their own children, if only to show that dreams can come true. But Kerr is embarrassed by the corniness of his story. For him it's easier to file it away as a comedy than as a drama. "I don't think a day goes by where I don't think, How the hell did this ever happen?" he says. "It's like Walter Mitty, only it's the real thing. Or maybe Forrest Gump is more appropriate. He kept showing up in places out of nowhere, and it was like, How the hell did he get here?"