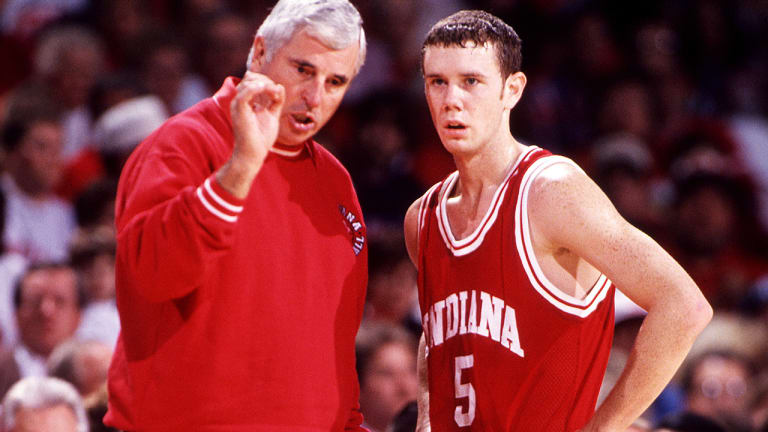 Knight Errant
After several years of feeble finishes and now a public squabble between coach and player, even Indiana basketball fans are asking, has Bob Knight lost it?
It was after midnight, and the players sat as silently as strangers on an elevator, waiting for the last member of the Indiana basketball entourage to board the bus outside the Lawrence Joel Coliseum in Winston-Salem, N.C. The Hoosiers had been humiliated 80-62 by Colorado about an hour earlier and bounced out of the NCAA tournament in the first round for the third straight year. They didn't know how their coach, Bob Knight, would handle the most lopsided postseason loss of his 26-year career at Indiana, but they were pretty sure a stop at Chuck E. Cheese was out of the question.
After a 14-1 start that included the championship of the preseason NIT, the Hoosiers had lost 10 of their final 18 games and slipped to sixth place in the Big Ten. Against Colorado in the tournament they had barely put up a fight, and for much of the game even Knight had appeared strangely docile and disinterested, perhaps relieved that the Buffaloes, and not his Hoosiers, would serve as the victims for North Carolina coach Dean Smith's record-breaking 877th win in the second round. Knight had called only one timeout in the game, with 7:15 left in the second half and Indiana trailing by a hopeless 22 points.
After the game, with the players waiting so nervously you would have thought Keyser Soze were coming, the bus driver finally started up the bus. Knight would not be joining his players. He had decided to walk back to the hotel. Two miles away. Through questionable neighborhoods. In the rain.
Even some friends have expressed concern for the 56-year-old Knight, who has won three national titles, the most recent in 1987. "It looked like he didn't care," says Roy Bates, a former Indiana assistant, who watched the Colorado game on TV. "Maybe he just decided he had a bad club and wanted to get the season over with."
Woody Hayes and Bear Bryant are both gone now, and it seems the General has fallen on hard times too. His teams are playing soft, his methods are being questioned, most of the top high school players in his usual recruiting hotbeds--Indiana, Illinois and Ohio--are looking elsewhere, and a good number of his supporters appear to be turning on him. In addition, last month his top assistant, Dan Dakich, left to become the coach at Bowling Green.
Some of Knight's peers believe that his heart is no longer in the game and that he has lost what little affection he may have had for the new generation of college players. "I don't think Bobby likes kids today," says one prominent Division I coach. "A lot of us really don't, but the rest of us don't show it. Kids today are changing. They don't respect anybody. You have to deal with that differently than you did a few years ago."
A day after the loss to Colorado, Knight called center Richard Mandeville, forward Andrae Patterson and guard Neil Reed, all juniors, into his office and told them to consider transferring because, he said, they weren't going to play next season. Some people around Bloomington think that this was a motivational ploy, one used by many college coaches. The coach doesn't really want the player to leave. He wants him to work harder and come back stronger. In this case Reed took Knight at his word and left the program. Reed also broke the code of silence observed in such circumstances and spoke publicly of what he called "verbal attacks and physical assaults" he had suffered at Knight's hands.
Knight and his supporters shot back, accusing Reed of laziness and a lack of discipline, a curious charge to levy against a player who as a freshman played most of the season with a painful separated shoulder. (Back then, Knight had even said, "We're not tough at any position on our team with the exception of Neil Reed. He's a tough kid, but with everyone else there's a toughness that's lacking.") The Indiana administration, as always, fell in line behind Knight, and his legions of supporters recited a familiar litany: Knight runs a clean program and his kids graduate--as if players at Duke, Kansas and North Carolina move on to lives of crime and illiteracy once they complete their eligibility.
The fallout from the Reed incident, however, turned into something of a referendum on Knight, and the results were surprising. Angry letters, many calling for Knight's ouster, poured into Indiana newspapers. Even the sports pages of the Indiana Daily Student, the school paper, treaded into unfamiliar territory, daring to pose the most-whispered question in the state in a headline: HAS THE GAME PASSED COACH KNIGHT BY?
With Knight, whose reputation as a skilled and demanding coach with a hot temper and a foul tongue is well documented, there has never been much of a gray area; in his mind, you are either with him or against him. Now it was clear that a startling number of fans and alumni were fleeing to the other side of the red curtain. Knight's careerlong boorish behavior and his tendency to hold grudges has eaten away at his core of support and, perhaps for the first time at Indiana, left him vulnerable. Says one Knight friend, "I told Bob a long time ago, if you're going to alienate so many people, then you better win and win big. Because when you don't, they're going to be lined up to shoot you down when you fail. And that's what's happening."
Talk to coaches around the country and many will say that they fear Knight will become the next Woody Hayes, referring to the former Ohio State football coach whose career ended in disgrace when he punched an opposing player near the sideline in full view of television cameras. On March 24 The Indianapolis Star ran a cartoon depicting Knight looking into a mirror. Woody Hayes was looking back.
A dark cloud has descended on the Indiana faithful as they confront a frightening question: Has Knight grown more stubborn and ill-tempered with age? Even in its best days Knight's program was never a fount of happiness, but of late the atmosphere has seemed increasingly tense and dreary. Some Indiana supporters are asking, Why does he have to be so rigid, so foulmouthed? When will he accept some of the blame?
"In terms of discontent among IU fans, it has definitely increased lately," says Rick Notter, editor of Inside Indiana, a fan magazine that publishes weekly during basketball season. "People are willing to overlook things when he's winning, but now I think they're getting tired of his antics, his language, just the way he treats people."
Brad Sutton is a 29-year-old optometrist in Memphis who can afford to speak his mind. His opinion of Knight is not likely to cost him business, which may not be the case for professionals in the Bloomington area. (One car dealer declined to talk about Knight on the record for fear that it would cost him sales, but said, "If you put it on the ballot, he'd get voted out of office.") During Sutton's eight years as an undergraduate and a graduate student at Indiana, he rarely missed a home basketball game, and until recently he was a staunch defender of Knight. Now he's a vocal critic. "I think he's an embarrassment to the university," says Sutton. "All you have to do is turn on the TV and you see guys like [Kansas coach] Roy Williams and Dean Smith. They're great coaches who have had a lot of success without berating players and embarrassing their school. I know a lot of alumni, and every single one of them is anti-Knight."
When Notter asked his readers about their feelings toward Knight, he was surprised at the number of hard-core fans who agreed with Sutton. After seeing the strongly anti-Knight results of an Internet poll on Knight's worthiness to continue as Indiana's coach that appeared on ESPNET SportsZone, Notter put a poll of his own in the March 29 issue of Inside Indiana and drew responses from more than 10% of his 15,000 subscribers. Sixty-two percent of the respondents said they "agree with Coach Bob Knight's handling of the Neil Reed incident and fully support Knight as IU's head coach," but one third cast their votes to say, "I fear Indiana's basketball program is in turmoil and believe it may be time for a change." These weren't Kentucky or Purdue boosters; these were Hoosiers fans. It was like listening to Dittoheads disparage Ronald Reagan.
Bart Kaufman, 56, who graduated from Indiana in 1962 before getting his law degree there in '65, is another die-hard Hoosiers fan--and a generous donor to the university--who was unafraid to share his views on Knight. A successful investor and financial strategist from Carmel, Ind., whose family has held season tickets to Indiana basketball games since 1946, Kaufman says, "A significant number of people are unhappy with Coach Knight at this point. I think all that yelling and screaming at kids just doesn't work anymore."
It remains a mystery what Knight would say to explain his behavior and the Hoosiers' struggles. He turned down interview requests from SI for this article. Not that he would be likely to utter mea culpas if he did speak. Knight appeared on ESPN's UpClose with Roy Firestone for an hourlong interview in February, and he defended or made light of his actions over the years, including such notorious incidents as his throwing a chair onto the court during a game in 1985. None of Indiana's problems is his fault, it seems. None ever is. The world is to blame. It changed. Kids are different today. They don't listen. They're spoiled, soft, shallow. They like to shoot threes and run the floor and, if at all possible, move on to the NBA in two or three years. Some of them even want to get tattoos or grow goatees or paint their fingernails. These are modern realities that most coaches have learned to accept, while Knight still stomps around, looking for clean-cut kids in letter sweaters who would rather set a pick than see themselves on SportsCenter. "Not everyone is going to be mentally strong and mentally tough enough to play for Coach Knight," says former Hoosier Damon Bailey, who graduated two years ago and is now playing professionally in France. "A player going there with the right frame of mind, which I think I had, can handle it. A player wanting to have fun should almost definitely go somewhere else."
Unfortunately for Knight, there seem to be more kids each year who cling to the notion that basketball should be fun. For Knight and his assistants, the task of luring high school stars into the joyless Indiana program--and then keeping them there--has become more difficult than ever. The most gifted recruits today are looking down the road toward a career in the NBA, but these days that route rarely runs through Bloomington. Only four former Hoosiers were playing in the NBA at the end of the regular season, and just two, Calbert Cheaney of the Washington Bullets and Dean Garrett of the Minnesota Timberwolves, were starters. Contrast that to the late 1970s, when all five starters from Knight's '76 championship team made the NBA. Isiah Thomas, who left Bloomington after two seasons to go to the pros in 1981, is the last true NBA standout to matriculate under Knight.
Furthermore, college basketball, as Arizona emphatically made clear at the Final Four, is now a game of up-and-down speed and to-the-ball quickness. Officials look more permissively on defenders who scratch and claw their way through and over picks. That makes the interior screening and motion that characterize the half-court passing game--Knight's pet offense--less effective than it once was.
Knight's offense, however, is only one of the factors--and probably a small one--in the Hoosiers' recent decline. More significant have been his recruiting failures, including his inability to sign top players from his tristate core recruiting area. Knight used to go through the high schools in Indiana, Illinois and Ohio the way the Big Six accounting firms go through the Wharton School of Business, picking and choosing the best and brightest. But things have changed. Although Indiana's 1997 Mr. Basketball, guard Luke Recker, has signed to play for the Hoosiers, it seems the high school stars who know Knight best these days are the ones most reluctant to sign on for four years under his command. Knight's volatile presence and rigid style of play do little to arouse the interest of recruits who grew up watching Indiana. Starting with the 1994-95 recruiting class, just five of the Hoosiers' 17 recruits have come from the tristate area. That represents a steep falloff from the '80s.
Three years ago Knight welcomed a standout recruiting class that included Patterson and Reed, both McDonald's All-Americas, Michael Hermon, Rob Hodgson and Charlie Miller. They joined a solid nucleus of Brian Evans, Steve Hart, Alan Henderson and Sherron Wilkerson, to form what should have been a powerhouse team. Then the troubles began. Hodgson, whom Knight decided to redshirt, left before his first semester was over and ended up at Rutgers. Hermon lasted one season before transferring to Malcolm X Junior College in Chicago after his scholarship was revoked because he didn't attend class. Hart also struggled academically and transferred to Indiana State before the start of his junior year. Then Wilkerson, who had a difficult time recovering from a broken leg, was arrested for assaulting his girlfriend in January '96. He was kicked off the team, later pleading guilty to a misdemeanor charge of domestic battery for which he received a 180-day suspended sentence and one year of probation. He finally transferred to Rio Grande College in the NAIA, which he has since left as well. Since Knight then told Patterson and Reed to consider transferring after the loss to Colorado, it was almost a total housecleaning by the time this season ended.
"There is probably a large faction of Indiana fans who are unhappy, especially of late," says Hodgson, who averaged 11.9 points per game for Rutgers last season. "The thing with Neil, that's just more fuel for the fire. The class I came with had five people, and Neil makes three guys of the five who are gone. We were heralded as one of the best recruiting classes. Now we're fragmented. People can figure it for whatever reason."
Despite the superb high school credentials of that group, Knight conceded in an interview with the Louisville Courier-Journal in late February that he has had difficulties on the recruiting trail: "Our recruiting has been horse----. This is the first group of kids that we've recruited that, by the time they were juniors, hasn't become one of the best teams in the country."
It was also the first time local recruits avoided Indiana as if it were haunted. "When I got there, nine of the 13 guys on the roster had grown up in Indiana," says Evans, a 1996 Indiana graduate who now plays for the Orlando Magic. "We knew all about the tradition and the championships, and we understood what Coach Knight is all about. I think on this past year's team there was one kid who had graduated from an Indiana high school. These kids are coming in from California and Florida, and they really don't know what it's all about."
Homegrown recruits are discovering other, less painful options, including that enemy outpost 125 miles northwest of Bloomington. Four straight conference games are not all Knight has lost to his Purdue counterpart, Gene Keady. The Boilermakers can also claim nine in-state kids among their last 15 recruits. A number of college basketball insiders credit Purdue assistant coach Frank Kendrick with inflicting more damage to Knight's recent fortunes than any other opposing coach or player has. In the recruiting wars Kendrick, a standout with the Boilermakers in the early 1970s, has outdueled Knight's crew locally since Keady added him to his staff in '90. A year later Purdue landed Gary, Ind., star Glenn Robinson, now with the Milwaukee Bucks, who would have to sit out his freshman year as a Prop 48 case. Thus began the Boilermakers' run on in-state talent--and of Big Ten titles, of which they have won three in the past four seasons. Indiana hasn't had a conference championship since 1993.
Kendrick, who is black, is known as a coach who can relate to young black recruits in Indiana and beyond. The Hoosiers, meanwhile, were the only team in the Big Ten last season without a black assistant coach; they haven't had one since Joby Wright left to coach Miami of Ohio in 1990. "Maybe I'm fortunate," says Kendrick. "I'm a people person. I'm a straightforward guy who can get along with anyone from any kind of background. I love talking to kids about their problems."
The lack of an African-American assistant may be one reason so many talented black players have transferred out of Bloomington. In 1985 Delray Brooks left in the middle of his sophomore season, and three years later Ricky Calloway departed after his junior year. In '88 Jay Edwards failed a random drug test and subsequently decided to turn pro after just two seasons in Bloomington. Hart lasted two years and Hermon one before both left in '95. All were players with quickness, a quality that has been in short supply for the Hoosiers lately.
Knight is said to spend less time around his players than most coaches, and he detests recruiting. "One of the players who transferred from there told me that after the season players don't see him for two to three months at a time," says one Division I coach. "He's doing his own thing and doing it his way."
Knight rarely attends summer camps where the top high school players are on display and is loath to deal with AAU coaches who have increasingly become the people recruiters must deal with if they hope to sign a blue-chipper. That's a laudable stand perhaps but hardly a boon to the Hoosiers' recruiting fortunes. Says one coach, "I'd love to be able to do the same, but he's one of the few who can stand on principle, lose a bunch of games and not lose his job."
For years Knight also was reluctant to recruit junior college players. In his first 12 seasons at Indiana, he did not have any J.C. transfers, but of late they have been almost as common in Bloomington as players recruited from high school. Five of Knight's 12 recruits in the last three years have come from junior colleges, including the latest, 6'4" guard Rob Turner from Tyler (Texas) Junior College and 6'8" forward William Gladness from Carl Albert J.C. in Poteau, Okla. Gladness, who signed with Indiana in April, fits into the traditional Knight mold about as neatly as he fits into a 38 short sport coat. He is a 22-year-old, married former construction worker who didn't play basketball in high school because of academic shortcomings. It is hard to imagine Knight pursuing such a player in the 1970s or '80s, but then again, he probably wouldn't have needed to.
"I think Coach Knight, in 1970, recruited a certain type of kid," says Pat Graham, an Indiana native who played for Knight in the early '90s. "In '80 he recruited the same kid, and in '90 he still does. It hasn't changed. He still wants the kid he got in the '70s, the hard-nosed gritty player. The problem is there are far fewer of those kids today than there used to be."
"Coach Knight hasn't changed; I just don't think kids want to go through the demands of his program anymore," says former center Todd Lindeman, who graduated from Indiana a year ago and played last winter for the CBA's Connecticut Pride, for whom Knight's son Patrick was an assistant coach. "They all think they're going to play in the NBA. They've got other options, and they're just not ready for his strict procedures."
Reed thought he was ready. Although he graduated from a high school in Metairie, La., he spent his sophomore year at Bloomington (Ind.) South High and looked at Knight with the requisite reverence. It was Reed's dream to play for Knight, and while he knew it wasn't going to be all smiles and slaps on the back, he still considered himself the ideal Hoosier: a scrappy, hardworking, basketball-savvy coach's kid. Indiana was the only place for him. "As a kid, you look at Indiana and say, Wow, I want to play there," says Reed. "But then you get here and find out what it's really like. It wears you down and eats you up. I don't care what anyone says: There isn't anyone on that team who doesn't dread going to the gym to face him every day."
It's like this, says Reed. The coach told him to leave, he left. Happens every day in college basketball. Happens a lot at Indiana, in fact. Since 1972 Knight has had 35 players leave the program before their eligibility expired, which Indiana says is only slightly above average for a Big Ten team. But in the last five years alone, eight of Knight's 18 recruits have left early or been kicked out.
Reed, however, refused to go quietly. "I know a lot of people are saying I was a bad kid, that I didn't hold up my end of the deal, but that just isn't true," says Reed. "I think the school should hold up its end of the deal because there is a problem there. And they should look into it."
Reed had hoped to finish this semester at Indiana and then transfer, but when he returned to campus after spring break, he found he was a pariah. The Indiana Daily Student ran a Page One headline that read, REED VOTED OFF BASKETBALL TEAM. Reed laughs at that one. Vote? Libya has freer elections than the Indiana basketball program, he says. In the days after his resignation, Reed says, he received 50 letters and 158 E-mail messages, many of them supportive. He said he heard from former players who applauded his stand, although he would not reveal their names. Others jumped to Knight's defense and insisted Reed was a problem child who set a poor example for the younger players. Said redshirt freshman Larry Richardson, "I've seen Coach Knight draw up plays and Neil go out on the court and do just the opposite."
"From what I've gathered from some of my buddies on the team, Neil had some problems and talked about leaving the team during the season," says Evans. "That can be such a negative thing to the young guys who are looking at him. I think highly of Neil in a way; he's a nice kid and I thought he was a pretty solid player. But when it comes to executing what Coach wanted done on a regular basis, Neil was not getting it done. I would just say that Neil was not cut out to play for Coach Knight. Some people are, some people aren't. Neil just wasn't one of them."
Apparently it took Knight a while to realize just how unfit Reed was for his system. In his last two seasons at Indiana, Reed was second among the Hoosiers in minutes played and was often on the floor at crunch time. "If I was as bad as some people say," says Reed, "then Coach must have been playing the wrong guy."
Lawrence Funderburke, a heralded Indiana recruit out of Columbus, Ohio, lasted one semester in Bloomington at the start of the 1989-90 season. Now playing professionally in France on the same team as Bailey, Funderburke has no trouble believing Reed's story because, he says, he lived through the same thing seven years ago. "My situation was almost identical to Neil Reed's: constant criticism and heckling, though no physical abuse," says Funderburke, who transferred to Ohio State and then had to sit out two seasons because Knight refused to release him from his letter of intent. "When I left, I was amazed people blamed me instead of Bobby Knight."
Reed isn't sure how many phone calls of support he received at his Bloomington residence because, he says, "the answering machine was in Andrae's room." Andrae Patterson was Reed's housemate and friend until Reed left the team. Patterson, also a junior, was encouraged to transfer by Knight at the same time Reed was, but he chose to stay. The other junior at that meeting, Mandeville, also decided to stick around despite Knight's threat to not play him next year.
"I have a hard time blaming the players, but I can't respect them either," says Reed. "I've been in that situation before. We've had other guys transfer, so I know what's usually said about people who leave. Knight makes it clear what he wants you to say about them, and the guys are like, Oh, wow. Coach is talking to me like a normal person. I better do what he says. Believe me, his players don't say anything that are thoughts of their own."
When asked to be specific on his charge that Knight had physically assaulted him, Reed produced a clip from the Bloomington Herald-Times that featured a photograph of Knight with his hands wrapped around Reed's head. In the picture Knight is face-to-face with Reed as he apparently scolds him during a 22-point victory over Ohio State in January 1996. Reed says he won't cite other instances of physical contact "because I don't want them to take me to court," but an SI staffer who was sitting immediately behind the Indiana bench during the Hoosiers' home game against Ohio State this past February saw Knight berate Reed with such fervor that it shocked even a veteran tantrum watcher. At one point in the 93-76 Indiana victory, Knight pulled Reed from the game, and as Reed headed for the bench, Knight yelled, "You'll never f---ing understand how to play the game." With his face no more than a millimeter from Reed's, Knight let loose a few more choice expletives before concluding, "and that's why you'll never be a player. Never."
During the next timeout Knight delivered a less personal but even more profane tirade to Miller, at one point stringing together about a dozen "f----," with no others words mixed in.
It has been said that General Patton, one of Knight's heroes, spent all his time trying to be General Patton, working to live up to the grand and imposing image that he had created for himself. Knight at times seems to be making a similar effort. His behavior, while surely unacceptable for any other coach at any school in any sport, is almost expected of him now. Why disappoint those folks who come to hear the swearing, to feel the nervous tension that fills the arena as soon as he walks in? To Knight, there can be no reason to temper the act because his supporters can tolerate anything and his critics can affect nothing. He even cashes in on the image: His commercial endorsement deal with NutraSweet last season played off his image as a bully. Much about the man may split Indiana fans down the middle, but no one has ever doubted his stubbornness or his absolute power. Says Reed, "It's obvious that Coach Knight answers to no one."
As for Reed, he intends to transfer to another Division I school, perhaps Southern Mississippi, where his father, Terry, is an assistant coach. He may not win an NCAA title at his next stop, but in three years with Knight, he didn't win a postseason tournament game. He says basketball at Indiana now is all about deflecting blame and protecting Bob Knight. And the real goal, if you play for the Hoosiers, is simply to make it through the season with your body and spirit intact. "When you play for Coach Knight, you're not concerned with getting better," says Reed. "You only worry about surviving."