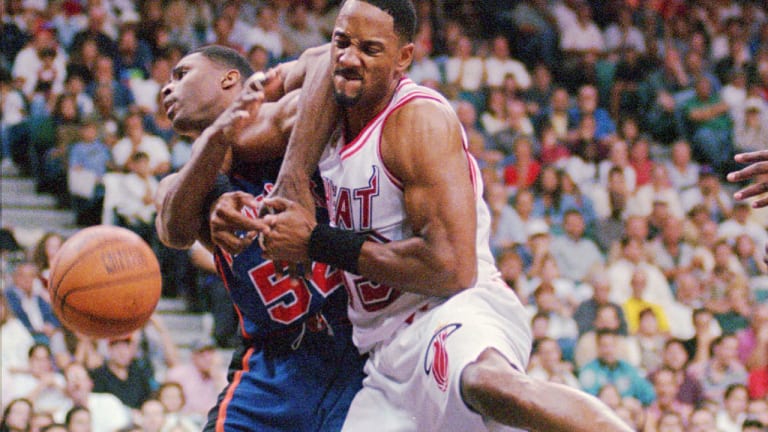 Coming Up Big
Aided mightily by the Knicks, who blew their cool, the Heat battled back to beat New York
It never should have gotten to this point, to Sunday in Miami, to Game 7 in the Eastern Conference semifinals. You could see that Patrick Ewing knew this as time ran out and he loped up and down the floor of Miami Arena, his 34-year-old knees swathed in rubber and cloth; you could see the New York Knicks center sag as one Miami Heat shot after another spun through the basket and yet another Game 7 dribbled away. You could see it in his face--all the years of coming up short, all the years of his bosses adding new teammates and then taking them away, all the years of watching contemporaries like Michael Jordan and Hakeem Olajuwon and Clyde Drexler finally break through and win it all. And you could see it with 3:49 left and the Heat ahead by 12 points, when Patrick Ewing, knowing the Knicks had squandered maybe his last, best hope for an NBA title, bent over for two more Miami free throws and, panting, grabbed at the hem of his shorts. For the first time all series he allowed his concentration to lapse; suddenly Ewing looked up at the crowd and his eyes climbed the face-filled walls in what was now a canyon of noise. He looked beaten, like a man aging fast. He had played a wonderful game, and it was going to come to nothing, and he knew.
But he didn't know why. "They robbed me," Ewing said, after the Heat beat the Knicks 101-90. "They robbed me of a great opportunity."
Ewing is wrong. Neither he nor New York was robbed of anything. The Knicks simply gave this series away. A week earlier they appeared a lock for the Eastern Conference finals. But it is Pat Riley's Heat--not the more talented, more experienced Knicks--who traveled to Chicago this week to take a shot at dethroning the Bulls, and rarely has an NBA team advanced so far in the playoffs carrying such suspect credentials. Pressed to five games by an injury-riddled Orlando Magic in the first round, outplayed by a Knicks team that held the usually commanding series lead of 3-1, Miami won three straight games to complete only the sixth such comeback in NBA history. But the series won't be remembered for Heat center Alonzo Mourning's fiery performance in Game 6 at Madison Square Garden or for Miami point guard Tim Hardaway's magnificent 38-point barrage (fueled by 6-of-10 three-point shooting) in Game 7.
No, it will go down in New York annals as the most horrifying collapse in franchise history, the instantly classic tale of how one team's infatuation with bruising, over-the-line antics ended up killing a chance to win the ultimate prize. Before the playoffs, Ewing took one look at the Knicks' jelling mix of free agents and veterans and boldly announced, "This is the shot"--the time to take down a Jordan-led Bulls team. Few disagreed after New York manhandled the Charlotte Hornets 3-0 in the first round and then the Atlantic Division champion Heat early in the second. However, once five Knicks, including Ewing, left the bench during the now infamous Game 5 wrestling match between Miami forward P.J. Brown and New York reserve guard Charlie Ward--a clear violation of the NBA's rule governing noncombatants during fights--"it turned the whole thing around and upside down," said Riley.
Because no Miami players--discouraged in part by the sight of referee Dick Bavetta standing nearby--left their bench, Brown was the only member of the Heat suspended, for the next two games, for fighting. But among the Knicks, leading scorers Ewing and guard Allan Houston, as well as Ward, were forced to sit for Game 6, and starting forward Larry Johnson and guard John Starks, the league's top sixth man, missed Game 7. New York lost Game 6, 95-90, falling to the clutch shooting of Hardaway, Mourning and Heat swingman Dan Majerle before a raucous Madison Square Garden crowd.
In Game 7, Riley's perfectly executed game plan, featuring some rare (for Riley) double-teaming on Ewing and the determination to shut down New York's guards, kept the Knicks reeling. No one had any illusions about the reason. As in the game before, the Knicks were literally outnumbered.
"It's a great team over there that was dealt a very difficult hand," Riley said afterward, nodding toward the Knicks' locker room. "They probably hurt more than they've ever hurt in their lives, because they really had the pieces this year. It's something they'll never stop talking about."
Never, or for at least as long as there are Knicks fans and that seemingly bottomless well of animosity toward Riley. He bolted New York two years ago after coaching the Knicks for four seasons--faxing in his resignation, no less--and was labeled a hypocritical poseur by the New York press. Pat the Rat, he was called, but when Riley made his first postseason return with the Heat, all the old rhetoric had been muted. For Games 3 and 4 in Manhattan, he was booed no more than any other enemy. Then came Game 5 in Miami: the fight, the ejections, the suspensions. "Riley set the stage for this outcome," said Knicks forward Buck Williams afterward. "Riley incited that sort of behavior in his players the last two or three days."
In the biggest picture, of course, Williams has a point. More than any other coach, Riley refined the bruising, defensive-minded, street-gang version of basketball when he coached the Knicks, and every replay of the May 14 melee came off as nothing so much as a battle between Riley Past and Riley Present. With former Riley assistant and disciple Jeff Van Gundy coaching Riley holdovers Ewing, Starks, Ward, forward Charles Oakley and backup center Herb Williams, and every Heat player now a hard-nosed convert to the gospel of Riley, it seemed only a matter of time until the two teams clashed. When Riley questioned his current team's manhood in practice on the eve of Game 5--demanding to know why Oakley was shoving them around, getting away with stepping over prostrate Heat players, kicking Mourning in Game 4--he no doubt set a hard-line tone.
That Miami responded with its best effort of the series to that point, beating the full complement of Knicks 96-81, will be overshadowed by what happened with the game all but over. Stunningly, the Knicks allowed the entire series to turn on a meaningless pair of free throws and a rookie mistake by Knicks forward John Wallace. With 1:53 left, the Heat safely ahead and Hardaway shooting free throws, Wallace was lined up on Brown's right and Ward was on Brown's left, in front of the Knicks' bench. After Hardaway made his second shot, Wallace was supposed to box out Brown on the right while Ward pinched him out of the play. Instead, Wallace drifted into the lane, leaving Ward, a notoriously tough defender and vocal born-again Christian, to throw a block at Brown's legs. Brown stepped right, into the spot vacated by Wallace, stepped again, and when Ward continued to shove, Brown picked him up and dumped him over his hip, headfirst, into a row of photographers.
"The most cowardly act I've seen in my eight years in the NBA," Van Gundy said afterward.
"He's a dirty choirboy," Brown said of Ward.
None of the Miami players, less experienced than the Knicks in these matters, left their bench, which was situated at the opposite end of the court. Starks jumped up and directly entered the fray, earning instant ejection, then displayed idiocy--and brought down a shower of coins, empty cups and trash--when he flipped the crowd an obscene gesture on the way off the floor. No punches were thrown by anyone who came off the Knicks' bench, but there was no excuse for any Knick to have left the bench at all. Ewing, who drifted near but never into the scrum, was implored by Buck Williams to stay put. He didn't. Yet later none of the guilty parties admitted wrongdoing, preferring to complain about the harshness of a penalty that every NBA player knew would come.
"If I had to do it over again," said Starks last Thursday, after being told he was suspended for Game 7, "I'd do it."
Did Brown overreact? Sure. But it was the Knicks' stubborn display of macho posturing that left their opponents shaking their heads in bemusement. "They all want to be bullies," said Bulls forward Scottie Pippen before Game 7. "Somebody has to step up and try to keep that team composed. They all wanted to go out and puff up their egos. That's typical of the Knicks."
Riley even had the audacity to try to distance himself from the Knicks. "I didn't like it when I was there, but that was their nature--to incite," he said last Thursday. "It goes to show you I wasn't responsible for all the things that happened when I was there."
While Riley's attempt to manage his reputation didn't quite wash, others benefited greatly from the Battle off the Bench. There was a rumor this season that NBA commissioner David Stern had it in for Riley, the evidence being the tampering fine ($1 million and the Heat's 1996 first-round draft choice) levied against Miami after it recruited Riley two years ago and last summer's voiding of Miami's signing of free-agent forward Juwan Howard of the Washington Bullets. "They don't want to see Riles be successful," said Mourning during the Magic series. But the stiff penalties meted out to New York killed that theory, as well as the notion that the NBA would do anything to ensure a Bulls-Knicks matchup, which would boost TV ratings.
Mourning, too, profited. His giant effort in Game 6, which included a game-sealing three-pointer and the subsequent curse-laden bellow at a silent New York crowd, and Sunday's solid, 22-point, 12-rebound, four-block performance against Ewing, did much to stunt his growing reputation as an overpaid (seven-year, $105 million contract) underachiever. "It's a great breakthrough for him," said Riley, who came out of the series looking pretty good himself.
Riley said he doesn't take any "special joy" in beating the Knicks. Don't believe it. "I've been two years with this 'Riley sucks' crap," he said after Game 7. "I'm a happy rat right now, O.K.? I'm a happy rat. Not for any reason other than I'm happy to move on. Believe it or not, somewhere along the way you've got to learn to just forget the whole thing."
It's easier for Riley to forget, of course, because his four titles won when he was head coach of the Los Angeles Lakers have already secured his place in the game. And Mourning can live with his image as an underachiever because he believes that, with Riley, he'll be able to erase it completely--maybe even before this season ends. Neither man, though, likes what happened to Ewing, what Ewing did to himself. Riley still considers his former center a close friend, and Mourning knows Ewing well because both played (seven years apart) under coach John Thompson at Georgetown, where they have migrated for pickup games in the off-season. "I do feel for Patrick," Mourning said. "I love him like a brother."
Ewing finished with 37 points, 17 rebounds and four assists in Game 7. It didn't matter. His season was done. "You dread the day you retire and don't have a ring," Riley had said of Ewing before the series began. "A great player will be tormented the rest of his life. I believe that. He'll always look back and say, 'Why? Why couldn't I?'"
On Sunday you could see that question looming over Ewing. He will be a free agent on July 1, and the Knicks have given every indication that they will try to keep him. But who knows? The day before, he had guaranteed victory, telling members of the New York media, "See you in Chicago," and that didn't work out either. After the game he showered and put on a gray suit and then began the walk to the interview room on this day when so many bits of his past kept cropping up: Thompson in the stands, Riley and Mourning on the opposite bench and, there with them, Heat forward Ed Pinckney, who as a Villanova center went head-to-head with Ewing when the Wildcats upset Georgetown for the 1985 NCAA championship. Ewing walked down the hall, bumped into David Falk, his agent, then into former Knicks teammate Sidney Green with his 11-year-old son, Taurean. "Hey, man, you're getting big," Ewing said to the youngster.
Yes, Ewing said, when he finally sat in front of the cameras and tape recorders, he thought this was his best chance at a title, better even than the seventh game of the 1994 NBA Finals, won by the Houston Rockets 90-84. "I definitely thought so," Ewing said. "I believed in my teammates, I thought we had a great team. Chemistry was great, everything was great. We were playing extremely well, but it just didn't happen."
No, he said, he didn't feel he did anything wrong when he left the bench the night of the fracas. The NBA was wrong for issuing the suspensions. Yes, his team should have ended the series in Game 5. "We let them win it," he said. Someone asked where he'd go next, and Ewing shrugged and said, "Home. Go home and regroup. Get ready for next season."
That was it. He left the room, began walking down the hallway of Miami Arena. He didn't move too fast, not with his usual rapid gait. He looked around, trying to find Thompson. "Where's Coach at?" he asked someone with a familiar face. Gone to the airport, he was told. Ewing blinked, hesitated. He really had no place to go.
COLOR PHOTO: PHOTOGRAPHS BY BOB ROSATO A late-series uprising helped rid Mourning (shooting) of his bad playoff rep. [Alonzo Mourning shooting basketball over Patrick Ewing in game]
COLOR PHOTO: PHOTOGRAPHS BY BOB ROSATO Hardaway (10) often ventured into the paint, but his outside bombs were what destroyed New York. [John Starks, Buck Williams and Tim Hardaway in game]
COLOR PHOTO: MANNY MILLAN Hemmed in by Knicks in Game 4 (above), Majerle hung in and hit crunch-time shots in Game 6. [Charles Oakley, Allan Houston, Buck Williams and Dan Majerle in game]
COLOR PHOTO: PHOTOGRAPHS BY BOB ROSATO Having confidently anticipated a series with the Bulls, Ewing had to make a disappointingly early exit. [Patrick Ewing]