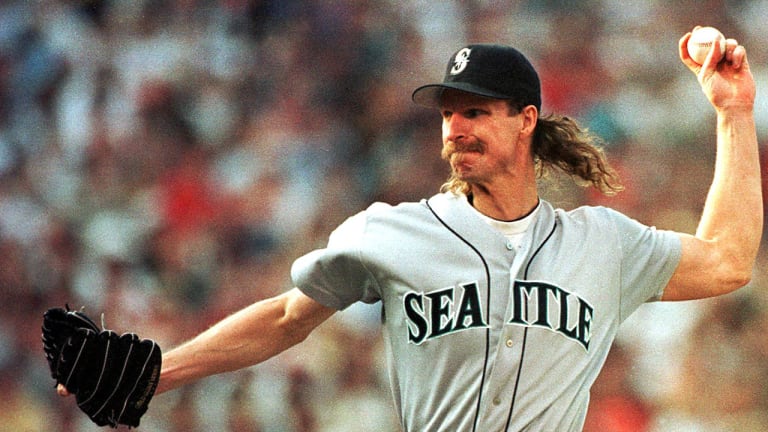 Publish date:
AN ARMFUL
DESPITE A BAD BACK, SEATTLE'S RANDY JOHNSON HAS OUTPITCHED GROVE AND KOUFAX
Randy Johnson of the Seattle Mariners long has been the kind of natural wonder better suited to an Ansel Adams portrait than a baseball card. No pitcher who has climbed a big league mound has stood taller (6'10") or struck out batters more often (10.3 per nine innings) or thrown a baseball much harder (up to 100 mph) than Johnson. Like the peak of 14,410-foot Mount Rainier, which looms on the horizon south of Seattle, Johnson has been defined by his extraordinary measurements.
This season, however, the lefthanded Johnson should be measured less by his unusual stats and more by his rising station in baseball history. He added to his stature in a start on June 24 against the Oakland Athletics by striking out 19 batters; no lefty, and only one righty, Roger Clemens, has ever fanned more hitters in a game.
Even more stunning, Johnson's loss in that game was only his second in his last 33 starts. Therein lies the majesty of the Big Unit: Johnson is the toughest starting pitcher to beat in this century. Forget the tape measures and the K cards and the radar guns; what better assessment of a pitcher is there than that? Never before has Johnson seemed bigger or better. Too often mentioned in the past as a candidate for Guinness or Ripley's, Johnson now evokes more revered names.
"He has become what Sandy Koufax was," Texas Rangers general manager Doug Melvin said after Johnson beat Texas 2-1 on June 19. "Whenever Koufax pitched, you knew if your pitcher gave up more than two runs, the chances that you'd lose were pretty good. Randy's the same way. The funny thing is, we got Randy on a night when he didn't have his best stuff. I felt like we had a chance, and he still held us to four hits and one unearned run in seven innings."
Not even Koufax at his best won games at the clip Johnson has recently. From May 15, 1994, through that start against the Rangers, Johnson's record was 44-6. No starting pitcher in this century has had a better mark for a stretch of 50 decisions. Lefty Grove of the 1930 and '31 Philadelphia Athletics went 46-4 over a 50-game span, but he accumulated eight of his wins while pitching in relief (chart, above).
In Johnson's last 56 starts through Sunday--or since the final game before the 1994-95 strike--he has gone 35-4 (an .897 winning percentage). During that stretch you were more likely to see a no-hitter than see Johnson lose. In his last 71 starts, Johnson has gone 45-7. (Koufax was 44-10 in 68 starts spanning 1963 and '64, the seasons in which he had his best winning percentages.) Since Aug. 14, 1993, Johnson has gone 55-10 in 88 starts. Until the Baltimore Orioles beat him 13-3 on May 8 of this year, he made 30 consecutive appearances, including six in relief while he was hobbled by a back injury, without losing.
"I don't like to lose," Johnson says. "When I lost in Baltimore, it felt strange. I don't want it to sound egotistical; that's not the way I am. But it's just that it had been so long. It was weird. Do you know what I'm trying to say? I have to live up to huge expectations. I'm not supposed to lose. When it happens, it's as if everybody's discovered a chink in my armor. So I've got to hurry back to the welding shop."
At week's end Johnson ranked first in the American League in strikeouts (164), second in wins (11) and second in earned run average (2.18) and was in range to become the first player to win the league's Triple Crown of pitching since Hal Newhouser in 1945. Not once all season had he been removed from a game in the middle of an inning.
Most astounding, only 10 months ago, just after having undergone surgery to repair a herniated disk that limited him to 14 appearances last year, Johnson could not even stand up from his hospital bed to go to the bathroom. When he turned his body to urinate into a plastic bottle, he froze in excruciating pain and he thought not of striking out 19 batters or throwing 99 mph but this: Please, God, just let me be able to pick up my daughter, Samantha, and my son, Tanner, again and be able to play a round of golf in five years.
Of all the tall tales about Johnson, this is the best one yet: the Big Unit's back.
Johnson is never more imposing than when seen from the lefthanded batter's box. He slings the ball with a three-quarters delivery at the end of a 38-inch arm. That means the baseball leaves his hand from a point about three feet behind a batter's back--yet it often winds up on the outside corner of the plate. As the ball cuts across the hitter's field of vision, the batter must decide in the blink of an eye whether the pitch is an 88-mph slider that will snap down and away, a 91-mph two-seam fastball that will sink or a 99-mph fastball that just might have slipped out of Johnson's hand.
"When a pitcher has one slip, it's going to sail up on the side of his pitching hand--right at your head," says Anaheim Angels lefthanded hitter Jim Edmonds. "What makes Johnson even tougher is that he's a little bit wild. There's nobody like him. On the one hand, I hope I do get in the lineup against him. On the other hand, I hope I don't. You know what I mean?"
Says another American League lefthanded batter, "I believe Randy doesn't throw as hard to lefthanders because he's afraid of what might happen if a ball gets away from him."
Through Sunday, of the 6,919 batters Johnson had faced in his 10-year career, only 699 had been lefthanders, and they had hit .197 against him. Lefthanded batters aside, Johnson may represent more of a danger to himself than to hitters. His physiology is ill-suited to the violence of throwing a ball so hard and so often. For one, he has a long spine. For another, "he doesn't have a lot of thigh mass and buttocks mass, so he may have to use his spine and trunk more than most pitchers to generate velocity on the ball," says Stanley Herring, a physiatrist who is part of Johnson's cadre of trainers and doctors. "Fifty percent of Randy's velocity comes from his spine and trunk."
Last season the lowest lumbar disk in Johnson's back gave out from all the torque. Disk matter oozed like jelly from a doughnut. He underwent surgery on Sept. 12, two days after his 33rd birthday, to have the matter removed. "I felt like I was training for the Olympics," Johnson says of the rigorous off-season program he went through to rehabilitate his back. "I'm still not out of the woods yet, and I know I won't be until I have a whole year under my belt."
This is what the highlight reels didn't show you from Johnson's 19-strikeout game: Between innings he watched the game on television while lying on his back on a table in the trainer's room with his feet propped up on a foam block. In Texas during his previous start, he lay on a blanket of towels on the floor of the runway between the dugout and the clubhouse until it was time to pitch again. Johnson cannot stand or sit for a prolonged period, a lesson he painfully learned while watching a three-hour Smashing Pumpkins concert last winter.
In whiffing 19 A's, Johnson threw 142 pitches and came within two strikes of an unprecedented 21 punchouts, getting a pop-up, a strikeout and a fly ball in the ninth inning on two-strike counts. "A special occasion," he said afterward of his high pitch count (his limit: about 130 deliveries). "You never know if you're going to get that kind of opportunity again."
Johnson celebrated by having a doctor examine his back, as he does after every start, to make sure his spine had not rotated out of alignment. Then he flopped onto his stomach on the trainer's table and was blanketed with 11 ice bags: three on his left arm, two on his back and two on each hamstring and one on each calf "to calm the nerves" that run from the back to the legs. "I was shivering so much I had to go thaw out in the shower," he says. Then he drove home and took one pill that reduces muscle inflammation and another that soothes the nerves in his legs. For an hour he wore an electrified therapeutic rubber sleeve that helps restore proper blood flow up his left arm and through the shoulder.
The next day, despite some pain in his lower back, he began his usual four-day, poststart regimen, which is filled with weight training, rubdowns, icedowns, stationary bike work and specialized exercises. Last Friday, three days after the 19-strikeout performance, he underwent an MRI to get a midseason report card on his back. "It looks very good," Herring said after reading the MRI. "But what you have to remember is, this is management, not a cure."
Johnson travels with more gadgets and props than Gallagher. He packs bungee cords (for resistance training and stretching exercises), a portable electrical stimulation machine, a large green inflatable ball (for doing back exercises), a three-foot fiberglass pole (to be grasped in the middle and wiggled to strengthen the arm muscles) and a foam block that looks like a pitching rubber with a rounded bottom. When he steps on the block with his left foot and raises his other--mimicking the start of his windup--the block rolls, forcing him to maintain his balance by using his abdominal muscles.
"I'm a better pitcher because of all the work I've done since last October," Johnson says. "I'm stronger than I've ever been. When I struck out 19, I was clocked at 99 mph six or seven times and maintained 97 throughout the game. I'm able to maintain velocity into the ninth inning. I believe I'm better because I'm around the strike zone more, and that's because I'm more balanced on the mound."
Says Seattle catcher Dan Wilson, "I think he is better, which is incredible when you think he was on an operating table 10 months ago. Each year he has improved from the year before, and this just may be the continuation of a natural progression for him."
"Better?" Mariners manager Lou Piniella says with a laugh. "It's tough to be better than he was in 1995. He was 18-2. But he's back to that level. I know this: If I've got to win one ball game, I could give you 10 pitchers I'd want pitching that game. But at the top of that list would be Randy."
At home in Bellevue, Wash., last Friday, after undergoing the MRI, Johnson cannot sit still. He moves from the living room couch ("Too soft," he says) to the marble hearth of the fireplace to the carpeted floor, all in the quest of accommodating his back. He has been robbed of more than 40 starts over three years during the prime of his career because of the strike and his back injury, denying him a 20-win season and proper public appreciation of his skills. His foyer is decorated with photographs he has taken. There is an old shot of the Manhattan skyline at night from across the East River, just slightly out of focus and symmetrically composed, like a drugstore postcard. There is also a more recent shot of Seattle's Space Needle--laser sharp, framed slightly off center and shot from an extremely low angle, giving an unusual view of a familiar landmark. "I can see how far I've come in photography when I look at these," Johnson says. "It's the same with my pitching. I feel like I'm getting better. I can see the difference."
He could always hum a baseball, even when he was eight years old in Livermore, Calif., pretending he was Vida Blue, throwing the ball so hard off the garage door that he'd pop the nails loose. "Don't forget to get the mallet out when you're done and pound those nails back in," his dad, Bud, would tell him. At 33, with a pink scar on his back that looks like the laces of a miniature football, Johnson can let a baseball fly with the same kind of simple joy. He's back in that driveway.
"I feel like God's given me a gift," he says, "and then given a second chance."