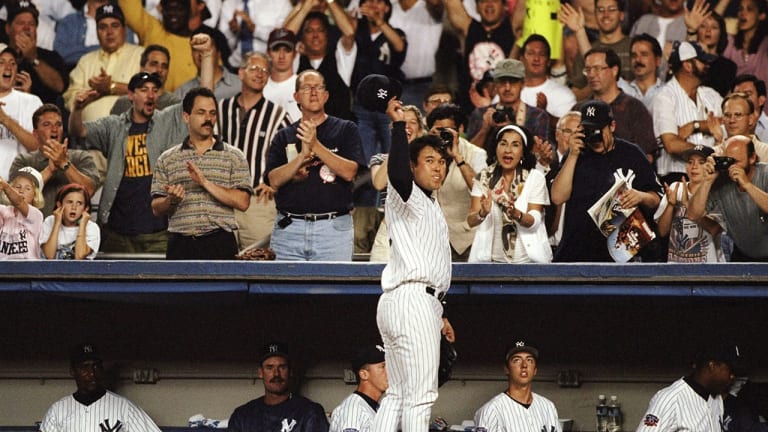 Publish date:
Magnetic
Hideki Irabu proved to be an attraction in every way as he made his long-awaited debut with New York an evening to remember
To the delight of New York Yankees owner and carnival barker George Steinbrenner, Hideki Irabu arrived at Yankee Stadium last Thursday exactly as advertised. Irabu, a righthander from Japan, was a big league attraction in the U.S. before he threw his first pitch, and he didn't disappoint, whiffing nine batters in his debut with 30 magnets taped to his right arm. Talk about your power pitchers. After being hyped as the next Nolan Ryan, Irabu, at 6'4", 240 pounds and bedecked with magnets, looked more like the next Frigidaire.
It turns out that all those on both sides of the Pacific who criticized Irabu's orchestration of his Yankees-or-bust emigration from the Japanese Pacific League were right: He did have something up his sleeve. The tiny Japanese-made magnets, which Irabu wears around the clock to, he says, improve blood flow, not only are perfectly legal (foreign substances are allowed on the body, just not on the ball) but also figure to gain in popularity, given the way the polarized pitcher dominated the Detroit Tigers. Irabu punched out nine of the first 19 batters he faced on his way to throwing 6 2/3 strong innings in which he permitted two runs on five hits and four walks.
And, yes, the man has pull. He drew a near sellout crowd of 51,901 fans in what may have been the most anticipated debut by a Yankees rookie since Mickey Mantle came up in 1951. Excluding interleague games against the crosstown Mets, the Yankees had been drawing an average of 26,266 people on weeknights, meaning that after one start Irabu, 28, already had returned about $700,000 in revenue to Steinbrenner, who is paying him $12.8 million over four years.
"I wouldn't sell what I felt tonight for anything," Irabu said through his interpreter. Emotions aside, everything else seemed for sale in what is a thoroughly American tale. When Irabu began his minor league prep tour with the Yankees' Class A affiliate in Tampa, he was hauling a Nike equipment bag. Yankees senior vice president of media Arthur Richman, mindful of Steinbrenner's $95 million marketing deal with Adidas, advised, "Get rid of that." Irabu wore Adidas spikes last Thursday and a glove with its label blacked out, as if to say, This space for rent. Public-address announcer Bob Sheppard dutifully hawked Irabu T-shirts between innings, as did tacky banners with an 800 number that were hung from the railings next to both dugouts—an unprecedented move that raised the eyebrows of at least two veteran teammates. Then again, only the previous day Irabu had met that photo-op impresario, up-for-reelection New York City mayor Rudy Giuliani, before he had even met his manager, Joe Torre.
Since coming to America, Irabu has dumped his nickname (Kurage, which is Japanese for jellyfish, because he stings batters' hands) and the proper pronunciation of his family name (ERA-boo, which sounds similar to caribou), neither of which translated well stateside. The T-shirts promoted TYPHOON IRABU, though his agent, Don Nomura, said the nickname matter remains open to suggestion. And you should call him ir-RAH-boo from now on, thank you.
Fact is, Irabu seems to be decidedly American—even Noo Yawkish—and not just because he grew up reading books about Babe Ruth and the Yankees and seemed to master the phrase free agent among his first English words. He's more earthy and more emotional than his fellow expatriate pitcher, Hideo Nomo of the Los Angeles Dodgers. "They are completely different," says Nomura, who represents both pitchers. Irabu kicked the ground in disgust at falling behind a Detroit hitter 3 and 0, threw up his hands on a borderline pitch called a ball and smiled broadly when third baseman Charlie Hayes turned in a magnificent fielding play behind him.
On the day before his debut, Irabu noshed on a turkey sandwich and matzo ball soup for lunch at a Manhattan kosher deli and later supped at a midtown steak house. "He loves all kinds of food: steaks, Italian, Chinese," says Richman, which helps explain the plethora of pinstripes on Irabu's 52-long jersey and 40-inch-waist pants.
"His English is better than I thought," teammate David Cone said. "I said to him, 'Umpires?' and he said, 'First three innings, good. Wide. After first three innings, not so good. Not so wide.' Everyone wanted to get a look at him, and he passed the test with flying colors."
He wasn't as communicative with the media. On the day after his debut he refused to answer a question about how he celebrated the win. "It's a private matter," he said through his interpreter. He did acknowledge that he spoke to his family in Japan—Irabu's phone bills run to as much as $600 a day—but said he did not know if they watched the game in Japan, where a live broadcast during the morning rush hour was available to 35 million homes and was shown on 38 outdoor big-screen televisions in urban areas.
Like Nomo, Irabu uses a split-fingered fastball as his strikeout pitch, though at 90 mph his appears closer to a hard two-seam sinker than Nomo's sharp-breaking splitter. Irabu's fastball, which he expertly located on both sides of the plate, lacked the movement and velocity to be considered among upper echelon pitchers. "He definitely doesn't throw as hard as we expected," Detroit centerfielder Brian Hunter said. "We geared up for 97, 98 [mph], and I don't think he hit 93."
Still, Irabu figures to extend the depth of a pitching staff that at week's end had not allowed more than three runs in 10 straight games, and to give an Iraboost to the Yankees' otherwise unimpressive attendance. That prospect pleased Steinbrenner, who, after lamenting at a pregame press conference about free agents Roger Clemens's and Greg Maddux's having spurned New York, boasted, "Now you've got a guy who wants to come to New York." In a uniquely Yankees moment, Steinbrenner promptly was followed into the interview room by infielders Wade Boggs and Mariano Duncan, both of whom can't wait to hail the next cab out of town.
The Yankee Stadium fans tracked Irabu's strikeouts with seven sets of K cards, including three in Japanese. They gave him a standing ovation when Torre, capping the evening's choreographed proceedings, pulled him in the middle of an inning with no one on base. "He's got a great sense of humor, and he's a gamer," said teammate and fellow rotund pitcher David Wells, fast forging a kinship. "He got a little chapped out there on the mound, too, and that's a good sign."
Showered and dressed, and still magnetized, Irabu plopped his ample self at a picnic table in the Yankees' clubhouse, alternately taking pulls from a cheap American beer and an American cigarette. When several television crews from the ubiquitous Japanese media closed in with tapes rolling, Irabu chased them off with a quick warning and a wave of his hand. Cone, who has also been known to harbor a renegade streak, smiled upon surveying the scene. Said Cone, "It's like my long-lost brother showed up."