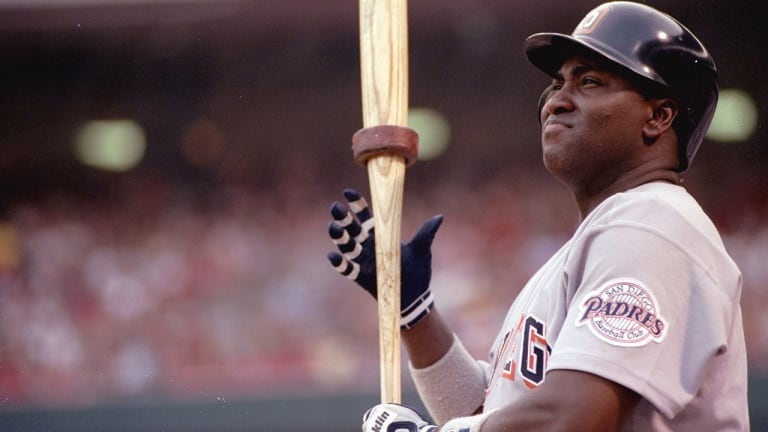 Publish date:
Bat Man
At 37, seven-time hitting champion Tony Gwynn has become so good that he is the most proficient batter since Ted Williams
Fifteen years to the day on which he played his first major league game, San Diego Padres outfielder Tony Gwynn hunches over a small monitor propped up on a battered blue steamer trunk in the visitor's clubhouse of Miami's Pro Player Stadium, studying a video of his batting stroke--the sweetest swing since Glenn Miller's. Land softly on the front foot...cock the top hand slightly toward the pitcher...stay back...pow! The checkpoints are as constant as the engraved notches on a dipstick. Gwynn, having had one hit in five at bats the previous night against the Florida Marlins, is half a quart low. "I'll fix it," the master mechanic says. The checkup is unremarkable except for this: 2,037 games after his debut he was at work last Saturday more than six hours before game time, well ahead of coaches, rookies and vendors.
Padre Time marches on. The lefthanded hitting Gwynn is better than ever, a stunning development for someone who has batted against pitchers born during World War II; has undergone three operations on his left knee and one for a partially torn right Achilles tendon; has carried too much weight, as much as 220 pounds, on his 5'11" frame; and, at 37, is older than Don Mattingly, who is already two years into retirement. Yet here he is threatening to put up numbers for 1997 that would be as round as the shadow he casts: 250 hits, 100 runs batted in, 20 home runs and a .400 batting average, the magical figure not reached in the 56 years since Ted Williams batted .406.
"It's the kind of year that I've dreamed about my whole career," Gwynn says. "It says people have to give me credit for my work ethic, even though I don't look like I have much of one. It says what I've been doing the last few years has paid off."
San Diego signed Gwynn in spring training to an extension that will pay him an average of $4.2 million a season through 2000, when he turns 40. "I'll play past that," he says. Adds Padres president and CEO Larry Lucchino, "It reminds me of what they said about General Grant's drinking: 'Give me generals who all drink the same thing.' Well, I'll take players with the same diet as Tony's."
With a .388 average at week's end, Gwynn seems certain not only to improve his career average for a fifth straight season, raising it from .329 to .339 over that span, but also to extend the best run of hitting the game has seen by someone at such an advanced age. Gwynn has batted .371 over the past five years, beginning with 1993 when he turned 33. Only five players--and none since '31--have had a better five-year average, and all five, Rogers Hornsby, Ty Cobb, George Sisler, Harry Heilmann and Al Simmons, began their runs in their 20s.
None of those Hall of Famers from before the era of expansion and of specialized relief pitching endured the grind Gwynn did last week. Beginning on July 13, Gwynn played six games in six days in four time zones against four teams in which he faced 16 pitchers in 28 plate appearances. That is why comparing hitters from different eras is a waste of time. A hitter is more accurately measured against his peers, those players hitting under the same conditions. By that yardstick--batting average measured against contemporaries--Gwynn is the best hitter since Williams and the sixth best hitter of all time (box, below). He has batted .0789 better than all other major leaguers combined during his career, a margin exceeded among players with 2,500 hits by only Cobb (.1029 better than his peers), Williams (.0841), Hornsby (.0810), Nap Lajoie (.0806) and Willie Keeler (.0794).
"O.K., that idea makes sense," Gwynn says, "but I don't care what the numbers say. Am I better than Hank Aaron? Stan Musial? Frank Robinson? Not a chance. The only thing I want people to say about me is that I played the game the way it should be played. What I've always wanted to do is be a complete player. This is as close as I've ever come to it."
Until this season only Rod Carew and The Village Voice personals were more associated with singles than Gwynn. But with 64 games remaining at week's end, Gwynn already had smoked 15 home runs (a career high), driven in 84 runs (six shy of his personal best, thanks largely to an astounding .500 batting average with runners in scoring position) and bashed 44 extra-base hits (a dozen short of his single-season best). The same man who was outhomered by Alvaro Espinoza last year is outslugging Fred McGriff this year. Says Padres hitting coach Merv Rettenmund, "I've never seen him turn on as many pitches as I've seen this year. He hits so many balls to rightfield now that teams have to play him straight up. They can't shift to leftfield, which is where most of his hits used to go."
The change began with a conversation he had with Williams before last season. "We talked for two hours," Gwynn says, "and we must have spent 50 minutes talking about the inside pitch." Gwynn already had won six of his seven National League batting titles, including the crown for the strike-shortened 1994 season that he got with a .394 average, and amassed Hall of Fame credentials by allowing the inside pitch to get to the plate before, as he likes to say, "carving" the ball through the hole between third base and shortstop. Williams insisted that a good hitter meets the inside pitch in front of the plate. He picked up his cane, snapped at an imaginary inside fastball and shouted at Gwynn, "You've got to turn on it! You've got to let it go! Let it go!"
Gwynn never applied the advice last year. He injured his right heel in the 13th game of the season and could not plant firmly enough on that foot to take an aggressive swing at the ball. He won another batting title, hitting .353, but he did so with only three home runs and 50 RBIs. After the season doctors removed the bursa sac from his heel and repaired the Achilles tendon, which had suffered a 30% tear.
Gwynn undertook a thorough rehabilitation program in which he fired up 100 jump shots a day, ran up and down shut-off escalators at San Diego Jack Murphy Stadium and sprinted with a parachute rigged to his back. "My legs feel great," he says. "It's the best I've run in at least five years."
Moreover, Gwynn could begin to test-drive Williams's advice. Where pitchers last season could routinely pound a wobbly Gwynn inside, now he can whack those tight pitches out of the park. "Now I know what he was talking about," Gwynn says. "I always liked to back the ball up: The longer you can look at a pitch the better your chances of hitting it. If you just let your swing go, your chances of not hitting it or pulling it foul are greater. So you've got to have confidence to turn on a pitch, to trust letting it go. Hitting is all about being comfortable at the plate. I've learned to get comfortable hitting this way.
"Everyone's pitching me the same way: soft away and hard in," Gwynn adds. "So I've learned to let it go, like Ted said. I keep saying, How long is this going to work? When are they going to go hard away again and I'll have to go back to how I made my living?"
Williams, who was born in San Diego, was 23 when he hit .406. He played his last game in 1960, the year that Gwynn was born. For San Diego's home opener last season the Padres arranged for Williams and Gwynn to ride together in a convertible to deliver the first ball. Williams, a bit infirm from a stroke, tossed the first ball, teetering dangerously as he let it go. Gwynn, at his side, gave him a gentle but firm hand of support.
Williams was the last batter to hit .400 (that benchmark has been reached a total of 28 times by 20 hitters, including 15 times by 12 hitters in the 19th century). Only four times has anyone batted .400 after turning 30--none older than Cobb when he was 35 in 1922. "After '94 I said, Well, that's as close as I'll ever get," Gwynn says. "That year I was really locked in and sprayed the ball. It made me think that if I ever made a run [at .400], I could handle the attention, no problem. I never thought so many people cared so much about it and that the attention is every day. Can it be done? I don't know. It would be frustrating not to at least take a shot. The best way to do it would be to let me hang around quietly in the .380s and then give me 30 games in September. That's 120 at bats, and I'd need 50 hits."
Says Rettenmund, "September would be so tough, I think you'd need a cushion going in, like .416 or something. But it's not ridiculous when you're talking about him."
Last week in St. Louis, Gwynn had a conversation with Musial. Williams had quizzed him as ruthlessly as an old schoolmaster might a freshman, but Musial connected with Gwynn. "I felt as long as I got to here," Musial told Gwynn as he slightly dipped an imaginary bat toward the pitcher with his top hand cocked like a trigger, "I knew I was fine."
"That's it!" Gwynn gushed. "I feel the same way."
Then Musial said something that sounded as if he had pulled the words out of Gwynn's head: "Sometimes I just had a feeling--not guesswork, but intuition you could call it--that I was going to get a certain pitch. More often than not I'd get it."
It rang so true that Gwynn laughed out loud. "It's hard to explain, but it's a feeling," he said before last Saturday's game. "It comes from experience and knowing what a pitcher is trying to do."
For instance, earlier this year against Atlanta Braves righthander Greg Maddux, Gwynn sat on a fastball away, got it and pounded it for a double. "The next time up," Gwynn says, "I figured he wouldn't think I'd be looking for a fastball away again, so he threw another one and I carved that for a single. The third time up I sat on a changeup on the first pitch. He threw one, a real good one too, and I flipped it into centerfield. Now I'm 3 for 3 and it's a process of elimination. I figure he hasn't shown me that fastball he runs over the plate inside. Once again I was right. I dropped a grenade into centerfield for another hit, and as his momentum carried him to first base he's cursing me up and down and shaking his head. That's what you try to do: Get inside somebody's head."
Like the white pieces in chess or a two-year-old in a restaurant, the pitcher initiates the action; the black pieces, the parent and the hitter play reactionary roles. Nothing happens until a pitcher decides how and where to throw the ball, yet Gwynn's intelligence seems to allow him to gain the upper hand. What's more, managers and infielders are spellbound too. Managers study Gwynn's body language, trying to decipher when he is flashing a hit-and-run sign to a base runner. (Gwynn often puts on his own play, in which he might take the pitch if he sees the runner has a superb jump or, upon noticing which middle infielder is breaking for second base, hit to the vacated hole.) Infielders try not to give away pitch locations by repositioning themselves too soon. Cincinnati Reds second baseman Bret Boone once told Gwynn, "I know you're watching every move I make."
With that knowledge stored over nearly 8,000 at bats, with fresh legs and with some rustling from Teddy Ballgame, is it any wonder Gwynn is having a career year? Actually, yes, considering he is so old he faced Ferguson Jenkins, who was born in 1943--"He could sink it, run it and had a good changeup," Gwynn says--and is one of 23 Cy Young Award winners Gwynn has batted against (box, above). Gwynn has hit .342 against those elite pitchers, including .364 against those still active and .406 against Atlanta's Tri-Young winners, Maddux, Tom Glavine and John Smoltz.
Last Saturday, Gwynn faced a pitcher, Livan Hernandez, who was born 31 years after Jenkins and who was pitching for a franchise and a wild-card spot that did not exist when Gwynn began his career. Gwynn went hitless in three at bats, matching his longest hitless streak of the year, one game, a minislump that extended on Sunday when he went 0 for 4.
Fifteen years ago he whacked two hits against the Philadelphia Phillies. The first was a double that brought the first baseman trailing the play close enough to talk to him at second base. "Hey, kid, what are you trying to do, catch me in one night?" Pete Rose asked Gwynn.
The best hitter since Williams smiles 2,705 hits later. "Man, it seems like yesterday," he says. "The years, they've flown by."