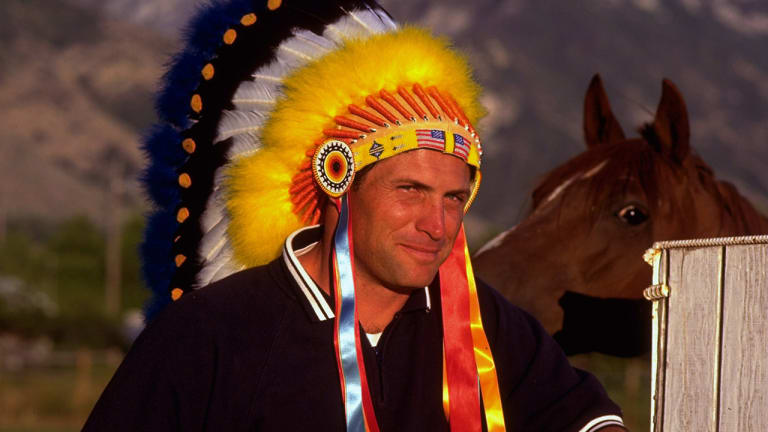 "We, the First Presidency and the Council of the Twelve Apostles of The Church of Jesus Christ of Latter-day Saints, solemnly proclaim that marriage between a man and a woman is ordained of God and that the family is central to the Creator's plan for the eternal destiny of His children." --1995 proclamation by church president Gordon B. Hinckley
The scene inside the huge tent under which the Steve Young Charity Golf Classic awards ceremony was being held resembled that of a typical big-jock fund-raiser. There was a sprawling buffet, rows of white-tableclothed tables, a dozen autographed jerseys, sets of shiny new golf clubs and scores of logoed freebies from the companies endorsed by Young, the San Francisco 49ers' quarterback.
But the gathering, held on June 23 in the foothills of snow-capped Mount Timpanogos south of Salt Lake City, was most unlike a typical big-jock fund-raiser. There was no beer. No liquor. No tanked-up players. There were kids. This could have been the Von Trapp Tournament, so many children were scurrying about. Two of Young's three brothers (he also has a sister) saw to that. Mike, a 33-year-old emergency-room doctor in American Fork, Utah, stood rocking Cade, his five-week-old son, while Mike's wife, Shayne, and daughters, Taryn, 9, Andie, 6, and Ellery, 3, completed the Rockwell painting. The other brother in attendance, Tom, 27, who runs Steve's charitable Forever Young Foundation, worked the room with his wife, Stacy, and daughter, Sydney, 10 months.
The day was perfectly Mormon: Families together, BYU friends reunited, $80,000 raised for a good cause. Steve, the M.C., played the witty host on the wireless mike. He made the most pedestrian of former BYU teammates sound like All-Americas and zinged a few buddies with G-rated cracks. He saved one PG rip for a man who wasn't in the crowd. "By the way," said Steve, in the middle of a basketball riff, "somebody tell Dennis Rodman he can stick it." The crowd, irritated by Rodman's anti-Mormon remarks during the NBA Finals, cheered wildly. "I can say that, can't I?" Young added meekly, as if embarrassed to have spoken badly of another person.
The pristine scene lacked one element. Two, really. A wife for Steve Young. And children for Steve Young. This is a particularly touchy time personally and professionally for Young, who turns 36 in October. Age has become his archenemy. His relationship with fiancee Aimee Baglietto is on the rocks, four months after their wedding was called off and a year after he fell in love with her. This is the second time Young nuptials have been scrubbed. The first cancellation came in 1984 when Young, then playing for the USFL's Los Angeles Express, got cold feet.
Young, a devout Mormon, is determined to marry in the faith and before his football career ends, but the numbers and the clock are against him. There are but 4.8 million Mormons in the U.S. According to Thomas Holman, associate professor of family science at BYU, the average Mormon woman marries at 21. With the divorce rate of temple-married Mormons at one fifth the normal U.S. divorce rate of one in every two marriages, the pool of single women from which Young might choose is microscopic. "You see my problem, don't you?" he says wryly.
Young is nearing a football crossroads, too, after a 1996 season marred by a pulled groin, two concussions and three broken ribs. Sources close to Young, who is embarking on his 14th pro season, say he is on the verge of signing a $6 million-a-year deal. The 49ers didn't show much long-term faith in him on draft day, however, choosing a quarterback, Virginia Tech's Jim Druckenmiller, in the first round for the first time since 1967, when they selected Steve Spurrier. Young says he is pain-free, and postseason neurological tests showed no spots on his brain indicating excessive bruises from the concussions. Still, San Francisco chose Druckenmiller as a long-term insurance policy for the man who missed all or part of seven of its 18 games last year.
Young's public and private worlds are inextricably tied. He won't be specific about what went wrong between him and Baglietto, though he did say he is trying to patch things up with her. Last summer during training camp in Rocklin, Calif., Young was so smitten by Baglietto, a 25-year-old senior at BYU, that he said to a teammate who had sneaked out of camp one night, "Give me your blueprint. I've got to see Aimee." The couple set March 8 as the wedding date. They registered for gifts at Williams-Sonoma. But the relationship grew rocky last winter. A hundred rumors flew as to why, from Baglietto's not being devout enough for Young to their simply growing apart. Young says now, "We're trying to work it out. You grow and learn."
At his tournament Young reiterated that he aches to be married and to have at least one child before he finishes playing. "That's my goal, and I'm determined that it will come true," he said, sitting in the shade of a young evergreen by the 18th tee. "Even if he or she is an infant and doesn't remember [seeing me play], I want it to happen. I want it so bad."
When we last saw Steve Young, he was wincing. On the sidelines during the Jan. 4 NFC semifinal at Green Bay, Young tried over and over to block out the pain of his broken ribs, one of which was dislocated. Even with a painkilling injection from team medics, he couldn't. After two ineffective series with Young calling signals, the 49ers replaced him with Elvis Grbac, who played miserably in the Wisconsin muck. The Packers routed the Niners 35-14 and went on to win the Super Bowl. "They said the shot would numb the area, but that one out-of-place rib kept killing me," Young says. "Every time I threw I felt like I was getting stabbed in the back."
The first weeks of the off-season were a time of recuperation. The cobwebs in Young's head went away. His groin felt fine, and his ribs were completely healed by March. "Everyone wants to talk about my age," he says, "but the fact is, every time in my career I've ever had an injury, three weeks later I was fine."
Once he felt fit, Young set out to do what he does every off-season: good deeds. He began to raise money for recreation and learning centers for seriously ill patients at two children's hospitals, one in Salt Lake City and another in Palo Alto, Calif. Young appeared on the Children's Miracle Network Telethon in May. He worked for the Salt Lake City Olympic Organizing Committee (the Winter Games will be in Utah in 2002). For the 10th year in a row, he went to Arizona to visit Native American tribes, under the auspices of American Indian Services, a nonprofit organization that helps send Native American kids to college. In conjunction with American Indian Services, Young raises money for more than 500 college scholarships annually and funds an antidrug program for the Navajo and Hopi nations.
During this year's trip to the Navajo and Hopi reservations, he talked about why he liked working with the tribes. "People don't realize what I get out of it," he said. "I take things from these people. I've learned that happiness doesn't necessarily come from intriguing urban lifestyles, although I'm not saying you can't be happy in a city. I've met people who've lived in thatched huts with dirt floors and no electricity their entire lives, and they've had fantastic lives. They don't long for other things."
During a stop at Ganado High on the Navajo Reservation, students feted Young with a dance. The scene was cheerful; the tribe had even raised enough money to build a football stadium, complete with artificial turf, at the school. By contrast, the next stop, Hopi High on the Hopi Reservation, was depressing. When Young rose to speak to students in the auditorium, the audience was disrespectfully noisy, and his antidrug and stay-in-school speech, which he delivers at all the schools he visits, drew scoffs. "When these kids graduate," said Hopi High counselor Gary Clark, "half will try to get jobs. Half will drink."
The Hopis are entangled in a border dispute with Navajos who surround them. The Hopis have little potable water; most drinking water comes in bottles. "God. How can they have hope?" Young said as he left Hopi High. "What's here for them? An inner-city kid growing up in New York has a much better chance to succeed than these kids. It's a shame. That's why education is so crucial. They'll go nowhere without it. The [American Indian Services] scholarship program is essential for these kids to have a chance."
On the trip, a week after the April 19 NFL draft, Young hadn't yet been to a 49ers minicamp this year, and he was skeptical about what the San Francisco management had done to shore up the weaknesses that had become apparent last season. The Niners had promised him they would retool his line so he wouldn't get as beaten up as he had in 1996, when he was sacked 34 times. However, San Francisco had drafted no offensive linemen and had signed only one as a free agent, Kevin Gogan, a 32-year-old journeyman guard who last season played for the Oakland Raiders. The 49ers had stressed to Young how Steve Mariucci, the man who had replaced forced-out coach George Seifert, could take a quarterback drafted in the middle rounds and groom him over the next several years to be Young's successor; then they had chosen Druckenmiller in round 1. Finally, they hadn't addressed their dire need for a good cornerback. Young was disheartened. "I wish I knew what they were doing," he said then.
By the end of June, however, Young's professional clouds were lifting. "I'm not being a Pollyanna about it," he said, "but I've been to three minicamps, and I was really energized by them. I love what I saw in [free-agent running back] Garrison Hearst. I think with him and Terry Kirby we could have the best backfield we've had in a while. Every lineman seems bigger and stronger. [Tackles] Harris Barton and Kirk Scrafford are both about 300. [Guards] Ray Brown and Kevin Gogan are about 315 and 330, and [center] Chris Dalman's 300. And now we've got [cornerback] Rod Woodson [whom the 49ers signed for $5.1 million over three years]. What a boost for our secondary."
Druckenmiller will need at least two years to learn the West Coast offense. Meanwhile, Mariucci, Brett Favre's day-to-day tutor in Green Bay from 1992 to '95, will try to hide Young behind the bigger line, restrain him from scrambling and turn Hearst into a running-catching back in the Roger Craig mold. San Francisco also plans to throw deeper, which will make wide receiver Jerry Rice happier. "I love what we're doing," Rice said at Young's tournament. "And it helps that I've really found a comfort level with Steve."
In six seasons together Rice and Young have combined for more completions a game (6.0) than Rice and Joe Montana (5.1) did in their six seasons together. Rice and Young also have hooked up for more touchdowns (72) than did Rice and Montana (59). The perception is that Montana was worlds better than Young is. Considering only Super Bowls won, the perception is correct--Montana leads 4-1. But compare their stats as 49ers: Young has a better winning percentage (.725 to .719), touchdown-to-interception ratio (2.5:1 to 2:1) and quarterback rating (102.3 to 93.5). He has done all this despite having a team around him that isn't as good as the one that surrounded Montana. "If I never took another snap, I think I've taken my place among the good quarterbacks," Young said at his tournament. "But I think I have to win another championship. Otherwise people will always be able to say, He's got the numbers, but he only won one title."
Young grew pensive pondering his future. "The thing that keeps me young is the constant quest for perfection," he said. "I saw Joe go for it. It kept him young. It keeps me young. I think I'm in mid-career, but I have no idea how long I can play. Jerry and I are pushing the envelope of how long guys can play at a top level, regardless of age. Times are changing in sports. Look at the NBA. Look at the elite athletes playing in their mid-30s--Michael Jordan, John Stockton, Karl Malone, all thirtysomething and not playing below the standard they've set. I understand the team being skeptical about older players, but I don't put much stock in age. I know how I feel."
"Physically, Steve's obviously in great shape," Gary Plummer, his friend and a 49ers linebacker, said at the tournament. "But mentally he's in even better shape. Last year, George Seifert would be behind him in practice, saying, 'Throw it! Throw it!' Now Steve Mariucci lets him make his play and then slaps him on the back. He needs that. He knows what to do. He doesn't need the pressure."
That pressure comes from other places, like the golf course on this hot day at his event. In the Mormon world Young's private life is quite important. "He's like British royalty in England," says his agent, Leigh Steinberg. "There's tremendous pressure on Steve to marry in the faith."
"Well, Steve," said Vic Ayers, a Salt Lake businessman and a friend of Young's, as the two stood on the 18th tee, "are you going to tell us what happened with the wedding or not? Why's it off?"
"Vic," Young said with a smile, "it's all about compatibility."
The subject hung there for a moment. The polite thing would have been for someone to talk about how impossible it would be to make par on this hole, not how Young and Baglietto had called off their wedding. One of the other golfers said, "Well, Steve just wants to make sure he makes the right choice."
Off to the side, another player said, in a quieter voice, as though he wasn't sure if this was the right thing to say, "Jeez, Brigham Young had 14 wives."
The foursome hit their shots and left the tee. "I felt that weight for so many years," Young said later. "I used to be all uptight about it. Not anymore. I've been through so many relationships. I'm almost like the relationship guru. The easy thing would have been to get married in college, but I believe in meeting the right person. Obviously, fame and the Mormon faith aren't that compatible, and it's been tough. But I think it'll happen. I have faith that it will."
The foothills were silent for a minute, except for the call of a loud bird. Young was asked if he ever stared at the ceiling and thought about being lonely.
"If I'm honest with myself, yeah," he said. "I want to be married and have kids. I want it a lot."