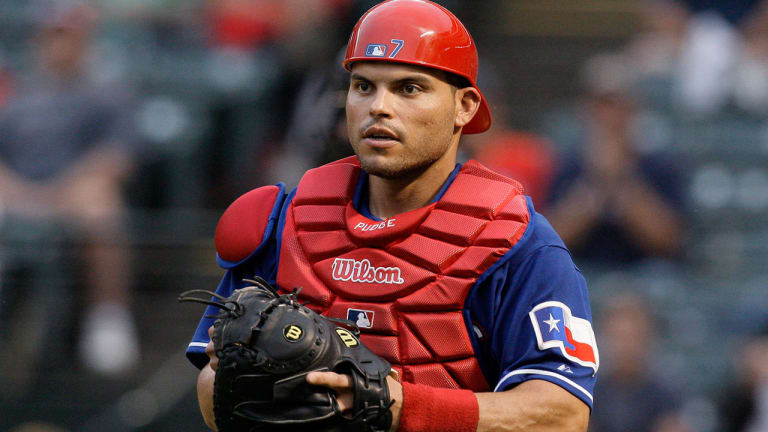 Pudge Factor
By signing him to a rich contract, Texas admits that catcher Ivan Rodriguez is irreplaceable after all
Edgar Martinez knows that the best catcher in baseball is behind the plate. Still, something unexpected is about to happen. Martinez, the Seattle Mariners' slow-footed designated hitter, takes a short lead off first base. Ninety feet away at home plate, Jay Buhner has just swung through a fastball. Before Buhner has finished his backswing, Texas Rangers catcher Ivan (Pudge) Rodriguez springs to his feet, cocks his arm back like the drawstring of a crossbow and fires the ball toward first, where Martinez is pawing his way back to safety. Clods of dirt are flying from Martinez's cleats as he gropes for the bag. The play happens so quickly that the crowd at The Ballpark in Arlington has no time to react. Martinez hears the ball snap into first baseman Will Clark's glove, but Clark's sweep tag is a split second late.
When Martinez stands up and straightens his cap, he blinks and smiles vacantly, the way a guy might if he'd just walked out of a plane crash unscathed, unable to believe his good fortune. "I was laughing because I told the umpire, 'You were going to call me out, weren't you?'" Martinez says. "Then the ump laughed too."
Martinez was laughing because he's aware that others have not been so lucky when Rodriguez has gone after them. On Opening Day against the Milwaukee Brewers, Rangers righthander Ken Hill, who has since been traded to the Anaheim Angels, was clinging to a 4–2 lead in the top of the fifth inning when he bounced a slider that caromed off Rodriguez's shin guard. As the ball skidded away, Hill thought, All right, runners at second and third, two out. Then, boom! Rodriguez fired a BB to second base and nailed Jose Valentin, trying to advance from first. Inning over, lead preserved. "Not many catchers can make that play," Valentin said later. To which Texas manager Johnny Oates said, "No other catcher can make that play."
Rodriguez is told of this praise and says, "If you're going to take a lead on me, I'm going to throw it. I am not afraid." Told that he makes the confrontation sound personal, Rodriguez smiles and says, "Yeah. It is."
If Rodriguez's wondrous arm were all he brought to the game, he would be a remarkable talent. But in the past two years he has become more than just the best catcher in the game. At 25 he's arguably the most irreplaceable player in baseball, and the Rangers know it. After protracted negotiations Rodriguez, who would have been a free agent at season's end, signed a five-year, $42 million contract extension last Thursday that made him the highest-paid catcher in history. "If he stays healthy, I guarantee he'll be making an acceptance speech someday," says Oates, referring to the Hall of Fame ceremonies. "In my 30 years in baseball, the closest total package I've seen to Pudge is Johnny Bench."
Since breaking into the big leagues at 19, Rodriguez has won five Gold Gloves (Bench holds the record for catchers, with 10) and has been named to the American League All-Star team six times, including this year. At week's end Rodriguez was ninth in the league in batting, with a .326 average, and among the leaders in hits (135) and doubles (29). Although he spends considerable time in the weight room—he stands only 5'9" but is a well-muscled 210 pounds—Rodriguez has averaged just 11 home runs per season in his big league career. But Oates insists that Rodriguez could sacrifice average for power and end up with 30 homers one year. Moreover, says Oates, if Rodriguez, who usually bats second, didn't have hitters like Rusty Greer, Juan Gonzalez and Clark hitting behind him, he could steal 20 bases. There's no telling how many more RBIs he'd have if the Rangers' rotating leadoff men weren't batting a paltry .249, third-worst in the league through Sunday.
Most important, there's no telling how many runs Rodriguez's defense prevents. As Brewers manager Phil Garner has said, "There's no reason to run on Rodriguez. It's not worth the risk." Even on a night he goes 0 for 4, Rodriguez changes a game. His arm keeps some runners from attempting to steal and makes others reluctant to even take a sizable lead.
Oates says Rodriguez's arm allows Clark to play off the bag when a runner with average speed is on first, closing the hole a lefthanded hitter would otherwise enjoy. The Rangers' pitchers say that with Rodriguez behind the plate, they get more double plays and fewer opposing runners who go from first to third on a single or first to home on a double. "I call it the Drop Anchor Effect," Clark says. "Guys get to first. Drop anchor. Then wait till it's safe to go to second."
As a teenager, while playing for the Double A Tulsa Drillers, Rodriguez was timed throwing the ball from home to second base in 1.78 seconds—"Two seconds is considered good," says Bobby Jones, the Tulsa manager then and now. In addition to his quick release, impeccable footwork and pinpoint accuracy, Rodriguez throws so hard that the ball appears almost misshapen as it speeds toward second.
To his prodigious arm, Rodriguez has now added a sense of gamesmanship. "If the pitch is, say, a slider away, I've seen Pudge whip his head around and pretend the ball went to the backstop just to see if he can trick a base runner far enough off the bag to throw him out," Rangers pitcher Bobby Witt says. "Sometimes you can see Pudge smiling about it behind his mask."
Last season Rodriguez picked off 11 runners, eight at first base and three at second, and his caught-stealing percentage of 48.9% (44 of 90) led the American League for the fourth time in his six seasons. He started a league-high 140 games behind the plate, a position so grueling that catching 125 games is considered a lot. Yet he still hit .300 and had personal bests in eight categories, including games played (153), hits (192), home runs (19) and RBIs (86). Two more personal bests set big league records for catchers: his 639 at bats broke Bench's mark of 621, set in 1974, and his 44 doubles in games in which he caught exceeded Mickey Cochrane's 42 in '30. Also, Rodriguez's 116 runs tied the mark set by Yogi Berra in '50.
Rodriguez has his quirks. When the Rangers are out of town, he insists that someone—his wife, Maribel, his dad, Jose, or his Falstaffian sidekick, Tato Hernandez, a pal from his native Puerto Rico—accompany him to chase away loneliness. "I like having someone to talk to," Pudge says.
He also has a weakness for fast cars—he has a white Dodge Viper and a red Porsche 911—but he's no bon vivant. His idea of a good time is playing Nintendo or staying home with Maribel and their two children, Dereck, 5, and Amanda, 2. Pudge and Maribel were married on June 20, 1991, the day he was called up to the big leagues. When asked last year what advice he'd give 20-year-olds, Rodriguez said, "Be a good guy, stay out of trouble and try to do everything the best you can."
Asked a few weeks ago if her husband has any bad habits, Maribel said, "Ivan doesn't drink or smoke. He doesn't go out. His only bad habit, if you want to call it that, is that he watches ESPN when he comes home from the ballpark at night. Then he gets up in the morning, takes a shower and watches ESPN again. Honestly, I don't get it."
Rodriguez also has a deep affection for kids. He does numerous youth baseball clinics each year, partly because he remembers how Jose, a supervisor of electricians for a construction company in Vega Baja, Puerto Rico, put him through baseball drills in the side yard of their cinder-block house in the barrio from the time Pudge was seven. (The nickname Pudge came from a youth league coach who found Rodriguez both small and a little fat.) Jose still lives in the same house (he is divorced from Pudge's mother, Eva, an elementary-school teacher in Vega Baja), and a few years ago Pudge came home to install a pitching machine and batting cage where he and Jose used to practice. Several times a week during the off-season he makes the 60-mile round-trip from his own house in San Juan to take cuts under Jose's watchful eye and "remind myself where I came from."
In 1995 Pudge established a foundation to help underprivileged and cancer-stricken kids in the Dallas-Fort Worth area and in Puerto Rico. During the Rangers' final game that year, team president Tom Schieffer motioned for Rodriguez to leave the on-deck circle and come meet Matthew Swinton, a five-year-old with muscular dystrophy who was sitting in his wheelchair next to Schieffer near the Texas dugout. Rodriguez is Matthew's favorite player. Rodriguez says he asked Matthew, "'Do you have a hit for me?' He said, 'I got a home run for you.' So I said, 'Kiss the bat.' Then I went up and hit a home run on the first pitch! When I ran around the bases I was looking and pointing at him. He was so happy. He was clapping. He had a big smile. After I touched the plate, I ran over to him and hugged him. Then I gave him a high five."
Schieffer says, "It's one of those stories that makes you love baseball. I still get a little catch in my throat every time I retell it. I got the feeling that Babe Ruth was up there somewhere and smiling."
Texas won its first division title last season, and Rodriguez got a lot of the credit for that, especially for his handling of a largely no-name pitching staff that tied for the fifth-lowest ERA in the American League (4.65). Only Gonzalez, the league's 1996 MVP, and possibly Rusty Greer, the leftfielder, get applause equal to Rodriguez's at home games. Yet last week, when it appeared negotiations for the contract extension were at an impasse, the Rangers were on the verge of trading him to the New York Yankees rather than lose him to free agency following the season.
For more than a year Rodriguez, who is making $6.65 million this season, and the Rangers could not agree on a long-term contract. Just two weeks ago Texas offered him $38 million over five years, a deal Rodriguez rejected. Then, on July 29, the Rangers traded Hill for Angels catcher Jim Leyritz, who gave the team some protection in case they lost Rodriguez. The mood of the Texas players as they sat in the visiting clubhouse in Baltimore that day was morose. "Pudge seems 90 percent gone now," Gonzalez said in a near whisper.
On the flight home later that night Gonzalez urged Rodriguez to talk to Schieffer. When Rodriguez phoned his mother, she also told him to visit the Rangers' president. At 9 a.m. last Thursday, 14 hours before the major league trading deadline, Rodriguez showed up unannounced at Schieffer's office, without his agent, Jeffrey Moorad. "I don't want to be traded," Rodriguez told Schieffer. "I want to stay here."
"It's a huge relief," Schieffer said after making the deal with Rodriguez. "It's what everyone wanted. Pudge told me, 'This is eating me up. I want to finish my career here.' He deserves all the credit."
Rangers general manager Doug Melvin still sticks by the argument he made in spring training: The performance of catchers tends to decline after 900 major league games, and Rodriguez began this season at 730, his youth notwithstanding. "It's nothing against Pudge," says Melvin, who nonetheless is glad to have the catcher locked up until 2002. "Catcher is just a high-risk, wear-and-tear position."
Despite Melvin's concerns, Rodriguez continues to be an iron man. No one has to tell Oates he's got the most important position player in baseball on his team. The manager says that about four hours before every game he goes through the same angst-ridden ritual. "I know in my heart Pudge would put up better offensive numbers if he played fewer games," Oates says. "I know I abuse him. So every day I come to my office and I think, O.K., what I have to do now is tell Pudge he's getting the day off tomorrow, tell Henry Mercedes he'll be catching and tell the press that, too." Sometimes Oates does just that. "But when I come in here the next day, I still write Pudge's name on the lineup card—I can't help it. I get in here and I say, 'Oh, this guy's hurt. That guy's slumping. I've got to play Pudge!'"
On the field the Texas sun is beating down. The humidity is stifling. The temperature is 90 [degrees] plus, and Oates, his voice firm, says, "I'll tell you this: Tomorrow Pudge finally does get the day off. Whether he likes it or not."
Then tomorrow's game comes—and the next and the next. Sheepishly, Oates says, "Looks like I lied again."