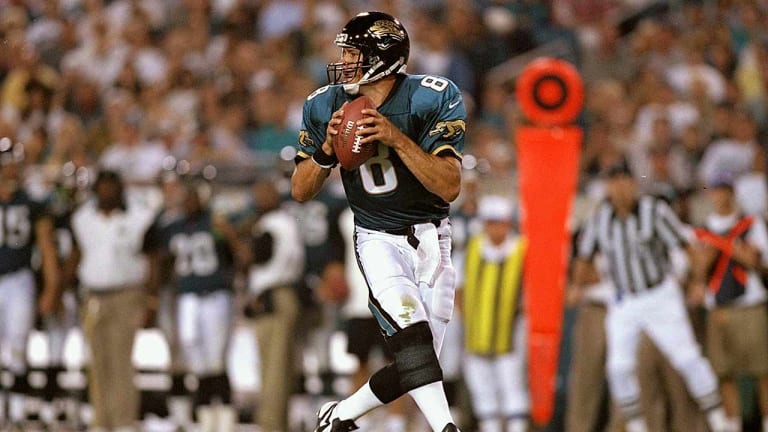 Publish date:
Party of Five
A quintet of strong-armed, agile quarterbacks with tons of ability have risen to prominence in the AFC Central, bringing new life to a position sorely in need of star power
You are the quarterback, and this is your vacation of choice: sand in your toes, the Caribbean in view, nobody in your business. You have an ample supply of sunblock—not to mention the companionship of one of the NFL's best blockers—yet you are about to get burned.
You are Mark Brunell of the Jacksonville Jaguars, a 26-year-old whirlwind who has been anointed as pro football's next great star. You and your wife, Stacy, are lounging on a resplendent St. Thomas beach with two close friends—Tony Boselli, the Jaguars' Pro Bowl left tackle, and his wife, Angi. A boy, maybe 15, approaches the 6'7", 323-pound, chiseled-like-Mount-Rushmore Boselli and asks for his autograph, and as Boselli signs, he nods toward you and says, "You might want to get his autograph, too."
You have mixed emotions about this. You're no fan of the limelight, but you do have an ego; you would never have made it this far were it not for your profound faith in your abilities. Besides, if the kid snubs you, Boselli will ride you mercilessly for days.
Finally, the boy answers Boselli. "Why would I want to get his autograph?" he says with a sneer. "It'd be like him asking for mine."
Here's one difference between Brunell and the kid on the beach: Five months later, Jacksonville owner Wayne Weaver asked Brunell for his autograph, and the quarterback signed a five-year, $31.5 million contract extension that made him one of the league's highest-paid players. A revelation during last year's playoffs, when he carried the Jaguars, in just their second year, past the Buffalo Bills and the AFC-favorite Denver Broncos and into the conference championship game, Brunell has value that extends far beyond Jacksonville. You can bet there were huge smiles at NFL headquarters in New York City when, after Brunell injured his knee during an Aug. 9 exhibition game against the New York Giants, it was announced he would not require reconstructive knee surgery and could return by early October. Think about it: With John Elway, Dan Marino and Steve Young all at least 35, Troy Aikman a weathered 30 and even Brett Favre settling into adulthood (he turns 28 in October), the NFL is counting on Brunell to lead a new generation of marquee quarterbacks into the 21st century.
It's a titillating time for pro football fans, and much of the excitement is clustered in one division. In addition to Brunell, the division includes three young, mobile, strong-armed, African-American quarterbacks—the Cincinnati Bengals' Jeff Blake, the Tennessee (ne Houston) Oilers' Steve McNair and the Pittsburgh Steelers' Kordell Stewart—as well as Vinny Testaverde, a 33-year-old Heisman Trophy winner whose career was reborn with the Baltimore Ravens last season.
This quiver-inspiring quintet includes three men who have been to the Pro Bowl: Testaverde and Brunell, both of whom played for the AFC in February (Brunell was the game's MVP), and Blake, a selection the previous year. Then there is Stewart, who already owns the longest touchdown run by a quarterback in NFL history (80 yards). He and McNair, the third pick in the '95 draft, are brimming with potential as they approach their first year as starters.
Each quarterback, even the deceptively agile Testaverde, supplements a strong arm with a scrambler's flair. "It's nice to catch a breather during the season, but the way this division is now, there aren't any," says Carnell Lake, the Steelers' Pro Bowl strong safety. "If you let down your guard for a moment, you get beat. All these guys can move, so you've got to be fast, and you've got to be in shape."
Just ask the Jaguars, whose 1996 season included a 34-27 loss to the Oilers; a 30-27 victory over the Bengals in which Blake and Brunell each threw for more than 300 yards; and a pair of wild wins over the Ravens during a 14-day stretch in November that featured 1,279 combined passing yards by Brunell and Testaverde and Jacksonville comebacks from deficits of 11 and 15 points. In October, Houston beat Cincinnati 30-27 in overtime. The Oilers ended their season with a 24-21 win over Baltimore in which McNair was 19 of 24 for 238 yards with one touchdown pass and one rushing score. Testaverde was 23 of 32 for 307 yards and three touchdowns.
"It's amazing how a few years ago everyone said the weakness in our division was at quarterback," says Michael Huyghue, the Jaguars' senior vice president of football operations. "Now we're where the action is."
Three years ago, before Jacksonville joined the league, the AFC Central's starting quarterbacks were Testaverde, Cody Carlson (Oilers), David Klingler (Bengals) and Neil O'Donnell (Steelers). Testaverde, who had displaced Bernie Kosar in the Cleveland Browns' lineup the previous season, was viewed as a washout. His current counterparts were saddled with more bad raps than Vanilla Ice's producer.
Blake, believed to be too short by many NFL personnel men, was released by the New York Jets in August 1994 after throwing nine passes over two seasons. Scarcely recruited out of high school, McNair went to Division I-AA Alcorn State to prove he could play quarterback. Stewart overcame repeated attempts by coaches to convert him to other positions and Pittsburgh's naming of another young player, Jim Miller, as its quarterback. Even Brunell, for all of his obvious ability, has been a survivor, overcoming a serious knee injury at the University of Washington and entering the league as a fifth-round draft choice of the Green Bay Packers in 1993.
Recently Brunell was presented with another obstacle. Though most people close to the situation believed the injury to his right knee was so severe that it would require reconstructive surgery, the deeply religious quarterback kept the faith. Three days after the injury Brunell showed up at practice, walked without crutches and proclaimed that God was healing his knee. Two days later doctors performed arthroscopic surgery and announced that while Brunell had torn his medial collateral ligament, his anterior cruciate ligament was only partially torn.
Flash back to April 1991: Brunell, three months after earning MVP honors in the Huskies' Rose Bowl victory over Iowa, blew out the same knee during a spring practice scrimmage and underwent reconstructive surgery. "I had to realize football might've been over at that point," Brunell recalls. "I thought of some other options—going into education, playing baseball. Then I decided, I'm going to fight this thing and get back." Doctors told Brunell he would miss his junior season; he made it back for the third game, though Billy Joe Hobert had supplanted him as the Huskies' starter. The two split time the next year, and Hobert was one of three quarterbacks drafted ahead of Brunell in '93. But Brunell was impressive enough during his limited action in Green Bay, mostly in exhibition games, that the Jaguars and the Philadelphia Eagles targeted him as their quarterback of the future.
In 1995, with Favre entrenched as the Packers' quarterback, Jacksonville traded third- and fifth-round draft picks to get Brunell. The Jaguars had a gem, but it sorely needed polishing. Eager for exposure and extra cash, Brunell started showing up on television in some memorably bad commercial spots. "When I first got here," he says, "I don't think there was a whole lot I said no to."
This year, in an effort to spend more time with Stacy and their children, Caitlin, 5, and Jacob, 2, Brunell dropped several local endorsement deals as well as his weekly radio and television shows. Two years ago concerns related to time and image were nonexistent. "When it comes to commercials," Stacy says, "he's had some doozies." The low point was one for Burger King in which Brunell stood on a football field and growled again and again, ostensibly impersonating a jaguar. "I didn't think about how it would look on TV or how my teammates would take it," says Brunell, who for the next several months was bombarded with mock growls.
Fortunately, Brunell had received plenty of training in how to take a joke. In Green Bay a harmonic convergence of himself, Favre, backup Ty Detmer (now the Eagles' starter) and quarterbacks coach Steve Mariucci kept things light. "They were like three brothers, always playing jokes on everybody in the locker room, always dousing somebody with ice water," recalls Mariucci, San Francisco's first-year coach. Mariucci and his pupils introduced the practice of head weighing, an inexact science in which each player laid his noggin on a scale in the locker room. "Most people's were in the eight to eight-and-a-half pound range," Mariucci says, "but Mark's was like a 10.2." There was also the requisite bathroom humor supplied by the bawdy Favre, whose wild side clashed wonderfully with the devout beliefs of Brunell and Detmer. Brunell calls Favre "the funniest guy I've ever met" and says Mariucci "is more than a coach; I consider him a friend." But Mariucci was smart enough not to pal around with Brunell and Detmer when they invited Favre on a hunting trip. "I wouldn't go in the woods with Brett Favre," Mariucci says. "With a gun in his hand? Uh-uh." Says Brunell, "Brett was shooting everything that moved. You would hear the gun go off, duck and pray."
Mariucci now coaches Steve Young, the quarterback to whom Brunell is compared more faithfully than R&B singer Erykah Badu is to Billie Holiday. Young himself noted the similarities after an August 1996 exhibition game between the 49ers and the Jaguars at Jacksonville Municipal Stadium, telling Brunell, "Man, it kind of looks like me out there." Brunell, who in '96 became the first player since Johnny Unitas in 1963 to lead all quarterbacks in passing yards (4,367) and rushing yards (396), looked even more like Young in the Jaguars' 30-27 playoff victory over the Broncos, repeatedly avoiding the rush and killing Denver with a 29-yard fourth-quarter dash that set up the game-clinching touchdown. Other than the fact that he and Young wear number 8 and are lefthanded, however, Brunell can't see what all the fuss is about. "He doesn't like the comparison," Boselli says. "They're two different people with completely different approaches to the game."
One notable difference: Young has proved his greatness over time, as evidenced by his two most valuable player awards, five passing titles and one Super Bowl MVP performance. Brunell, for all of his heroics last season, threw fewer touchdowns (19) than interceptions (20), though he was not picked off in any of the Jaguars' final four regular-season games.
After sputtering to a 4-7 start, Jacksonville won seven consecutive games, all by a touchdown or less, before falling 20-6 to the New England Patriots in the AFC title game. The Jaguars' turnaround came after a 28-3 November loss to the Steelers in Pittsburgh. In that game Brunell screamed at wide receiver Andre Rison following a Steelers interception that came after Rison appeared to break off a route. The incident was documented by NBC's announcers, and Rison, who was waived the next day, came to believe that Brunell had set him up by making disparaging remarks during a network production meeting the day before the game. "I never said his name to any reporter," Brunell insists.
The incident left no doubt as to who was the team's leader. "It was the first time Mark really stepped up and said something critical," Huyghue says. "His growth curve was unreal. The guy went from training wheels straight to pop-a-wheelie." Now, as he watches Rob Johnson begin the season as the Jaguars' starter, Brunell anxiously waits for his damaged wheel to heal.
You are the quarterback, and you have just completed your first NFL start in grand style, with 247 passing yards and two touchdowns against the two-time defending Super Bowl champion Dallas Cowboys. You are a Bengals third-stringer by the name of Jeff Blake, whom almost no one has heard of, and when your phone rings, Super Bowl XXII hero Doug Williams is on the line. The two of you have never met, but you're a promising black quarterback, and Williams offers his support. "Just keep doing what you're doing," he tells you. "There will be a lot of obstacles in your way, but you can't let that deter you. A lot of people have paved the way, and now it's your turn."
The two hang up, but not long after, the phone rings again. It's Spike Lee. He tells you, in so many words, to do the right thing.
This opportunity seemed as if it would never come, but you prepared nonetheless, playing imaginary games time and again in your head. You know this will probably be your only chance, so you make the most of it—with 387 passing yards in your second start, 354 and four touchdowns in your third and a conference-leading 28 touchdown passes the following season, which ends with your being the AFC's starting quarterback in the Pro Bowl. Your trademark both on and off the field is an uncanny ability to go deep.
"Jeff Blake's story should be made into a movie," says Cincinnati coach Bruce Coslet, who as the Jets' coach was the man responsible for drafting him in 1992. That year eight quarterbacks were picked ahead of Blake, who was the 166th selection. Blake can name all the quarterbacks selected before him, a guffaw-inspiring list that includes Tommy Maddox, Tony Sacca and Chris Hakel.
"You can only measure a person's size, strength and speed," Blake says. "You cannot measure a person's heart and mind."
Blake's father, Emory, was a CFL running back. Emory taught Jeff to read defenses at the age of 10 and coached him in high school. But after starring at East Carolina, Blake, who stands just under six feet, was stigmatized by his height and his race. "[Pro scouts and general managers] made up every excuse in the book about me," he says. "Too short, too black, small school, anything they could think of. People said I wouldn't be durable enough, and look what happened." What has happened is that Blake, despite playing behind a young, injury-ravaged line last season, has started 41 consecutive games, the second-longest streak in the league, behind Favre's 77-game run.
Coslet would like to see Blake, 26, increase his completion percentage—it was 56.1 in '96—but Blake is a high-risk passer. When it comes to throwing the bomb, he is, in hip-hop parlance, da bomb. His ability to throw the deep pass is unparalleled, and the Bengals' swift receivers, Carl Pickens and Darnay Scott, have a knack for snatching his high-arching passes out of the sky. "A lot of quarterbacks throw the deep ball flat, so it has to be right on the money," says Coslet, who as Cincinnati's offensive coordinator in '94 persuaded the team to sign Blake. "Jeff has such a high trajectory on it that the receivers can adjust."
Boomer Esiason, a former Cincinnati star who rejoined the team this spring to serve as Blake's backup, says he was blown away when he saw what Blake, Pickens and Scott had going. "The feeling they have for one another is spectacular," says Esiason, who played with Blake in New York in 1993. "I'm glad I came back to see it, because I wouldn't have believed it."
Blake, a married father of three, remains acutely aware of the racial realities present in the NFL and society. He often urges coaches at predominantly black high schools to run pass-oriented offenses so that their quarterbacks will be better prepared for college football. He has served as a confidant to Stewart and embraces his status as an heir to the legacy of Williams, who received almost no significant endorsement deals in the wake of his Super Bowl MVP performance for the Washington Redskins in January 1988. Blake hopes that success will be kinder to him. "I want to do what all the other big-time quarterbacks have done," Blake says. "I want to win the Super Bowl, get all the big endorsements and get the big signing bonus."
You are the quarterback, and you know the drill: The coach wants to see you in his office, and that can't be good news. Not for you, Vinny Testaverde. This is your 10th NFL season, and though this is the best year you've ever had, you've learned to expect the worst. Example: In September '95 you were the AFC offensive player of the month. The following month you were replaced by rookie Eric Zeier.
Now it's late in the '96 season, and as you sit to talk to coach Ted Marchibroda, your stomach is churning. You figure that with the Ravens eliminated from playoff contention, Marchibroda plans to bench you and take a look at his younger players. The coach breaks the tension with a smile and says, "I wanted to be the first to tell you that you made the Pro Bowl."
The Pro Bowl is an honor that a player is supposed to low-key, especially when he's on a last-place team. But Testaverde received a false-modesty exemption last December, and it was richly deserved.
A few hours after his meeting with Testaverde, as practice was winding down, Marchibroda announced the quarterback's selection to the team. A loud cheer erupted, and 50 players converged on Testaverde. "There was just a spontaneous exuberance from the ball club," says Marchibroda, an NFL coach for 29 years. "It's the first time I've ever seen anything like that."
The reaction was inspired by two factors: Testaverde, the first pick in the 1987 draft, has been dogged by disappointment and bad press throughout his career. He also happens to be one of the nicest guys in sports. "It was something that I really wanted, to tell you the truth," Testaverde says. "I really wanted to experience that just once in my career, to be able to say someday that I was a Pro Bowl quarterback. I've worked extremely hard to get that respect."
For Testaverde, who last year threw for 4,177 yards (second in the NFL behind Brunell) and an AFC-best 33 touchdowns, the Pro Bowl carried one especially important perk: His father, Al, got to see him play in person for the first time in more than eight years. A retired mason from Elmont, N.Y., Al stopped watching his son perform after suffering a mild heart attack while attending an exhibition game in 1988, when Vinny played for the Tampa Bay Buccaneers. "I'm very emotional, and being Italian doesn't help me," Al says. "My doctor told me, 'If you want to die, keep going to football games.'" Since that time Al has spent fall Sunday afternoons avoiding TV sets. Vinny calls him after every game and gives him the blow-by-blow, and then Al's friend Randy Marino brings him a videotape of the telecast.
Al and his wife, Josie, had never been to Hawaii, and Vinny figured his dad could handle a game that didn't count. So after spending several glorious days soaking up the Pro Bowl atmosphere, hanging poolside and chatting up stars like Broncos tight end Shannon Sharpe and San Diego Chargers linebacker Junior Seau, Al took his seat at Aloha Stadium, joining a horde of Testaverdes that included Vinny's wife, Mitzi, and kids Alicia, 5, and one-year-old Vincent Jr. Everything was cool until Vinny entered the game. Al began pacing nervously and became agitated when AFC kicker Cary Blanchard missed a 41-yard field goal that would have won the game. "Everyone was telling me, 'Calm down, take it easy. It doesn't mean anything,'" Al recalls. "That's the last time I'll be in the stands."
Vinny has a father figure in Marchibroda, one of the league's best offensive teachers, and a surrogate big brother in Don Strock, the first true quarterbacks coach he has ever had. Marchibroda, Testaverde says, was the first coach who showed him precisely what to look for when watching film. Testaverde also was buoyed by the team's use of the no-huddle offense and by an increased number of audible options.
The upshot was that last year, after six rocky campaigns with the Bucs and three shaky seasons with the Browns, Testaverde underwent a startling transformation. "Once he became more confident, he was totally different from the Vinny I saw in the past," says Ravens wideout Michael Jackson, who tied for the NFL lead with 14 touchdown receptions in '96. "After being pressed and pressed all those years, he was able to relax."
Testaverde is so relaxed that he's finally comfortable discussing his color blindness. He admits having difficulty differentiating between reds and greens, but says that—despite what some in the league have speculated over the years—it doesn't hinder him on the field. "I think people misunderstand what color blindness is; they think you can only see black and white," Testaverde says. "But even if that were true, one team is always white and the other is always dark."
Still, Testaverde acknowledges that the condition is a handicap. "My wife had to pack my clothes for camp. She separates the outfits that go together," he says. "I'd look pretty silly dressing myself."
You are the quarterback, and you are on your back—early and often. You are Steve McNair of the Oilers, the rookie with the seven-year, $28.4 million contract, and this is your initiation. It's an exhibition game against the Arizona Cardinals in the Astrodome, and your first taste of the NFL tastes like... artificial turf. The Cardinals are blitzing you with abandon, sending five pass rushers to your weak side, forcing you into wobbly passes and awkward scrambles and bad decisions. The attack almost seems to be personal.
Later your coach, Jeff Fisher, explains the motive to you: Buddy Ryan, Arizona's gung ho coach, was out to prove that you're merely a product of hype—that you're not as good as his rookie quarterback, third-round draft pick Stoney Case. But instead of lashing out at Ryan, you tell Fisher this: "Coach, I've got to get better. And I will."
McNair, born on Valentine's Day 24 years ago, is loved by many. There's a street named for him in his hometown of Mount Olive, Miss., and two months ago, 1,200 guests attended his marriage to his longtime girlfriend, Mechelle. "Guys on the team ask me all the time, 'What do you do, for everyone to like you?'" McNair says. "I tell them, 'Well, I'm a country guy from Mississippi who keeps it simple. I'm humble, and I know the value of life.'"
After two seasons of waiting, McNair will begin the Oilers' first year in Tennessee as the team's leader. In February the Oilers traded nine-year veteran Chris Chandler, their starter in '95 and '96, to the Atlanta Falcons, a move that did for Oilers locker-room harmony what Marge Schott's banishment from baseball did for the morale of her Cincinnati Reds employees. Chandler, who declined to be interviewed for this article, restricted his conversations with McNair to small talk and made no attempt to tutor him. Before last season Chandler proclaimed that as long as he played for the Oilers, McNair would ride the bench. He was so sensitive to the prospect of being replaced by Heir McNair that he kept tabs on the number of interview requests for himself and McNair and accused the team's public relations department of overhyping his backup.
McNair says the other Oilers noticed Chandler's snubs and often pulled him aside to tell McNair to keep his head up. "It's better for everybody that we traded Chris," Tennessee guard Kevin Donnalley says. "Steve handled that whole thing in a first-class manner and never once complained. He came out of it smelling like a rose."
Says McNair, "It would've helped the team if the quarterbacks got along and communicated with each other and helped each other. Maybe I expected too much."
Fisher expects McNair's combination of ability, intelligence and leadership skills to translate into greatness. The quarterback's welcome to the NFL may have been rude, but when pressed into service late in his rookie season after Chandler was injured, McNair displayed remarkable poise. "Even though he's the most humble athlete I've encountered in pro sports, he's also a leader who exudes extreme confidence," says Oilers offensive coordinator Les Steckel. "He's extremely gifted, and he has worked hard on his timing and execution. Mentally, he has always been ahead of schedule."
But the Oilers' plan was not to rush McNair into action; consequently, he played only when Chandler was hurt. There have been rough spots, such as when the Jaguars blitzed him relentlessly last season and forced one interception and two fumbles. Nevertheless, in six career starts McNair has thrown for seven touchdown passes against two interceptions and has a quarterback rating of 96.2. Fisher was especially impressed with McNair's performance in the season-ending win over the Ravens. "He was in control, and I saw the players rally around him," Fisher says. "If you were going to put together a list of all the things you can't coach—poise, ability to lead, competitiveness, responsibility—he has them all."
What McNair no longer has is the tutelage of the man he has described as his mentor. After last season Fisher fired offensive coordinator Jerry Rhome, citing philosophical differences. A more compelling reason, sources say, is that Rhome, now in the same position with the St. Louis Rams, failed to teach McNair the proper fundamentals. It also didn't help that Rhome was extremely close to Chandler, whom he had coached from 1991 to '93 while serving as the Cardinals' offensive coordinator.
Steckel, who was promoted from receivers coach, set out to improve McNair's fundamentals but also to learn what makes him tick. Invited to McNair's wedding—who wasn't?—Steckel arrived early and spent three days talking with members of McNair's family, friends and former coaches. Upon returning to Houston, Steckel told reporters, "Steve McNair is as big in Mississippi as Michael Jordan is in Chicago. He's got what I call personality under pressure."
The wedding was a rare respite from football for McNair, who has spent almost every day of his three NFL off-seasons at the Oilers' practice facility. "It's been kind of hectic," he says, "but that's the degree of dedication and the sacrifice you need to be a winner."
You are the quarterback, and you are the culprit, the man responsible for the damage to flesh and bone. You are Colorado's Kordell Stewart, and you are checking out the left ring finger of one of your receivers, Charles Johnson, during a game against Oklahoma in 1993. Johnson had reached back to catch one of your passes, which carry the same force as, say, George of the Jungle smacking into a tree. Bad move, CJ: The finger is bloodied and mangled; the bone is cracked and protruding from the skin.
You're concerned and nauseated, but secretly you're overcome by a perverse sense of pride. You have done this to a receiver before—Lucian Stamps at John Ehret High in Marrero, La.—and you will do it again, to All-America wideout Michael Westbrook. Each time one of your spirals lacerates a hand, this is what you think: So I'm a running quarterback, huh? Don't you dare disrespect my arm.
That AK-47 right arm, the one that once threw a ball 60 yards while he was perched on one knee, is not the only reason Stewart has always viewed himself as a quarterback. Stewart is a signal-caller by personality, a man who exudes a sort of strap-yourself-onto-my-back leadership. That's why the success of his first two NFL seasons—during which he crafted an identity as Slash, the quarterback/running back/receiver/cameo punter of Pittsburgh coach Bill Cowher's saucy imagination—never tempted him to abandon his primary goal.
"I could've easily stayed at wide receiver, played a little quarterback here and there and had the endorsements, accolades and attention," Stewart says. "But this is what I wanted."
Stewart discussed the ramifications of his career decision with Blake while staying at Blake's house in Orlando this spring. Says Blake, "I've always told him, 'Never give up the quarterback position, because we worked too hard to get where we are. If you give it up, it's going to make it that much tougher for the next guy. They'll try to make him Slash, too.'"
For a while it looked as if Stewart, a second-round selection in the 1995 draft, might not have a choice. Stewart was flabbergasted when, in the spring of '96, Pittsburgh signed Miller, a '94 sixth-round pick, to a four-year, $11.7 million extension. Miller was named the starter in camp but was pulled in the season-opening defeat at Jacksonville and replaced by journeyman Mike Tomczak for the rest of the season. Now Stewart is the one with a new contract—four years, $9 million—and Miller is gone, having been waived last Saturday.
Perhaps because Stewart's physical gifts are so striking, there has been an undercurrent of skepticism on the Steelers about his ability to handle the mental aspects of the position. Steckel, who recruited Stewart to Colorado and was his offensive coordinator during the quarterback's first season as a starter there, swears by Stewart's football smarts, saying, "Kordell proved he could read coverages and understand the blitz on many levels." Yet last season, several Pittsburgh players privately questioned Stewart's ability to read defenses. In June, while walking off the field after a minicamp practice, Stewart asked a defensive back, "Why do you keep jumping in on my receivers' routes?" Replied the back, "Because you're not looking people off."
Stewart absorbed much of the offense while attending receivers' meetings, and he is continuing to learn. He has been grilled over the past few months by offensive coordinator Chan Gailey. "He's a lot further along than he was last year," Tomczak says. "I think people will be impressed."
They're already impressed by Stewart's running ability, which combines his 4.3 speed with his knack for anticipating the reactions of defenders. His NFL-record-setting 80-yard touchdown run against the Carolina Panthers in the '96 regular-season finale was perhaps the year's most thrilling play. "There will be more runs like that," says Cincinnati defensive coordinator Dick LeBeau, who held the same job with Pittsburgh in '95 and '96. "Kordell is going to amaze some people. He'll be a nightmare to defend." The run came after Stewart dropped to pass, scrambled briefly and then shot down the middle of the field while several defenders converged. Stewart whizzed through all of them and was gone before they knew what had hit them. Some reactions:
—Panthers linebacker Sam Mills: "I took off after him, and it was like I was running in mud and he was running on a track. He was flying."
—Cowher: "It looked like he was going 78 rpms and all the other players were going 33."
—Stewart: "I watched the tape and jumped out of my seat. I said, 'Damn, I did that?'"
Stewart's confidence in his own ability has not made him universally loved in the locker room. Several teammates regard him as aloof, and one former Steeler says, "Some people think he's getting a big head. Players will sign anything for other players, but if you have something for Kordell to sign, you don't even want to ask."
Some of the distance that Stewart maintains is by design. "I've never let a person take control of my behavior," he says. "I've always hung by myself, because I like to be in control of my life, and there are things I want to accomplish."
So Stewart, who is single, spends a lot of time with his Akita, Dice, and practices shooting pool to relax. "I will be, if not the best, then one of the best quarterbacks to ever come through this league," Stewart says. "I promise that will happen, and it will be because of my determination and my belief in myself."
That's a lofty ambition, even for a quarterback who plays in the AFC Central.