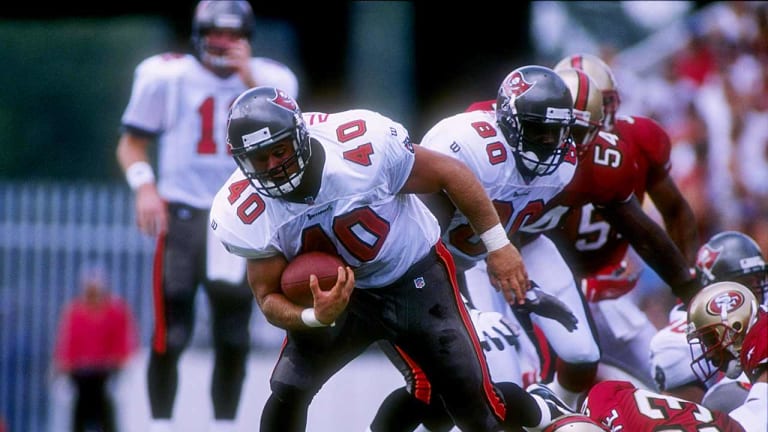 Publish date:
Sad Sacks
The 49ers, reeling from injuries to Jerry Rice and Steve Young, were humbled by the Bucs
Unlike the Tampa Bay Buccaneers, who showed up for their NFL opener on Sunday with new pewter-colored pants, a redesigned swashbuckler logo and a sales-and-marketing army that had quadrupled this year, the San Francisco 49ers hadn't spent one extra dime on their team image in the off-season. Bucking the latest NFL trend, San Francisco had remained true to its colors and all other outward appearances. Yet three hours after the 49ers' season started, as the final seconds of Tampa Bay's stunning 13-6 upset ticked away inside Houlihan's Stadium, it was quite obvious that the look of this team in 1997 had indeed been significantly altered.
Jerry Rice, perhaps the greatest pass catcher of all time, the cornerstone of the San Francisco franchise and a player who hasn't missed a game in 19 seasons going back to high school, was hunched over on the sideline in street clothes with an aluminum crutch under each arm. The crutches were to help Rice keep weight off his left knee, which was injured in the second quarter when the Bucs' 6'2", 276-pound defensive tackle Warren Sapp dragged him down from behind on a reverse. Rice's foot caught in the turf, causing his leg to twist and crumple underneath him.
On Monday an MRI revealed that Rice had suffered a torn lateral meniscus and torn anterior cruciate and medial collateral ligaments. Season-ending surgery was performed that same day. The news wasn't any worse than the shock and dread on the wideout's face as he waited on the sideline for the game to end. "I looked in his eyes, and all I saw was disbelief," said 49ers tight end Brent Jones. "I've never even considered playing a game without Jerry Rice." In addition to having played in all 188 games in his San Francisco career, Rice had caught a pass in the last 145.
Near Rice stood a groggy Steve Young, the 35-year-old San Francisco quarterback who had endured his third concussion in his last 11 games. On the 49ers' fifth play, Young rolled left out of the pocket, then was chased down and tackled by Sapp. As Young fell to the ground, his helmet popped off like a cork. Then Tampa Bay middle linebacker Hardy Nickerson slid into Young and his knee hit him in the head. While Young wandered the sideline in a fog, third-year reserve Jeff Brohm, who had never started a pro game, ran the team. At the end of the third quarter Young foolishly reentered the game, producing no points the rest of the way while completing two of six passes for 14 yards and throwing an interception. "I'm not sure he was all there when he went back in the game," one of his teammates said later.
In the locker room afterward Young was still out of it. The first time a reporter asked him a question, he squinted and could only answer, "Huh? What's that?" He mumbled a few more answers--likening the concussions to "gradations of gray" in his head--before he was quickly led away by a team official, who guided Young as if the quarterback were an invalid. (Young was expected to play this Sunday against the St. Louis Rams.)
Sapp, who finished with 11 tackles and 2 1/2 sacks while encountering little to no interference from San Francisco's first-time starter at left tackle, Tim Hanshaw, may have single-handedly reduced the 49ers from Super Bowl contenders to wild-card long shots in just two plays. "A lot of people predicted the 49ers would win the Super Bowl," Tampa Bay nosetackle Brad Culpepper said afterward. "Well, look at them right now. Uh, I don't think so."
Indeed, like Rice and Young, all the San Francisco players looked wobbly and glassy-eyed, a new image that enveloped owner Eddie DeBartolo Jr. too. As the game drew to a close, DeBartolo sought refuge from the thunderous crowd noise in a field-level stadium tunnel, leaning against a wall as if to steady himself while the NFL's balance of power shifted beneath him. His 49ers, a team that has won 10 or more games in 14 straight seasons, had just been pummeled by the Bucs, a franchise that had lost 10 or more games in 13 of its last 14 seasons. Tampa Bay hadn't beaten San Francisco in 17 years.
Even Steve Mariucci, San Francisco's new whiz-kid coach, had the look of a zombie after the game. Mariucci, the former coach at Cal, is now 2-10 in his last 12 games (1-6 to end the season in Berkeley, 1-3 in the preseason and 0-1 in his official NFL career). Midway through training camp, when a couple of young fans seeking autographs asked Mariucci if he was the 49ers coach, he had replied, with tongue in cheek, "Yeah, at least through the first week of the season."
In their final two preseason games San Francisco's starters were outscored 42-9, and Sunday's game marked the first time since Nov. 10, 1991, that the offense had failed to score a touchdown. "This team was thoroughly embarrassed during the preseason," said safety Tim McDonald after the 49ers' walk-through last Friday. "Jacksonville took us apart, and Denver ran up and down the field on us. Even though our helmets have a 49ers logo, we still have to play or we'll get our butts kicked. Maybe fear will motivate us. I know no team has a greater fear of losing than this team. Even one loss means big changes. That's the 49er way."
This knee-jerk reaction to losing is best illustrated by the ouster of George Seifert after last season. The coach with the best winning percentage (98-30, .766) in NFL history, Seifert won the 1995 Super Bowl but fell one win short of the NFC Championship Game the next two years and was forced out in favor of Mariucci. Contemplating that move back in January, 49ers president Carmen Policy said, only half kiddingly, that the franchise might need "therapy" if it got rid of a coach with such a record.
In response to the defense's preseason malaise, San Francisco last week signed volatile pass-rush specialist Kevin Greene (who had been cut by the Carolina Panthers after a long holdout), even though Greene, in his 13th season, hadn't played in a 4-3 scheme like the one the 49ers use and is a liability against the run. His presence perturbed several starters, and on Sunday he had one tackle and no sacks.
The Niners are now in a position to learn about patience from Tampa Bay, which has won a franchise-record six games in a row at home. First-year coach Tony Dungy started 0-5 last year and, to the amazement of west Florida, no one at One Buccaneer Place panicked. This allowed Dungy to show his team that even under duress he would not alter his calm demeanor or his coaching methods.
A year later he is among a select class of coaches who are respected deeply by their players. In his pregame speech on Sunday, Dungy told the Bucs he was positive that, just like the Super Bowl III champion New York Jets, they would win the game. "I wouldn't trade Tony Dungy for Vince f------ Lombardi," says Sapp.
While the Tampa Bay front office went on a marketing blitz fueled by the construction of a new stadium, which will be ready for next season, Dungy went about building a ferocious, attacking defense around talent like Sapp and Nickerson. Dungy also selected fullback Mike Alstott in the second round of the '96 draft and running back Warrick Dunn in the first round this year to take pressure off quarterback Trent Dilfer. "We feel much better about our chances this season," says Dungy. "Not because of the uniforms or the stadium, but because we can run the ball and our defense can stop people."
Alstott, a Pro Bowl alternate as a rookie, finished with 119 all-purpose yards on Sunday, including a 14-yard reception early in the fourth quarter that set up the game's only touchdown. He got walloped near the goal line on that play, but unlike the 49ers' aging stars, the 23-year-old Alstott bounced right back up. Two plays later, after the San Francisco defense bit hard on a play-action fake, Dilfer floated the ball to tight end Dave Moore from a yard out to put Tampa Bay ahead for good.
But just as the team's swanky new uniforms still have specks of the old, nasty orange in them, there were still plenty of traces of the old Bucs on the field as exemplified by their foolish penalties. "We did just barely enough to win today," said Dilfer, who hit 15 of 26 passes for 184 yards and no interceptions. "But in the old days this would have been a loss. No, it would have been a blowout loss. We would have lost our composure early and let things go haywire and found a way to lose it big. We know this team was built with a defense to keep games close and an offense to win it in the fourth quarter. We believe in the system. We've truly changed."
Now it's the 49ers who may be in need of a makeover.