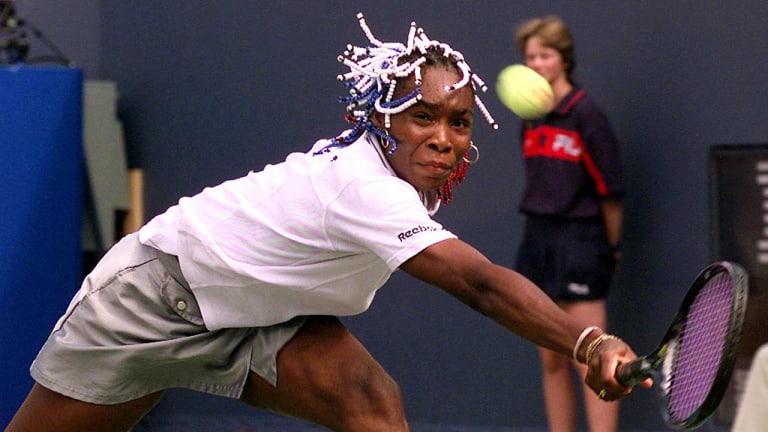 Venus Envy
Martina Hingis and Patrick Rafter reigned at the U.S. Open, but the play of Venus Williams was the bigger story, much to her peers' dismay
They tried. Give every straw-hatted, bejeweled and earnest tennis official credit for that. They tried so hard to present a new U.S. Open, a kinder U.S. Open, a U.S. Open you could put your arms around and hug at Flushing Meadow. No more stink of garbage, no more smoke drifting in over the courts. No more long, tense walks for the players from locker room to center court. There was a sanitized stadium with walls so thick you could barely hear the subway cars rattling next door, and it was named for Arthur Ashe to help jump-start a new, multicultural era of American tennis. How was the U.S. Tennis Association to know that it takes far more than that to drain the brash, divisive, gritty New York soul from a New York event? Who could have predicted that after two weeks of superb tennis and the anointing of two young stars, you'd feel about as comfy hugging the 1997 U.S. Open as you would a petulant, tennis-bashing New York City mayor?
It's good to wonder what Ashe would have made of this affair. The 1997 Open was, after all, a tournament that began on Althea Gibson's 70th birthday with a tribute to Ashe during which his widow preached about "inclusion." The event then hit the timing, and ratings, jackpot when long-awaited African-American phenom Venus Williams, now 17, abruptly took control of her vast skills, grabbed the women's field by the throat and became the tournament's first unseeded women's finalist in the open era. Suddenly, tennis had a brilliant new talent--witty, intelligent and charismatic--a streetwise child of gang-plagued Compton, Calif., who could well be sports' next Tiger Woods. "I would hope so," Venus said. "He's different from the mainstream, and in tennis I also am. I'm tall. I'm black. Everything's different about me. Just face the facts."
Problem was, every step she took toward a dream showdown with world No. 1 Martina Hingis unearthed more resentment of Williams and her family among her rivals. Players complained publicly about her arrogance, her unfriendly demeanor, her trash-talking. Venus's mother, Oracene, fired back with concerns about the tour being racist, and things deteriorated from there: 11th-seeded Irina Spirlea intentionally collided with Williams on a changeover during their semifinal match, and afterward Spirlea said it happened because "she thinks she's the f---ing Venus Williams." Then Venus's father, Richard--who built his daughter's game but told SI he stayed at the family's house in Palm Beach Gardens, Fla., rather than go to the Open and "sit there moving my head left and right, screaming and cheering and looking silly"--chimed in with a telephone interview just in time for Sunday's final, saying he and Venus have both heard players use the word "nigger." Richard also called Spirlea's bump racially motivated and Spirlea herself "a big, ugly, tall, white turkey."
That set the stage for an even more mortifying moment: Just after Venus's appearance in the final, her press conference deteriorated into a standoff between her and white reporters repeatedly and vainly trying to elicit a response to Richard's remarks. As words flew--and one black reporter walked out in protest of his colleagues' questions--Venus seemed to shrink in her chair. "I think with this moment in the first year in Arthur Ashe Stadium, it all represents everyone being together, everyone having a chance to play," she said. "So I think this is definitely ruining the mood, these questions about racism."
It was sad and ugly. It was like nothing tennis has ever seen. "It was a little mess," said Hingis of the atmosphere at the Open. "Like a boxing fight at the end."
The shame, of course, lies in the bitter fact that Williams's Open debut will be remembered as a mixed blessing for the game. Hingis may have hammered the 66th-ranked Williams (who improved to No. 27 with her showing at Flushing Meadow) 6-0, 6-4 in Sunday's final to win her third Grand Slam event of the year, but Williams's progress as a player was undeniable; almost overnight she had become a force every player but one fears. "She got better and better," said Hingis after the final. "For the first time she showed that she can play great. I couldn't know she was going to play that well. But I didn't have many problems today. She plays the game I like: She tries to keep the ball in play. That's too dangerous if you play me."
Hingis's 1997 record of 63-2 is the fifth-best one-year mark in women's tennis history, and while Hingis benefits from the absence of Steffi Graf and from Monica Seles's slow fade, no one has come close to such a run at age 16. The prospect of watching Williams come into her spectacular gifts over the next few years--and perhaps offer Hingis a challenge--would be more than enough to energize tennis. But the unfolding of Williams's career also seems destined to provide plenty of freewheeling, and damaging, distractions that have little to do with tennis. "We couldn't care less what people think of us," Richard told SI.
That sentiment was clear on this fortnight--and that, too, is a shame. For no Open since 1991, when Jimmy Connors made his run at age 38, was more of a delight for the purist and casual fan. Nearly every day brought high-quality tennis and seesaw drama. The men's game, trying to fill the hole left by Andre Agassi's slide, found an engaging replacement in Australian dreamboat Patrick Rafter. With a face fit for Tiger Beat and a game Rod Laver could love, Rafter lunged to the championship with a stunning display of serve-and-volley tennis, beating Greg Rusedski of England 6-3, 6-2, 4-6, 7-5 in the final. Few thought he could do it. Asked, after losing to him in the fourth round, if Rafter could win it all, Agassi said flatly, "No."
It wasn't an unreasonable prediction. After battling injuries and floundering on the tour for five years, the 24-year-old Rafter got energized by a five-set Davis Cup win over Cedric Pioline last February and began to make his move. Ranked 62nd at the start of the year, traveling without a coach and lacking a big-time agent, Rafter fought his way to five finals and lost them all. Even during his run in New York, taking on Agassi and No. 2 Michael Chang, the 13th-seeded Rafter never seemed unbeatable. "I felt everything was going great," he said, "but I also felt like, These guys can kick my bum as well. I thought Michael could have done it."
Once Agassi and Pete Sampras bowed out in the fourth round, Chang became the Open favorite. It was an odd position for a player who, since winning the 1989 French Open, has pumped up his serve, added variety to his game, proved himself to be the sport's greatest fighter--and failed to win another Grand Slam title. Three times in the last two seasons, including at last year's U.S. Open, Chang has scampered into a final only to lose badly. When Ashe Stadium opened with a parade of 37 champions two weeks ago, Chang, watching on TV, turned to his dad and said, "I wish I was one of them. I wish I was part of that."
This may well have been his last, best shot. Chang is 25, and his legs have endured an unmatched pounding. When they met in the semifinal, Rafter took Chang apart, 6-3, 6-3, 6-4. As 23,000 people streamed out of Ashe Stadium, Carl Chang, Michael's brother and coach, didn't move. He sat in his seat staring straight ahead for more than a half hour as darkness fell and the janitors picked up cups and paper around him. "Carl loves me so much," Michael said. "I think he's hurting more for me."
A day later Rafter was on the phone to his family in Australia. "You're not crying back there, are you, Mom?" he said. His hand on the receiver was shaking.
In the long run, though, few are likely to remember the 1997 Open as the lost and found of long-held ambitions. This was the tournament of instant gratification, and no one in tennis has ever scored as quickly, as resoundingly, as Williams. "Venus--holy mackerel! That's like a TV show," said tennis coach Nick Bollettieri, who worked briefly with her two years ago.
But a show like none had seen before. Ever since her father pulled her out of junior tennis at age 11 to concentrate on school, Venus has been the sport's great experiment. No player of the modern game, male or female, has achieved stature without testing and refining his or her game in juniors. Mary Pierce played just two years of juniors and still thinks she's suffering for not playing more. Lindsay Davenport, who played juniors from age 8 to 15, didn't believe Williams could ever make it. "It's amazing she can be this competitive," Davenport said.
Much has been made of Richard Williams's lack of tennis knowledge, but Rick Macci, who began coaching Venus in 1991 after the family moved to Florida, points out that Venus didn't go straight from ghetto to great strokes. "Six hours a day, six days a week for four years," says Macci of Venus's practice schedule under his tutelage, which ended in 1995. "There wasn't a day that the girl wouldn't hit 200 serves."
Still, practice is no substitute for match play, and few tennis observers were stunned when Williams, who earned her high school diploma from a private school this year and has been taking courses at a community college near the family's secluded and expansive house, struggled through her limited tournament schedule. She seemed destined to end her debut year on the tour as little more than a mouthy bust. Before the U.S. Open, Venus hadn't reached one final and had gone 10-9, with early exits at the French Open and Wimbledon. Her athleticism and power were undeniable, but she seemed almost willfully lost on the court--at one point she served with a broken racket string in her first-round loss at Wimbledon--and showed little desire to construct points. Yet she acted as if she were already the brashest of champions, predicting that she and her 15-year-old sister, Serena, would soon be battling it out for No. 1, and working opponents with an in-your-face style women's tennis rarely sees.
After beating Anne Miller in straight sets in a first-round match at Indian Wells last March, Williams greeted a stunned Miller at the net by saying, "You beat my sister. I owed you." At the same tournament, upon encountering Williams on the grounds, Davenport said hello and, Davenport says, "She went, 'Pooosh.' I learned not to do that again." At the Lipton tournament two weeks later, Williams stared down Jennifer Capriati when the two passed in a hallway under the stadium; the next night Williams beat her in three sets. "I said once to Venus, 'Hi,' and she didn't say it back," says Seles. "She seems to be going all the time with her sister, her mom, too. That's what family is for. They stay in their own little separate group."
By the time the Open began, a consensus was building: Williams needed a coach, badly, and was probably too proud to admit it. The phenom regarded as most likely to stir the Open pot was either 16-year-old Anna Kournikova of Russia, who made a blitz into the Wimbledon semifinals, or 15-year-old Mirjana Lucic of Croatia, who, Hingis announced early in the Open, is "even better than Kournikova and Williams."
Then something strange happened. Kournikova won one match and then lost. Lucic won two matches and then lost. Williams won two matches--against Larisa Neiland and Gala Leon Garcia--and learned. Oracene noticed it at a practice before the match with Leon Garcia: Venus began taking speed off her serve and her groundstrokes and started mixing her shots. "Something in her head finally clicked," said Oracene, who was coaching Venus at the Open, although she, like Richard, has no formal tennis training. "How not to rush, how to play the game. Just like it clicked with Hingis last year."
That shift, plus her reputation, gave Williams an aura usually surrounding only Top 5 players. "We create it in our own heads: We're playing Venus!" said Joannette Kruger after losing to Williams, 6-2, 6-3 in the fourth round. "Yes, it's crazy. I don't know what to think of it." As if to be even more infuriating, Williams, up 3-0 at one point against Kruger, suddenly grinned at her on a changeover. "It came over as, Do you have anything else to show me?" Kruger said.
To Williams, any discussion about her demeanor is bewildering. She has been taught to play to win. "Why don't you guys tell me what they want me to do?" she said to reporters after hearing Kruger's comment. "They should come up to me and say, 'Venus, I want you to smile so I can feel better.' When I want to smile, I'll smile. If I don't want to, I'm not going to. I think it's a little bit peevish. Smiling--what does that have to do with anything?"
In women's tennis, it has to do with plenty. This is a game in which a 16-year-old like Hingis can make cocky statements at the drop of a ballpoint, yet no one minds because she does it with a grin. Women's tennis loves to make nice. Asked if the tension surrounding Williams was racially motivated, Davenport said, "I don't feel it's a problem of race. I feel like she's separated herself from us for whatever reason. I don't know if it's on her side. The players in the locker room love Chanda Rubin, and Zina Garrison is a good friend. Some people have tried, but you can only try so much."
After Venus's quarterfinal win over Sandrine Testud last week, Venus and Serena locked arms in a stadium hallway. They began singing and dancing as they walked, two sisters having great fun, and Venus looked the same way she does when she wins and her tough face drops and she all but shivers from excitement. In that moment, she looked like a 17-year-old kid.
Let the sideshow begin, they sang. Hurry hurry/Step right on in/Can't afford to pass it by/Guaranteed to make you cry....
The sideshow has begun. That moment is gone.