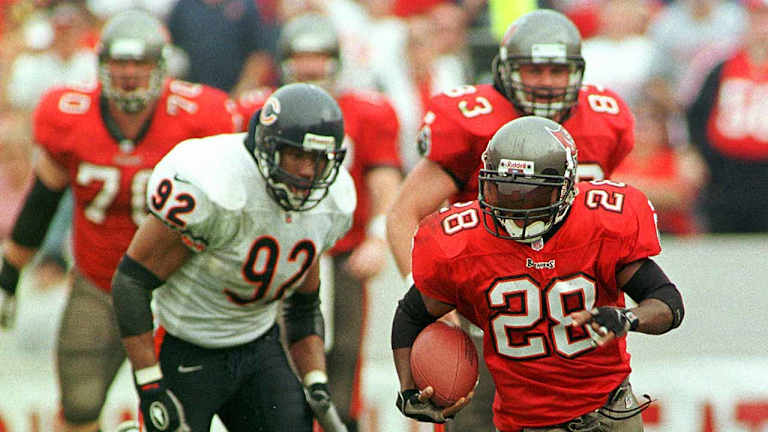 Publish date:
The Sky's the Limit
As they showed in winning the battle of Florida, the Bucs have taken off thanks to youth, faith and unconventional wisdom
It was a classy act in garbage time. With 1:13 left in Sunday night's game between the Tampa Bay Buccaneers and the Miami Dolphins, Bucs quarterback Trent Dilfer walked to the line of scrimmage, looked over at Dolphins coach Jimmy Johnson and pointed down at the turf of Houlihan Stadium.
Tampa Bay, leading 31-21, had the ball on the Miami 14. By motioning toward the ground, Dilfer said later, he wasn't pointing out the direction in which the Dolphins are headed. "I was letting Jimmy know I was going to take a knee," Dilfer explained. "Those guys coached their butts off. We didn't need to run up the score."
So it has come to this: Dilfer taking pity on Johnson, the erstwhile sad-sack signal-caller going out of his way to preserve the dignity of the coach who had ripped him only 20 months earlier. Why not? The 4-0 Bucs are making the implausible seem routine. There was Dilfer, a year removed from a 35.6 quarterback rating, dissecting the Dolphins. When he wasn't watching second-year fullback Mike Alstott gash Miami's interior line—Alstott, who had 95 yards on 18 carries, is John Riggins without the Mohawk—Dilfer was completing 18 of 24 passes for 248 yards and four touchdowns. A first-quarter interception by Dolphins linebacker Zach Thomas, who made a stellar play by deflecting the ball before catching it, was the first pick of a Dilfer pass this season and one of two incompletions Dilfer had in the first half.
Afterward, as he commended the Bucs and touched grimly on the inadequacies of his own 2-2 team, the normally larger-than-life Johnson seemed deflated. Who could blame him if, for the briefest of moments, he pondered what might have been? Less than two years ago, both of these franchises sought his services. He chose Miami, citing Dilfer—"a guy I don't have faith in" were his words—as one reason to avoid Tampa Bay.
So the Bucs interviewed Tony Dungy, an NFL assistant for the previous 15 years. Dungy, who is black, had interviewed for head jobs before. The word was, he was too cerebral. (Nor, it seems, did the color of his skin work in his favor.) Having concluded that intelligence in a coach might be a good thing, Tampa Bay in January 1996 hired Dungy, who in little more than one season has transformed one of the losingest franchises in pro sports into the new scourge of the NFC. Circle it on your calendar: Oct. 5, Buccaneers versus Packers at Lambeau Field. For the first time in memory, the Battle of the Bays will mean something.
Don't be deceived by the 10-10 records Dungy and Johnson took out of Sunday's game. While Miami has lost five of its last nine outings, Tampa Bay has won nine of its last 11. What we had on Sunday was one handsomely remodeled house and another that is nowhere near ready to shed its PARDON OUR APPEARANCE sign.
Don't despair, Dolphins. Here, free of charge, is a blueprint for success from your NFL neighbors to the northwest.
HAVE FAITH IN YOUR QUARTERBACK
What is Johnson up to? After pointing to Dan Marino as one of the primary reasons he chose Miami over Tampa Bay, he has, perversely, taken a can of spray paint to the Marino legend. He has discussed—heresy of heresies—the possibility of benching Marino in favor of Craig Erickson, and last Thursday, when asked if Marino still had the old magic, offered this tepid endorsement: "He's not the quarterback that he used to be; I think everybody knows that. But we can still win games with Dan. Is he going to play great every week? Probably not. But we can still win with him. So we go with what we got."
We go with what we got? Should Babe Laufenberg consider coming out of retirement?
If ever a coach had reason to dump on his quarterback, it was Dungy, who watched last season as Dilfer threw one touchdown pass against 10 interceptions in his first five games. Asked to explain why he stuck with Dilfer, Dungy recalled an experience from his previous role, as the Minnesota Vikings' defensive coordinator. "Around 1992 or '93, walking down through the stands at Lambeau Field after a game against the Packers, I heard people saying, 'We're never going to win with [Brett] Favre. He's too hyper; he makes mistakes at the worst times.' Three years later he's the player of the year. If a guy doesn't produce, we're quick to say, 'Hey, he's a bust.' But you can't do that with quarterbacks."
There were times on Sunday, as he turned imminent catastrophes into big plays, that Dilfer, now in his fourth season, looked downright Favre-like. What happened to the interception-prone lunkhead we so enjoyed ridiculing? He has been missing since midway through last season. Says Dilfer, "That's when I decided I was going to start having fun again." He had been thinking too much. "Finally I just told myself to trust my preparation, trust my teammates. I said, I'm just going to grip it and rip it."
That's what Dilfer was tempted to do with former Tampa Bay coach Sam Wyche's intricate playbook. Although it's tough to find guys who have much nice to say about Wyche, who coached the Bucs from 1992 to '95, his legacy consists of more than that tome. The man who allowed restaurant patrons to draw up plays for exhibition games; who allowed then Fox analyst Johnson to give a midweek speech to the team (under the ruse that he had replaced Wyche); who gave "We're right at the brink of winning, and I wanted to do everything I could to make sure it happens" as his reason for firing five assistants after the '93 season, left behind some terrific players. Dungy gratefully acknowledges this. He's happy to...
GIVE CREDIT WHERE CREDIT IS DUE
Twenty-one players remain from the Wyche era, including the nucleus of a chaos-inducing, blitz-from-all-angles defense. By remodeling rather than razing the building, Dungy avoided the Startover Syndrome, which, as described by Tampa Bay general manager Rich McKay, goes like this: "New coach comes in, wants to put his stamp on the team. Much of the talent quickly exits stage right. Team starts all over again and takes three or four years to get back to where it was."
In three or four years 20-year-old rookie wideout Reidel Anthony, whose 38-yard touchdown reception provided the winning margin on Sunday, will be able to legally purchase a beer to celebrate such an accomplishment without getting carded. Anthony is a wonderfully cocky former Florida Gator who once, as a schoolboy, caught a touchdown pass on the game's first play, vaulted the fence behind the end zone, ran to the top of the stands, took a seat and crossed his legs with the ball resting in his lap. Of the Dolphins, he had this to say: "They had a decent defense. We just executed so well. There wasn't anything they could do."
This minor's major role with the Buccaneers reminds us of two things. The first is that, in Dungy's view...
THE KIDS ARE ALL RIGHT
The average age of the Bucs is 25.5, second youngest in the league, behind the New York Giants. While he doesn't prefer younger players, Dungy says, "I don't have any fears about them, either. If a guy's good enough, put him in. He can learn as he goes. Our system is not complex. It allows any players, whether they're rookies or first-year guys from another team, to play."
Anthony also reminds us that...
IF BOBBY BEATHARD CALLS COLLECT ON DRAFT DAY, ACCEPT THE CHARGES
In two strong drafts since Dungy arrived, the Buccaneers have been both lucky and good. In 1996 they had four of the first 41 picks. They used their two first-rounders on Regan Upshaw, a defensive end from Cal who started 16 games last season and is off to a solid start in '97, and Marcus Jones, a defensive tackle from North Carolina on whom the jury remains out.
Back-to-back home runs followed. With their first selection in the second round the Bucs snatched Alstott, of whom Dolphins defensive end Trace Armstrong said after Sunday's game, "He's the best fullback in the league. The NFL hasn't seen a power runner like this kid in a long time." Since Riggins.
Tampa Bay was poised to select East Tennessee State cornerback Donnie Abraham with the 41st pick when the phone rang: It was Beathard, general manager of the San Diego Chargers. Would the Bucs be willing to trade that pick for the Chargers' first-rounder in 1997? This is what is known as a no-brainer. Tampa Bay agreed. San Diego used the second-round choice to take wideout Bryan Still, who has caught 13 passes in his career. The Bucs used the first-round pick—this year's 16th selection—on Anthony, who, along with fellow rookie Warrick Dunn, has taken a lot of pressure off Dilfer.
What became of Abraham? To Tampa Bay's delight, he was still around in the third round of the 1996 draft. Dungy made him a starter five games into last season. In a recent poll of coaches and general managers conducted by SI, Abraham was projected as an All-Pro in 2000. "Yet when we took him in the third round," recalls McKay, "the conventional wisdom was that we took him too high." Tongue in cheek, he adds, "God help us if we'd taken him in the second."
You've got to love a general manager so willing to...
SCREW CONVENTIONAL WISDOM
Much tongue-clucking followed the Buccaneers' selection of Dunn with the 12th pick in this year's draft. At 5'8" and 178 pounds, Dunn, a star running back at Florida State, was projected by many observers as a third-down back who could return some kicks. "We thought he'd be better than that," says McKay. "And we decided, if that's all he is, we'll take him, because we desperately needed somebody to make big plays."
Dunn's specialty, it turns out, is demoralizing opponents with back-breaking long runs. Or, in Sunday's case, runs after the catch. While Miami gave him little on the ground (11 carries, 17 yards), Dunn caught six passes for 106 yards. With the Tampa Bay offense stuck in a third-and-29 hole with a little more than nine minutes to play, the Bucs' coaches powwowed. Offensive coordinator Mike Shula, who called a terrific game, wanted to throw deep. Tight ends coach Clyde Christensen lobbied for a screen pass. Christensen prevailed, and Dunn went 58 yards for the touchdown that iced the game.
Dunn stood in the dressing room afterward, poker-faced, devoid, like every other Buccaneer, of any trace of giddiness. Recalling the touchdown, he scowled, saying, "I was long overdue."
His determination to earn his money is charming and refreshing. Dunn signed a six-year, $8.8 million deal and seems intent on keeping track of each of those dollars. "You think his arms are short now," says McKay, "you should see 'em when they bring the dinner check."
Dungy has never seen Dunn so happy as he was the day he came in and announced he had found a place to live. "It's only $31 a day," he declared, "and it includes cable!"
If Dunn is thrifty, it's partly because his mother died when he was a high school senior, and he feels a keen sense of obligation to help provide for his five younger siblings back in New Orleans. Dungy and McKay know this. While they may tease him for being tight with a buck, they are also in awe of the grace with which he has handled so much so early in life.
As an excellent player and person, Dunn was doubly attractive to Dungy. Asked how he turned the Bucs around so fast, Dungy returns, at the risk of becoming tedious (he doesn't care), to this point: If his roster features more than its share of solid citizens, as it does, this is no accident. He wants team guys, unselfish people, family men.
Shortly after Sunday's game, in the anarchy of the winner's locker room, Dungy sent for a reporter. He had a request. Dungy believes his deep faith in God has something to do with Tampa Bay's success. Would the reporter please mention this in his story?
A cynic might point out that the Almighty has better things to do than monitor football games. On Sunday night, a cynic kept his mouth shut. The Buccaneers are on the cusp of an undefeated September. They have left the land of the implausible and are headed for the realm of the miraculous.