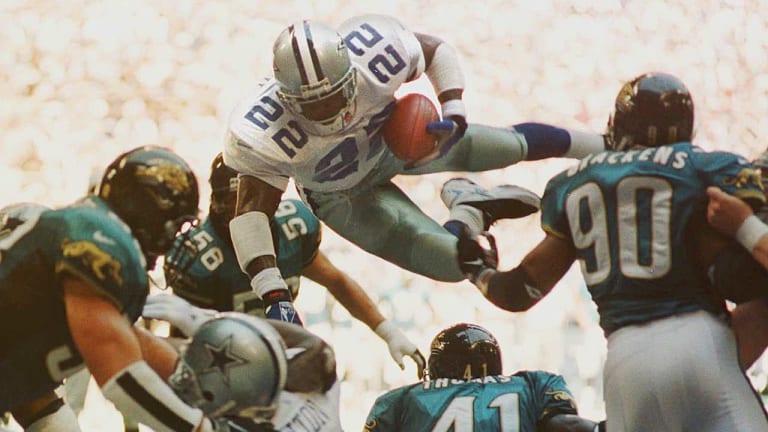 Bottomed Out?
As the Cowboys' offense sputters, questions run rampant. The foremost: Are Emmitt Smith's best days behind him?
For the most telling sign that Dallas Cowboys running back Emmitt Smith is not what he used to be, we take you to the fourth quarter of his team's dismal game against the New York Giants on Sunday. New York was sitting on a 13-9 lead. The Giants Stadium crowd was frenzied. Twelve minutes remained. The Dallas offense trotted out to its 25, taking over after a Giants punt. So just what was Smith doing on the Cowboys' sideline? "We wanted to save him for the last five minutes," running backs coach Joe Brodsky would explain after the Giants' 20-17 victory.
With the game on the line, the 11th-leading rusher in NFL history was being rested? After only 16 carries on a cloudless 67[degree] day, the four-time rushing champion was watching Sherman Williams carry the mail? "Pretty strange seeing a Hall of Famer on the bench just then," New York cornerback Jason Sehorn admitted later.
What was Smith thinking?
"That maybe I should be in the game," he said afterward.
What should have been an encouraging afternoon's work for Smith (19 carries, 91 yards, a 4.8-yard average) turned very weird. Earlier in the week coach Barry Switzer had announced that the 28-year-old Smith would be spelled periodically: "Father Time gets everybody," Switzer said. But no one expected Smith to be sitting for all or parts of five series' in a close game. "Today is the most rest I've ever had in a game in the eight years I've been here," he said later. "This probably should have happened a long time ago."
Five games into his eighth NFL season, Smith is dealing with disappointment much more often than he is enjoying success. The same can be said for his offensive line. No NFL weapon--not the passing attacks of the San Francisco 49ers or the Green Bay Packers, not the electric running of the Detroit Lions' Barry Sanders--was as universally feared as the vaunted Cowboys running game in the first half of the '90s. But for nearly a season and a half, the ground game has hit one roadblock after another. On most Sundays, Smith has looked like a pedestrian runner. Last season you could blame three floating bone chips in his right ankle, but those were surgically removed last January. This year, while there are a number of reasons for Dallas's continuing inability to rush the ball, some of the blame must fall on the muscular shoulders of this proud back.
The question around the NFL is no longer whether Smith should be mentioned in the same breath as Sanders as the league's best runner. It's whether he is in the top five, or top 10, anymore. The Denver Broncos' Terrell Davis has outrushed him by more than 500 yards in the last 21 games. The Minnesota Vikings' Robert Smith, the New England Patriots' Curtis Martin, the Pittsburgh Steelers' Jerome Bettis, the Tennessee Oilers' Eddie George and even a New York Jet, Adrian Murrell, have outperformed Smith of late. We're not talking just about stats. We're talking burst, explosion, drive. Four years ago Smith took over games by darting through holes and smashing into linebackers or by quickly cutting back across the grain. Now, more often than not, the cuts are less decisive and the burst is only average.
One day last week a surprisingly upbeat Smith spent his lunch break insisting that while he may not be the back he was four years ago, he can still be a dominant player. There have been few negatives of any kind during his career, but now his ability is suddenly being called into question.
"I can feel a difference in my game," he admitted. "Maybe I don't have [the burst] I had four years ago. But who's the same player he was four years ago? I know this: There's a lot more great football left in me. No way do I think I'm at the end."
It may be that the football world simply has to get used to thinking of Smith, and the Dallas offense, in a different way. During the period in which they won three Super Bowls in four seasons, the Cowboys could march out that monster line, fullback Daryl Johnston and Smith, and steamroller to eight or nine wins a year. "I wish people could accept the fact that we're different," left guard Nate Newton said on Sunday, after Dallas fell to 3-2. "We ain't rolling over people the way we were two years ago. To win we've got to play hard and make no mistakes."
It was amazing to hear some of the other Cowboys, in the wake of an embarrassing loss, talk about the progress they had made in the running game. Dallas, looking on the bright side after losing to the Giants? There's a lot of that positive thinking around the Cowboys camp these days. Said offensive coordinator Ernie Zampese last week, not meaning to deliver a backhanded compliment but doing so nonetheless, "Emmitt's still plenty good enough to win with in this league."
Smith never used to be described as good enough. He was always the best. Last year, however, that changed. His average per carry was a career-low 3.7 yards. He blames the bone chips and other assorted maladies. "Never felt right all year," he says. "Never. A couple of times last year I got up in the middle of the night to go to the bathroom and I fell down. Just fell flat down. Once, the night before a game, I got up, went to take a step and just dropped. Until now nobody knew that but me. I thought my legs were asleep, but it was something more than that, because I got up on the bed, rubbed my legs and tried again. And I fell down again! I got up onto the bed again and waited and waited, stretched my legs and finally I made it into the bathroom."
Playing with discomfort "is all part of the job," Smith says, "and I honestly feel it has nothing to do with this year. I know my body, and this year I'm right." In fact, he entered this season feeling so right that he set some lofty goals: an average of 125 rushing yards per game, 15 touchdowns and 45 to 50 catches.
Five games into 1997 he is averaging 85 yards per game. He has no touchdowns, stunning for a man who entered the season with 108 rushing touchdowns in his first 108 NFL games and who as recently as 1995 ran for a league-record 25. But scouts who watch Dallas--and who know that the Cowboys are the only team in the league without a rushing touchdown this season--aren't pointing the finger solely at Smith. "It's definitely not all his fault," says one NFC scout who dissected Dallas's first four games. "I'd say it's about 70 percent offensive line, 30 percent Emmitt."
For the sake of comparison, SI analyzed tapes of two games, the Cowboys' 1994 and '97 season openers, both against Pittsburgh. Many of the Steelers' defensive faces have changed--they had six new starters in 1997--but their defensive scheme didn't. The outcomes were similar: Dallas won 26-9 in 1994 and 37-7 this season. But the differences were startling, and not only in Smith's numbers: 31 carries for 171 yards in '94 versus 26 carries for 69 yards on Aug. 31.
The biggest change involved the play of the Cowboys' line. In the '94 game Smith took his first hit, on average, about 2 1/2 yards downfield. In the 1997 game the initial hit came just beyond the line of scrimmage. The '94 tape showed a line that was peerless and a Smith who was faster and stronger.
Who's at fault? Assessing the blame is an inexact science, and opinions vary. Here is ours.
The offensive line, 50%. It's not bad, just mortal. Think of the right side of the Cowboys' line on short-yardage or goal line situations in 1994: 332-pound guard Derek Kennard, 324-pound tackle Erik Williams and, at tight end on short-yardage situations, 325-pound rookie guard Larry Allen. Those 981 pounds of heavy equipment just paved defenses. Center Mark Stepnoski, meanwhile, was smart and strong for his size (269 pounds).
Now look at the '97 line, which has repeatedly been victimized by run blitzes and eight-man fronts. In place of Stepnoski, who left as a free agent after the '94 season, Dallas starts second-year man Clay Shiver, who gets beaten consistently. It was remarkable to watch Stepnoski, in the '94 Steelers game, manhandle nosetackle Joel Steed, who three years later did the same to the 294-pound Shiver.
Williams, once regarded as one of the best right tackles in football, hasn't been the same since he severely injured his right knee in a midseason 1994 car accident. His run-blocking is very good, but in the passing game, he has to resort to underhanded stuff--punching, hands to the face--to protect quarterback Troy Aikman. Allen is arguably the best guard in the league, the best run-blocker of the bunch and quick enough to plug his gap when blitzers attack. He's so quick, in fact, that he may be moved to left tackle in 1998 (provided, of course, the Cowboys can re-sign him) to replace 37-year-old Mark Tuinei, who is showing his age.
The left side of the Dallas line has been leaky. Tuinei used to be a reliable blind-side protector of Aikman, but the speed rushers are now zooming by him. Newton, who turns 36 in December, may be paying the price for his wild weight fluctuations over the years. He's not moving piles the way he once did, and the interior blitzes are coming through his gaps. Says Pittsburgh strong safety Carnell Lake, "I think [the line play] is what's wrong with Emmitt's game. Teams are finding ways to stop that big offensive line from blowing holes wide open."
Smith, 30%. After watching him perform on some plays, you wonder if he's saving some energy for another day. Sometimes you're convinced the pounding he took in his first seven years has caught up with him. One thing's for sure: Everyone in the Cowboys organization--especially owner Jerry Jones, who rewarded Smith with an eight-year, $48 million contract in August 1996--wishes Dallas could have back the 400 or 500 needless carries Smith had in lopsided games.
Wideout Anthony Miller, 10%. It might seem like an odd place to put blame, but it's deserved. Through five games the Cowboys have been blitzed about twice as often as they have in recent years, according to line coach Hudson Houck. In a Sept. 28 win over the Chicago Bears, a game in which Dallas had no rushing yards in the first half, many of the blitzes came on running downs. That's because Miller, the speedy receiver imported as a free agent from Denver this past off-season to stretch defenses, scares no one. "We just put whoever's on 83 [Miller] by himself most of the time," Sehorn said on Sunday. It's simple: Defenses have the confidence to run-blitz and move eight players near the line to stop Smith because, other than Michael Irvin, no Cowboys receiver is feared. Which leads us to...
Tight Ends, 10%. From 1990 to '95, Aikman had an any-down security blanket in tight end Jay Novacek, who averaged 57 catches per season during that span. Novacek, however, didn't play in 1996 because of a back injury and has since retired. Aikman's lack of faith in third-year veteran Eric Bjornson (17 catches for 188 yards this season) and rookie David LaFleur (two for 20) is just another reason for defenses to key on Smith and blitz like crazy. Steelers linebacker Jason Gildon says that these days the Dallas tight end "is one thing you don't have to worry about. We had to double Novacek. Now we can put eight guys in the box and concentrate on Emmitt."
Last week Smith remained philosophical about his plight. "Life isn't always rosy," he said, smiling. "This is a challenge, and I'll emerge from it a better person and a better football player.
"I know this," Smith continued, raising his hand above his head. "You don't go from a player at this level"--his hand then dropped--"to a player at this level overnight. It's not over for Emmitt Smith."