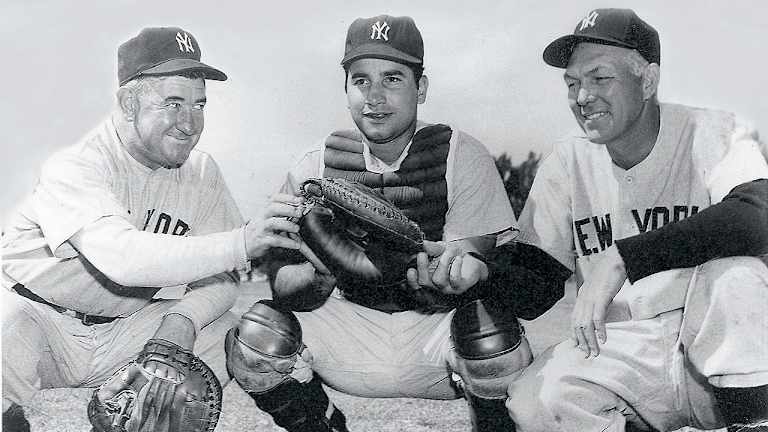 Damned Yankee
John Malangone had all the tools to succeed Yogi Berra at catcher for the New York Yankees, but his torment over a dark family secret kept him from fulfilling his prodigious promise
Everything you will read on the next 11 pages revolves around one photograph. The rest of the old man's past, you must understand, is all but gone. The framed baseball pictures were smashed by his hammer. The scrapbook thick with newspaper clippings was fed to the furnace in the basement of the Sears, Roebuck in Paramus, N.J. The trophies, with their figurines of ballplayers and eagles and angellike women, were placed on a portable table in the middle of a ball field and annihilated, one a day, by the old man's rifle arm. Have you ever heard the popping sound an angel makes when it's struck by a fastball?
Surely the other artifacts that survived are too few and too baffling to be trusted. The death certificate of a seven-year-old boy . . . the tattered letter from the New York Yankees front office . . . the 1955 Louisville Slugger with the name John misspelled on the barrel. Without the photograph, who could watch the gray-whiskered man with no laces in his shoes rummage through his trailer and not wonder if his tale is too fantastic to be true?
But then John Malangone, with a funny look on his face, a mixture of pride in the thing he's holding and an eagerness to be rid of it, thrusts in front of you the picture, snapped on a sunny spring training day 32 years ago. You stare. No. It wasn't a dream. The old man hasn't gone mad. If it hadn't been for the horror, he really might have filled Yogi Berra's shoes. Look at the picture. Just look at it.
"Kid! Come over here. Wanna take your picture."
"Who, me? You don't want my picture."
"Come on! Gonna put you right between the two Hall of Fame catchers, Dickey and Cochrane. You're gonna be plastered all over the Daily News."
"The Daily News? Naw, get somebody else." "Somebody else? You crazy, rookie? You're gonna be a helluva star."
How many of us possess a photograph of the very instant when our lives reached the top of the hill and then, with the click of the camera—because of the click of the camera—began their descent? Look closely at John Malangone, in the middle. It's 1955. He's 22. Touching his glove, anointing him, are the fingertips of perhaps the two greatest catchers in the history of baseball: Mickey Cochrane, on the left, a 51-year-old Yankees scout and camp instructor, and Bill Dickey, a 47-year-old Yankees coach. John has just homered in an intrasquad game. He's fresh from leading the winter league in Venezuela in home runs, RBIs and doubles. Casey Stengel has tabbed him "the probable successor to Yogi," even though Berra would be the Yankees' regular starting catcher for four more seasons.
John remembers the words the tall photographer uttered just before he took the picture. John remembers the panic spreading through his stomach as he squatted between Cochrane and Dickey, the fear that someone on his block in East Harlem would see this picture in the next day's paper and call the Daily News and tell what occurred on that summer evening 18 years before, insist that what John really deserved was a seat in a chair humming with a couple of thousand volts. John remembers everything, because memory is the whip he has used to flog himself for 60 years. . . .
Orlando Panarese was blond and he was bashful and he was handsome and he was seven, and when he and John trampolined on the bed they usually shared, they jumped so high they nearly banged their heads. It was perfect, having your best buddy be your uncle. Having your mom's little brother living just one floor up in a tenement on 114th Street, so your family was his family and all of you, aunts and uncles and cousins and grandparents, ended up on the roof with Uncle Duffy's pigeons every summer Sunday, playing checkers and eating linguini with red sauce bare-chested, if you were a boy, to save your mother from spending Monday scrubbing shirts. So you could float in and out of each other's apartments at any hour and end up in pj's pounding each other with pillows while Mom and Grandma rolled pasta or talked another cup of coffee to death. Zi, John called Orlando, shortening the Italian word for uncle. They would slip downstairs at sunrise, while Grandma Panarese dressed for church, and earn apples for her by helping the Italian fruit peddlers pry open their crates. "Grazie, Orlando. Grazie, John," she would say when they delivered the apples to her, bowing formally to the little boys.
They were upstairs talking, Mom and Grandma, that July evening in 1937. They couldn't keep their eyes on five- and seven-year-old boys all day, could they? Eleven years had passed since Grandma had lost her first Orlando, her eight-year-old son who was tagging along with his older brothers to the movies when one of them fibbed, "Go home, Orlando, Mommy's calling you," and the little boy turned back to cross the street and was killed by a truck. A mother can't run scared every minute for 11 years, can she?
John found the broken umbrella rusting in the basement of his six-floor tenement. He and the boys on his block pulled off one of its metal spokes and lashed it, with rope, to a shorn-off broomstick handle. Excellent. A javelin. A new contest for the first-generation Italian-American children teeming on the streets of East Harlem. John took the javelin, paced down 114th Street and eyed his goal: the pile of sand the peddlers would shovel onto the wooden ramp leading into the stables next to John's apartment building, so their horses wouldn't slip in their own urine. The other boys stood in a group in front of the candy store and watched.
John reached back and threw himself, all of himself, into that javelin. Maybe it flew a little off the side of his hand, and maybe it went farther than anyone thought a boy his size could throw it. Every time he has seen it happen ever since—on the sides of water glasses, on cabinet doors, on outfield walls—he has squinted and tried to discern whether it was a misjudgment of his might or a flaw in technique. But he knew, as he watched the javelin arc, that he was in trouble, and he knew when he heard the boys gasp that it had hit someone, and he knew when he approached the tight circle of children and frantic adults and saw two small feet protruding—one sock of solid color and one sock striped—that it was Uncle Orlando. Because when he looked down at the ground, the other striped sock and the other solid one were on his own feet.
A boy turned to John. "You're in trouble," he said.
"Spell that name for me."
"Huh?"
"Your last name, kid. You pronounce it Mal-an-go-nee, right? Gotta make sure they spell it right when they run this picture. M . . . A . . . is it two l's or one in Malangone?"
"Uh . . . yeah . . . two . . . two l's."
He remembers cringing that day as the photographer scribbled in his notepad. Another secret they were closing in on. Another secret that each line drive off his bat, each shotgun throw from his arm to rub out a runner stealing second was leading them closer and closer to discovering: The 22-year-old Yankees hotshot couldn't read or write. Oh, they would find out why, sure as the sunshine beating on his shoulders when he crouched between Cochrane and Dickey.
He had shoved it out of his mind since the day he had signed, but now, as the shutter clicked, he could smell it: the beginning of the end. The story of the lovable homegrown Italian boy laying siege to the position of the lovable, aging Italian Hall of Fame catcher, the story of a kid as strong as thunder and flakier than snow, able to awaken from a dead sleep in December and out-malaprop Berra, out-Yogi Yogi—you don't think the New York tabloid wretches, the chroniclers of the greatest dynasty in baseball history, are going to crawl all over that? You don't think they're going to find out how his brain shut down because of the accident and how neither he nor all the letters and numbers he stared at could ever stay still after the next shock?
You can't figure on anything in life. You can't figure on a javelin flying through the air and hitting someone's skull, let alone your uncle's. And then, once it does, you can't figure on him pulling it out with his own hands, and, oh, thank God, standing up. And walking home with the help of his mother, barely bleeding because it's a puncture wound, and looking all right for a few days, thankyouthankyouGod . . . until the small red swelling appears. Nobody ever told John that the wound became infected and that Orlando was taken to a hospital and that he underwent surgery to relieve the swelling but that the infection kept spreading because the use of penicillin was still four years away; Jesus Christ, it's so easy to hoodwink a five-year-old boy. Nobody told him anything, not even what all the commotion was upstairs in Grandma's apartment and why all the adults looked so sunken-eyed. They forgot all about John for a moment, and he wandered up the steps and through the door and into a room where he saw a box surrounded by white drapes and flowers. He stared at it, too short to see its freight. He moved closer, closer. He stepped up onto the kneeler. Orlando . . . ? God, he looked beautiful. Why was he sleeping there? Zi, what's wrong? ZI, WAKE UP!
That was how John learned what his right arm had done. That was when he screamed, and his right eardrum popped, and his tongue nearly went down his throat, and the corner of his mouth and his right hand went numb for the first time. That was when he lost half of his hearing and, for nearly a year, every word of English he had learned. That was when Grandma burst into the room and found the catatonic boy and shrieked at God, "No, not this one too!" And rushed him to the room in her apartment that she had turned into a chapel and held him near the candles and the crucifix and the statues of St. Anthony and Mother Mary and Baby Jesus, her fumbling fingers pouring olive oil into a small bowl and dropping into it a piece of wool torn from mattress stuffing, then striking a match to light the wool and warm the oil, and thrusting her thumb into the liquid and using it to rub tiny signs of the cross on the boy's forehead, his nose, his chin, his temples and behind his ears, murmuring ancient words that had been passed down to her, until her eyelids slowly sagged and a great yawning fatigue overcame her, as it always did when she healed the old way.
"Shhhh. Don't say a word," they said to each other when the boy finally fell asleep. "He's quiet now. Don't say a word about any of this—ever—do you hear me? He's only five. He'll forget everything if no one ever says a word."
Go back to the photograph. Perhaps you see it now: the uncertainty in John's smile, in his eyes. Perhaps you see what John sees when he looks at that picture today. "Half of that boy is missing," he says. "That's just a body there. That's just a shadow I was casting. That's just a shell."
The police arrived at John's apartment after Orlando's death. The five-year-old boy climbed out the back window and hid on the fire escape until they were gone. He had evaded them, he thought. For now. But then a kid on the street called him Killer. A woman who saw her daughter talking to John cried, "Stay away from him!" One of the Mafia members who ruled his block slapped him on the back and said, "Ya got one under ya belt, kid!"
And then no one saw him. The alleyways behind the tall tenements became his home. On his way to and from school he could go for blocks scrambling over the seven-foot mesh fences that separated one building from the next, never seeing the sun except when he darted over a cross street to the next alley. He could go for hours hurling balls in the shadows at a clock he drew in chalk on an alley wall, aiming first at one o'clock until he nailed it on the button, then one by one around to 12, over and over and over, taming the arm that had betrayed him. Then he would line up two dozen bottles, hurling anything when his rubber ball had disintegrated—rotten apples, oranges, stones—exulting silently when the bottles exploded and the noise shattered off the walls. Soon he was turning his back on his target, spinning and blindly throwing, throwing, throwing. . . . When at last he grew weary, he would grab a stick and imagine that he was conducting an orchestra, sending waves of beautiful music swelling up the tenement walls.
When it snowed and the block was empty, the boy would emerge. The people would hear a relentless scraping noise, and when they peered out, the sidewalk up and down 114th Street between First and Second Avenue would be bare.
He risked exposure only in exchange for exhaustion. He would race to the coal yards three blocks away, and for a quarter, but not really for a quarter, he would take some malingerer's shovel and do the man's task all day. He would continue waxing and polishing the Mob's black Chryslers, long after they were already gleaming, in the alley behind their clubhouse. He went to the basement where the old paisanos made wine, and he hand-cranked the press until his arms screamed. He stood on three empty soda cases and pounded the speed bag in the Silver Star boxing club, just down the street from his apartment building. He mucked the peddlers' stables, wrung water from neighboring women's wet laundry with his thickening wrists, wrung so tightly he sometimes ripped the clothing, trying so hard to please everyone around him and to fatigue the creature into tongue-hanging silence.
The creature?
Yeah. You know. The thing. The hunchback, just behind John's shoulder. Can't you see it in the photograph? The one that could show up at any moment when John wasn't throwing or shoveling or mucking or wringing or punching. The beast he would suddenly hear laughing faintly and mumbling so softly that John had to lean to make out the words. You. . . . You killer, you. . . . You know what you deserve. . . . He would shut his eyes, clutch his head, cover his ears, and still he'd sense it, still he'd hear it. It looked like . . . yes, almost exactly like Quasimodo, the terrifying humped creature with half a sunken face whom John kept returning to the Cosmo Theater to stare at in The Hunchback of Notre Dame . . . only somehow the eyes and nose and mouth of the hunchback stalking John were his own.
His head would begin to throb. His throat would tighten; he couldn't swallow, he couldn't breathe! His right ear would pop and begin to ring, his throwing hand would go numb, the right edge of his mouth would curve up, his arms shiver, his equilibrium vanish, his vision tunnel and blur. And now, upon whatever surface his eyes fled to, he would see and hear the javelin arcing through the air, making that terrible swishing sound, and then the coffin, looming larger and larger as if he were a small boy again, stepping nearer and nearer to it, and then, Orlando's beautiful face inside it. And John's fist or his baseball bat would lash out at the image, and suddenly there was a hole in the wall or the cabinet or the wardrobe in his bedroom, and his mother was scurrying to find someone to patch it before his hot-tempered father came home.
"Why?" he would hear his father scream at his mother. "Why did you leave him alone that day? It's your fault!" But never, ever, was the subject mentioned when John was in the room. The boy might go two nights, three nights in a row without sleep, and when at last he dozed he would dream that he was running down 114th Street, racing against the javelin, reaching up to catch it before it landed, and then he would awaken, shouting "Orlando!" in a puddle of urine and sweat.
He knotted two dark socks together and tied them around his head, over his ears, to keep that maddening swishing sound from entering his ears whenever the wind blew, or whenever he tried to outrun the son of a bitch, all the way from East Harlem to Greenwich Village. . . .
Still mumbling. Still there.
Maybe he could drown the bastard. Maybe, if he jumped into the Harlem River off the Willis Avenue Bridge and stayed underwater for one minute . . . two minutes. . . .
Still laughing. Still there.
Maybe if he stuck his grandmother's sewing needle into his throwing arm. . . .
He felt nothing. Still there.
Maybe if he careened down the ramp off the Triborough Bridge on a bicycle with no chain or brakes, he could shatter the hunchback.
He broke his leg.
Maybe he had to pinpoint the demon's location first. Maybe if he turned swiftly when he walked through snow, he could see footprints, the same way the police finally located and killed the Invisible Man in the next movie that obsessed John at the Cosmo. Maybe fabric would reveal the creature's whereabouts, as it did in the film. Maybe if John stood in front of a mirror nonchalantly and suddenly tossed one of his grandmother's black veils over his shoulder, it would land on the demon's head, and then John could whirl and throttle it. Maybe if he heaved a handful of his mother's baby powder over his shoulder. . . . No! Nothing! Damn him!
There were only two things to be done. Hurry to the arms of his mother, Josephine—she hugged him, soothed him without ever saying what she was soothing away and led him to her own mother, who would stop the pounding in his forehead and temples by rubbing them again with warm olive oil. Or he could race to Mount Carmel church and go up into its tower to sit with the bells, just like the hunchback did in the movie to escape his enemies. Inside the church, where the demon couldn't pursue John, he would light a votive candle and pray feverishly, "Make him stop, God! Make him go away! Please, God, I'll do your work, I'll help people, please!"
He would give the shoes off his feet to a beggar. He planned to become a priest, choke the demon with the collar, but he couldn't even cut it as an altar boy. Instructions bewildered him; he just couldn't concentrate. He would turn the wrong way at the altar, forget what part of the Mass was coming next, spill the wine, exasperate the priest. It was the same story in school, where the letters and numbers swam, and he would end up in the back of the classroom, the perennial dope, lovable but hopeless.
No one could stay mad at him—except his father, the barber. Sylvester Malangone would come home and find his wife gone again, always upstairs with her mom; her guilt over her son's killing of her mother's son had turned her into Grandma's slave. Sylvester's jealous rage would begin to boil, and at the slightest excuse he would seize the thick barber's strap he kept on a hook and rip into his eldest son, John, knowing that the thumps and cries would bring his wife racing downstairs in tears, back where she belonged.
After the rat the beatings grew worse. John awoke to an earthquake one night when he was 10; his father was heaving the mattress right off the bed on which John and his brother, Sylvester Jr., were sleeping, and lunging for a rat of terrifying size. Now John's dad had the rodent where he wanted it, shrieking behind the radiator, just enough space between the radiator's ribs to insert one of the boys' bed slats and pin the rat against the wall. The shrieking grew ghastly, almost human, and sweat erupted from the father's pores as his two sons cowered behind him, but he drove the slat home and blood spattered them, and the father swooned and cried out and began to shake. He ended up in a straitjacket at Bellevue, and when he came home a month later, his fury at John had grown even larger.
Five decades would pass before John would learn that his father, too, carried a terrible secret. Fifty years of silence and rage until John learned about the day that his dad, then just a seven-year-old boy, had been so happy to see his own mother coming home from another long day at a sweatshop that he and his two brothers had thrown a bear hug around her legs on the street, toppling her backward onto the jagged edges of a steel garbage can, causing a wound that became infected, just like Orlando's, and killed her. And John, when he finally heard the story, understood instinctively that everything he had turned in on himself, his father had turned outward—upon John, the son who had also killed a loved one accidentally.
The beatings stopped all at once when John was 15. His father grabbed the strap one day, enraged at John's younger brother for a change, after the boy had knocked the family's radio off the counter and broken it, and cocked his arm behind his ear to let the boy have it, when . . . huh? The barber yanked down, and yanked again, but it was as if the strap were nailed to a ceiling beam. He looked over his shoulder and saw John clutching the strap with one hand. "You son of a bitch!" Sylvester Sr. shouted. "So you want it!" And he yanked and yanked, until it dawned on him that his boy was a 5'10", 195-pound man, arms and thighs like a stevedore's from all the frantic shoveling and mucking and punching, and his strap would remain where it was for all time if John so willed it.
The barber grew small before John's eyes. John let go of the strap. His father opened a window and flung the strap into the alley.
Sylvester Sr.'s eyes widened: Out the door John darted, returning in seconds and placing the strap back on its hook.
He needed the lashes. They made him feel good.
You can't see Paul Krichell. He was just a few feet out of the picture that day, wearing a proprietor's grin. "You make me proud, John," Krichell told him just after the click. It wouldn't be long now, the 72-year-old scout realized, until the press began pestering him for details of that improbable spring day in 1950 when he strolled onto the field at East Harlem's Jefferson Park in his sunglasses, straw hat and white cotton jacket, looking for someone else.
He had positioned himself on the first base line that day to assess a player from Ben Franklin High. Krichell was the man who had found Lou Gehrig, Charlie Keller, Red Rolfe, Phil Rizzuto, Whitey Ford and a fleet of others, a calm, assured gentleman who knew that everyone knew he was Krichell, the great Yankees scout.
He took no notice of John as the teenager finished laying the strip of lime down the leftfield line. John, academically ineligible, had never played on the team. He was in the hammer-and-nail class at Ben Franklin, the 1940s version of special ed, and served as a gofer for the varsity coach. "Wanna throw, Paulie?" John asked.
"Sure!" said Paulie Tine.
The two boys had met six years before: Paulie with the disfigured face and John with the disfigured soul, clinging to each other with the static electricity of pain. Paulie was two years older, his cheeks ravaged by a case of acne so severe that John believed him when he claimed he had been burned in a fire. Alleys? Sounded good to Paulie. Baseball all day across the East River at Randall's Island, or on the field at Jefferson Park that was farthest from 114th Street, where no one would likely recognize them? Suited Paulie just fine. The moment that kids from John's block showed up, Paulie would scent his buddy's fear and say, "I'll race ya, John!" The moment girls started pointing at Paulie and shrieking and hiding behind each other's backs, calling him the Mummy or the Phantom of the Opera, John would say, "I'll race ya, Paulie!" And lickety-split they were off, almost faster than shame, Paulie a heartbeat ahead at first and then John pulling even as they neared the 107th Street Pier and headed straight for the edge, diving blindly into the East River—goners if there had been a log or a boat below.
Has there ever been a friend so loyal as Paulie? When John couldn't read a sign, Paulie lied, "Don't worry, John. I can't read that either." When John threw a BB from deep left, Paulie pogoed across the field, screaming, "Didja see that throw? John Malangone! What an arm!" He was the admiring audience John had never had, couldn't have—not after what happened when a cop talked him into joining the Police Athletic League at 13 and he froze on the mound in his first and only game, unable to throw a single pitch for fear he would kill the batter. But even to Paulie, John never told his secret.
They were throwing to each other for distance on an adjacent field when Krichell's hungry eyes roved. What? Did he just see what he thought he just saw? One kid had just thrown the ball from home plate and hit the leftfield fence, near the sign that said 368! Krichell's legs began to move.
"How old are you, kid?" Krichell asked.
"Seventeen," replied John.
"Where do you play?"
John hesitated. Loaded question.
"Anyplace!" Paulie piped.
"Come to Yankee Stadium tomorrow. We're having a tryout."
"How do I get there?" asked John.
Krichell's eyebrows took a slow walk. An East Harlem teenage boy who didn't know where the Stadium was? What hole had this kid been hiding in? "What's your address, kid? We'll pick you up."
The tryouts had been going on for weeks, the legion of young prospects already whittled from hundreds to 40, when John entered the Stadium, believing he was about to participate in a distance-throwing contest. The Yankees' coaches blinked at the lefthander's glove, one of Paulie's, that John had been jamming onto the wrong hand for years, and gave him a righthander's mitt. The first day, John sat the entire practice game with Paulie at his side. The second day, he was sent to the mound in the seventh. For three scoreless innings he threw blurs. As the Yankees brass stood to leave in the bottom of the ninth, he approached the batter's box. The first pitch came in . . . and went out, ricocheting in the upper deck's empty seats, whack, whack, whack.
"What do you think about playing pro ball?" Krichell asked moments later.
"Sure!" crowed Paulie.
Half the block was out on 114th Street three days later, surrounding the big black car, as word went from window to window: The Yankees are here. What for? To sign Malangone. Malangone?
Mark this sentence with your thumb. Go back to the photograph. Take a look at the ain't he hot stuff? look on Cochrane's face. Priceless. See, Mickey smelled smoke, but he had no idea he was crouching beside a volcano. Just smoke, because he knew the whiff of pain and anxiety well. He had suffered a nervous breakdown in 1936, lost a son in World War II. Sure, this kid he was tutoring, Malangone, was an original—first player Mickey had ever seen run to the outfield during dead time and hit fungoes to himself. But when it was quiet and the kid was unaware, gazing into space, Mickey saw fear . . . and mistook its source. "You're gonna make it," he kept reassuring John. "You're locked in. Stop worrying. If not this year, next year for sure."
Hell's bells, the kid had the goods. "Stronger than a bull," recalls Johnny Blanchard, one of John's catching rivals in the Yankees' farm system. "A rifle arm. Power out the ying-yang. He was a big Yogi Berra."
For the first two years the Yanks hid John on local sandlot teams, converting him from a pitcher to a catcher to take advantage of his stick, watching with a wary eye as he piled up MVP trophies in weeklong tournaments. They were fearful it would be discovered that they had signed him before he had graduated, but unable to send him away to one of their farm teams; he kept freezing on the train platform when it came time to leave his mother's arms, his grandma's healing fingers. Finally, in the spring of 1952, just shy of John's 20th birthday, Paulie poured him onto a bus and he went to Trois Rivieres in the Canadian Provincial League.
"Listen up, men!" Trois Rivieres manager Frank Novosel barked to his team as their bus rolled through Montreal, hours after he had made his final cut. "The guys on this bus are the guys who've made the ball club. This is the group that's going all the way. You got it? There's no turning back now, men! No turning back!"
And suddenly, with those words, John felt the shivers and the sweats again, the ringing and mumbling in his ear, the choking in his throat, the numbness in his throwing hand: The hunchback had crossed the border! He rose, struggling to breathe—no, not here, on a moving bus with nowhere to run. He stumbled to the front. He knew what happened when he felt trapped.