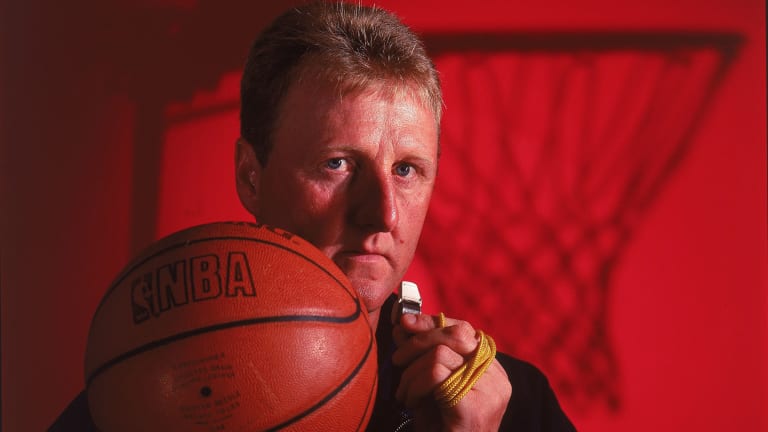 Back Home Again in Indiana
Larry Bird, bored by retirement and all but ignored in Boston, has returned to impart his expertise and homey Hoosier virtues as coach of the Pacers
Indiana Pacers president Donnie Walsh thought it would be a nice gesture to take his new coach, Larry Bird, to breakfast in May. He chose a bustling downtown Indianapolis restaurant where he'd eaten, undisturbed, numerous times. But when Walsh ushered Bird inside, the noisy patrons quieted after one collective gasp. "They looked like they'd seen a ghost," says Walsh.
The Bird sighting caught the restaurant's other customers by surprise. He had been out of basketball--and the public eye--for more than five years. Since retiring from the Boston Celtics because of back injuries, Bird had surfaced only fleetingly for charity outings, appearances on behalf of Miller Lite beer for its campaign against drunken driving, and cameos in his role as the Celtics' special assistant to team owner Paul Gaston.
He had spent his winters in Naples, Fla., with his wife, Dinah, playing golf, tending to his flower garden and watching his children--Connor, 6, and Mariah, 4--grow. In the summer he took his family home to French Lick, Ind., the country town where he was raised. French Lick (pop. 2,164) is less than 2 1/2 hours south of Indianapolis, and yet for the blanket of privacy it afforded Bird, it might as well have been halfway across the world. Nobody asked Bird for an autograph in French Lick except tourists.
But in that Indianapolis restaurant the waiters were suddenly besieged for their pens. By the time Bird had finished his meal, more than a hundred fans had gotten him to sign. Dozens more were waiting for him outside. Motorists pulled over to the curb, hoping for a glimpse of him. Bird's appointment in May as coach was the biggest coup in the Pacers' 30-year history, and Indianapolis was embracing--or was it suffocating?--its new savior. "Jeez," said Walsh, when he and Bird finally had escaped. "I forgot you were a damned icon."
Bird had never forgotten. How could he have? He'd spent most of his adult life avoiding crowds and cameras. A quiet dinner out, a stroll down a city street, a trip to an amusement park? No way. Going to the movies was possible, but only if Bird waited until the theater lights had dimmed and the film had started so he could slip quietly into the back row, a baseball cap jammed over his blond hair.
During the 1985 NBA Finals, while Bird was warming up for the second half of a game against the Los Angeles Lakers in the Forum, Boston coach K.C. Jones pulled him aside and informed him that a threat had been made on his life. NBA security personnel were positioned throughout the arena, Jones explained, and Bird could either return, under guard, to the Celtics' hotel, retreat to the locker room or continue playing. Bird went back to his spot in the layup line. "Larry, I see you're still out here," said Jones.
"Of course, K.C., it's the Finals," Bird replied.
"Great," Jones said. "But do me a favor. When we go back to the huddle to start the second half, could you stand at center court? I'm afraid this guy might be a bad shot."
When the time came, Bird ran directly into the center of the huddle and draped his arm over Jones's shoulder.
Bird encountered a more direct death threat in '86 when he walked out of the Celtics' hotel in Milwaukee with off-duty Indiana state trooper Tom Hill. A man leaped from behind a parked car and pulled out a hunting knife. He cursed Bird and announced his plan to cut him up. Hill advised the assailant to rethink his position, and he did, returning to his car and driving off.
No wonder that during Bird's playing days, Hill was often misidentified as his bodyguard. In fact, he's a longtime family friend and basketball fan who used to show up at Springs Valley High in French Lick to watch the skinny blond kid wearing number 33 shoot jumpers. Hill's frequent road-trip presence during Bird's NBA career testifies more to Hill's interest in Bird's game than in his safety.
Bird was also intoxicated by basketball. He played through dislocated fingers, bone spurs on both heels that necessitated surgery and a cranky right elbow that required numerous cortisone injections. He underwent two back operations, including fusion surgery in 1993, the year after he retired. The fusion eliminated the excruciating pain that had cut his career short. After 13 seasons, Bird walked away with 21,791 points, 8,974 rebounds, 5,695 assists, three championship rings, three MVP trophies, nine All-NBA first-team citations and a highlight reel of heroics to his credit.
Bird said he'd keep a low profile in retirement, and he was as good as his word until he startlingly decided to thrust himself back into the spotlight as coach of the aging Pacers, who finished 39-43 last season and missed the playoffs for the first time in eight years. Why did he invite this madness into his life? Because the challenge was irresistible and because Indiana is his home.
When Bird retired, he swore he'd never coach in the NBA. By his third winter in Florida, he found himself clicking on the TV to watch Miami Heat games and focusing on Heat coach Pat Riley. As a player, Bird was too immersed in the Boston-L.A. rivalry to calmly evaluate Riley's contributions as Lakers coach, but now Bird found himself fascinated by Riley's tactics. "Pat adapts to any style that suits the moment," Bird says. "I'd love to be that kind of coach, to build a team that's able to run the ball when it has the chance but can also play the kind of rough half-court game you need in this league. Pat Riley is the Michael Jordan of our profession."
Has he ever talked to Riley about coaching?
"Never!" Bird answers. "C'mon! He was a Laker!"
Like Riley, who is paid $3 million a year as Heat president and coach, Bird commands top dollar. Under his open-ended contract, he will be paid close to $4 million a season, but his decision to coach was not simply a financial one. Bird is extremely wealthy, frowns on extravagance and is certain he's never made a frivolous purchase in his life. His teammates delighted in calling him cheap. "Money is only good," Bird says, "if you really need something."
Bird doesn't need anything. He takes exquisite care of the things he does have, including the first automobile he was given for promotional work as a pro: a 1979 Ford Bronco that's in near mint condition and sits, covered with a tarp, in his garage in French Lick. Many athletes and coaches who sign big contracts say they're not doing it just for the money. In Bird's case, that's true. It's the work that drew him to coaching. A man who rises at 4:30 each morning to jog needs more than charity golf outings to challenge him. Bird missed basketball, and it rankled him when Connor asked him, "Daddy, what is your job, anyway?"
Bird is mildly annoyed when people compare him with Magic Johnson, whose foray into coaching was a disaster. Johnson, who was head man of the Lakers for nearly two months during the 1993-94 season, went 5-11 before he resigned, disgusted by the attitudes of today's young players. "The differences between Magic and me are obvious," Bird says. "When Magic coached, he thought he was the best player on his team. Magic wanted to play. He still does. Magic is also a spur-of-the-moment guy. Something looks good one day, and the next day he's saying, 'What the hell did I get myself into?' I know exactly what I'm getting into."
Bird says he has no concerns about communicating with the late-1990s athlete. He thinks criticism of players like Philadelphia 76ers point guard Allen Iverson, whose mercurial play and cocky demeanor as a rookie made headlines, is overblown. Iverson drew the ire of NBA veterans last season when he declared he didn't have to respect anybody on the court (a statement Iverson later amended by saying he didn't have to fear anyone). "I like Iverson," Bird says. "The only difference between him and guys like Magic and me when we were starting out was he said those things and we just thought them. I remember the first time I played George McGinnis. I wanted to beat his ass. I killed him, too. Of course, he was on his way out then, and I was on my way in."
Bird concedes that his biggest worry is the renewed glare of the spotlight. "Larry still hates all the attention," Walsh says. "The fact he's putting himself back in the limelight gives you an idea of how serious he is about coaching." As a player, Bird could choose when to speak to the media, and when he was injured or unhappy, his resolve not to cooperate was well-known. Throughout his years in the NBA, Bird refused to sit for photo shoots, a ban that extended to the coffee-table book the league released in 1996 to celebrate the 50 players named the best of all time. Every living member of the top 50--except Bird--posed for an updated picture. "I guess I wasn't available," he says.
Now Bird poses. The Pacers are a small-market team hoping to obtain public financing for a new arena, and he is its most marketable asset. He recognizes that he must smile for the camera, answer the questions, sign the autographs, relinquish his privacy. "The one thing I always hated was when I went someplace and 150 kids came charging at me," Bird says. "I don't like crowds. Never have. And the unexpected has always bothered me."
His refuge has long been French Lick. When he'd pull into the driveway there after another long NBA season, his mom, Georgia, would charge out of the four-bedroom house that Larry had built in 1980. Georgia would hug him and inform him that a hot meal was on the stove. He rarely told his buddies he was home, but word spread quickly. Bird needed to look in only a few places for his friends: at the Hoosier or the Jubil, two local bars with cracked linoleum floors, molded ceilings and dust on the windows, or at Brownie's filling station, where he'd pull up a chair, crack open a soda and catch up on the comings and goings.
In the mornings Bird would jog through town, then loop home and shoot some baskets. He always made a point of dropping by to see his granny Lizzie Kerns, who invited him to live with her in his senior year of high school because his childhood home was too crowded to sleep six kids. Kerns begged him to quit pro basketball because he had suffered too many injuries, but he would smile, thank her for lunch and slip a $50 bill under the plate.
Bird loved to take care of the people who never asked him for anything. Once, when he was with Hill in the Denver airport, a friendly Celtics fan struck up a conversation. In passing, the fan mentioned he was stranded in Denver with no money. Bird handed him $200. "But if he had asked," says Hill, "I don't think Larry would have given him a dime."
The same rules applied back home. Old friends who came looking for a handout just because "Larry is rich" went home empty-handed. "I never liked people who came saying, 'What can you do for me?'" says Bird. "That's not how I was raised."
In 1979 French Lick named a street after Bird. At one time the townsfolk took up a collection for a limestone statue of him, but the man who spearheaded the drive fell upon hard times, and the project wasn't completed. Truth was, as much as people were proud of Larry, they were just as proud of Georgia, who worked two jobs (as a waitress and a cook) to keep her family afloat after her husband, Joe, committed suicide in '75.
Bird has no trouble blending back into the tattered yet proud fabric of his hometown, where his dad taught him how to throw a football and to stick up for his own. "I never really understood the whole French Lick thing until I went down there," says Rick Carlisle, a former Celtics teammate whom Bird selected as one of his assistants on the Pacers coaching staff. "Larry knows literally everyone in that town by name--and that's all they need. He's one of them."
Outsiders who try to penetrate Bird's world don't stand a chance. Strangers asking directions to his house often find themselves halfway to Louisville before they realize they've been duped. In the mid-1980s, when Bird was one of the hottest athletes in the world, phone calls to him in French Lick went through Georgia. Sometimes a teammate was calling, or his agent, Bob Woolf, or one of his endorsement reps. Didn't matter. Nine times out of 10, Georgia would glance at Larry lounging on the couch and inform the caller, "I haven't seen him. I don't think he's in town...."
Many of Bird's classmates have moved away. Thus Bird's closest friends in French Lick are older men who have lived in the town for decades. Rex Stackhouse laid pipe on the Alaska pipeline. Sam Sanders was a house painter. They talk very little basketball when Bird's around, concentrating instead on hunting and how the fish are biting. Stackhouse has taken up winemaking, a hobby in which he's gotten Bird involved. The notion that he spends time with Bird to breathe celebrity air is laughable to him. "Anyone who thinks I hang around Larry so he'll buy me a beer doesn't know him very well," says Stackhouse. "Hell, Larry never has any money on him. I've bought more times than he has."
During Bird's years with the Celtics, it wasn't uncommon for French Lick residents to bump into Boston's finest. Carlisle was a regular. So was center Rick Robey. Chris Ford brought his eight-year-old son to French Lick, and Bill Walton hitched a ride into town with Bird and former teammate Quinn Buckner after they won the 1986 championship. Their trip included a 3 a.m. stop in Bloomington, the home of Indiana University, where Walton and Bird begged Buckner, a Hoosiers alumnus, to hand over Indiana coach Bob Knight's home phone number for an early wake-up call. (Buckner declined.) When they reached Bird's boyhood home in French Lick, Walton knelt down, scooped up some dirt from the front lawn and placed it in a jar. He later sprinkled the dirt on his backyard court in San Diego.
"I'll never forget that trip," says Walton, "The sun was just coming up, and we're sitting in Larry's house. His mom was cooking us breakfast. Then all of a sudden his buddies pull in, back from a hunting trip. The back of the truck was full of dead deer and empty bottles of Jack Daniel's. That's French Lick in a nutshell."
French Lick has changed some in the 11 years since Walton made his pilgrimage. The Hoosier burned down, although the Jubil still stands. Bird's family has experienced some passages, too. His brothers are scattered: Mike, 45, has moved to Cambridge, Mass.; Mark, 44, lives in nearby Terre Haute; Jeff, 32, and Eddie, 28, are in Indianapolis. Larry's sister, Linda, 42, still lives in French Lick. Lizzie Kerns died in 1989 at 83. Now, when Larry pulls into his driveway, Georgia no longer ambles out of the house to greet him. A year ago, at 66, she died of Lou Gehrig's disease.
Georgia had been feeling poorly for some time, but she didn't much like doctors, so she had Larry and Dinah drive her to the hospital to meet with her physicians. "Typical Mom," Larry says. "I told her, 'Do you want me to lie to you, or tell you the truth?' She wanted the truth. I told her if she had anything she really wanted to do in the next six months, she better get to it."
Georgia hated to fly, but she hopped a plane to Larry and Dinah's house in Naples to see Connor and Mariah. She flew to Memphis to visit an old friend. In her final months, as disease ravaged her body, she didn't stray from French Lick. For her kids, who spent their childhoods feeding off her strength, it was a heartbreaking end.
Not long after his mother died, Bird turned 40. The new gathering spot in French Lick became his massive garage. There his tools were carefully stacked and his cars and boat were neatly stored. He set up a card table and chairs for his buddies, and as he sat there, he wondered aloud what he should do next. He was too young to play charity golf for a living. He was driving Dinah and the kids crazy. Coaching? Why not? Dinah had asked. Why not?
The downside of Bird's alliance with the Pacers was his break with the Celtics. For the past two years his frustration with the Boston franchise had been building. He made suggestions in team meetings that were ignored. Deals he thought were foolish went through. The Celtics, he felt, were going in the wrong direction. Team owner Gaston maintains Bird could have been involved with the Celtics in any capacity he wanted, but Bird says he never believed that. "[The owners] had already made up their mind what they wanted," he says, "and it wasn't me."
Last spring Gaston asked Bird to make up a list of coaches to succeed M.L. Carr. Bird submitted the names of Kentucky coach Rick Pitino (who eventually got the job) and Pacers coach Larry Brown (now with the 76ers), but his first choice was Kansas coach Roy Williams. "I wanted Williams so bad," Bird says. "He was the perfect guy. I envisioned him leading the Celtics to their next championship. But I knew he probably wouldn't take the job for another four to five years."
Gaston examined the list and settled on Pitino. The only way Pitino would forsake Kentucky for Boston was if he was given a substantial financial package and total control of basketball decisions. That would leave no role for Bird. Pitino publicly declared he would not be interested in the Boston job unless Bird was involved in some capacity. Bird says by then he had already realized his time in Boston was up, and he told Pitino that. "I wasn't about to let someone else make the decisions and have me take the blame for them," Bird says. "That's how it was being set up. I think Paul Gaston sort of wanted me there, but he didn't want me to have control."
Meanwhile, when Bird contacted Indiana last April to ask permission to speak with Brown about Boston's vacancy, the Pacers, in turn, asked permission to speak to Bird about their potential coaching opening. When he said he'd consider it, Indiana's owners, Mel and Herb Simon, immediately decided to do whatever it took to land Bird. For his part, Bird quickly determined the only place he would coach was Indiana. It was home. Although he had no special attachment to Indianapolis, his visits there as a player had been memorable, in part because friends from French Lick would drive up for the game. Primarily because of her fear of flying, Georgia traveled to Boston only four times, but during Larry's career she didn't miss a Celtics-Pacers game in Market Square Arena. She took it badly when the Celtics lost and was not above hollering at the officials when she thought they had wronged her son. "I always had trouble in this arena," Bird says. "I couldn't shoot here. I'd come in thinking, God, can I pick up the basket tonight?"
The boys in French Lick had grown used to rooting for the Celtics, but changing allegiances to the Pacers won't be an issue. The main thing is, they're figuring they'll see Larry a little more often now, which makes Rex happy, because he has a fresh batch of rhubarb-and-dandelion wine waiting on his porch.
For Bird, switching loyalties won't be so easy. A tinge of green pride lingers. That was plainly evident when he was asked how he felt when he heard Chicago Bulls owner Jerry Reinsdorf declare, while discussing breaking up his aging championship team, "I don't want to end up like the Celtics." The reference was to the waning years of Bird's career when Boston was in decline yet was unwilling to trade its veteran stars--Bird, Kevin McHale and Robert Parish--for younger players or draft choices. "I find that pretty amusing," says Bird, his lips tightening. "He [Reinsdorf] sure wanted to be us when we were kicking his ass all over the place."
The Bulls are in Indiana's division, the Central, and Bird considers Jordan even more remarkable than the player he competed against. Beating Chicago, Bird recognizes, will require negating the mental games that Jordan plays and that Bird knows so well. Like His Airness, Bird, too, delighted in toying with opponents, informing defenders precisely how he planned to burn them and then doing it. "The league is a lot more watered down than when I played, so if you have a star like Michael Jordan today, you rule the league," Bird says. "Once he leaves, things will level out. But if the league had more guys like him, and I don't mean his talent as much as his attitude, then we'd be a lot better off."
Does that mean Jordan and the Bulls are unbeatable?
"The thing with Jordan is, you can be ahead by 10, and two minutes later the game is tied," Bird says. "I'm going to tell my guys if they can stay close until the last two minutes, then we have a chance. Who knows? Michael might actually come down and miss a shot. I doubt it, but he might."
The Pacers have been told that Bird will not tolerate tardiness or players who are not well conditioned. Bird will use an up-tempo style and wants small forward Chris Mullin, newly acquired from the Golden State Warriors, to take some of the offensive load off shooting guard Reggie Miller and center Rik Smits. He has promised not to scream at his players and hopes--but has not guaranteed--that the Pacers will be in the playoffs. Bird is unsure how he would react to a prolonged losing streak, since the most consecutive games he ever lost as a player was four, and that only happened once.
Of course, if things get hot, there's comfort in knowing that refuge is only a couple of hours away, down State Road 37, over to U.S. 150 and then onto State Road 56. French Lick will be there if coach Bird should need it.
COLOR PHOTO: PHOTOGRAPH BY HEINZ KLUETMEIER COACHLarry