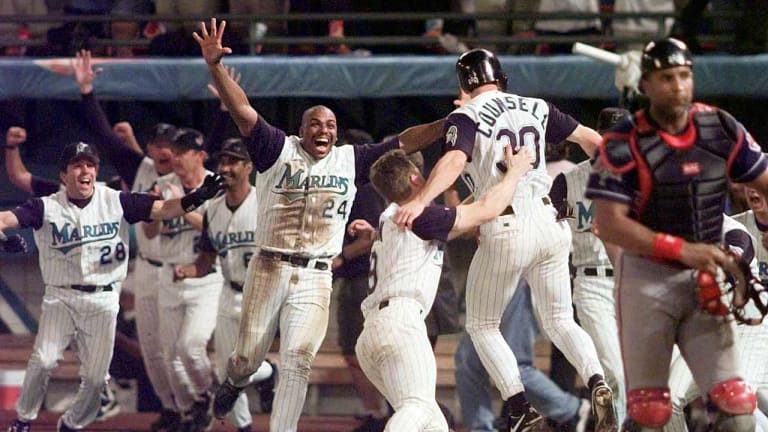 Publish date:
Happy Ending
The Marlins' Stirring, 11th-Inning Come-From-Behind Defeat Of The Indians In Game 7 Redeemed An Otherwise Lackluster Series
You think you have busted loose from its orbit, gladly leaving behind the endless three-ball counts, the batters taking aimless strolls after every pitch and games that end long after most television sets have clicked off. The 1997 World Series surely lost you as a result of some of the worst pitching in Series history; some of the worst weather; the longest games, on average; and in general, such laggardly play that even baseball's No. 1 spinmeister, acting commissioner Bud Selig, threw up his arms before Game 6 and said, "We need to address the pace of games and quit talking about it. In the next 30 to 45 days changes will be in place."
Then, just as you begin to feel untethered, the gravitational pull of the game tugs you back. What the Florida Marlins and Cleveland Indians did on a steamy night in Miami on Sunday did not just save their Series from ridicule, but also proved one of the fundamental laws of sport: Nothing on the American sports landscape is more powerful than Game 7 of a World Series.
We had waited six years for baseball to stage a Game 7, the longest span that has elapsed between such games since 1924. And after what had transpired in the first six games this year, we have never needed one more. What separated the Marlins and the Indians after nine innings of the last game of the 93rd World Series, the 2,300th game of the year, was...nothing. They were tied at 2--only the fourth time a Game 7 had extended into extra innings. Not until two men were out in the 11th inning, and six minutes had passed since midnight, did the 1997 season end. It did so when shortstop Edgar Renteria gave Florida its first World Series championship with a line drive that flicked off the glove of righthander Charles Nagy and into centerfield, a single that sent second baseman Craig Counsell bounding happily home with the winning run. No one complained that, at four hours, 11 minutes, the 3-2 victory took too long. This was seventh heaven.
"We put on a show for the whole nation that baseball can be proud of," said Cleveland righty Orel Hershiser. "It's just fortunate that two organizations were able to rise above everything baseball people are doing to [the sport]."
Super Bowl Sunday is a national holiday in which the game itself is dwarfed by the hysteria of its build-up. The Stanley Cup and the NBA Finals, which have staged only one seventh game apiece since 1988, lack the historical weight of the World Series and don't usually match its level of drama. Baseball's showcase, even when it appears to be at its worst, is seldom disappointing. Every World Series this decade has ended on a game-winning hit (three times) or with the tying run on base or at bat (four times).
"Around the seventh inning I started to think it was going to be a classic, maybe go to extra innings," Florida pitching coach Larry Rothschild said. "The tension was there with every pitch. When you get to the seventh game of a World Series, whatever people have said about it before doesn't mean anything."
Only a Game 7 could make the 76 walks in this year's Series (a record), and the 81 runs (one short of the record), forgettable. Posterity, too, might overlook the fact that the television ratings hit alltime lows; none of the five pitchers to earn a victory had more than 38 career wins; a 14-11 Florida win in Game 3 included 17 walks, six errors and an unprecedented 11-run ninth inning that prompted Indians manager Mike Hargrove to groan, "That was as ugly a game as you'll ever see"; and Cleveland's 10-3 victory in Game 4 was played in 18[degree] windchill with flurries that made Jacobs Field resemble a gargantuan version of those snow globes you can buy at a knick-knack shop.
Instead, Game 7 gave us more lasting souvenirs. It reminded us of what is best about baseball. The game is still about fathers and sons--four second-generation major leaguers played in the Series finale: catcher Sandy Alomar Jr. and righthander Jaret Wright for the Indians, and outfielder Moises Alou and closer Robb Nen for the Marlins. Sometimes it is about mothers and sons, too. About an hour before the game, 22-year-old Florida righthander Livan Hernandez walked into suite 251 of Pro Player Stadium in full uniform and threw his arms around his mother, Miriam Carreras. It was the first time he had seen her in two years, since he had defected from Cuba. She had just arrived from the island on a special visa, which was made possible in part by a petition signed by the Marlins players and sent to the Cuban government after the league championship series. The mother and son embraced, teary-eyed, for 10 minutes without speaking. Then they were introduced to a special guest in the suite: Joe DiMaggio.
Carreras left the stadium in the sixth inning for Hernandez's apartment. He came home with some hardware: the MVP trophy, which he earned by becoming the first rookie in 50 years to win two World Series games.
Baseball is also about confirming that players are human with a single letter: E. When Cleveland second baseman Tony Fernandez muffed a grounder to make the winning run possible, he took his place in October infamy alongside Fred Snodgrass, the New York Giants' centerfielder whose dropped fly ball in 1912 allowed the Boston Red Sox to win in their last at bat. "I believe," Fernandez said in explaining the play, "the Lord doesn't send you more than He thinks you can bear."
The Indians made Game 7 possible by beating Florida's ace righthander Kevin Brown 4-1 in Game 6, the second time in the Series that Brown had lost. That night lefthander Al Leiter, who would start Game 7 against Wright, went home and said to his wife and mother, "I don't want to see, read or talk about baseball. I know what tomorrow means." On the day of Game 7 his telephone rang about 40 times. He took only two calls: from former New York Yankees teammate Dave Righetti and former minor league coach Gil Patterson, both of whom encouraged him to throw more curveballs to keep the Indians from sitting on his fastball and cutter.
Not long before the first pitch Florida manager Jim Leyland assembled the Marlins in front of their teal lockers in the clubhouse. He had spoken to them before every game of the Series, often invoking the name of Muhammad Ali. So often did Leyland mention the former heavyweight champion that the Marlins were thinking about asking Ali to visit them before one of the games in Cleveland. Leyland decided against it, not wanting to subject Ali to the inevitable swarm of media that would descend upon him.
Instead Leyland, in a throaty voice made scratchy by too many cigarettes and too much coffee over the 3,721 pro games it took him to get to the World Series, made this promise to his team before Game 7: "When you come back here, you will be world champions." The room fell silent. Then the 52-year-old manager, always seeming to push the right buttons at the right time, cracked up his players by saying, "Since I couldn't get Ali, I tried to get Elvis, but he couldn't be here."
Leiter pitched gallantly, allowing only two runs over six innings on a third-inning single by Fernandez. Wright was even better. He took a one-hit shutout into the seventh, and even after allowing a home run to third baseman Bobby Bonilla and leaving the last eight outs to the bullpen, he was in line to become the first rookie in 88 years, since Babe Adams of the Pittsburgh Pirates, to win Game 7.
The Indians wasted a chance to add to their 2-1 lead in the ninth when they put runners at first and third with one out. Centerfielder Marquis Grissom, batting against Nen, bounced to Renteria, who shocked Alomar by throwing him out at home rather than trying for a double play. "I was a dead dog," Alomar said. Nen then retired pinch-hitter Brian Giles on a fly ball.
"The last few innings seemed to take forever," Cleveland shortstop Omar Vizquel said. "The minutes trying to get to the end went so slowly."
In the ninth inning Hargrove gave the ball to his closer, righthander Jose Mesa. An NBC crew began setting up a wooden platform draped with red-white-and-blue bunting in the Cleveland clubhouse, to interview the apparent world champions. A sheath of clear plastic was draped over the lockers to protect clothing from the spray of champagne. But then Alou, who put the Marlins ahead to stay in Games 1 and 5 with three-run homers off Hershiser, grounded a single into leftfield.
The 67,204 fans at Pro Player Stadium quaked in anticipation. In Cleveland, the insecurity capital of the country, Indians fans quaked with dread. Their Tribe had not won a World Series since 1948. The town has not won a championship in a major sport since its departed Browns won the 1964 NFL title, the longest drought among cities that have fielded teams in three major sports. John Elway, Earnest Byner, Michael Jordan and even current Indians DH-outfielder David Justice, who won the 1995 World Series with a Game 6 home run for the Atlanta Braves, have ruined would-be championship seasons in Cleveland. Die-hard Indians fans buy up more home team merchandise than any baseball fans but the Yankees'--in Game 3 the entire stadium was sold out of merchandise, sending club vice presidents to a warehouse for emergency restocking before Game 4. A city with a terrific orchestra, a beautiful ballpark and the Rock and Roll Hall of Fame desperately yearns to be validated by a trophy. Or as one of Cleveland's cabbies put it, "All we want is a winner."
Mesa struck out Bonilla, bringing the Tribe within a double-play grounder of finally becoming champions. But catcher Charles Johnson cracked a single to rightfield, sending Alou to third. Counsell then tied the game with a sacrifice fly. "What's so hard is that we were one pitch, one batter, however you want to put it, from winning," Vizquel said later in the clubhouse, where the plastic wrap had been hastily shoved into a corner behind a refrigerator. "We were so close. It's just so hard to describe."
Mesa departed in the 10th inning, leaving a two-out, two-on mess for Nagy, Cleveland's best starter during the regular season, whom Hargrove had skipped in favor of Wright because "right now Charlie gives you the body language that tells you, 'I don't want to be on this earth.'" As Nagy warmed up with the World Series in the balance, Vizquel said to Renteria, the runner at second base, "Do you drive a convertible? You've got a nice tan." Then he asked, "Where did you go last night? Did you go out after the game?"
Fernandez joined the oddly timed bit of frivolity, asking Renteria, "Aren't your legs tired? Do you think you could score on a base hit?"
The question was left unanswered. Alou flied out.
The 11th began with a base hit by Bonilla, whose nightly facial theatrics and gimpy play caused by a strained left hamstring recalled lengthy death scenes in spaghetti westerns. Nagy got one out when Greg Zaun, who had pinch-run for Johnson in the ninth and then replaced him behind the plate, popped up a bunt. Then, just as the scoreboard clock showed 12:00, came the stroke of midnight for the Indians: Counsell sent a bouncer to the left of Fernandez. In his haste to get Bonilla at second base, Fernandez missed the ball, and Bonilla flopped into third.
After an intentional walk to Jim Eisenreich filled the bases, centerfielder Devon White forced Bonilla at home with a grounder to Fernandez. It was Renteria's turn to cement the legacy of this Series and his team.
The win was Florida's 28th in its last at bat this season, and Renteria had provided eight of those game-winning hits. The Marlins' victory legitimized the wild card, which was their ticket to the postseason. Having knocked off Atlanta, the winningest team in baseball, and by overcoming a deep Cleveland offense that had held the lead in every game of the Series, the Marlins proved to be worthy world champions. A sign at Game 6 said it all: WE BELONG.
As the Marlins rushed to mob Counsell and Renteria, for the second time in three years the last ball of the World Series wound up in the glove of Grissom in centerfield. As a Brave in 1995, he caught the final out, a fly ball by Cleveland's Carlos Baerga, then absently flung it into the air in jubilation. This time he picked up the baseball hit by Renteria and squeezed it in the pocket of his glove as he trudged off the field. Just before he reached the dugout steps, he looked back over his shoulder and saw the celebration raging.
What, he thought, do I want this for? With a quick underhand flip and the disdain of a fisherman throwing back a catch not worth keeping, he tossed the baseball toward the middle of the diamond and the mass of people. It rolled among the spiked feet of world champions too busy to notice--too busy jumping, hugging and sending up a roar that will echo forever with the clear resonance of a Game 7.