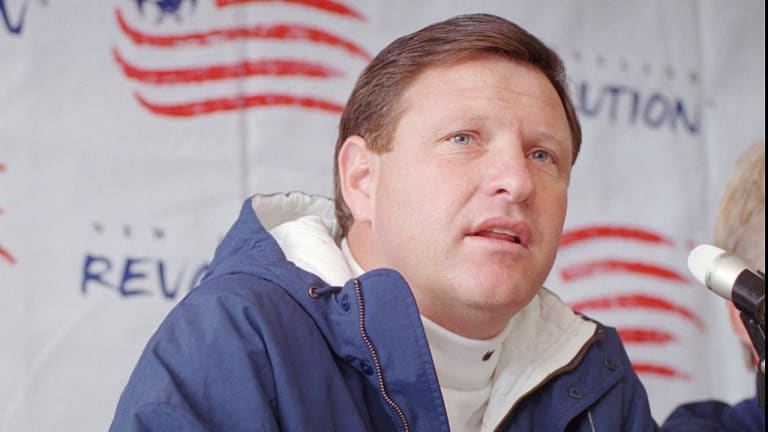 Publish date:
French Toast?
The U.S. clinched a trip to next year's World Cup in France, but coach Steve Sampson could be left behind
The U.S. soccer team's long and sometimes grim parade of the last eight months ended with a happy 20-yard stroll. The players walked over to the red-clad members of Sam's Army, who draped them with American flags and adoration. There was no lovelier celebration anywhere on Sunday than that of the U.S. team as it mingled with its fan club in a toylike stadium in suburban Vancouver, with mountains looming to the north, massive Douglas firs standing sentry behind the east stands and a scoreboard in the south end that read U.S. 3, CANADA 0.
But if the words of U.S. Soccer Federation president Alan Rothenberg are extrapolated, a team whose on-field approach is better suited to Popular Mechanics should start working on a Paris Match look now that it has qualified for next summer's World Cup, in France. The message: Style counts.
Not that the Americans slouched toward France. Against Canada, midfielder Claudio Reyna, a New Jersey native who is emerging as a star for VfL Wolfsburg in the German Bundesliga, scored in the fifth minute and dropped a sweet free kick over a flat Canadian back four in the 81st minute to striker Roy Wegerle, who tucked it into the far corner of the net. Wegerle, 33, might have had nine knee operations, and he might not start for D.C. United in MLS, but he still possessed the finish to give the U.S. not only that goal but also another, in the 90th minute. It was the first time the Americans had gotten two goals from a starting striker in their last 25 matches. The victory was professional if not smashing. But it was nothing to scoff at, considering it was only the second win in 27 games by visiting teams in the Bataan death march of Confederation of North, Central America and Caribbean Association Football qualification. Still, before the champagne bubbles had gone flat and the echo of the last ole-ole-ole-ole had faded in the jubilant U.S. locker room, Rothenberg declined to give coach Steve Sampson his irrevocable support, sticking to the position that everyone and everything would be reviewed after the last qualifying match, on Nov. 16.
"Steve's the coach, unless he's not the coach," Rothenberg had said an hour before Sunday's game. "We're not out there searching for a replacement. The power of incumbency is pretty strong. But the deal we made with him when we brought him in was that Step 1 was qualifying. When qualification is over, we'll look at Step 2."
In the past, teams have occasionally switched coaches after reaching the World Cup. Bora Milutinovic, the nomadic coach of Mexico who led the U.S. in the 1994 World Cup, wound up on the Costa Rica bench for Italia '90 because the Costa Rican federation decided it couldn't trust one of its own on the world stage. Rothenberg admits to the appeal of a coach with more international experience than the 40-year-old Sampson, who was a World Cup assistant in '94. Rothenberg has done more than anyone else to raise soccer's profile in the U.S., but if he's seduced by a big-name coach at this point—in '95 he chased Portugal's Carlos Queiroz and Brazil's Carlos Alberto Parreira to succeed Milutinovic—he will be tearing down part of his creation.
This has been the subtext of the sometimes painful U.S. qualifying campaign: Can a coach stamped MADE IN USA succeed? Does an eternally maturing soccer nation finally believe in its own know-how? If Sampson's players are mostly second-generation American soccer kids, then he's part of the first generation, having learned the game in California at age eight. His portfolio is modest. He was a junior college All-America forward and later the coach of 1989 NCAA co-champion Santa Clara. He might not grasp every nuance of the game as profoundly as Milutinovic, who once lectured midfielder Ernie Stewart for 40 minutes on the proper way to lace his shoes, but he knows the American way. As Sampson sprawled on a couch in his hotel suite last Saturday night, he said, "Success is not just X's and O's. Success is not just tactical preparation or technical development of players. In this game it's important for a coach to understand the American mentality. No foreign coach has come in here and been truly successful at that, at understanding you're dealing with educated players who are diversified in their thinking. Maybe that's inconsequential to those people making the decision [about who will coach in France], but I think it's important to stand up for those things."
Rothenberg was dismayed with the U.S.'s barely salvaged 1-1 tie against Jamaica on Oct. 3 in Washington, D.C., a match the Jamaicans controlled for the first 30 minutes until Sampson switched from a three-back to a four-back formation. If his initial alignment was flawed, Sampson's larger mistake came before the match, when he didn't make sure the Americans were ready to play a team game. They performed like strangers. "Everybody was doing his own thing," Sampson said.
The team was about to embark on a five-mile run through the mountains at a training camp in Big Bear Lake, Calif., two weeks after that game, when Sampson surprised his troops. "I took the bold move of asking grown men to hold hands in a circle," Sampson said with a chuckle. He also took a page from his college playbook when he announced that a different player would be responsible each day for coming up with a buzzword. Sampson said he would pick the first Word of the Day. He chose sacrifice. "At first the mood of the team was, A little corny, isn't it?" striker Joe-Max Moore says. "But I think the words and holding hands did us good."
Indeed, the Americans, who had lost 17 straight in Mexico, earned a 0-0 tie on Nov. 2 before 114,600 raucous fans despite playing the last 58 minutes with only 10 men after defender Jeff Agoos received a red card. Then, on Sunday, before 8,420 at tiny Swangard Stadium, they seized control after a middling first half. Stewart replaced Preki Radosavljevic, who had been ignored on the right flank, and used his speed to open holes in a soft Canadian defense--a halftime substitution by Sampson that changed the momentum.
"Steve's done such an incredible job with this team and with the players," defender Alexi Lalas said afterward. "Since he got the job, he's given us things on and off the field that we needed to be successful. His personality and character are things we've grown to respect. The best success we've had as a national team has been with Steve Sampson. He has qualified this team, and he should be the coach in the World Cup."
Really, this shouldn't be so complicated. Bottom line: The U.S. is in. Sampson's team made it with one qualifying game to spare. If the urge strikes Rothenberg to seek one of those glitzy have-system-will-travel coaches after the World Cup draw, we offer our own word of the day: fuhgedaboudit.