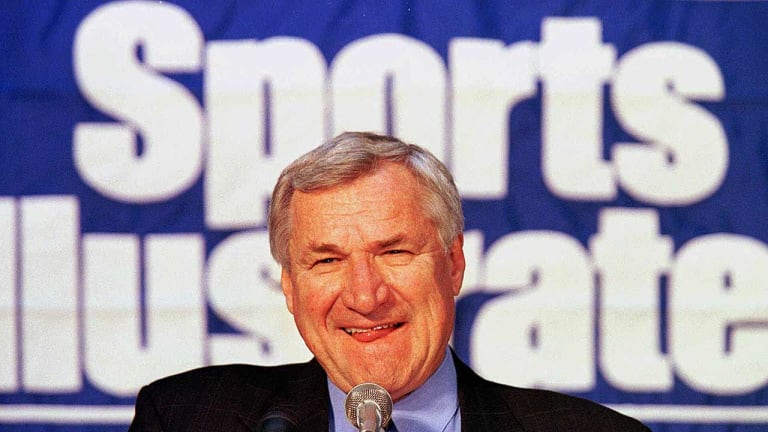 Publish date:
Dean Smith
The Legendary North Carolina Basketball Head Coach Unplugged
Though we didn't hear from him in the previous pages, Dean Smith does have something to say. He recently sat down with SI senior writer ALEXANDER WOLFF to share his reflections on nearly half a century in college sports. Paraphrasing Churchill and quoting Kierkegaard, Smith reminisced about a certain Chicago Bull and the long-ago NCAA final at which he cheered furiously against the Tar Heels. He mused about the current overemphasis on winning and about his careerlong struggle to keep victory in perspective. And he sounded off on what's wrong with college sports and how to fix it. Here are highlights from that conversation.
Alexander Wolff: Your successor, Bill Guthridge, says he'd love to see you as czar of intercollegiate athletics. If you suddenly had the power to make changes by executive fiat, what's the first thing you'd do?
Dean Smith: I was against freshman eligibility when it was instituted in 1972, and I'd still like to see all freshmen ineligible in the high-profile sports like football and basketball. Whether he plays sports or not, a freshman has to learn to live away from home, function in a more demanding academic environment and adapt to a new social setting. How can it be in his best interests to be distracted from those things by team meetings, film sessions, media interviews and practice, not to mention the travel that causes missed class time?
There would be a number of side benefits if freshmen were ineligible. Recruiting intensity would diminish along with the whole quick-fix mentality many coaches have. And colleges would attract young men who are serious about school as well as athletics, because those who want to go pro after one season wouldn't have the patience to wait around. There's no evidence that sitting out a varsity season hurts a player's prospects as a professional. It did nothing to harm the development of Kareem Abdul-Jabbar, Bill Walton and a whole generation of great NBA players. In fact, practices for freshmen allow coaches to teach individual fundamentals instead of rushing first-year players into five-on-five game situations.
There's another great benefit as well. When scholarship freshmen play on a jayvee team with eight or nine regular students, the scholarship players have an easier transition into becoming a part of the student body. And it wouldn't be expensive to do. Our jayvee team plays 16 games a season and costs less than $7,000 a year.
AW: With freshmen sitting out anyway, would you scrap initial eligibility requirements like Proposition 48?
DS: If a freshman met certain academic standards—more than just a score on the college boards, which I believe are culturally biased—then he could practice with the varsity, or practice and compete on a freshman team. He would receive full financial aid as long as he was making satisfactory progress toward graduation. That way we'd be saying, You're here as a student first. Once you've shown us your ability as a student, we'd be pleased to have you as an athlete, too.
AW: Yet you're someone for whom a freshman won an NCAA title, if I correctly recall a certain night in New Orleans in 1982.
DS: I can't think of another nationally ranked program that has benefited more from freshman eligibility than ours. But I have no doubt that they would have been better off if they had been ineligible for a season, even though 95 percent went on to get their degrees. 
Those opposed to freshman ineligibility always point out that a change will cost money. But that's all they say. Division I football and basketball generate billions of dollars, and only a small part of that revenue could keep every freshman athlete on scholarship, even as he sat out. If freshman ineligibility saved athletic directors thousands of dollars a year—instead of costing them that much—they'd be in favor of it. What's best for the student-athlete simply isn't being factored into the equation.
AW: What's the biggest change in the game since your playing days?
DS: You mean besides the length of the uniform shorts? To me, the biggest change is in officiating. We once had a game of finesse. Now, to my chagrin, you can get away with anything away from the ball. I pushed for the addition of that third official so we could better watch for illegal screens off the ball, but that hasn't seemed to help. I think it's just human nature for an official not to make that call, because he knows it won't be replayed on television.
AW: So officiating is still hard. What about coaching?
DS: Coaching is easier than it's ever been. Remember when only one team per conference could go to the NCAA tournament? Imagine going through a conference season knowing that even if you won the league, you'd have to win a three-game tournament just to go to the NCAAs. Also, in the old days you'd make unlimited visits to one recruit. One time we made 17 trips to recruit one player. Now they've limited the number of days you can be on the road. I remember jumping on a private plane after practice and spinning over to Lexington to scout Kentucky. All those trips are unnecessary now because you have everything on tape. So you can really just focus on coaching your team.
AW: It took 21 seasons and six unsuccessful trips to the Final Four before you won a championship. What did you learn while falling short?
DS: Be grateful that you got there. I don't believe that "winning the big one" says all there is to say about you. You win big ones to get to the Final Four, or even just to get into the tournament. The method we have for picking a national champion—one loss and you're out—certainly creates a lot of interest. But you and I know that the NCAA tournament doesn't always produce the best team as its champion. Kansas was the best team in the country last year, but Arizona wound up as the NCAA champion. Both teams should be happy—though I'm sure Arizona is much happier. The fairest way is the NBA's, a seven-game series. Of course we can't do that in college. But we do create more interest in our game with our system.
Can you imagine the interest in the NBA playoffs if they played one loss and you're out? If the Chicago Bulls had lost their first playoff game last year, their season would have been over. That may have been unfair, but it sure would have created interest.
AW: Can you remember the first time you saw Michael Jordan play?
DS: [My assistant] Bill [Guthridge] had seen Michael play in February of his junior season in high school and thought he might be an ACC player, because he was such a good athlete—6'3", quick, though at that time he played inside not outside. Then Michael came to our basketball camp that summer, and [assistants] Roy [Williams] and Eddie [Fogler] mentioned him to me: "Gosh, that Wilmington kid is really quick, and he's so dedicated." I came over and watched. His skills with the ball were raw, but his athleticism and competitiveness were so good, we decided to recruit him. And he made his decision in the fall.
Most people around Wilmington were predicting that if Michael went up to Chapel Hill, he wouldn't get to play. He said, "Coach Smith, I'm going to play up there." And I said, "Michael, that's why we're recruiting you. I think you will play." And he said, "I'm going to show them I can play." I think he's shown a few people.
AW: Those of us who have watched him over the years each have our "Michael moment"—that point at which we realized he was not your ordinary basketball player. When did you know?
DS: Preseason, sophomore year. I couldn't believe the improvement since the end of his freshman season. Every time he did a drill with the Blue Team, the Blues would win. Every time he did one with the White Team, the Whites would win. The staff started saying to one another, "What's going on here?" He hadn't been on any preseason All-America teams, but he'd grown two inches, had worked hard over the summer to improve his ball handling and shooting, and he had so much confidence. He started the season with a cast on his left wrist, and still he won a game for us against Tulane. He scored, then intercepted a pass, and we won in overtime.
AW: You've become so identified with North Carolina, it's hard to imagine that the 1957 triple-overtime NCAA championship game—in which the Tar Heels beat Kansas for perhaps their greatest victory ever—left you devastated.
DS: I was assisting Bob Spear at Air Force at the time, and Bob was good friends with Frank McGuire, who was then the coach at North Carolina, and we were all sharing a hotel suite at the Final Four in Kansas City. I was only four years out of college at the time, and I had coached three of the Kansas seniors—Gene Elstun, Maurice King and Johnny Parker—as freshmen in 1954.
After the game Frank brought his team by our hotel. I told them, "Congratulations, you guys. And that's all I have to say." Frank asked me to recommend a restaurant where they could celebrate. I suggested the most expensive place in town, Eddie's, where they had to pay something like $48 for the roquefort dressing. I even made the reservations. I wanted to stick it to 'em.
AW: What are you going to miss about the game?
DS: There's very little that feels as good as a conference win on the road, of meeting that challenge. Over the past 18 years, I think we've won 11 over at Duke, and that's a hard place to win. And we won three out of four in Lexington.
AW: Why does winning make you feel so good, when you've been so articulate in suggesting that it shouldn't be so important?
DS: My first goal was to keep my job. Then I wanted to win. It was when I got more mature that I said, What's most important is that we play well. Then I started to ask myself, Why do I feel good when we don't play well and win? I've struggled with the dichotomy of winning versus playing well ever since 1981, when I got a 20-year contract and said to myself, O.K., from now on I'm going to judge us according to how we play, not on whether we win. Even in scrimmages we've tried to apply that standard. If a player took a bad fadeaway jump shot, I'd tell the manager, "Score that a zero." If he got a layup, it would be plus three. We'd only have to score it that way a few times before the guys would realize what we were after.
AW: Your sister, Joan, gave you a copy of Catherine Marshall's book Beyond Our Selves in the aftermath of that Wake Forest game in 1965, when you were hung in effigy. How did it help you?
DS: There was a chapter called "The Power of Helplessness." You just turn everything over and don't worry about it. You realize you're helpless, and all of a sudden you feel at peace. I was relatively young at the time, 33, and I knew I wanted to coach. But I realized I could be happy just teaching math and coaching high school if that's what was available to me.
Catherine Marshall isn't really a theologian like [Karl] Barth or [Dietrich] Bonhoeffer, but her book was very meaningful to me. Actually, her philosophy is like a 12-step program. Through a very close friend I've learned a lot about 12-step programs, and they seem to me more what Christianity is supposed to be than a lot of what we see today.
AW: Because you're giving up control?
DS: Yes. I once gave the commencement speech up at Eastern College in Pennsylvania. Churchill had to give a speech once, and he didn't know what to say, so he got up and said, "Never, never, never, never, never, never quit." Seven words. So I got up and said, "Always, always, always, always, always, always quit." I think we're most happy and free when there is a creator or spirit or something in charge of our lives. I said happy and free. And that's where I struggle. Because I want to take over constantly.
I do think I've struck some balance. I'd get mad at a referee, and then I'd see myself doing it and say, You were being ridiculous. The guy's honest, he was doing the best he can. It helps that one day I accepted that there's a spirit within me—there's a spirit within every human being—and decided to turn over control to it.
AW: Topeka was home to the Smiths, but it was also home to the landmark Brown v. Board of Education case—though the court case wasn't decided until 1954, after you'd left college. Were you affected by segregation?
DS: At Topeka High we had a great black end, Adrian King. In my first game at quarterback I threw a pass that he somehow caught for a touchdown. He was 6'3", just a beautiful athlete, state champ in the hurdles. But Adrian couldn't play on our basketball team. So senior year, the fall of 1948, I went to the principal, Mr. Weaver, and asked why we had separate basketball teams for black and white students when we all played football and ran track together. I asked more out of selfish motives than anything—to have a better team. And he said the problem would be at the dances after the basketball games. I didn't understand it. I should have persuaded the students to protest. But I didn't think in those terms then.
AW: You've never been reluctant to crusade for causes since you arrived at North Carolina. Besides freshman eligibility, what issues on campus most engage you?
DS: Drinking is a huge social problem. We've had tragedy in Chapel Hill, as almost every campus has. Not long ago [ACC commissioner] Gene Corrigan—and I like Gene—got up in front of the coaches and said, "We've got a surplus [of money], and we need to do something to fight drugs." Well, conference revenue is mostly TV revenue, and a lot of that is from beer advertising. It reminded me of the old Kierkegaard story where the minister has velvet robes and the pulpit is plated with gold, and he says, "Jesus said let us deny ourselves and give all we have." And no one laughed! Well, no one laughed at the suggestion that we fight drugs with alcohol money, when alcohol is the drug of choice on college campuses. It's hypocritical for a college conference to have student-athletes tell young people they should say no to drugs when we say yes to beer ads. They have great ads, but alcohol and alcohol-related incidents are a leading cause of death in the U.S. for people 25 and under.
It's the same with gambling. Newspapers that decry point shaving in editorials print point spreads, even though gambling is against the law. I like [Indiana coach] Bob Knight's comment: You don't see prostitutes' phone numbers in the paper. Bob has a better way with words than I do.
I don't mean to be holier-than-thou. I gamble on the golf course. I do enjoy the occasional beer, and certainly adults should have that choice. I just don't want our children and grandchildren to be encouraged to drink beer while they watch college basketball.
AW: When you retired you said you wanted to spend more time with those children and grandchildren. What else will you be doing?
DS: Several Democratic party leaders talked to me about running against [Senator] : Lauch Faircloth (R., N.C.) in '98, but my wife pointed out that the two things I liked least about coaching were giving speeches and going to functions. So I've talked to the university about teaching a seminar, maybe on sports and society. I want to teach a basketball coaching class, and I want to continue doing clinics in the off-season. I might do some commentary work for TV. And I'm going to be a consultant to the athletic department. That way I could serve on NCAA committees if I were asked.
There'll certainly be time for golf. I went to Augusta for three days in November and talked to Brad Faxon. I wish I could have gotten a putting lesson from him. You're never too old to learn.
I consider myself very lucky. I retired as a coach. Not many of us do.