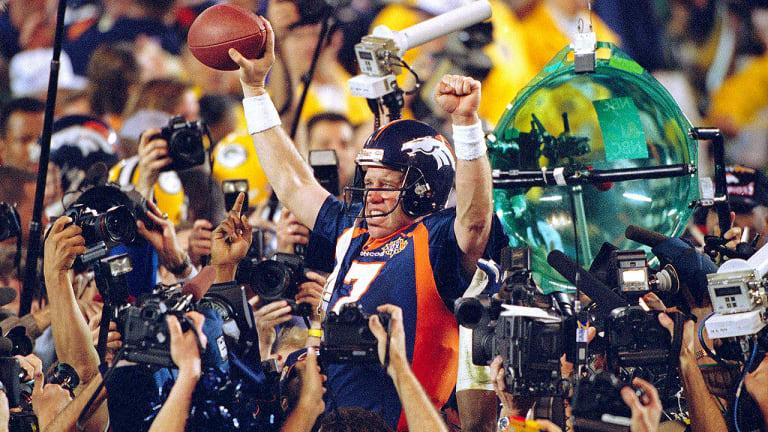 Seven up
Showing more grit than prowess, John Elway executed a brilliant game plan in the Broncos' stunning Super Bowl win over the Packers.
He spent 15 years pushing the physical limits of football, making jaws drop and decorating highlight clips with bursts of brilliance. Then, with one fearless thrust of his 37-year-old body late in the third quarter of Super Bowl XXXII, John Elway finally lifted himself and the Denver Broncos to the top. In the greatest Super Bowl ever, the pivotal moment, fittingly, belonged to one of the NFL's alltime greats.
For all the importance of coach Mike Shanahan's dazzling game plan, of running back Terrell Davis's MVP performance and of the game-ending stand by Denver's oft-slighted defense, it was Elway, with his self-described "three-inch vertical leap," who elevated himself into immortality and his franchise into the realm of champions with the Broncos' 31–24 upset of the Green Bay Packers on Sunday.
The play said everything about the defiant Broncos and their unlikely march to the title: With the game tied at 17 and Denver facing third-and-six at the Green Bay 12, Elway dropped back to pass, found no open receivers and took off down the middle of the field. He darted right and was met near the first-down marker by Packers strong safety LeRoy Butler, who ducked his head and prepared to unload on the quarterback. Elway took to the air, and Butler's hit spun him around so that he came down feet-forward as he was absorbing another shot from defensive back Mike Prior.
When Elway hit the ground at the four, an adrenaline rush surged through the Broncos. Denver scored two plays later, and though the Packers came back to tie the score again, Green Bay was a depleted team fighting a losing battle against an opponent that had been recharged. When the Broncos launched their game-winning drive from the Packers' 49 with 3:27 remaining, it was like watching a battle of the bands between Pearl Jam and the Kingston Trio. "When Elway, instead of running out of bounds, turned it up and got spun around like a helicopter, it energized us beyond belief," Denver defensive lineman Mike Lodish said after the game. Added Shannon Sharpe, the Broncos' All-Pro tight end, "When I saw him do that and then get up pumping his fist, I said, 'It's on.' That's when I was sure we were going to win."
Though only an infinitesimal slice of the earth's football-viewing population believed Denver would dethrone Green Bay, the Broncos carried a confidence into this game that belied their station as a double-digit underdog. More than two hours after the game, as Shanahan rode from the stadium in a stretch limousine with Denver owner Pat Bowlen and their families, the third-year Broncos coach raised his champagne glass and said, without being brash, "This was just the way we planned it."
While the AFC's 13-year Super Bowl losing streak and Denver's 0–4 record in the big game helped convince many experts that a Green Bay blowout was inevitable, Shanahan saw no cause for panic. As early as eight days before the game, he began telling people he trusted that the Broncos were poised for victory, saying to one reporter, "Just between you and me, we're going to win the game. With all this hype Green Bay's getting, the whole AFC inferiority thing, how Denver has played in the Super Bowl and how the Packers played against the 49ers [in Green Bay's 23–10 NFC Championship Game victory on Jan. 11], everybody will be stroking them. It will all work in our favor, and our guys are pretty determined."
Shanahan and Elway could barely contain their excitement the evening before the Super Bowl as they reviewed the game plan in Elway's hotel room. While much was being made of the quarterback showdown between Elway and three-time NFL MVP Brett Favre, the battle of wits between Shanahan and Packers coach Mike Holmgren—probably the game's two shrewdest offensive strategists—would prove to be even more compelling. One coach who worked with Shanahan and Holmgren during their respective stints as San Francisco's offensive coordinator noted a key distinction: Whereas Holmgren is a master at crafting a strategy that will work against any team, Shanahan takes his preparation a step further to create a plan aimed at exploiting specific defensive weaknesses.
In this case Shanahan was convinced he could get inside the head of Packers defensive coordinator Fritz Shurmur, who relies on the versatile Butler for frequent blitzing and run support. Shanahan believed that when Denver lined up in a slot formation—an alignment with two receivers to one side of the line and the tight end to the other—he could predict Butler's assignment based on the safety's positioning. Denver had spent the season running out of its base alignment and passing from the slot, but on this day all of its runs came from the latter formation. Green Bay never adjusted. The Broncos gained 179 yards on the ground, even though they ran for no yards in the second quarter while Davis (30 carries, 157 yards, three touchdowns for the game) sat out with blurred vision after getting kicked in the helmet during a first-quarter run. "The Packers were outcoached, pure and simple," Sharpe said. "LeRoy Butler and [end] Reggie White are their two best defensive players. Where were they today?" Butler had no big plays among his nine tackles, most of which came downfield, and White had only one tackle, on Denver's second play of the game.
Meanwhile, Broncos defensive coordinator Greg Robinson rattled the normally unflappable Favre, throwing blitzes at him like right-wingers flinging sex rumors at President Clinton. Favre threw for three touchdowns, including an ominous 22-yard strike to wideout Antonio Freeman on the game's first possession, but he never found his rhythm. Denver did what few observers believed it could—survive an instant Green Bay score, get away with daring Favre to beat its cornerbacks in man-to-man coverage and, unlike so many AFC patsies of recent years, win the turnover battle, which the Broncos did, 3-2. The Packers eventually adjusted to the blitzes, and Robinson backed off for a while. But on Green Bay's last gasp, a fourth-and-six play from the Denver 31 with 32 seconds remaining, Robinson threw an eight-man rush at Favre, whose pass across the middle to tight end Mark Chmura was broken up by lunging linebacker John Mobley.
That triggered a Rocky Mountain high from San Diego to Colorado and completed one of the most impressive runs in NFL playoff history. In becoming only the second wild-card team to win a Super Bowl—the 1980 Oakland Raiders were the other—the Broncos, after a 12-4 regular season, crushed the Jacksonville Jaguars at home, avenging their shocking divisional-playoff defeat of the previous season. Then they gutted out road victories against the Kansas City Chiefs and the Pittsburgh Steelers. After Denver won the AFC title at Three Rivers Stadium, Shanahan had little trouble persuading his players that, by comparison, playing the Packers at a neutral site was no cause for a coronary. He also worked the old bulletin-board ploy to perfection, spending 45 minutes each morning in San Diego scanning newspapers for usable nuggets and saving the best ones for the team meeting the night before the Super Bowl.
Green Bay manufactured some incentive of its own, most of it derived from the media's focusing on Elway's quest to win a Super Bowl after three washouts. Just as they had seethed over the media attention surrounding New England Patriots coach Bill Parcells's impending move to the New York Jets before last year's Super Bowl, the Packers again convinced themselves they were being overshadowed. "We've heard all about poor John Elway," defensive tackle Santana Dotson scoffed three days before the game. "We're all very touched. But, hey, that's the classic pregame story. As long as we're the focus of the postgame story, that's cool."
Sorry, Santana. History will show that this was Elway's week of glory. Sure, his stats were wimpy. He threw for only 123 yards, didn't complete a pass to a wideout until Ed McCaffrey's 36-yard catch-and-run midway through the third quarter and blew a chance to build on a seven-point lead by throwing an end zone interception to free safety Eugene Robinson with 11 seconds left in the third quarter. But Elway carried the day with his poise. "That was the ultimate win, there's no question," he said. "There have been a lot of things that go along with losing three Super Bowls and playing for 14 years and being labeled as a guy who has never been on a winning Super Bowl team."
Remember how shaky Elway had looked at the beginning of his last Super Bowl appearance, against the 49ers in January 1990, when he threw his first pass into the ground and the Broncos went on to lose 55–10? After that game he and wide receiver Michael Young, now Denver's director of corporate sales, were the last players to leave the locker room. When Young asked Elway if he was O.K., Elway shook his head no. "They'll never, ever forgive me for this," he said, referring to the fans in Colorado.
This time Elway was as steady as the jets that buzzed the stadium during his introduction. He dismissed the Robinson interception from his mind immediately, and when he strutted onto the field with 3:27 left, the score tied at 24 and the ball on the Green Bay 49, he was in control and confident. "I looked at John before he took the field, and he had this huge smile on his face," Jeff Lewis, Denver's third-string quarterback, said after the game. "You could see it in his eyes; he was ready. It was one of those times you just have to stop yourself and watch the best quarterback ever do his thing."
It helped that the Broncos' offensive line, despite being the league's lightest, had worn down the Packers defenders—particularly mammoth nosetackle Gilbert Brown, who was being moved around like a giant beanbag chair. "He was lying down out there," Denver center Tom Nalen said of Brown. "We thought he was hurt. But he was just tired." Tired of watching Davis whiz past him, no doubt. Still, it was Elway's game to pull out, a chance for the quarterback with the most victories in NFL history to win the big one, finally. Put some points on the board, have them hold up, and all would be forgiven and forgotten.
On his biggest pass of the game, Elway made a perfect delivery, throwing a quick toss to fullback Howard Griffith that went for 23 yards and gave Denver a first-and-goal at the eight with two minutes remaining. That set up Davis's winning one-yard touchdown run, which the Pack conceded on a second-down play with 1:45 left in a futile attempt to get the ball back with enough time to win. (Mistakenly thinking it was first down, Holmgren, with only two timeouts left, feared the Broncos might run down the clock and kick a field goal in the closing seconds.) "John makes mistakes; he is human after all," Broncos receiver Rod Smith would say later. "But you never see fear in his eyes. He's like a linebacker with a good arm."
Even when that golden right arm was being used to hoist a few beers, Elway was zeroed in on the upcoming game. On the first two nights after the Broncos arrived in San Diego, Elway, Lewis and Bubby Brister, Denver's No. 2 quarterback, commandeered a limousine to take them around town. At several bars Elway elected to remain in the limo, alone with his thoughts. "One time I stayed in the car with him," Lewis said, "and he was so focused, it was amazing. He said, 'I can't wait for this game. Before the other Super Bowls, I really didn't grasp how big they were. But I've never been this ready for a game in my life.'"
He was so loose that his wife, Janet, was unnerved. "I keep waiting for him to snap at me, to end a conversation abruptly, but he's still so loose and happy," she said four days before the game. "That's not like him; he usually saves his happiness for afterward. One of his former teammates, Keith Bishop, was looking for Super Bowl tickets, and a radio station in Texas was giving away tickets to whoever could get the most famous person to call. So John called the radio station for Keith, and Keith won the contest because John's probably the most famous person there is this week." (Note to Janet: Monica Lewinsky might beg to differ.)
Still, Janet was concerned enough about John's preparation that she kept her distance in the days leading up to the game. Alas, sex before competition is not the Elway way. "Not in our family, it's not," Janet said. "But if he wins, I'm sure he'll deserve any favor he wants." That may help explain the huge smile that was plastered on John's face as he hoisted the Lombardi trophy over his head on the victory podium.
It's a measure of how far Denver has come that Elway, who once had to carry his team, didn't have to be spectacular in his finest hour. Shanahan built these Broncos to reflect his own personality—resilient, businesslike and fearless. Strong safety Tyrone Braxton, whose first-quarter interception set up Denver's second touchdown, knew the significance of the victory extended beyond the realm of Elway. "It means everything," Braxton said, "not only for this team but for the past Broncos teams, all the way back to 1960 [the year the franchise played its first season in the AFL]. We're not a city of losers anymore, and we won one for the AFC. It's been a long, hard road for all of us."
Later Shanahan celebrated with Bowlen in the limo while his 18-year-old son, Kyle, discussed how relaxed his father had been in the hours before the game. "He got one of my friends a field pass, and he gave another one money to buy a ticket," Kyle said. "He was ultramellow. We were sitting in his hotel room watching White Men Can't Jump, and he was laughing his head off."
Funny how things work out. White men can't jump? Don't try telling that to the Packers—not after Elway's leap into history.