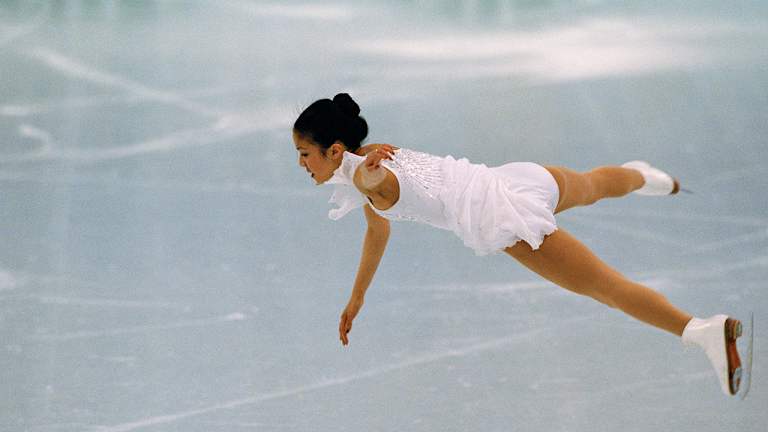 Into The Light
A lifetime of dedication gave Michelle Kwan of the U.S. the strength to step out of the shadows of doubt and move to the edge of perfection
Everything fell into place at the moment when everything seemed to be most up in the air, when the questions about Michelle Kwan's injured foot, her training and her confidence were swarming about her like so many wasps. Was she in pain? Had the stress fracture in the second toe of her left foot fully healed? After having been in a cast most of November, would she be in shape for the U.S. nationals in Philadelphia and ready to compete? If she withdrew, as she'd been forced to do from the Champions Series Final in mid-December, would she be guaranteed a spot on the Olympic team?
The questions gave rise to doubts. Why is this happening to me? Kwan asked herself during Christmastime. Why am I struggling with the triple flip, a jump I've been landing since I was 11?
Kwan didn't sleep well the night before her short program at the nationals on Jan. 8, brooding over all these concerns. Then she overslept and missed her morning practice. She never missed practice. In a life that had been meticulously scripted to lead up to a gold medal performance at the 1998 Olympics, suddenly nothing was going as planned.
Then, the transformation. "Most skaters are nervous and tight waiting around before they go out," says Lori Nichol, who choreographs Kwan's programs, "but Michelle didn't look like that at all. She was completely living in the moment. She didn't just want to perform--she was reveling in it. I could tell when she stepped on the ice that this was going to be something special."
Under the most pressure-filled of circumstances, before a national television audience, with a spot on the Olympic team and a national championship at stake, the 17-year-old Kwan skated with an assurance and grace that had some judges in tears and others holding their breath. Kwan earned seven 6.0s in artistic presentation for her short program. Two nights later, when most observers assumed she would settle back to earth, she was awarded eight more perfect artistic marks for her long program. Sixes are rare in skating--at least two of the judges at the nationals had never given one to a singles skater--and Kwan's total of 15 was by far the most ever given to anyone at the nationals. She had redefined the horizons of her sport.
Kwan's showing in Philadelphia was akin to Secretariat's winning by 31 lengths at the Belmont or Tiger Woods's running away from the field at the Masters by 12 strokes. "It was one of the most magnificent short programs I've ever seen," says Carol Heiss Jenkins, the 1960 Olympic champion, who is now a top coach. "But then to do it again in the long--both those performances have to be said in the same breath--I can't remember anyone doing that."
"I was crying during her long program, sure," says Nichol. "The people around me were crying, too. That's what you hope to do with a program. They were enraptured by what Michelle was doing on the ice."
"She has a unique style," says Linda Leaver, who is Brian Boitano's coach. "It's ethereal and feminine. She seems to float over the ice. She hovers and skims, so you aren't aware of her digging into the ice to get the height that she does on her jumps. Michelle did one of the most technically difficult programs out there, but that's not what you took away from it. She made the difficult look easy."
By raising the bar so high so close to the Olympics, the 5'2", 106-pound Kwan is back where, two years ago, she was expected to be on the eve of the Nagano Games: the prohibitive favorite to win the gold medal. Fifteen-year-old Tara Lipinski, who snatched away the U.S. and world titles when Kwan faltered in 1997, becomes just one more underdog hoping to capitalize on a mistake. Yes, injury or illness or an untimely fall could open the door for Lipinski or perhaps Russia's Irina Slutskaya or Germany's Tanja Szewczenko. But irrefutably the Olympics now shape up as a battle between Kwan and herself.
It has been that way most of Kwan's life, so great was her talent as a child. Kwan started skating at age five at a rink near her family's house in Torrance, Calif. Her sister, Karen, who is two years older, started skating about the same time and also showed promise. Before long, their parents, Danny and Estella, were driving them two hours every weekend to the famous training center at Lake Arrowhead, where the family stayed in a friend's vacation home, and Michelle and Karen took lessons as often as the family could afford. When Michelle watched Boitano win the gold medal in the 1988 Olympics, she vowed to skate in the '94 Games. She would be all of 13.
Estella and Danny wanted to do all they could to help Michelle fulfill her dreams, but they had one big concern. "For me it was a money issue," recalls Danny, 49, a chain-smoking, philosophical man who before taking early retirement in 1995 worked as a systems analyst for Pacific Bell by day and then helped out at the Golden Pheasant, the family's Chinese restaurant. (Estella, who is from Hong Kong, also worked at the restaurant until she moved to Arrowhead. The restaurant, which was sold last summer, was owned by Michelle's paternal grandparents, who, like her father, were born in China. Her grandparents speak mainly Cantonese, a dialect that Michelle can understand but does not speak fluently.)
"Skating cost a lot of money," Danny says, "and it was a burden for everyone in the family. We were taking the kids skating from five to eight a.m., and then I'd go to work, and they'd go to school. I told them, I don't mind doing it, but you have to make a commitment. In five years you can become a senior skater. We always had that as the goal. So every six months we scheduled tests."
There are eight levels in women's singles skating and eight tests to pass to move from the lowest level, pre-preliminary, to the highest, senior ladies. Most girls spend a year at each level, mastering the requisite jumps and spins and spirals. Not Michelle. "Michelle was going faster than anyone," recalls Karen, who competed in the 1995, '96 and '97 nationals, but now spends most of her time concentrating on her studies at Boston University, where she is a sophomore. "We'd go to Lake Arrowhead for the weekend, which was inspirational, since there was always someone famous skating there, and every weekend she'd learn a new jump. To her it was like walking. We had no vacations. No days off. We skated on Christmas Day. One day I'd be tired. The next day Michelle would be tired. But Dad would tell us, It's your responsibility to do it even when you don't want to. He taught us we had to commit."
At one point, with skating expenses growing, Danny offered his daughters $50 for every day they didn't skate, figuring it would save him money. Safest $50 he never spent. Michelle skated with a sore throat, runny nose, the flu, even chicken pox. Without a coach at her side, wearing a borrowed dress and secondhand skates, she won a junior regional competition when she was 10. That year Estella and the girls moved to Lake Arrowhead and, helped out by a scholarship from the Ice Castle International Skating Foundation, Michelle and Karen began taking regular private lessons for $25 an hour three days a week. Danny never missed a practice. He would stay at Lake Arrowhead much of the time, watch the girls skate before school, then drive two hours to work and, later, two hours back.
Frank Carroll was the coach. A respected, punctilious mentor, Carroll had plenty of experience with amateur champions, having groomed Linda Fratianne and Christopher Bowman. When he took Michelle to her first national junior competition, in 1992, she finished a disappointing ninth. Carroll wanted her to stay a junior until she gained more maturity and polish. But Michelle had all the jumps necessary to compete at the senior level, and in May '92, two months before her 12th birthday, unbeknownst to Carroll, she passed her senior test--four years and 10 months after Danny had made it a goal for her to move to seniors within five years. Carroll was furious. "It was an honest mistake," Danny says. "We'd only known Frank four months, and I thought Michelle had told him about it. The only thing she wanted was to be a senior and compete against the big guys."
Carroll told his prodigy she had to work doubly hard if she didn't want to embarrass herself in seniors, which was like asking a swallow to fly. Michelle bought into the program. "I like my schedule to be jam-packed," she says. "I didn't want to finish my homework and watch four hours of TV. I wanted to get to the 1994 Olympics."
Her father had told her that a person's life was like a house. You couldn't have all the windows open at once. For Michelle, only two windows were flung wide: her education (now a senior in high school, she has a 3.4 grade point average and hopes to attend Harvard and study law) and her skating. The window to her social life was open only a crack. The window to waterskiing, which Danny deemed too dangerous but Michelle longed to try, wasn't open at all. "Skating takes up 70 percent of my time," Michelle says. "School about 25 percent. Having fun and talking to my friends, five percent. It's hard. I envy other kids a lot of things, but I get a guilt trip when I'm not training."
Kwan thrived under Carroll's disciplined guidance. His rules, for example, permitted no stopping in the middle of a program in practice, not even after a fall. In 1993 Kwan, then 12, got attention by becoming the youngest senior competitor at nationals in 20 years (she finished sixth), then winning the U.S. Olympic Festival. The Nancy Kerrigan-Tonya Harding tempest occurred at the '94 nationals, where Kwan finished second to Harding after Kerrigan was forced to withdraw. The U.S. Figure Skating Association named Kerrigan to the Olympic team anyway, with the 13-year-old Kwan as first alternate. Had the U.S. Olympic Committee, fearful of a lawsuit, not backed off its efforts to throw Harding off the team, Kwan would have achieved the goal she'd set for herself at age seven.
As an eighth-grader Kwan left school to be privately tutored. In addition she hired her own manager, Shep Goldberg, further signifying that the big time was just around the bend. In 1995 Kwan finished second at the nationals again, this time behind Nicole Bobek, but improved to fourth at the world championships. Then came 1995-96, Kwan's breakthrough season. Skating in the role of the temptress Salome, wearing makeup and a braided-bun hairstyle designed to make her appear more mature to the judges, she skated far beyond her 15 years, winning both the nationals and the worlds, at which she scored her first two 6.0s. She needed them, too. China's Lu Chen had scored a pair of 6.0s before Kwan's long program, leaving no room for error. It was an early sign that as limpid as Kwan appears on the ice, under pressure she has the heart of a champion.
When Kwan came to the 1997 nationals in Nashville, she was, in her words "on a roll." She'd won nine straight competitions in 11 months and 14 of 15 since the fall of '95, and was being compared to such legends of the sport as Dorothy Hamill and Peggy Fleming. But superb skating is never as easy as the great ones make it appear, and early in her long program Kwan fell on the back end of a combination jump. Then she panicked. She stumbled out of her next jump and fell a second time. The 14-year-old Lipinski, skating flawlessly, won.
Although it was a shocking upset, almost everyone assumed Kwan would bounce back. Instead, Lipinski beat her again at the prestigious Champions Series Final and a third time at the '97 worlds in Lausanne, Switzerland. In each event Kwan, who would later refer to that period as her "coma," made critical errors while the tiny Lipinski, slightly superior technically but artistically far behind, skated cleanly. "Michelle lost her confidence after the nationals," says Karen. "That was her first bad skate in two or three years, and it didn't help that other people began comparing her to Tara. Michelle had never been compared to anyone before. She'd always been the one who was coming up."
Kwan found herself skating not with an eye on improving but to maintain her standing at the top, so she could win the gold medal in 1998. "She loved the sport until she was about 15," says Danny, "but then it became the podium and winning that she loved. She lost the purity of a kid."
"I'm glad last year happened," Michelle says. "Everything had happened so fast, I didn't appreciate what I'd already done. I didn't enjoy it. I was so worried about winning, it was as if I was caught up in my own web. I kept asking myself, Why am I here if I don't love it? Why am I torturing myself? It's supposed to be fun, and I thought I'd die if I didn't win."
Kwan found herself in this desperate frame of mind at last year's worlds. She had failed to skate cleanly in the short program and stood in fourth place with little chance of catching Lipinski. Tugging on her shoelaces in the dressing room after the short program, Kwan smacked herself in the face when one broke. She started to cry, but in a moment the sobs turned to laughter. It had been an emotional week. Bobek's coach, Carlo Fassi, had died of a heart attack, and Scott Hamilton had announced he was being treated for cancer. Suddenly Kwan realized that a fall on a combination jump wasn't life or death. Neither was winning. The key for her, she began to understand, was to rediscover the joy she'd felt while skating. When she won the long program two days later, finishing second overall to Lipinski, she described herself as "the happiest silver medalist ever."
Recharged and refocused, Kwan is on another roll now. Both times she has faced Lipinski this season, in Skate America and at the nationals, she has easily beaten her. Lipinski is now the one who is falling on jumps she routinely landed before she was champion, while Kwan is skating with the unfettered delight of a kid. In both her short program, performed to Rachmaninoff's Finale, and her long program, skated to William Alwyn's Lyra Angelica, Kwan portrays herself, rather than a character like Salome. "We'd focused on the dramatic side of her personality," says Nichol, who says her "spine went nuts" when she first first heard Lyra Angelica, which she immediately knew was the perfect music for Kwan. "Frank and I had seen that peaceful quality of hers in practice. We just hadn't given her a vehicle to express it."
They have now, and after her dance with perfection in Philadelphia the only question is whether Kwan can do it again. "Michelle's capable of doing these types of performances more than once," says Heiss Jenkins. "She's mentally so strong, she could do it all over again in Nagano."
"She found something out about herself in Philadelphia," says Nichol. "She learned she could feel serenity and joy on the ice, in front of a crowd, in an incredibly pressurized moment. And she did it after having been off the ice almost a month from her injury. She knows now that she can deal with anything, good or bad. She's saying, I was good--now how much better can I be? We've only seen the beginning of what this girl can do."