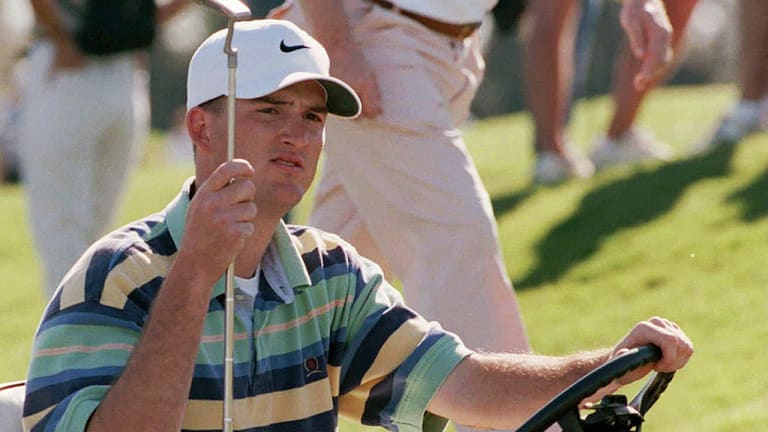 Out on a Limb
His parents hoped Casey Martin would lead a normal life. Instead he's living an extraordinary one.
What is golf? You stand behind Casey Martin and watch him hit a dozen nine-irons. Time and again, a shallow divot flies and the ball rises above a backdrop of evergreens with a languid draw, dropping at last on wet green grass a few feet from the flagstick.
Martin's swing testifies that he's a player. He has that unhurried tempo, the balanced follow-through, those perfect little rectangular divots. Surely this is the essence of the game—player, club, ball, target. But then a young man runs up with a message: Martin is to phone his lawyer, "ASAP."
The golfer thanks the young man, leans the club against his bag and starts walking toward the clubhouse. Or rather, he limps. Every time Martin's right foot touches the ground, his left foot lurches forward to absorb his weight.
You can walk better than Casey Martin. So can a four-year-old. So can most septuagenarians. But neither they, nor you, can win a Nike tour event, which Martin did a few weeks ago with the aid of a golf cart. In fact, no one has succeeded at tournament golf by virtue of his walking ability.
So you wait on the range of the Eugene Country Club, watching members amiably slice and skull, and you ask again the question that the limping Oregonian has recently forced upon the governing bodies of the game: What is golf?
Big questions make big waves. As Martin v. PGA Tour neared its Feb. 2 trial date, satellite trucks began parking next to the federal courthouse in Eugene. Guys in wrinkled sport coats took notes, and Court TV petitioned U.S. Magistrate Thomas Coffin for the right to cablecast the trial. Down the coast, the California legislature passed a resolution supporting the 25-year-old pro golfer, following the lead of the San Francisco Board of Supervisors, which recently praised the Stanford graduate's "courage and honor in tackling an issue of interest to all Americans." In the nation's capital, a defeated presidential candidate wondered aloud if the letters PGA stood for Please Go Away.
Funny how big questions can nest in little issues—in this instance, Martin's campaign to get the PGA Tour to let him ride a motorized cart in its events. The world of tournament golf has split into two prickly camps. One side, led by Tour commissioner Tim Finchem and legends Jack Nicklaus and Arnold Palmer, argues that walking is a traditional and intrinsic part of the game and that Martin will gain an unfair advantage if he rides. The other side, which includes Tour giants Greg Norman and Tom Watson, says that shotmaking is paramount in golf, and the game will not be harmed if the Tour accommodates a disabled player. Of course, there are also many interested outsiders, from those who insist that Martin's case falls under the 1990 Americans with Disabilities Act (ADA) to those who grouse that he is merely whining and wants special treatment.
"It was never my intention to make trouble for the Tour," Martin said last week between prep sessions with his lawyers, "but I had my back against the wall." Specifically, two years of dragging his right leg around various mini-tours had convinced him that shotmaking and course management were not enough. "Something had to give. I needed to quit...or get a cart."
Last week Martin probably wished he had asked for an airplane instead. He was deposed until 10 o'clock on Monday night by the Tour's lawyers, grabbed a few hours of sleep at his parents' home in suburban Eugene and then drove a hundred miles in the rain to Portland, where he caught a 7 a.m. flight to Washington, D.C., for a press conference the next morning with Iowa senator Tom Harkin, who wrote the ADA, and former Kansas senator Bob Dole, who backed the legislation. After a tour of Washington landmarks, Martin flew back to Oregon on Wednesday, arriving home after midnight. "He's absolutely exhausted," said his stockbroker father, King Martin, "but he wouldn't have a case if there wasn't an ADA, so he felt compelled to go."
Down the hallway from his father's corner office at Salomon Smith Barney, Cameron Martin, Casey's older brother, pulled a phone headset off his ear. "I urged him to go, and now he's glad he did. But Casey is worn out. He keeps saying, 'I'm going to forget how to play golf.'"
This must be what fame is like. You wander through the television section of a department store, and Martin's face fills all the screens. He is the newest icon in Nike's "I Can" campaign. In his TV spots and in person, Martin, a Christian, is handsome, polite, earnest and bright—none of which, by themselves, would make him anybody's poster boy.
At Stanford, where students with a range of abilities are commonplace, he studied economics, played piano at fraternity parties, studied the Bible, mentored a Hispanic youngster and led the Cardinal golf team to an NCAA championship—the year before Tiger Woods got there. Martin's a food crank with a condiments phobia. He shuns mustard, ketchup, mayonnaise and relish, and for a stretch in childhood lived almost exclusively on white rice. Which is interesting but not marketable.
And he keeps his leg covered. "The leg is unattractive," he explains. "It's not that I'm ashamed of it. God created me this way. But it's not something to display." For that reason Martin was relieved last week when Judge Coffin ruled that Court TV could not televise his trial. "I'm going to have to show my leg in court," Martin says, "and I don't want it on Hard Copy."
Question: Would Hard Copy want pictures of his leg?
Answer: Yes. The tabloid show recently offered a Portland videographer several thousand dollars if he could get a clear image of Casey's withered limb.
The pictures that really tell the story are the X-rays taken of Martin's leg over the years. He was born with Klippel-Trenaunay-Weber syndrome, a rare circulatory disorder that causes blood to pool in his lower right leg. He lacks the deep venous system that would normally nourish the bones below the knee, so his tibia has become increasingly brittle. "You look at the X-rays, year by year, and the bones go from healthy white to dark and darker," Martin says. "They're deteriorating." His orthopedic surgeon, Donald Jones, describes Martin's right knee as "that of a 70- or 80-year-old" and warns that should Martin stumble or step in a hole, his leg could simply snap. The prognosis, if that were to happen? Amputation above the knee.
"So many articles about Casey minimize the seriousness of his condition," says his mother, Melinda Martin. "From the time he was a baby, he has lived with pain. He used to hemorrhage every few months, and each time, we had to splint him or put the leg in a cast."
The Martins wanted their little Casey to be normal. Instead, he proved to be extraordinary. As a grade-schooler, he transformed his bedroom into a junior think tank and began cranking out straight-A report cards. When an aunt decided to get rid of an old piano, the Martins claimed it for Casey. Before long he was sight-reading pop tunes and wading happily into the New Age pianism of George Winston.
The most poignant part of Casey's development was his attachment to his athletic brother, Cameron, who is 2 1/2 years older. Cameron played varsity basketball at South Eugene High and wound up at Oregon on a golf scholarship. Casey played sixth- and seventh-grade ball but had to quit because of cartilage damage in the weakened knee. Golf, however, was a game the two boys could share with each other and with their dad, who played to a 10 handicap at Eugene Country Club. "They never really competed against each other," Melinda says of her two sons. "They supported each other in everything."
They still do. Cameron didn't make last week's Washington trip, but he couldn't have been happier if he had. "We keep pinching ourselves," he says. "Casey's tournament win, the Nike deal, the capital trip, the Greg Norman call...."
Especially the Greg Norman call. Casey was in the Senate dining room, lunching with Senator Harkin, when he was asked to take a call on a phone in the hall. The caller was Norman, whom Martin had never met. "The Tour is putting pressure on me to testify on its behalf," the world's second-ranked player told Martin. "But I won't make a very good witness for them because I'm on your side. I hope you get your cart, and I look forward to playing with you someday."
Cameron, having told the story, beams. "It's hard for people to believe," he says, "but I get as much pleasure out of Casey's success as he does."
Now you're at a table in the Eugene Country Club grill room with this young man, who seems to have hardly enough guile to cope, much less prosper. True, he stares warily at the boneless breast of chicken on his plate ("I can't explain why I'm so strange about food"), but he answers questions about his trials—and trial—with almost saintly detachment. "There are a few comments I scratch my head over," he finally concedes, but only because he's pressed. "Someone said, 'They don't allow mopeds in football, so we shouldn't have carts in golf.' But there's a difference, isn't there? The play in golf is hitting the ball, which I can do, while the play in football is running to catch the pass."
So you add this to your list of big questions: What is fair? Giving Martin a cart might not be fair to Ken Venturi, who, dehydrated and nearly delirious, won the 1964 U.S. Open at steamy Congressional. And it might not be fair to Ben Hogan, who limped into history at Merion a year after his near-fatal car crash.
Those might not be fair analogies, either. "I love the stories about Venturi and Hogan," King Martin said last Thursday, "but those stories miss the point. Neither Venturi nor Hogan was disabled. They had hope, and they had the opportunity to recover." Staring thoughtfully at the Masters-green carpet beneath his feet, the worried father added, "Casey doesn't."
Two days later, Melinda Martin sat in a living room crammed with extra furniture (the Martins are building an addition to their house of 23 years) and made roughly the same point: The Tour compared apples and oranges when it denied her son the right to ride. "There was no compassion," she said. "Casey has always been one to follow the rules. He has never been a rebel or a crusader. At every stage of his life people have embraced Casey. Now he's reached this level"—she shrugged helplessly—"and it seems like they're rejecting him."
Actually, it's the rare player who weighs in on the Tour's side without first praising Martin. It is the Tour's corporate response—conditioned by Finchem's sincere belief that tournaments are public accommodations only up to the gallery ropes—that strikes many as anachronistic. The '90s, after all, have been a decade of inclusion, a period in which the game has shed its discriminating skin and begun to celebrate minorities, women, juniors and, yes, the disabled.
"We had such a neat team at Stanford," Martin says to illustrate the point. "My senior year we had Tiger, who is black; Notah Begay, who's Native American; William Yanagisawa [a Japanese-American]; me, a handicapped guy; and Steve Burdick, our boring white guy. I was the only player who came from a country club. I mean, we blew away every stereotype."
The NCAA, when asked, blew the dust off the Rules of Golf and let Martin use a cart his junior and senior years. Since turning pro, Martin has either limped or ridden, according to the rules of the tour in question. This year, he used a cart for two events on the Nike tour, the PGA Tour's developmental circuit—but only because the Tour's lawyers stipulated that he could ride until his trial. Showing extraordinary composure, as well as a flair for the dramatic, Martin won his first Nike start, the Lakeland (Fla.) Classic.
But the Martin family sees Casey's window of opportunity as very small and closing. "I would be very surprised if he's playing tournament golf 10 years from now, cart or no cart," says his father. Casey's mother thinks three to five years is a reach: "He could be in his backswing," she says, "and his leg could just snap."
So finally you stand behind Casey Martin as he plays the white spinet in the room just off the kitchen. His right leg is stretched out to the side so he can pedal with his left foot. He plays with expression and power and—surprisingly—without melancholy. He seems transported by certain selections (Winston arrangements of Pachelbel's Canon in D and Bach's Jesus, Joy of Man's Desiring) and energized by others. He plays Prince's Purple Rain, Billy Joel's New York State of Mind.
"I used to think years in advance," Martin said last week, his trial date looming. "Now I just think about tomorrow."
You look at the plastic milk crate on the floor, filled with songbooks. Then you look at the untroubled pianist, filled with hope. That's when you consider asking the toughest question of all, the Bacharach and David biggie: What's it all about?
COLOR PHOTO: PHOTOGRAPHS BY RICH FRISHMAN GRIM PROGNOSIS Doctors believe there's a strong chance that Martin will lose his right leg. [Casey Martin and woman in radiology room]
COLOR PHOTO: PHOTOGRAPHS BY RICH FRISHMAN SAVING GRACE King (left), Melinda (right) and other family members had faith that the Tour would show compassion for Casey. [King Martin, Casey Martin, Melinda Martin and others praying over pizza boxes]
COLOR PHOTO: DENNIS COOK/AP CAPITOL IDEA Dole (right), who was a sponsor of the ADA, wondered if PGA stands for Please Go Away. [Casey Martin and Bob Dole]
COLOR PHOTO: PHOTOGRAPHS BY RICH FRISHMAN PREP SCHOOL Although Martin had never been a crusader, he and his lawyer, William Wiswall, were prepared to fight. [Casey Martin and William Wiswall]
COLOR PHOTO: PHOTOGRAPHS BY RICH FRISHMAN CHILD'S PLAY Despite his condition, Martin has learned to enjoy the good things in life, like a private lesson with his niece, Madison. [Casey Martin and child]
"Neither Venturi nor Hogan was disabled," says King Martin. "They had hope. Casey doesn't."
"I used to think years in advance," Martin says. "Now I just think about tomorrow."