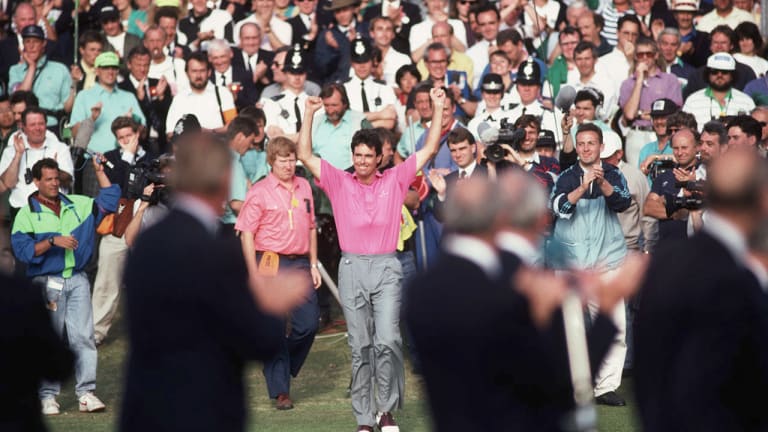 Driven Mad
After winning the 1991 British Open, Ian Baker-Finch lost his game and, in a desperate effort to find it, nearly lost his mind
You sure you want to read this? You sure you don't want to stop
right now? Don't kid yourself—if you play golf, this could
happen to you. If it could happen to a guy as talented and
handsome and decent as Ian Baker-Finch, it could happen to
anybody.
Seven years ago this July, Baker-Finch hit every fairway and
every green, shot 66 and won the British Open at Royal Birkdale.
He was handed the silver claret jug. He kissed his gorgeous
blonde wife and their two-year-old daughter, who thought the
microphone was an ice-cream cone and licked it. He was so
overcome he couldn't speak. It was the day all his dreams came
true.
It was the cruelest thing that ever happened to him.
Baker-Finch is now in the single worst slump in golf history. He
has made one cut in the last three years, none in the last two.
He is 0 for his last 32 tries on the PGA Tour. At the 1995
British Open, at St. Andrews, playing with no less a personage
than Arnold Palmer, Baker-Finch snap-hooked his first drive so
wickedly that it cleared two fairways and went out-of-bounds off
number 18, more than 170 yards dead to his left. Caddies at St.
Andrews couldn't remember anybody doing that before. Not tour
pros. Not even tourists. At the '97 British Open, at Royal
Troon, Baker-Finch shot 92, the worst score by a past champion
in modern times. Since May 1994 he has made less than $20,000
worldwide. The 6'4", wildly popular Australian golfer has been
through more than 30 coaches, psychologists, hypnotists,
nutritionists, healers, gurus, swing doctors and spiritualists.
None have helped.
Last month Baker-Finch said that he would stop playing
tournament golf at least until 2000, which means he won't play
when the British Open returns to Royal Birkdale this July.
No problem. He's already planning his glorious comeback.
Dear Mr. Baker-Finch,
I am 70 years old, 5'5" and have arthritis everywhere except in
the roof of my mouth. I haven't hit a golf ball in years, but I
know I can nudge one out there close to 300 yards. And I know I
can correct your swing in one minute.
KARL, New South Wales
What on earth happened to Ian Baker-Finch? How could a man go
from the penthouse of golf to its crawl space in so short a
time? How did Baker-Finch go from a professional whose only
thought upon swinging was hole it to this quivering mass who
stands over a tee shot and worries about missing the ball? "I
don't think anybody in the history of the game has had the rise
and fall that this guy has," says his former coach David
Leadbetter. "It's a very sad story."
Truth is, we might not be telling this story at all if
Baker-Finch had seen that magical weekend in Birkdale as
everybody else saw it: a heaven-sent,
drop-a-dime-in-a-gumball-machine-and-have-it-empty-out-for-you
kind of weekend. Sure, Baker-Finch had won eight times on the
Australasian tour, once in the U.S. and a couple of times in
Japan, but to shoot a record 29 on Birkdale's front nine on
Saturday, birdie five of the first seven holes on Sunday and go
64-66 in the world's biggest tournament? It was a glorious
hiccup in the order of things, one of the year's feel-good events.
That isn't how Baker-Finch saw it. He saw it as a sign that he
could be great. He thought that if he cranked it up a notch, he
could do this stuff regularly. "After that," he says, "I felt I
should contend in every major."
Why not? For the first time in his life, he figured he had the
time to get great. Winning the Open gave him a 10-year exemption
on the U.S. and Australasian tours, not to mention an invite to
the British Open until he is 65. All he had to do was work
harder, and if there's one thing Baker-Finches are willing to
do, it's work harder. Ian's father, Tony, was the
hardest-working man in Peachester, an hour north of Brisbane. He
labored as an electrician and a sawmill operator while running a
25-acre farm and fathering six kids. So when Ian, at 15, asked
his parents if he could leave school and go to work as a golf
pro, they helped him pack.
Not that it was glamorous. Ian did anything—retrieved range
balls, gave lessons, picked pineapples—to make ends meet. He
was not a great player, but he wasn't bad. He was never long.
Either you are born long or you aren't. Great short games,
though, are earned with hours of sweat. Baker-Finch became one
of the world's finest players from 100 yards in, good enough to
make the top 10 in two or three tournaments a year, to win one
once in a while and get a nice courtesy car.
But he was no Greg Norman. He was never going to be great, and
somewhere deep down, he knew it. "I always thought of myself as
just a farm boy," Baker-Finch says. "I never believed in myself
enough. I didn't like my swing. I was always trying to change
it. I never saw myself as the equal of Nick Faldo or Norman. I
never thought I had that kind of talent."
Birkdale, however, opened a small window in his ego. Now that he
had beaten Faldo, beaten Norman, beaten them all, he had this
overwhelming feeling of not being considered good enough. So he
decided to try to take his lounge act straight to Radio City
Music Hall.
Dear Ian,
The bottom line is, you are sick. Physically sick.
A FRIEND, New York City
What he wanted to be was longer, but he couldn't get longer
without going past his smooth little backswing, and when he
wandered out past it, he found ugly little snap hooks. Not many,
true, but even one snap hook is a mealworm in the cupboard.
He was also wrong about time. After winning a major, he had less
time than before. He stretched himself clueless. By the end of
1991 he had traveled the world, having turned down nobody. He
attended everybody's awards dinners, no matter how small. He got
involved in a hat company, a golf course, a golf school, golf
architecture. He said yes to every interview, speech and
autograph. Who was a farmer's kid to get snobbish?
Worse, he never had a good stare. Golf is the most public game
of all. Its heroes routinely wade through fans just to get to
their next shot. But the great players have a stare to get them
through the masses. Norman has this screw-you blue-eyed stare
that takes your body temperature down 12[degrees]. Tiger Woods
has a Nintendo-blinded-teenager look. Ray Floyd has a glare that
would halt a parade. But Baker-Finch's eyes always seem to say,
Come over here and tell me about the time your Aunt Violet met
Harry Vardon. "It would take me a half hour just to get to the
range," he remembers. "All my practice habits changed."
His 1992 was not much different from his 1991—a win in
Australia, a second in the U.S., 58th on the U.S. money
list—but now that looked so Miss Wyomingish next to Winner,
British Open. He considered '92 a failure. He was disgusted. He
swore he would change. His victory in the '92 Vines Classic in
Australia had brought him only "relief, not joy," he says. "I'd
finally won, but it was so the Australian press could see that I
could win again."
He took a two-month break from tournaments as '92 turned to '93.
Practiced every day. When he came back, he ratcheted up the
pressure on himself. The bigger the tournament, the more pounds
per square inch. His goal was to finish in the top 10 in every
major in 1993. Each major Sunday, he had a chance to do it. All
four Sundays, he put it in the ditch: 54th at the Masters, 19th
in the U.S. Open, 70th at the British Open, 66th at the PGA. He
won the Australian PGA, but the rest of the year was miserable.
Too proud to hit two-irons off the tee ("That would be like
giving up," he told friends), too much his father to take three
months off and give his poor nerves a rest, he watched his game
unravel like a cheap sweater. "I'm at the bottom of the pit," he
said at the time.
Oh, no, he wasn't.
To Ian Baker-Finch:
I've noticed you stare at the ball without really looking at it.
The eyes start to move toward the target a fraction before
impact. Eliminate this simple mistake and you'll be fine.
ROY, Queensland
He has received more than 4,500 letters, containing maps,
prescriptions, poems, cures, charms, prayers, mantras, gadgets
and recipes to snap him out of it. He has answered almost all of
them. That's the kind of man he is, decent and sweet—and it's
ruined him. "He can't tell these people to buzz off," says
Leadbetter. "To win today, you've got to have a bit of bastard
in you. Ian doesn't."
Well-meaning people were on him like eczema—and not just fans.
Nick Price told him to grip it stronger. Sandy Lyle told him to
keep his elbows pointed more toward the ground. Faldo told him
to practice swinging with his eyes closed. Ian Woosnam told him
to just grip it tight and rip it. Seve Ballesteros told him to
hit shots as softly as he could. Ronan Rafferty told him to
forget tees and hit it right off the grass. Norman told him to
study Zen. Payne Stewart told him to keep his knees moving.
Ozzie Moore told him to keep his knees locked. Baker-Finch
listened to all of them. One day, in Orlando, he was working on
a tip given to him by a player when he was shocked erect by an
awful realization: I was working on this exact same thing here
last year!
Confusion only dug him deeper into his hole. He was missing a
lot of shots right, so he decided to make his swing plane
flatter. Flat is usually fatal for tall guys. Flat will have a
tall guy selling life insurance in no time. Tall guys have
graceful upright swings, like Tom Weiskopf's. Working with Steve
Bann, Baker-Finch got the club face slightly more laid off than
a Braniff employee. "That was the biggest mistake I made in my
life," he says.
Says Leadbetter, "Ian needed just one pill, and instead he took
the whole bottle."
Your golf swing lives in your muscle memory, like your ability
to tie a Windsor knot while looking in the mirror. By the time
Baker-Finch was done trying swings suggested by friends,
players, coaches, fans, strangers, articles, books and tapes,
his muscles had purged the original. "My muscles have no memory
of that old swing," he says ruefully. "It's gone forever."
Now he was missing shots left and right, hemlock to the touring
pro. He managed one last top 10, at the Masters in April '94,
and then began the scariest free fall anybody in golf can
remember: 64th the next week at Hilton Head, then the reverse
Nelson—10 straight missed cuts—from early May to the middle of
August. Ten straight tournaments letting fear grow inside him
like a ball of yarn. Ten straight tournaments of practicing well
on Monday, taking money from his buddies in the practice round
on Tuesday ("They never beat me," he says), playing terrific in
the pro-am on Wednesday and shooting 81 on Thursday. "It was so
miserable," says his wife, Jennie. "We were living in Orlando.
The plan was, the kids would go to school, and then we'd join
him on the weekend wherever he was. But he was always home by
Friday night."
The caddies had their own line on him.
Q: What's the best bag out here?
A: Finchy's. You get weekends off!
It looked as if the agony was over that August, when he shot 67
on the first day of the World Series and was two shots off the
lead. The next day he lost all 10 balls in his bag and shot 82
(with only 21 putts). If his caddie hadn't had a spare ball in
his overalls pocket, Baker-Finch would've been disqualified. He
finished second to last.
Then things got bad.
Dearest Mr. Ian Baker-Finch,
Sleep with this Indian stone under your pillow. It resonates
with your spirit. You have given away your own power. You have
forgotten the beauty of your own soul.
CAROL, New South Wales
It was not in his swing anymore. It was in his mind. He would
sit straight up in bed after dreams of never hitting another
fairway. He would drive along a road, see a golf hole and think,
How in the world do people hit that fairway? Psychologist Bob
Rotella asked Baker-Finch to visualize himself hitting a
fairway. He couldn't.
One day at the '94 Hyundai Masters in Seoul, he shot 66 in the
pro-am, breaking the course record. The next day, when it
counted, he shot 81. At the Masters in '95, he hit 50 perfect
practice drives in a row, all of them to the same practice-range
pole 250 yards away. Then he went to the 1st tee and dead-yanked
his drive so far left that it fell in the 9th fairway. "It got a
little freaky," he says. "I'd be hitting it so good on the
range, I came this close to telling the caddie to wait for me on
the tee with the ball teed up. When it was just a minute before
I was supposed to hit, he could yell to me and I'd sprint to the
tee and hit it, not give myself time to get scared."
Golf is tightrope dancing without a net, because the excuses
have been removed from the game. The problem was not the
unhittable sinker or the unavoidable block. It was not the refs
or the offensive line. It was just you, striking an inert sphere
placed conveniently on a peg. Teachers often finish a lesson by
saying, "Now just trust it." But for Baker-Finch, that was the
catch. He could not trust it because he could not trust himself.
"I can't tell you how bad it feels to feel so badly about
yourself," he says.
He was losing it. He could look at a white picket fence and see
nothing but out-of-bounds stakes. The players have a name for
this, "the full-body yips," and he had the worst case they'd
ever seen. Most guys would stare at their shoes when Baker-Finch
swung, hoping it wasn't contagious. He would stand on the tee
before he'd drive and darkly mutter, "Look out, left."
"You can't imagine what it's like," says Bill Rogers, who was
Baker-Finch before Baker-Finch was. Rogers, now the director of
golf at the San Antonio Country Club, won the 1981 British Open
and then dropped out of sight. He went from '81 PGA player of
the year to 134th on the money list in only three years, and he
finally quit in 1988. "See, you've dug yourself such a deep
hole, you don't know if you can squeeze the ball in a double
fairway," he says. "One time I stood on the 14th fairway at St.
Andrews—how wide is that thing, 200 yards?—and didn't believe
I could get it on the grass. I pumped three out-of-bounds one
day there. You just live in fear of it, from the minute you wake
up in bed."
Even Rogers never endured what Baker-Finch endured in 1995.
Playing 24 tournaments, he missed every cut, shot in the 80s one
out of every four rounds and broke par only twice. He shot 85 at
the Players, 79-81 at the Masters, 84 at the Memorial, 80 at the
PGA, twin 81s at the Buick and 84 at Disney, averaging four
penalty strokes per round. He went home a failure every Friday
night, and when his little girls—Hayley, then 6, and Laura,
4—asked, "Daddy, did you bring us back a trophy?" he tried like
hell not to cry.
In 1996, playing 19 tournaments, he made one cut. He was silent
on the long car rides home from the airport. Jennie finally
broke into sobs and said, "How long do we have to go through
this?"
That was the cruel part—that exemption. The British Open
victory was a 10-year invitation to humiliate himself around the
world—Lucy holding the football and goading Charlie Brown to
try kicking it one more week. "He has a lot of guts to stay with
it this long," says Stewart. "I don't know if I could've."
But Baker-Finches do not quit. Ian tried everything. Hypnosis,
self-hypnosis, telephone hypnosis. Didn't help. Old caddies, new
caddies, legendary caddies such as Bruce Edwards. Didn't help.
Knee surgery. Corrective eye surgery. Didn't help. He asked
Butch Harmon, coach to Woods and Norman, to fix the radius of
his swing. Didn't help. He fired Leadbetter and his number two
teacher, Mitchell Spearman, and tried more of the best coaches
in the world: Hank Haney, Jim Flick, Rick Smith, Chuck Cook,
Robert Baker, Gary Smith, Ian Triggs and all seven coaches at
Baker-Finch's own Pure Golf Academy on Australia's Gold Coast,
near Brisbane. Didn't help. He left Rotella and tried sports
psychologist Dick Coop, then Jim Loehr. Didn't help.
He became the ultimate canvas. Everybody wanted a shot at fixing
him. You cure Baker-Finch, you're a miracle worker. He became a
national puzzle. An Australian golf magazine ran a story asking
all the big golf coaches, "If you had 10 minutes with Ian
Baker-Finch, what would you do?" Didn't help. Wherever he went,
he would hit balls on the range and turn around to find six or
seven coaches behind him, all with their video cameras running,
recording his swing. "I was a case study, a lab rat," he says.
"I was going to be in everybody's next video, How Not to Do It."
Finally, he had his caddie stand between him and many of the
video cameras. Didn't help.
Tournaments tend to put majors winners with majors winners. So a
player who was already a nervous wreck was made to tee it up
with legends. Playing with Palmer at Bay Hill in '95,
Baker-Finch put two balls out-of-bounds on the same hole.
Playing with Jack Nicklaus at the U.S. Open at Shinnecock,
Baker-Finch went 83-82. Nicklaus felt so bad for him that he
invited Baker-Finch to stay at his house for two weeks so they
could work out his problems. Baker-Finch declined. A month
later, teeing off with Palmer at St. Andrews, Baker-Finch hit
possibly the worst shot of modern times, that two-fairway
out-of-bounds. It happened to be Arnie's last British Open, so
the galleries were huge. "I dreamed of doing that," Baker-Finch
recalls morosely. "Before it ever happened, I dreamed I hit it
out-of-bounds with Arnie watching at St. Andrews on the 1st hole
at the British Open. That's when it got scary, when my
nightmares started playing out right in front of me."
It was all unfathomable to his father, who would say, "Ian, just
get up and say, 'I'm going to play better.'"
"Dad, you just don't understand."
"Ian, just play better."
It was the Baker-Finch way. Ian felt shame. "I felt like I was
letting him down," he said. But all that was just a warmup for
the humiliation waiting on a windy Thursday at Royal Troon.
Dear Ian,
What you need to do is simple. Just remove whatever it is that
causes you to occasionally hit bad shots.
DEAN, Los Angeles
In July 1996, Baker-Finch finally stopped putting his misery
under glass. He gave up on the U.S. Tour and moved home to the
Gold Coast. Before he left Orlando he stopped by Stewart's house
to say goodbye. They could hardly speak. "I just hate to see
good people suffer," says Stewart. They stood in the hallway and
cried.
For six months Baker-Finch worked on his game in private.
"Somewhere inside me, I figured it was still there," he says.
Playing by himself or with friends, he got better. Of course,
peacetime golf, mother-in-law golf, means nothing, because the
fear of embarrassment is not there. Still, he flew to Ireland
the week before the '97 British Open to play in a small pro-am
in County Wicklow. He shot 69. Then he flew to Scotland to do
some television work for ABC at the British Open and enter the
tournament. He played a few practice rounds at Troon with his
buddies and was right around par, but now he was unsure about
entering because his back had flared up in Ireland. Then another
Australian player, Peter Senior, barked, "Don't be so bloody
stupid, Finchy! I know how hard you've been working! Just go out
and do it! Suck it up! Try your hardest."
Golf is like sex. Trying your hardest is the worst thing you can
do. Yet Baker-Finch thought, He's right. I can't just give up.
He played. "Worst decision I ever made in my life," he says.
He hit the 1st fairway and made par. But he doubled the 2nd with
a bad chip, doubled the 6th with a hooked drive, doubled the
Postage Stamp 8th out of the left bunker, bogeyed the first
three holes on the back and doubled the 13th with a hooked
drive. Hole by hole, whatever milliliters of confidence he'd
built up over six months leaked out his spikes. Walking with
him, his friend Gary Edwin, a golf coach, prayed that
Baker-Finch would pull out of the tournament with a suddenly
bulging disk or an instantly sprained thumb. "I thought about
it," the golfer says, "but it didn't seem right." A Baker-Finch
to the end.
He tripled the 16th by hitting his drive out-of-bounds right,
then the second one off the map left. He doubled the par-3 17th.
He needed to eagle the 452-yard par-4 18th to keep his score
under 90. Sure. "That was the absolute worst feeling I've ever
known," he says, "walking up the 18th at the British Open about
to shoot 92. That made the shot at St. Andrews feel like chicken
feed."
By then his nerves were a frayed knot. Fans and reporters lined
the fairway to see for themselves if it was true that a British
Open champion was coming in with a 20-handicapper's score. Lying
two and faced with a simple 60-yard chip to the hole, he finally
surrendered to the fear. He took out an eight-iron and dribbled
the ball onto the putting green, not trusting himself to put
another ball into the air lest he skull, shank, snap or slice it
into yet another parking lot, membership lounge or woman's
handbag. It was the equivalent of taking off your skis and
walking down the jump ramp.
The blood drained from his face, the life from his eyes. He
signed his scorecard, limply shook a few hands and took his wife
and Edwin to the one room where almost nobody else would be—the
Champions Room, reserved for men who have won the British Open.
In the 137 years of the event, no champion had ever entered it
like that. He ignored the plush chairs and couches and collapsed
on the floor, with Jennie in a ball, crying, next to him, and
Edwin staring blankly ahead, numb. They stayed like that for 45
minutes, hiding from the press and fans who were looking in
through the windows, hoping to catch a glimpse of the touring
pro from the Country Club of Hell.
Then Baker-Finch got up and did what nobody but he would do. He
went into the pressroom, swallowed hard and answered questions.
"I can't get any lower than this," he admitted. It was so
humiliating that some writers couldn't bring themselves to
scribble the words in their notepads.
That night, bellhop after bellhop filled Baker-Finch's room with
flowers, champagne and beer from players, but it was useless.
The next day the scoreboard read WD next to Baker-Finch's name.
You can't, however, withdraw from a 92 in front of the world.
Baker-Finch flew back to Australia knowing there was only one
thing he could do.
Work harder.
Mr. Baker-Finch,
Am enclosing information regarding the miraculous mud baths of
northern Italy. Go and spend two weeks there, and you will be
cured. When you start making checks again, we'll talk about my
fee.
GERARD, Queensland
It's November 1997, and Baker-Finch's fax machine becomes the
first in history to spit out a life preserver. Jack Graham of
ABC Sports is offering Baker-Finch a full-time on-course
commentating job. A way out. With some dignity. "It's tempting,"
Baker-Finch says, fingering the fax over and over. "It's really
tempting. Should I put aside everything, my passion? My heart?
But if I go out on Tour again, are they going to laugh at me
again? Sometimes, I think I'm too scared to even do it again."
If he turns down ABC, there is no guarantee the network will
come back. "We've been saying for a long time, 'Let's let it
go,'" says Jennie. "But he just can't."
Besides, if he gives up, he'll be giving up on his grittiest
comeback yet. Sixty hours a week he has been working on his game
with Edwin, who is about as ethereal and psychological as a
divot. "All that hypnosis and 'think positive' and all that
mumbo jumbo mean nothing if your technique stinks," Edwin says.
"Ian's technique stunk."
Edwin has treated him as a rank beginner with a rental set and a
baseball grip. For the first week they did nothing but stand in
front of the mirror and make one-quarter swings. For a month
they did nothing but take half swings. Then Edwin taught
Baker-Finch a simple little shot—the "chip cut," he calls it.
It takes the tilt out of your swing and keeps the backswing
upright and short. It is nothing more than a little fade. Edwin
says, "People keep saying, 'Well, when the old Ian comes back,
he's going to....' No. Forget it. That Ian is gone. That swing
is gone, and it's never coming back."
There's this, too: If Baker-Finch doesn't play 15 tournaments on
the U.S. Tour in 1998, he loses his Tour card, exemption or no
exemption. And since he has no plans to play the U.S. Tour, he
will have to take the long way back. He will have to beat every
young stick in town, and if he does that, he'll have to beat
every young stick in Australia, and if he does that, he'll have
to take on every big stick in the world.
Still, when he trusts the little fade, Baker-Finch hits it down
the middle. Short, but down the middle. "But when I get three
under or so, I panic," he says.
Rogers thinks a comeback by Baker-Finch is possible—remotely
possible. "What he has to do is face his fear and beat it,"
Rogers says. "Every time he fears the snap hook, he's going to
have to line up down the left side and try to cut it. Just lean
into it. Even if he hits 25 in a row out-of-bounds left, he's
got to do it. He's got to test it, test it and test it until
he's no longer afraid."
Says Baker-Finch, "I know what I have to do. I need to stop
being so afraid. I need to step up there and say, 'I'm Ian
Baker-Finch, Open champion, and screw everybody else.' And smash
it down the middle." He is a million miles from anywhere, of
course, but a mild profanity like that is at least a start.
Edwin has him playing the smallest pro-ams he can find. Even in
those, word gets out. At his first one back, last summer, a few
hundred people and a load of press turned up to watch. "All of
them are there for one thing," Edwin said. "To see a killer snap
hook." Cottonmouthed, Baker-Finch lined up on the left half of
the fairway and chip-cut it down the middle.
He's had some banner days since then. He shot 67 at a pro-am in
late October. A couple of weeks later he made eight birdies at
his home course, Hope Island, with Australian tycoon Kerry
Packer in tow. But when we showed up from the U.S. for this
story, he was hooking short irons off the practice range. Edwin
grimaced. "He wasn't doing that before you got here," he grumbled.
In October, Baker-Finch finished sixth against a whole lot of
nobodies near Brisbane and cashed a check for $600. Not much,
but $600 more than he made around the world in 1995. If he wants
to play golf for a living, he doesn't have much choice but to
play minuscule events. He has lost his big sponsorship deals,
and there are not a lot of corporations that want a pro to come
out and give clinics to executives he might not be able to beat
straight up.
Mr. Finch,
Change your prayer habits.
ANONYMOUS
In December, Baker-Finch finally stuck his toe back in the
Australasian tour, at its smallest, friendliest tournament, the
Coolum Classic, 30 minutes from his house. To his horror, the
Australian press was waiting. Four stories about him ran in one
paper the morning he was to tee off. In two hours on the course
he undid five months of work. He was four-over after seven
holes. He doubled the 8th, hooking it everywhere. He rinsed two
in the lake on 9, threw his driver into a tree and picked up his
ball, DQ. When he stomped into the clubhouse, five years of
holding his tongue, five years of smiling while his pants were
on fire, five years of being just so damn decent about
everything went kablooey.
"Why can't you leave me alone?" he snapped at reporters. "Why
does everyone have to have a photo of me? Why does everyone have
to have quotes? Why does everyone have to know what I shot?"
People are interested in you, a reporter said. "Oh, yeah? Like
all the other sadists and people who want to see me do poorly?"
Hey, even Mary went completely Rhoda now and then.
The next week Baker-Finch told a friend he was quitting, and it
made the papers and then the wires. But Baker-Finch says it's
not true. "Retired?" he says. "Retired is a pretty big word for
somebody 37 years old. I'm just not going to play for a couple
or three years. I'm not going to put myself through it for a
while. That's it."
Looking back on it, maybe Baker-Finch wanted too much from
himself. Or maybe he's just an example of the golf gods saying,
"O.K., we'll give you goodness, looks and family, but ask for
more, and you also get this serial-killer snap hook."
Baker-Finch does not need to go to Birkdale in July to walk with
his head up. Through his 6 1/2-year ordeal, golf's Job has been
graceful and dignified and brave. Under a dump-truck load of
embarrassment, he's kept his sense of humor. When people get too
morbid, he pulls up his sweater sleeves and shows his wrists:
"See?" he says. "No slash marks!" There's even an Australian
television ad with a caddie holding a flagstick as Baker-Finch
remains stuck in a bunker below, the hole he's in growing deeper
by the swing and the pile of sand on the green mounting. The
announcer says, "Not going anywhere for a while?" as the caddie
rips open his candy bar.
"He has always been so good and strong about everything," says
Jennie. "Never once has he taken it out on me or the kids. He's
still the best father and husband. Inside, he's completely torn
up, but the worst he does is go out on the porch and smoke."
Baker-Finch smiles and says, "Once in a while I'll be by myself
and take out a tree or start breaking clubs over my knee. People
look at what's happened to me and say, 'How is this guy fronting
up?' Look, it's happened. It's my choice how I react to it.
Sometimes I get above it all and look down and I think, well,
what I've done is handle a really nasty situation really well.
Not that it's anything to hang your hat on. I'm scarred inside.
I just hide it well."
Golf will lower your pants in front of the whole school and spit
in your lunch. Golf will take a kind and handsome man and do
nasty and ugly things to him. But golf can't make you hate
yourself. You've got to do that.
"Something good is going to come of this," Baker-Finch said at
home one day in November, unconsciously fingering that fax from
ABC. "At the end of the day it doesn't matter, does it? How I
played? Hayley and Laura will still love me, and I'll still love
them. What else really matters?"
Dear Ian Baker-Finch,
Every day look in the mirror and say, "I am a champion!"
DON, Victoria
Since Baker-Finch decided to give up on this millennium, his
golf has improved dramatically. "The tension is out of my body,"
he says, full of cheer. "I'm having so much fun." That's exactly
what all the shrinks kept telling him but Baker-Finch's mind
wouldn't accept: Try harder at trying less.
But even in the peace that sometimes comes with giving up,
Baker-Finch is dreaming of his heroic return. "The place will be
jammed," he says grinning. "And I'll be loving it because I'll
be playing so great. I can't wait."
Sigh.
Well, if he ever does try it, and you happen to be there, show
him you believe. Stand on the left.
How could a man go from the penthouse of golf to its crawl space
in so short a time?
"We've been saying for a long time, 'Let's let it go,'" says
Jennie. "But he just can't."