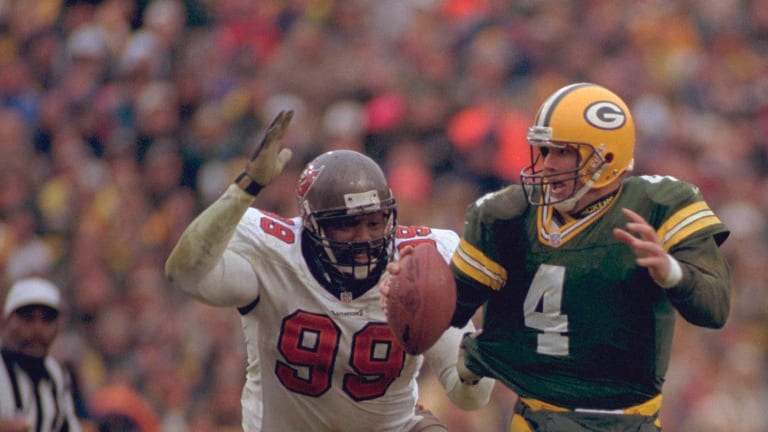 Buccaneers' Blabbermouth
Warren Sapp makes life miserable for Brett Favre and other quarterbacks. That's why he is one of the NFL's best defensive linemen--and soon to be one of its best paid
There's a fine line between hero and horse's ass, and Warren Sapp walked it on Jan. 4. As the third quarter of an NFC divisional playoff game at Lambeau Field drew to a close, the Tampa Bay Buccaneers' third-year defensive tackle paced the Green Bay Packers' sideline bearing bad news. "I'm gonna be here allllll day," bellowed Sapp, who had forced two fumbles, sacked Brett Favre three times and helped hold Green Bay to 13 points. "I ain't going nowhere. I'm gonna build a house right here."
Although the Bucs lost 21-7, they played the Packers tough. Just as Green Bay once closed the gap on the Dallas Cowboys and the San Francisco 49ers, Tampa Bay looms ever larger in the Pack's rearview mirror. Sapp is in the driver's seat, leaning on the horn, flashing his brights and shouting, "Out of my way!" Or words to that effect.
"Why should I get stuck behind that truck?" Sapp asks on a recent February morning. Why should he, Warren Sapp, be inconvenienced just because the state has been delinquent in widening this highway? Having been boxed in behind an 18-wheeler while cruising east on Interstate 4, Sapp has just overtaken the big rig by using an unoccupied on-ramp as a passing lane. "You don't understand," he tells his white-knuckled passenger. "That's just the way Florida people drive."
He is behind the wheel of his azure 500 Mercedes SL convertible, one of his two Mercedes--three if you count his three-month-old daughter, Mercedes. He's glib and cocky and smart, and as talented as any defensive lineman in football. It has been two months since his 25th birthday and six weeks since the end of his breakout season, in which he had 10 1/2 sacks and the hat trick against the Packers and displayed both an uncanny ability to play his best in big games and an unwillingness to let anyone else have the last word. Sapp's game-long dialogue with Favre provided a delightful subplot to their postseason meeting and sparked what promises to be a long and smack-intensive relationship. A month later, three days after getting married, Sapp played in his first Pro Bowl.
Yet there has never been a better time than this morning to be Warren Sapp. That's because on the previous evening, Feb. 17, the Minnesota Vikings made Sapp's friend and fellow tackle John Randle the highest-paid defensive player in NFL history: five years, $32.5 million, including a $10 million signing bonus. Sapp seems ebullient during this drive from Tampa to Orlando because the Bucs will probably bestow a similar fortune upon him within the next few weeks. That's only fair, because Tampa Bay, you may recall, got him on the cheap.
A state trooper is patting down a long-hair on the freeway's shoulder. "Lot of cops out today," Sapp notes. It is the third officer he has seen in the past hour. Sapp can empathize with the guy getting frisked. Last June, Tampa police searched his car for 45 minutes. In the backpack of one of Sapp's friends, officers allegedly found 12 1/2 grams of marijuana, which, according to police, the friend said was his. Sapp and his friend were charged with misdemeanor possession, but the case was thrown out when a judge ruled that the police did not have sufficient cause to search the car.
The incident recalled the controversy that surrounded Tampa Bay's 1995 selection of Sapp, a consensus top five pick out of the University of Miami whose stock plunged when, in the days leading up to the draft, reports surfaced of his alleged drug use. NFL Security, the Big Brother arm of the league in charge of conducting background checks on prospective draftees, filed a report--which was leaked to the media--that said Sapp, while at Miami, had tested positive for cocaine in addition to having tested positive for marijuana six times.
Sapp vehemently denied the seven positives--"I didn't take that many drug tests at Miami," he said--and insisted recently he would never so much as try cocaine, which, he says, "makes you steal from your mom, and I love my mom." (He did admit to having twice tested positive for marijuana, once as a Miami freshman and again at the scouting combine.) While the NFL has stood by its findings, a Tampa Bay executive says the league has since told him that it mishandled Sapp's case. But the damage was done. The Bucs took Sapp with the 12th pick and signed him to a four-year, $4.4 million deal, which, for example, was worth $1.6 million less than the four-year contract that the seventh pick, Boston College defensive end Mike Mamula, signed with the Philadelphia Eagles.
Despite a dozen or so lawyers urging him to sue the NFL, Sapp chose not to. "I just wanted to put it behind me," he says. He was an underwhelming performer as a rookie, getting three sacks and losing, for eight games, his starting job midway through the season. His disappointing debut was attributable to confused coaching by Sam Wyche, who went through defensive schemes the way Larry King goes through spouses, and to the guy looking out at Sapp from the mirror every morning. "I was forcing things," says Sapp, who has since done a better job of, as he puts it, "letting the game come to me." After a much improved second season, during which he had nine sacks under defense-minded first-year coach Tony Dungy, he seemed ready to bust out.
First, however, he got busted. The close encounter with Tampa's finest earned Sapp a lecture from Dungy, who suggested that Sapp balance his allegiance to his homeboys with a little more common sense. "When he's with his old friends, Warren doesn't want anyone to think success has changed him, and that's a good quality," says Dungy. "What I told him was that, just as you have a responsibility to your old friends, you have a responsibility to your teammates and your organization."
If that brush with the law served as a reminder that the Bucs had gambled by drafting Sapp, the events of last Aug. 31 suggested that their wager was paying off. That day, Sapp single-handedly destroyed San Francisco in Tampa Bay's season-opening 13-6 upset. He had 2 1/2 sacks and removed from the game a future wing of the Pro Football Hall of Fame. His first-quarter sack of Steve Young resulted in Young's suffering a concussion; his second-quarter tackle of wideout Jerry Rice, a play on which Sapp was penalized for grabbing the face mask, resulted in Rice's tearing ligaments in his left knee. When word reached him later in the season that Rice was upset because he hadn't called to apologize, Sapp had a question: "What should I be apologizing for?"
How did Sapp's quantum leap from above-average player to Godzilla-in-cornrows come about? He was more familiar with what was expected of him in the schemes of defensive coordinator Monte Kiffin, who joined the Bucs in 1996. Adds Dungy, "he had a better understanding of how people are trying to block him, of when he should play it safe and when he could turn it loose."
It also helped to be on the field. For the first six or so games of 1996, Tampa Bay was infatuated with the zone blitz. "I was getting pulled on third down," Sapp says. "I'd be on the sideline foaming at the mouth. I was pissed." Over their last 10 games, the Bucs allowed an average of 74 fewer yards per game than they had in their first six, and Sapp finished with a flourish, picking up three sacks in the last two games.
In a way, it's fitting that marijuana issues have dogged Sapp throughout his career: He's nothing if not blunt. "He gets that from me," says his mother, Annie Roberts. "We were born under the same sign, Sagittarius"--the archer. Among the targets at which Sapp aimed arrows while cruising on I-4 were the NBA ("They're about to kill themselves. I mean, not everybody can make a hundred million dollars"); the braggart Denver Broncos ("Terrell Davis totes 'em to a championship, now everyone's got something to say"); and Wyche ("Usually you have to win something before someone calls you a genius").
When the conversation turns to Sapp's contract--although he is signed through next season, Sapp and the Bucs are talking about renegotiating his deal--Don Rickles metamorphoses into Madeleine Albright. "Tampa is the perfect place for me to play," he gushes. "Just pay me market value."
One senses he'll get what's coming to him. It runs in Sapp's family to know the value of a buck. Sapp recalls a long-ago breakfast at a central Florida restaurant. When his maternal grandmother, Rosia Lykes, asked what came with a $3.79 stack of pancakes, the waiter replied, "Pancakes."
Looking back at her menu, Lykes uttered a declaration that has since entered family lore: "Ain't nobody gonna rob me without no gun."
Nor is her grandson likely to be underpaid, for a change. His peers say Sapp is worth every cent he'll get. "He's definitely top five" among defensive linemen, says Vikings guard Randall McDaniel, a nine-time All-Pro who faces Sapp twice a year. "He's always been good against the run, and he's become a dominant pass rusher. That's a rare combination. I'm glad I won't be around when he reaches his potential."
McDaniel has more credibility on this subject than Sapp's agent and friend, Drew Rosenhaus, who predicts nothing less than the Hall of Fame for his client. On the eve of Sapp's wedding, there was a knock on Rosenhaus's hotel room door. It was the groom, who said he was prevented by tradition from spending the night with his bride-to-be and announced, "I'm sleeping here tonight." Alas, the room had only one bed. When Rosenhaus offered to crash on the sofa, Sapp told him to not be ridiculous. The two would share the bed. "Five minutes after he falls asleep," says Rosenhaus, "he's roaming all over the bed. I'm getting my ass kicked, and then the snoring starts."
Upon awaking the next morning--"He was lying across the bed," says Rosenhaus--it was with genuine shock that Sapp asked, "What are you doing on the couch?"
Thus refreshed, Sapp exchanged vows that afternoon with 22-year-old JaMiko Vaughn, whom he'd met during his rookie season. The two went to an African arts festival on their first date. "No one had told me he was a Buc, and he never mentioned it," says Vaughn. "He kept mentioning that he had to be at the hotel at 6 p.m." (Teams spend the night before a home game in a hotel.) "I asked him if he worked the night shift."
Sapp working at a hotel. That would be worth the price of admission.
You don't have your confirmation number? Is this, like, your first business trip?
You need help with your bags? What you need is a personal trainer.
The truth is, if Sapp weren't smart and multidimensional, he'd bore his wife, a former CIA employee. ("I was a contract officer," she says, "and I can't say much more than that.")
Sapp's mind is a bear trap for trivia, of the sports variety in particular. "For all the talking that Warren does, he's a very good listener," says Bucs defensive line coach Rod Marinelli. "He retains everything." At a Minnesota Timberwolves-Orlando Magic game, Sapp interrupted his running commentary ("Who the hell told Cherokee Parks he could shoot?") to quiz his companions: "Name the first draft pick in Magic history."
"Nick Anderson," Sapp answered, after no one volunteered a guess. Thereafter, the sports talk ranged from Winter Olympic medal counts--"How about Austria: 12 medals but only two golds!" he said at one point--to the Tour de France, the highlights of which he faithfully watches every summer.
Though not a cyclist, Sapp does fish, play golf, pilot his Wave Runners and crank tunes. A music buff, he's considering joining a group of investors in the purchase of a Tampa radio station.
Fatherhood and marriage have mellowed Sapp's tastes in music ever so slightly, says John Hahn, a former Miami sports information director who is now media relations director for the Detroit Red Wings. "Usually when I call him at home, I hear rap music in the background. The last time I called he was in the nursery, and the background music was Brahms' Lullaby."
"There is a side that people don't see," JaMiko said recently, while daubing her daughter's spit-up from the living room carpet. "He can be gentle and caring."
"I think you broke my nose," Favre shouted at the gentle and caring Sapp near the end of that playoff game. After sacking Favre and stripping him of the ball in the second quarter, Sapp had pushed Favre's face into the turf. Favre leaped to his feet and commenced yapping at Sapp, who said, "You're gonna get your ass busted today." To which Favre riposted, "It's 7-0. Who's getting his ass busted?"
Not exactly Disraeli versus Gladstone, but not bad. The verbal skirmishes continued throughout the afternoon, with Favre mocking Sapp's listed weight of 276 pounds and insisting that he could outrun him.
Sapp: "Are you serious?"
Favre: "I'm sure I can." Shortly thereafter, Sapp chased Favre down for his second sack. When Favre saw who had tackled him, he smiled and said, "You gotta love this!"
"You know I do," replied Sapp. "I'll be hunting your ass all day long."
As he walked to the sideline at the end of the third quarter, Favre heard the words, "Hey, pretty boy!" He didn't need three guesses to know who was talking. "Hold on, Mike," Favre said to Green Bay coach Mike Holmgren. "I'll be right back."
A surprisingly civil exchange ensued, Sapp complimenting Favre, Favre patting Sapp on the helmet. "One more quarter," said the Buccaneer.
"Come on with it," said the Packer. As if Sapp had to be told. As if he were going anywhere.