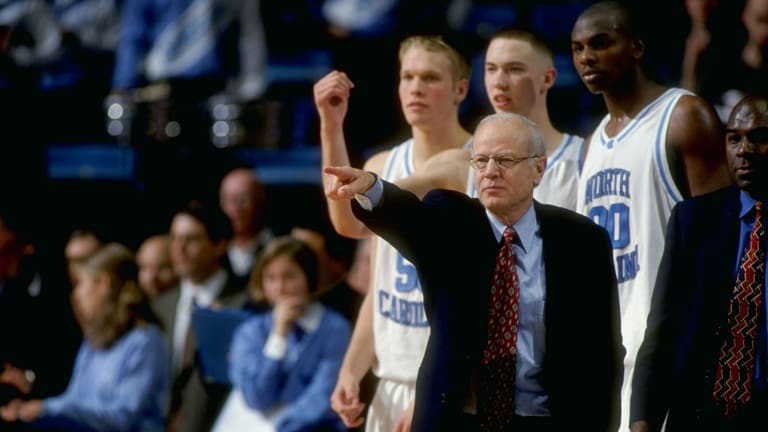 Let's Get Physical
Kentucky, North Carolina, Stanford and Utah muscled their way into what promises to be a rugged Final Four
To the Pollyannas who like to say that there is no I in team, cynics have a rejoinder: There is an m and an e. Now the cynics owe us one. In San Antonio this week there will only be assemblages of ballplayers who embody togetherness, who divided would fall.
With the exception of North Carolina's Antawn Jamison, every first-team All-America has been sent home from this NCAA tournament, left to risk insanity from watching Isuzu Amigo commercials. Three of the Final Four have shed the ballast of a player of the year candidate from a year ago. Who needs a Keith Van Horn, a Ron Mercer, a Brevin Knight, to get to the Final Four? Not superbly balanced Utah, Kentucky or Stanford.
In getting this far, all four teams have demonstrated calm in the face of defensive pressure. All have shown the patience and cohesion to pick apart zones. All rebound by committee, outdoing their opponents by at least seven a game under the glass. (The Utes and the Wildcats ranked first and second in the nation, respectively, in rebounding margin during the regular season.) And with all coached by Final Four first-timers (North Carolina's Bill Guthridge, Utah's Rick Majerus, Stanford's Mike Montgomery and Kentucky's Tubby Smith), the circumstances are set for the most feel-good finals in years.
The Cardinal will try to gang up on the Wildcats in one semifinal. Stanford plays 10 guys at least 12 minutes per game, suits up seven who stand 6'7" or taller and has five who shoot 40% or better from beyond the three-point stripe. Kentucky isn't easy to gang up on, however. The Wildcats, who are so democratic that they rotate roommates on road trips, play eight guys at least 13 minutes and have six players who average between 8.9 and 13.3 points. Eight Kentucky players have been the Wildcats' high scorer at least once this season. In the other bracket the Tar Heels, with their top six taking turns in the starting five, will hook up with the Utes, whose coach incessantly reminds each player of his role and has the Utes break every huddle with a cry of "Team!"
"We play it, we yell it, we believe in the concept," Majerus said last Saturday, after Utah's 76-51 defeat of defending champion Arizona in the West Regional final. "The best part is that we did this together as a team. We couldn't have done it any other way."
Not even William Ginsburg gets all over the press the way the Utes do. Since the tournament began, San Francisco, Arkansas, West Virginia and Arizona have all tried to pressure Utah, and each wound up regretting it. In 6'11" Michael Doleac, 6'7" Alex Jensen, 6'9 Britton Johnsen and 6'10" Hanno Mottola, the Utes have players with the size and agility to come back to the ball when their guards are being hassled and advance it by passing over the press. Each knows enough to get the ball into the hands of point guard Andre Miller at the first opportunity.
Miller, a sociology major from Compton, Calif., couldn't have chosen a better field of study to understand the distances he has traveled from L.A.'s mean streets to Salt Lake City; from Prop 48 freshman to being on track to graduate in four years. He confesses that back home his friends got on him for "going to Mormonville," as he puts it, because they thought he was headed to a place "where everybody rides bikes and dresses in black suits and acts like Jehovah's Witnesses and stuff."
In an era when point guards all seem to act on some imperative to bull their way to the basket--and often pick up charging calls in doing so--Miller is a slalom artist with the ball. He has a knack for either pulling up for the short jump shot or insinuating his way cleanly to the hole. And there's a reason that Utes fans sent up a cheer as soon as Miller got the ball against Arizona's press.
Yet credit for Utah's win over the Wildcats is due not as much to the Utes' offense as to their defense. After Arizona beat Utah 69-61 early last season, Majerus blamed himself for failing to prepare his team properly. He told his players as much before Saturday's game. "Now," he added, "you're prepared for everything they're going to throw at you."
The same couldn't be said for coach Lute Olson and the Wildcats when Majerus's team sprung its 66 defense, a triangle-and-two that sent fresh man-to-man defenders at Arizona guards Mike Bibby and Miles Simon and dared the Wildcats' top scorer, Michael Dickerson, to make the most of his opportunities. Dickerson didn't. He bricked his first three shots and then launched two air balls. Over the course of the afternoon Arizona--a team known for its scoring spurts--put together back-to-back baskets only three times. On occasion the Wildcats could even be seen bickering among themselves. Not once did Bibby, Dickerson or Simon sink a three-pointer, and some 13 minutes still remained when Bibby employed that every-last-second-is-precious gambit of letting an inbounds pass roll upcourt. "As soon as they started measuring their shots," said Majerus, "it was Game Over."
Utah's next opponent, North Carolina, is the one team that will ride a studhorse into San Antone. Jamison is the consensus player of the year, but as good as he is, he's not a ball-hogging superstar who eclipses his teammates. He's simply the best in a group of Tar Heels who are all at the top of their games. Or so say those who have had the misfortune of being in North Carolina's quadrant of the bracket. "I think they can win it all," said Michigan State guard Mateen Cleaves after the Spartans' 73-58 loss to the Tar Heels in the East Regional semifinals. "You need a point guard, and they have that [in Ed Cota]. You need a two guard, and they have that [in Shammond Williams]. You need an athletic three man. That's Vince Carter." Only then did Cleaves get around to mentioning Jamison.
The common refrain from North Carolina's opponents all through the tournament has been that the Tar Heels don't keep your offense from functioning; their genius is in whom they permit to take shots, and from where. Both Michigan State and Connecticut, Carolina's 75-64 victim last Saturday, fell for the fool's-gold three that often came from a step or two behind the arc. After watching his team go 6 for 25 from three-point range, Spartans assistant Tom Crean said, "They want you to take a shot that would be better if you stepped in [closer]." For its part UConn, which normally squeezes off 16 threes a game, launched 24 and made only eight--barely enough to make the shot worthwhile.
A close call with UNC Charlotte in the second round, in which the Tar Heels were outrebounded by nine in an overtime victory, caused North Carolina to rededicate itself to getting on the glass. Therein lies perhaps the Tar Heels' only source of dissension. Says Carter, "After games you'll hear us arguing, 'You took my rebound, man.' That's a good argument to have. It means everybody is hitting the boards."
North Carolina has its weaknesses. Forward Makhtar Ndiaye is a foul waiting to be whistled. Cota is rarely comfortable shooting outside. The similarly erratic shot of Ademola Okulaja, a native of Germany, answers the question of whatever happened to the bricks that formed the Berlin Wall. But there's something remorselessly efficient about the Tar Heels, a bridled energy that gives them, alone among the Final Four teams, the power to intimidate.
The key to their ignition is the explosive Williams. In North Carolina's 66-58 loss to Arizona in the Final Four a year ago, Williams made the first shot he took and then clanged his next 12. The Tar Heels flew home the next morning, and that night anyone driving by the Dean Smith Center would have seen Williams's black sport-utility vehicle, license plate UNC 3, in the parking lot. Williams was working on his shooting. This season he has shot threes as steadily as he did a year ago, but as a result of his extra work--and an improved ability to shoot off the dribble--he has raised his percentage inside the arc by more than 15 points, to 58%.
Then, too, there's North Carolina's unswerving belief in its way of doing things. The Utes beat the Lutes last week in large part because Arizona almost immediately abandoned anything resembling a game plan. Utah isn't likely to goad the Tar Heels into panicking, nor does Carolina apply the kind of full-court pressure that the Utes could take advantage of with their deft passing. Thus the Heels should get through to the final.
For all of Stanford's success, point guard Arthur Lee has spent much of this season obscured by the legend of Knight, who ran the Cardinal offense until his graduation last spring. Lee stepped out from behind Knight's shadow during the final 2:05 of Stanford's 79-77 victory over Rhode Island on Sunday. He sank one three-pointer while backpedaling. He drained another while lunging forward. He followed a coast-to-coast layup with a free throw and then stripped the ball from the Rams' Cuttino Mobley so that teammate Mark Madsen merely had to pick up the ball and dunk it, thus giving the Cardinal a lead it would never lose. Nonetheless, says Lee's father, also named Arthur, "If Arthur wins, they say Brevin taught him. If he loses, they say it's Arthur's fault. We love Brevin to death, but Arthur just wants his own identity."
The younger Lee wouldn't say as much because he's reluctant to dwell on himself. "On our team all year long it was a different guy every night," he says. "The other night [in Stanford's 67-59 semifinal win over Purdue] it was [freshman forward] Jarron Collins, and I guess it was me in the later stages today."
The Cardinal players don't think it's any great surprise that 10 returnees should do so well after the loss of a single star. "There's something to be said for having a year's more experience," says forward Peter Sauer. "Last year we had Brevin and a lot of sophomores. Now we have a lot of juniors."
"We knew we were going to lose Brevin," adds Madsen, a 6'8" forward, whose 15 points and 13 rebounds helped the Cardinal to out-Big Ten Purdue. "After we lost in the Sweet 16 last year, Coach told us that everybody needed to get 33% better." Only at Stanford do you work to get precisely 33% better.
In all likelihood that improvement won't be enough, because the Cardinal's opponent on Saturday, Kentucky, is one of the few teams with frontcourt depth to rival Stanford's. The Wildcats start 6'11" Nazr Mohammed at center and then bring in 6'10" Jamaal Magloire, who's virtually as effective. Against Alabama in the SEC tournament they even got productive minutes from Michael Bradley, a 6'10" freshman, which caused Crimson Tide coach David Hobbs to do a double take. "I looked down the bench at my assistant who was supposed to prepare the scouting report," Hobbs said, "and asked, 'Who is this guy?'"
The beauty of this Kentucky team is all in the eye of the beholder. Coaches like Hobbs despair at the prospect of facing the Wildcats' waves of bodies. The Kentucky faithful are tougher to impress, especially after eight seasons of Rick Pitino's withering full-court pressure. Three losses at Rupp Arena have contributed to a sense that this year's team isn't as strong as recent editions. Indeed, during the SEC tournament a Lexington talk-radio caller said of the then 26-4 Cats, "I haven't given up on 'em yet."
"The expectations are both the best thing and the worst thing about Kentucky basketball," says guard Jeff Sheppard. "They drive you--but they can also drive you crazy."
In place of the all-court game that Pitino favored, the Wildcats now fall back into a stout half-court defense, a "ball-line" set designed to close down dribble penetration at all costs. "We used to get steals off our pressure," says forward Scott Padgett. "Now we're getting steals off our help."
While the agility of its big men makes Kentucky unique in the Final Four field, its 86-84 defeat of Duke on Sunday was an exercise in team resourcefulness. During an extraordinary five-minute stretch, the Wildcats made up a 17-point deficit, largely while its big men sat on the bench. With Padgett, Sheppard and swingman Heshimu Evans hunting shots off screens, and point guard Wayne Turner taking the smaller and slower Steve Wojciechowski off the dribble, Kentucky closed out the game with a 34-15 run. Echoing a practice drill called "24 in two," in which they try to make two dozen three-pointers in two minutes, the Wildcats sank six treys while closing that gap. In the most pointed example of how everyone can contribute, the three that gave Kentucky its first lead of the game came, with 2:15 to play, from Cameron Mills, a reserve who hadn't yet made a field goal in the tournament. "It's more fun when everyone gets a part of the action," guard Allen Edwards said afterward.
Nothing did more to cause the Wildcats to coalesce than a 73-64 home loss to Mississippi on Valentine's Day. In its aftermath Smith ordered 6 a.m. workouts to supplement Kentucky's usual afternoon sessions. A week later--having played better as a result of the morning practices--the players insisted that they continue.
The bond that has been forged among the Wildcats impressed one observer who knows the value of unity. "They have amazing camaraderie," said Duke coach Mike Krzyzewski after losing on Sunday. "It wasn't one kid doing it for them. It was the Kentucky team. They wouldn't have won if they weren't together like they are."
It's terribly difficult not to pick North Carolina, the sole surviving No. 1 seed, to prevail on Monday night, regardless of whom the Tar Heels end up opposing. They are the only team that has a first-team All-America, and in Cota and Williams they have two dribble penetrators.
Yet the Wildcats are superb at stopping sallies into their defense. So we pick Kentucky, the early-rising, high-rising Wildcats, and not only because they are the hottest team. In a Final Four of dreamy teams, the Cats have enough players to field two teams, even as they're one.
No reason to give up on 'em yet.