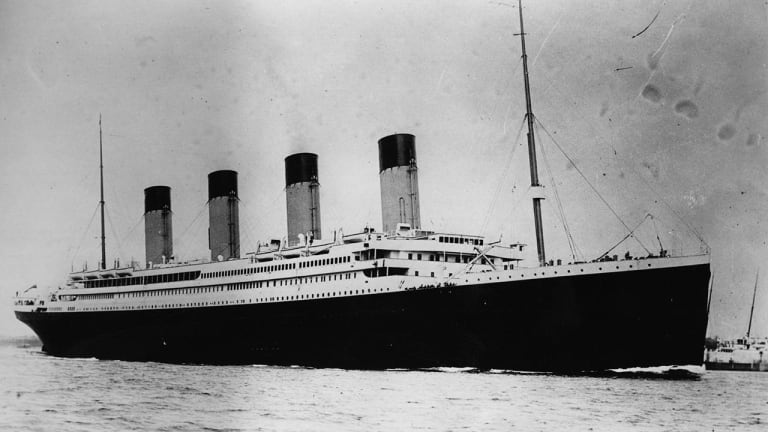 Tennis Was Easy After The Titanic
Dick Williams clung to a lifeboat for six hours and later became U.S. champion
As Dick Williams and Karl Behr strode onto the rectangular lawn at the Newport (R.I.) Casino to face each other in the
quarterfinals of the 1914 U.S. Tennis Championships, they must
have thought they were the most fortunate of athletes. They were
garbed in creamy flannels and white dress shirts. They were
applauded by a capacity crowd of about 4,000. Williams, a
slender six-footer from Philadelphia, won the match 6-2, 6-2,
7-5, on his way to the first of his two U.S. singles titles.
Both he and Behr would one day be enshrined in the International
Tennis Hall of Fame. And both men were survivors of the Titanic.
Williams, who died 30 years ago at the age of 77, was the better
player. He was the captain of six victorious Davis Cup teams,
four of which he played on. He also had the more harrowing
escape on the night in April 1912 when the Titanic went down.
Williams leaped off the foundering ship and waited in the frigid
water for six hours before he was rescued by the steamer
Carpathia. His legs froze stiff, and, as he said in a memoir he
wrote for his family, a physician on board the Carpathia
"cheerfully advised" immediate amputation to fight hypothermia
and preclude the onset of gangrene.
The 21-year-old Williams rejected that medical judgment. Somehow
he got to his feet--"As I tried to stand," he wrote, "it was
like thousands of needles going through my legs"--and began to
lurch and trudge to restore circulation in his legs. "I tramped
the decks constantly, even through the nights, getting up every
two hours to walk some more."
It worked. Williams saved his legs, and within three months he
hit the U.S. tennis scene running--literally. First he won the
1912 Pennsylvania Grass Tournament at Merion Cricket Club,
beating the young Bill Tilden. Next he took the U.S. Clay Court
title. Then, in September, he played in the U.S. championships,
losing in the quarterfinals to Maurice McLoughlin, the eventual
winner. "Not for many years has a player leaped into fame so
quickly," American Lawn Tennis magazine said of Williams in June
1912.
He won his first U.S. title two years later and his second in
1916, the summer after the tournament moved from Newport to what
would be its longtime site at Forest Hills, N.Y. America's
foremost tennis writer at the time, Allison Danzig of The New
York Times, saluted Williams for his "daring style, taking every
possible ball (when not volleying) on the rise with hair-trigger
timing. On his best days he was unbeatable by any and all,
always hitting boldly, sharply for the winner. He did not know
what it was to temporize."
A fateful case of measles put Williams on the Titanic and led to
the death at sea of his father, wealthy Main Line attorney Duane
Williams. Dick, a great-great-great-great-grandson of Benjamin
Franklin, had grown up and become an exceptional tennis player
in Switzerland, whose climate had been recommended for Duane's
delicate health. Father and son had planned to travel to the
U.S. earlier, in part to enroll Dick in the class of 1916 at
Harvard, but the voyage had been delayed by Dick's illness.
They had attended the Captain's Dinner on Sunday, April 14, and
"all of us had the human weakness to overindulge," Williams
would recall. Later, in the water during his blackest night, he
would think, "I'm darned lucky I had such a good meal."
After a walk in the chill air, father and son retired for the
night. The Williamses were awakened in their portside cabin at
11:45 p.m. by "merely a jar," Dick would write. "We were not
excited, but felt something had happened." Leaving the cabin and
learning of the ship's collision with an iceberg, they saw only
this evidence: a sailor exhibiting a bucket of ice as a
souvenir. "There was no panic, some confusion," Dick would
write. "The band was playing lively tunes." More than 30 years
earlier, his father had been on another ship in the Atlantic
when it struck an iceberg. Then, the crew and passengers were
able to keep the vessel afloat by using a cargo of cotton to
plug the hole in the hull. Dick wrote that Duane Williams was
confident that even if the Titanic became an unlikely loser to
this icy mass, "she would float for 12 or 15 hours, and any
number of ships would stand by to help us."
Wearing life preservers beneath heavy fur coats, the Williamses
explored the brightly lighted decks, "although the listing made
the going a little hard," Dick would write. Later there were
"harrowing scenes enacted when wives were forced to leave
husbands, for the order had been women and children first."
After the last of the lifeboats had been loaded, the Williamses
were gripped by "a peculiar feeling, knowing that all means of
escape seemed cut off."
As the situation turned ominous, Dick realized it was time to
swim for it. He yelled to his father, "Quick! Jump!" This is how
Dick would describe what happened next: "He started towards me
just as I saw one of the great funnels come crashing down on top
of him. For a moment I stood transfixed. Then I jumped to the
rail, about 15 feet above the rising water, climbed over and
jumped clear. As soon as I came to the surface, I started
swimming with all my might." His own life, almost snuffed by the
collapsing funnel, now hung on a hundred-yard freestyle away
from the disintegrating, plunging Titanic.
"I kicked off my shoes but could not get out of my coat," he
would write. "I turned towards the ship. It was an extraordinary
sight. As the bow went under, the stern lifted higher and higher
into the air, then pivoted and swung slowly over my head. Had it
come down then I would have been crushed. Looking straight up I
saw the three propellers and the rudder distinctly outlined
against the clear sky. She slid into the ocean. No suction. No
noise. Stillness."
Not for long. "Then came the terrible part--the cries of 1,600
people struggling in ice-cold water.... They were not drowning,
for the life belts held them up. They were dying from the cold,
gradually freezing to death. As they did their cries grew weaker
and weaker. In another five to ten minutes everything was quiet,
the ocean calm--a deathly stillness." Williams swam to a small
group holding on to something "and threw off my coat at last."
His haven was a collapsible lifeboat, with canvas sides, that
had not been assembled, so only the wooden bottom of the boat
floated just beneath the surface of the water. During the night
as many as 30 people in a changing cast clung to the boat with
him, but eventually "only 13 of us were picked up."
If illness had arranged Williams's presence on the Titanic, it
was love that had driven Behr happily aboard. At 27, his best
tennis years were past. (He had been in the U.S. Top 10 seven
times, ranking No. 3 in 1907.) Meanwhile, he had become
"enamored with another [passenger], Helen Newsom," according to
his 82-year-old son, Karl Behr Jr. of Lake Wales, Fla. "Dad was
in France, and when he learned she'd be getting on the Titanic
with her parents in England, he chased her. They were in evening
clothes, dancing, when news of the iceberg circulated. Mom's
stepfather, Richard Beckwith, took it seriously. He told the
women to change quickly, dress warmly, take only their jewelry.
He and Dad took them to their assigned lifeboat, expecting to
bid them goodbye. But the officer in charge ordered Dad and
Beckwith in, to do the rowing, and off they went.
"I don't know what happened in that boat, but shortly after, Dad
and Mom were married," says Karl Jr. "I'm damn glad they were on
the Titanic together."
Two years later Behr and Williams faced each other across the
net in Newport, less than a mile from the Atlantic. No tennis
opponent they would ever face would be so formidable and
unforgiving as she.
Bud Collins is a commentator for NBC Sports and a member of the
Tennis Hall of Fame.
B/W PHOTO: CULVER PICTURES Williams refused amputation of his legs and that summer proved he had been right. [Dick Williams]
B/W PHOTO: UPI/CORBIS-BETTMANN LUCKY IN LOVE Behr (in 1916) followed his love aboard and rowed her to safety. [Karl Behr in game]