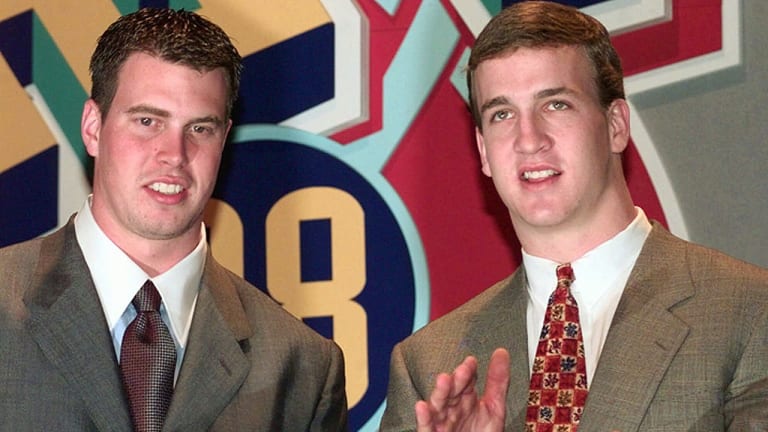 Publish date:
The Chairmen
Peyton Manning and Ryan Leaf are the class of the NFL draft, but experts say one of them stands head and shoulder pads above the other

When Washington State quarterback Ryan Leaf stepped onto the scale at the NFL scouting combine in early February, the digital readout was 261. He stepped off in disbelief, then stepped on again. The number was still 261, about 20 pounds over Leaf's playing weight. "I can't believe it," he muttered, shaking his head.
Here's something else Leaf might not believe: The weight of opinion in the NFL now says that Tennessee quarterback Peyton Manning is the clear choice, ahead of Leaf, as the No. 1 pick in the draft, which will be held on April 18 and 19. In the wake of a meteoric Rose Bowl season that sent his pro stock soaring, Leaf became a sort of joint entry with Manning. Discussion of one player rarely passed without mention of the other. There was little doubt that Manning and Leaf would be the top two draft picks; the issue was which would be selected by the Indianapolis Colts, who will choose first, and which would end up with the San Diego Chargers, who have the second selection.
But in the view of a six-man blue-ribbon panel that analyzed game tapes of the players for SI, Leaf doesn't rank as high as Manning. Each expert was asked: If you had to pick one of these players, whom would you take? With different degrees of conviction, each said Manning. Three said they would be shocked if the Colts didn't select him.
The panel was made up of Tampa Bay Buccaneers director of player personnel Jerry Angelo; Sid Gillman, who was instrumental in the development of the West Coach offense; Denver Broncos coach Mike Shanahan; former New York Giants quarterback and Super Bowl MVP Phil Simms; UCLA coach Bob Toledo, whose Bruins played Tennessee and Washington State in each of the last two seasons; and former San Francisco 49ers coach Bill Walsh. The panelists raised doubts about Leaf's mental preparedness and mechanics but still liked him as a player. However, they think Manning is the superior prospect at the most important position in the game.
"Now this is a pro quarterback," the 86-year-old Gillman says admiringly as he watches tape of Manning bluffing the Mississippi defense by looking to one side of the field and then throwing a deft screen to the other. Gillman is sitting at the controls in the second-floor screening room of his Carlsbad, Calif., home. "Is that a beautiful throw, or is that a beautiful throw? I'd draft this kid in a second."
"I don't see Favre or Elway," Walsh says. "I see those guys on the next level. But Manning seems to be more pro-ready than Leaf."
The oft-quirky Walsh was the only one of the six experts who said he wouldn't take Manning with the first choice. "I'd pick another top player," he says, "and then I'd take [Michigan quarterback] Brian Griese in the second round. I think he could have the tools to be special."
All the panelists except Shanahan and Toledo, both of whom did extensive analyses of their own videos of Manning and Leaf before being interviewed, watched SI-provided game tapes. The group shot down the popular belief that Manning can't throw the deep ball. Indeed, the experts extolled Manning for making every throw with precision. He lofted touch passes into the corners of the end zone. He zipped arrows into tight coverage over the middle. Other than some ignominious throws under heavy pressure in two losses to Florida, he stood in the pocket, took hits and delivered the ball with accuracy. On one play against UCLA, Volunteers wideout Marcus Nash seemed covered until Manning, about to be swallowed by the pass rush, hit him with a perfect 39-yard spiral for a touchdown. "We did everything right on that play--good pressure, good coverage," Toledo says. "Peyton made as good a play as any quarterback could make, and then we leveled him."
"Completely nuts," Shanahan says of the notion that Manning can't throw deep. "Peyton will make every throw there is." Walsh says that Manning's ability to go long is "not as good as Bradshaw's but better than Unitas's." Simms becomes incredulous when the question is posed. "His arm's plenty good," he says. "You know how many times Drew Bledsoe really aired it out last year? I mean, 50, 60 yards in the air? Five. Ten, maybe. In the NFL, you make your living throwing the intermediate pass, and look at how many good intermediate throws we're seeing Peyton make."
Manning and Leaf rose from different backgrounds to the pinnacle of the college game. Leaf, the son of a Great Falls, Mont., insurance man and nurse, grew up participating in many sports and began getting raves as a football player only when Washington State rose unexpectedly to the top of the Pac-10 last fall. Manning, raised in New Orleans, has been in the public eye since high school because of his passing arm and his famous dad, former NFL quarterback Archie Manning. Leaf is leaving college a year early, an eminently reasonable decision given that he figures to collect a signing bonus of at least $8 million. Manning turned down similar millions in 1997 to return to Tennessee for his senior year--though he'd already earned his degree in speech communications--citing how much he enjoyed the college experience. Leaf is 6'5 3/8" and (thanks to a personal trainer in Newport Beach, Calif.) back down to 241 pounds. Manning is an eighth of an inch shorter and six pounds lighter.
Only twice since the AFL-NFL merger in 1970 have quarterbacks been the top two picks, and Archie Manning was in one of those pairs of draftees. In '71, Jim Plunkett went first, to the New England Patriots, followed by Manning, who went to the New Orleans Saints. In '93, Bledsoe and Rick Mirer went one-two, to the Patriots and the Seattle Seahawks, respectively. If the Colts have trouble deciding which player to select, they might look at off-field demeanor. Leaf admits that he "hit the banquet circuit a little hard and ordered too much room service late at night." Maybe his ballooning to 261 pounds reflected nothing more than a kid loving life and celebrating his newfound celebrity. But maybe it was a red flag.
"I was at the combine for the weigh-in," says Angelo, "and it really surprised me. Here's what could be the biggest day of your life, the day you're going to expose yourself to your future employers for the first time, and you show up out of shape and overweight. To me, that's a signal. The quarterback has to be the CEO of your team. You have to trust him. I'd have some hard questions if that happened and we were going to pick him."
Ending up in San Diego could give Leaf one distinct advantage over Manning: He figures to get better coaching, at least in 1998. As an offensive coordinator for the Houston Oilers and Jacksonville Jaguars, Chargers coach Kevin Gilbride worked with Warren Moon for five productive seasons and then with Mark Brunell for two. San Diego's first-year quarterbacks coach, June Jones, is a trusted student of the game. In Indianapolis, coach Jim Mora is defense-minded and quarterbacks coach Bruce Arians, who has been in coaching since 1975, has bounced between the college game and the NFL for the past decade.
Here's a look at each facet of the passing game and how the two young quarterbacks measure up:
MOBILITY It is not a strength for either Manning or Leaf. Walsh thinks today's quarterback should be "more of a 6'2", 208-pound point guard, a Steve Young or a Jake Plummer. Scouts say if you're 6'6" and 245, you'll be able to take a pounding. But remember, a 245-pound passer will get hit twice as much as a mobile passer." Last year, the mean NFL quarterback rating was 77.2. Of the six quarterbacks 6'5" or taller drafted in the first round since 1970, only Jim Everett (78.6) had or has a career rating that high (chart, opposite). Game tapes show both Manning and Leaf to be nimble enough when forced out of the pocket, and Leaf's release is especially quick.
THE DROP Manning drops with some urgency but not as rapidly as Walsh believes he needs to. As for Leaf, Walsh and Gillman see his plodding drop as his biggest weakness, but one that's correctable. "He'll never get by with this kind of drop," Gillman says. "He's way too slow. This is the age of the blitzer in the NFL. He'd better get coached out of that in a hurry."
POCKET PRESENCE Both quarterbacks get high marks. Manning seems to survey the field slightly better, looking at his progression of receivers more quickly, but Leaf is cool and focused, never panicky. "Manning's a little more polished," Shanahan says.
DELIVERY Leaf sidearms some passes, while Manning is more of a prototypical overhand thrower. Manning bounces in the pocket, exactly the way Walsh says he would teach him, and he's ready to throw in an instant. Leaf isn't as disciplined, but any criticism of him in this area would be nitpicking. In the tapes, Manning threw a consistently perfect spiral, a type of pass that will pay off in windy conditions. Leaf's ball, however, rarely spiraled cleanly. "Both are lucky to be going to either a dome or a good-weather place," Simms says. "Tight spirals will pay off in bad weather. Believe me, I know." Simms points out that the pro ball is slightly fatter than the college ball, and is usually slicker because more new balls are used in a pro game than in a college game. "You get a better grip on the college ball," he says. "Both will have to get used to that."
THROWING THE ROUTES Manning appears more accurate, and his rainbow touch on end-zone timing passes is as good as any NFL quarterback's. Leaf has the better deep arm, and his overall touch is well above average. The ability to throw all the routes is a strength of both. One popular theory about the two is that Manning is better prepared now for the pros, but that Leaf will be the better player in five years because of his arm strength. That theory would have more credence if Leaf's arm were significantly stronger than Manning's. It's not. "Arm strength is no problem for either guy," says Angelo.
COURAGE UNDER PRESSURE This crucial part of the NFL game is hard to judge. But a man who coached against the two gives high marks. "Ryan was unflappable," Toledo says. "He was like an oak tree in the pocket—we'd hit him hard and our guys would bounce off. Peyton always stood in until the last second and took hits well too."
THROWING INTO COVERAGE This will be vital, because Manning and Leaf will find the coverage far tighter in the NFL than it was in college. Leaf needs to tighten his spiral and throw with more precision, but under a quarterbacks coach like Jones, he should learn how to. Manning is more confident than Leaf in his ability to zing a ball into a tight spot, but this could get him into trouble. Against a good pocket-pressuring team, like the Buffalo Bills, Manning will have to make quick decisions, because he'll have Bruce Smith and Ted Washington boring in. Manning's collegiate Achilles' heel was decision-making against jailbreak rushes such as Florida's. The Indianapolis line gave up an AFC-high 62 sacks last season. If he becomes a Colt, Manning will have to make a living throwing under pressure.
Indy president Bill Polian is doing an astute job of not tipping his hand as the draft draws nigh. On April 18, it should be Manning and Leaf, in that order. That's no guarantee that Manning will turn out to be the better pro quarterback, of course. Simms went four slots after Jack Thompson 1979. Jim McMahon went one pick lower than Art Schlichter in 1982. Dan Marino went 20 selections after Todd Blackledge in 1983. What does seem reasonably certain is that, warts and all, both Manning and Leaf should develop into at least good NFL starters. After two drafts in which no quarterback was picked in the top 25, that's generating genuine excitement.
"Quarterback is the toughest position in sports to coach, to evaluate and to play," says Angelo, an NFL scout for 18 years. "A few years ago, we studied the top 30 quarterbacks of all time. The Number 1 trait we found was toughness; they all had it. Number 2 was accuracy. Number 3 was instincts. The last was work ethic and maturity. Peyton's got them all. He's talented, and he'll handle the inferno of going to a 3-13 team. He's a sure player."
Angelo pauses as if he's remembering the ghosts of Thompson, Schlichter and Blackledge. "I mean," he adds, "as sure as you can be about anybody in this league."