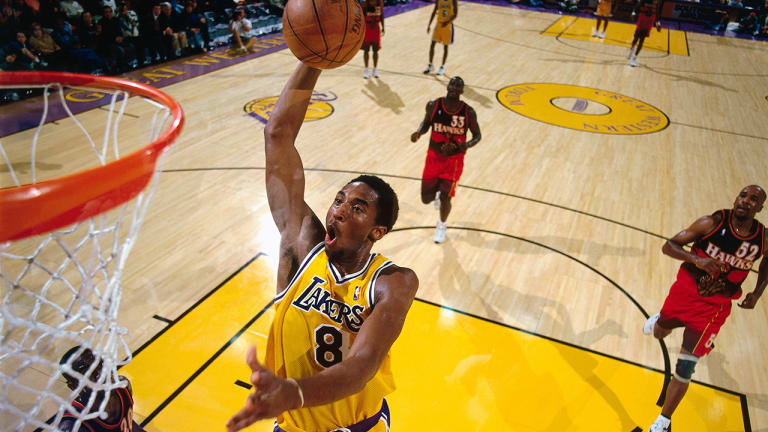 Show Time!
Is Kobe Bryant the second coming of Magic or Michael? The playoffs are the place to find out if he's truly a prodigy or merely a creature of hype
Last December, before the Los Angeles Lakers' annual pilgrimage
to Chicago, the team's director of public relations, John Black,
quietly warned 19-year-old Kobe Bryant that the press was about
to open public hearings into the matter of whether he was,
indeed, the next Michael Jordan. Bryant could have gone into a
slump right then.
"It doesn't bother me," he responded. "I expect to be that good."
Now he was really asking for trouble. For Jordan is the American
Zeus, an utterly commercial god who scores, plays defense, wins
championships and appears in the advertisements during timeouts.
A few weeks after Bryant had been interviewed for the position
in Chicago (he scored 33 points, many of them while being
guarded by Jordan, who had 36), he was being promoted on one
side of a full-page newspaper ad for the Feb. 8 All-Star Game.
On the opposite side of the page was the requisite picture of
Jordan, his tongue dangling like a royal flag.
"I said, 'Cool,'" Bryant says. "It was like they were making it
out to be some big one-on-one showdown."
Others were more concerned. "Wasn't Harold Miner supposed to
have been the next Michael Jordan?" asked New Jersey Nets
assistant coach Don Casey. Miner vanished from the league as if
he had been caught staring at the Lost Ark of the Covenant.
Grant Hill, exhibiting the wisdom of a Duke graduate, seemed to
turn away from comparisons with Jordan at the last moment, but
the unexplainable forces of the universe punished him
nonetheless by making him play for Jordan's former coach, Doug
Collins, the screaming Hydra.
It is because Bryant is so completely unaffected by fame that
the league and its network partner, NBC, felt they could safely
extol his virtues. In so doing, they almost turned him into the
anti-Jordan. Western Conference coach George Karl benched him in
the fourth quarter of the All-Star Game, and several of the
older players--but then they were all older, weren't they?--were
apparently fed up with everything Bryant stood for. Karl Malone
recalled trying to set a pick for him. "The guy told me he's got
it," the 34-year-old Malone said. "Like I told Coach Karl, when
younger guys tell me to get out of the way, that's a game I
don't need to be in. I was ticked."
"I still don't remember that play," Bryant says. "I probably did
it--I'm sure I did it--but there's nothing wrong with it. I was
just being aggressive. When somebody told me what he said, I
thought it was funny."
It was not meant to be funny. It was meant to lump Bryant in
with the prematurely rewarded nine-figure millionaires of his
generation. Malone's complaint is that the league's young stars
have walked into a vault of public goodwill and unmarked bills
that was unlocked for them by the older players, and they are
shortsightedly spending the principal when, really, they should
be content just to live off the interest. Their preposterous
salaries have given them a sense of power long before many of
them have even contended for championships. When Malone, the
league's reigning MVP, saw that he had been replaced on the
All-Star Game marquee by a 19-year-old who doesn't even start
for his club--well, you can't blame Malone for assuming the worst.
Bryant's second NBA season has been one long, inconclusive
argument. His play since All-Star weekend has seemed to confirm
suspicions that he is a creature of hype. In the 24 games
between Feb. 10 and March 25 he shot an anemic 37% from the
floor and averaged just 12.1 points, or 5.8 less than he had
during the first half of the season. Not the numbers of the next
Michael Jordan. Worse, Bryant admits that some of his teammates
have confronted him about being selfish on the court. Lakers
coach Del Harris has vowed to teach Bryant a lesson about the
"team game." Bryant "didn't learn it in high school, and he
didn't go to college, so he has to learn it here," says the
60-year-old Harris. "The only way he can learn it is by reduced
playing time until he accepts it." During one 10-game stretch
after the All-Star break, Harris cut Bryant's playing time by
almost seven minutes a game; by the end of the season the
chastened Bryant was back near his prebreak average of 26.7
minutes.
But the playoffs are here. The haggling is finished. Over the
last month the Lakers have been reinstalling Bryant into their
offense with the understanding that they can't go far in the
postseason without him. Harris worries, too, that they can't go
far with him. The young man is being asked to fulfill his
potential immediately. The Lakers need his creativity in the
half-court offense, and yet they haven't married themselves to
him for better or for worse, in good times and in bad. Will he
be the Bryant of the first half of this season, full of energy
and confidence, or the Bryant of the second half, who has been
fatigued and criticized? The Lakers are going to find out the
hard way, by running their engine at the highest temperatures
without the proper testing.
Someday, Magic Johnson firmly believes, Bryant is going to look
back on this season and realize that he is the only one who
remembers his struggles. "People forget," Johnson says, as if
speaking about himself.
The believers--Johnson, Jordan, Lakers center Shaquille
O'Neal--exhibit the same faith in Bryant that they have in
themselves. In him they see a self-made man, a prodigy who
taught himself the game by correspondence course. Perhaps no
player has ever made more use of his imagination. Compared with
the older stars, Bryant seems to have been raised far away in a
basketball convent. In truth he was.
Where is the incentive to improve if the money and the
praise--the full-page advertisements--are lavished on players
before they accomplish anything? Johnson looks at many young
stars as if they've inherited their wealth; when they actually
take over, he worries, the business he helped to build will fall
apart. He was especially distressed by the uninspired
performances by basketball players at the 1996 Olympics, in
which no money changed hands. "A lot of these guys are not
worthy and not deserving," he says. "They don't go out and do it
for their country. They want the money, but they don't want the
responsibility that comes with the money. Kobe is different. He
wants all of it."
In Johnson's day TV was just becoming infatuated with the NBA,
principally because of him and Larry Bird, and the new exposure
made the games seem larger and made the players richer and more
famous. That drove the league's profits ever higher, so that a
player today can enjoy the life of a champion without winning a
title. If Bryant is unique, it might be because he didn't see
the game as a way to improve his life. He was connected to the
circuit by his father, a former NBA player, and the things
Johnson did coursed through the little boy's mind like the blood
that pumped through the rest of him. At the same time, Kobe was
isolated and sheltered from the excesses of the superstar life.
His version of the American Dream differed fundamentally from
that of his current NBA peers. They believed in the jackpot.
Bryant grew up believing in the mythology.
"My wife and I used to prescreen movies before we'd let the kids
see them," says Joe Bryant, Kobe's father. "We used to push the
kids under the seat when the actors would start kissing." Joe
and his wife, Pam, were still editing Kobe's entertainment a
couple of years before he signed his three-year, $3.5 million
contract with the Lakers in 1996. He didn't see The Godfather,
his favorite movie, until last year. "It reminds me of my
family," Kobe says. "Not because of the violence, but because of
the way they all pulled for each other no matter what."
The Lakers were skeptical when the 17-year-old Bryant came
looking for a job a few weeks before the '96 NBA draft. The
league's successful high school prodigies--Moses Malone (who
began his career in the ABA), Darryl Dawkins, Kevin Garnett--had
been big men who were pushed ahead by financial and in some
cases academic imperatives. Bryant was different. He was 6'5",
which meant that, after playing basketball in the U.S. for less
than five years, he was asking teams to wager a first-round pick
on his chances of thriving at shooting guard or small forward,
arguably the most competitive positions in professional sports.
Second, with an SAT score of 1,080, Bryant could have entered
most U.S. universities on his academic talents alone, and third,
his family didn't need the money; his father had recently
completed a 16-year playing career in the NBA and Europe.
When Lakers general manager Jerry West asked Bryant to jump, he
might have thought he was watching a coiled spring release:
Bryant touched the top of the backboard square. West then put
him through a kind of obstacle course, pitting him against
Michael Cooper, the former Lakers defensive whiz who used to
guard Bird. Cooper bullied and shoved Bryant, trying to use his
strength and experience, but the youth moved like a fish under
water. West then introduced Bryant to Dontae' Jones, the star of
Mississippi State's 1996 Final Four team who was also working
out for the Lakers and would be drafted in the first round by
the New York Knicks. Both young men were starving for
opportunity. A ball was tossed between them, and everyone stood
back. Bryant devoured the moment smoothly, like a lion with
excellent table manners.
West turned to an aide and said with a buried giggle, "I've seen
enough. Let's go." West, who calls Bryant the best prospect he
has ever put through a workout, was so impressed that he
arranged to send the Lakers' starting center, Vlade Divac, to
the Charlotte Hornets for Bryant, whom the Hornets chose with
the 13th pick. Freed of Divac's salary, the Lakers then signed
O'Neal to a seven-year, $120 million contract, restoring the
team to title contention for the first time since Johnson's
better days.
The Lakers still aren't sure how Bryant made up so much ground
so fast. "Kobe is at least as mature as any player we have now,"
West says, "and you cannot discount his family's contribution to
that."
But how did a teenager learn the fundamentals so thoroughly
while spending the better part of eight years in relative
basketball isolation in Europe? The smartest general manager in
the game has no ready explanation. He finds himself saying, "You
watch Stevie Wonder and you marvel at how he and Ray Charles
have overcome handicaps, yet they are wonderfully talented and
gifted."
When Joe Bryant left La Salle in 1975 after his junior year to
turn professional, it was because his family needed the money.
"The rule back then was that you had to prove that you were in
financial hardship," he says. He was a 6'9" forward with a
guard's mentality, and he was chosen in the first round by the
Golden State Warriors. He held out for more money. The
Philadelphia 76ers traded for him, offering a reported $900,000
over five years, and that, he says, was that. "I was on the East
Coast, so they put me under the basket," he says. "That used to
be big, that East Coast-West Coast argument: If Magic had been
in New York, would he have had the same kind of freedom he had
in L.A.?"
Kobe was born a year after the 1977 NBA Finals, the premature
peak of his father's eight-year NBA career. (Joe was a defensive
specialist on the Sixers' second unit, behind Julius Erving and
George McGinnis, as Philadelphia was dissected in six games by
Bill Walton's Portland Trail Blazers.) Kobe, Joe says, "was
named after a Kobe steak house in King of Prussia, Pennsylvania.
But I don't know if I should say that, because they might want
the rights to his name."
In 1984, after Joe had finished his NBA career with the Houston
Rockets, he and Pam and their three children set off on a family
adventure with all kinds of unforeseen benefits. They moved to
Rieti, Italy, where Joe began his European playing career. For
eight years, during which he played for four teams, he moved his
family from one town to the next like an actor in the theater,
settling wherever he could find a production that had a role for
him. In the meantime his son was developing a romance with
basketball that he might never have experienced in America.
Six-year-old Kobe was enrolled in first grade in a school in
Rieti where his two sisters--Shaya, then seven, and Sharia,
eight--were entering the second and third grades, respectively.
Because they were just learning to speak Italian, they had to
work harder than other students. Perhaps had Kobe been a star
soccer player, he would have been treated as someone sacred, but
his talent for basketball carried no great weight. "In Italy
they told me, 'You're a great player over here, but when you get
over to America, it won't be like that,'" he recalls.
Basketball became his private hobby, and he had little choice
but to be humble about it. "After school I would be the only guy
on the basketball court, working on my moves, and then kids
would start showing up with their soccer ball," he says. "I
could hold them off if there were two or three of them, but when
they got to be 11 or 12, I had to give up the court. It was
either go home or be the goalkeeper."
By U.S. standards Kobe and his sisters enjoyed an unusually
well-rounded life: The streets were safe at all hours, and
children mixed easily with their parents in the bright cafe
bars. "In America, families break apart because the son has to
take a job in South Dakota," Joe Bryant says. "In Italy you'd
see whole families living in one big villa. That's what our kids
saw. We would go have a meal and end up sitting at the table,
eating and talking, for three or four hours."
The Italians were impassioned believers in their basketball
clubs, carrying team flags and scarves and wearing their team
colors. Fans would throw coins at visiting players, hop in place
together, chant in a single voice or sing in a bellow throughout
each game. Whether Joe was playing for Reggio di Calabria near
Sicily or Pistoia to the north--the sorts of small towns where
Italian basketball thrives--he was a cult figure, a
30-points-per-game scorer, the direct opposite of his role in
the NBA. "They used to sing songs for my father," Kobe says, and
in Italian he sings one: "You know the player who's better than
Magic or Jabbar? It's Joseph, Joseph Bryant!"
"If we upset one of the big teams in Italy, I didn't have to pay
for a meal for the rest of the week," Joe recalls, laughing.
"One year we upset somebody, and the town was like a festival.
So much passion."
During the week Joe would practice with his club twice a day, a
time-wasting European custom, but for the first time in his
working life he took his meals at home. His club would play
every Sunday and occasionally in midweek. On Saturday afternoons
he would take the family for walks into the mountains. On
Monday, his usual day off, Americans who were playing for other
Italian clubs would bring their families and meet in the nearest
big city--Florence, Rome, Venice--at McDonald's. Sharia and
Shaya remember making friends with the daughters of ex-Sixer
Harvey Catchings, Tauja and Tamika, who are now basketball stars
at Illinois and Tennessee, respectively. "I have pictures of
them walking through Venice with Kobe," Joe Bryant says.
On weekdays after school Joe would take Kobe to practice with
him, something he couldn't have done in the NBA. While the team
worked out, Kobe would shoot baskets in a corner, like a shadow
thrown by his father. Italian basketball cognoscenti still
remember Kobe shooting around during halftime and being shooed
off the court as his father's games were resuming. "The crowd
would be cheering me," Kobe says. "I loved it."
"Sure, we were in Italy, but he was around basketball all the
time, playing against older guys," Joe says. "He was always
wanting to play my teammates, and, you know, the older guys,
they would pretend that they were falling down."
"I used to set them up," Kobe says. "I'd say, 'Come on, you're
playing a little kid.' Then it would come to game point, and
they'd start getting serious, and I knew I had them. My father
would be on the sideline talking trash: 'You're gonna let a
little 10-year-old bust you up?'"
"I've never seen somebody who can see a move that another guy
does and learn it as quickly as he can," Robert Horry, a Lakers
forward, says of Kobe. "Usually it takes so long to get a move
down, to learn the footwork. Sometimes it takes all summer. But
he'll work on it, and two days later you'll see it in his game."
The videotapes used to arrive in Italy every couple of days,
like letters from home. Kobe's grandparents would tape the
biggest NBA games, as well as TV shows and movies, and Joe would
receive tapes of other games from a couple of NBA scouting
services to which he subscribed. In all he and Kobe watched the
Lakers about 40 times a year. Joe loved seeing the work of an
NBA guard his own size. "He comes into the league with all that
fancy stuff, and they call it Magic," Joe told reporters near
the end of his NBA career. "I've been doing it for years, and
they call it 'schoolyard.'"
In a closet in the house the Bryants still own near Philadelphia
is the little Lakers jacket that Kobe wore as a baby. Later he
graduated to a Lakers letter jacket with leather sleeves. In his
room in Italy was a life-sized poster of Magic Johnson. The
Lakers were based more than 6,000 miles away, but that only
deepened Kobe's appreciation of the way they played. Because the
games he saw were on videotape, he didn't see them just once. He
memorized them. "He would watch those games like they were a
movie, and he knew what the actors were going to say next," says
Shaya Bryant, now 20.
The play-by-play analyst for these games was Kobe's father. As
they watched tape together, Joe would predict where the ball was
headed and why, which made him seem like a wizard to his little
boy. Kobe would sit in front of the TV and study what a player
did with his shoulders, his feet, his head, as if that were the
whole point of watching, to decide how the man was balancing his
weight without betraying his intentions. "Genius at first is
little more than a great capacity for receiving discipline,"
wrote the English novelist George Eliot more than a century ago.
It may seem as if Kobe was analyzing basketball technique. But
as far as he knew, he was just getting to know his heroes.
After watching the tapes over and over, Kobe would go outside,
alone, and try to beat the world's best players at their own
game, more dependent on his imagination than any kid growing up
in America. As a result he gives credit for his fallaway jump
shot to Hakeem Olajuwon. "My baseline jumper, I got it from
Oscar Robertson," he says. "Oscar liked to use his size against
smaller players. That's what I try to do." From Earl (the Pearl)
Monroe he realized how to "shake one way, then go back the other
way." In Europe Kobe taught himself the fundamentals of
basketball. Not until he returned to Philadelphia as an
eighth-grader did he develop a crossover dribble and other
street moves. "I learned all my dribbling moves from God
Shammgod [at summer camps]," Bryant admits happily.
All he had needed, in retrospect, was the firsthand experience
of his father, access to videotapes and a basketball court free
of soccer players where he could do his homework. He could not
have developed in this way 20 years ago. There would have been
no videos in the mail. For the fundamentals he would have had to
go to college. If today he plays with a sense of joy, a
sincerity, then he learned it from watching Magic Johnson and
from hearing the passion of the Italian crowds who sang for his
father. "I was like a computer," Bryant says. "I retrieved
information to benefit my game." He could have been raised just
as successfully in Australia, Iceland, South Africa--just so
long as he remained within reach of his father's occasional
loose elbow, which kept him from daydreaming too deeply.
"I didn't beat him one-on-one until I was 16," Kobe says. "He
was real physical with me. When I was 14 or 15 he started
cheating. He'd elbow me in the mouth, rip my lip open. Then my
mother would walk out on the court, and the elbows would stop."
In November 1991, Joe and Pam were awakened by one of those
dreadful 2 a.m. phone calls. Pam's parents wanted them to hear
the shocking news from somebody they trusted. Magic Johnson had
just retired from basketball after learning he was HIV positive.
Pam and Joe talked it over, and in the morning, without
mentioning Johnson's prognosis, they told their 13-year-old son
that his idol had been forced into retirement.
They were living in Mulhouse, France, at the time. The boy was
crying, and it took all the father's strength not to cry along
with him as they took their 45-minute trip across the Swiss
border to the international school the children attended.
"I was sad because Kobe was sad," Sharia says. "I never imagined
feeling that way about somebody I'd never met. It hurt him as if
it was a family member. For a week he was missing meals. It was
really, really hard for him."
The Mulhouse club, for which Joe was playing, was shaky
financially, and it was also time for the Bryant children to
prepare themselves for college in the U.S., so the family moved
back home a few weeks later. Kobe turned out to be a much better
player than his Italian friends had thought. He launched himself
into the American system without hesitation, joining the famed
Sonny Hill summer league in Philadelphia. There a counselor
scolded him for listing "NBA" as his future career on his
application. "The guy said NBA players are one in a million,"
Bryant recalls. "I said, 'Man, look, I'm going to be that one in
a million.' You see Magic, Michael--they made it. What's
different about them? The whole thing kind of pissed me off."
No doubt Bryant was lured away from Duke, Michigan and North
Carolina--his three college choices--by the prospect of a
millionaire's contract, but the powers of his imagination should
not be ignored. Jordan and Johnson were back in the NBA, and in
Bryant's mind's eye, they were waving him onto the court. "I
wanted to get in the league and play against those guys," he says.
"See, the kids in America, they don't do the work that Kobe
did," Johnson says. "That's a problem with the young people now.
They don't have the fundamentals."
Johnson, now 38 and a Lakers vice president, says he learned
about Bryant's special feeling for him "because of his family
telling me some things after he joined the Lakers. I also knew
because he was always calling here at the office, telling me,
'Let's work out,' or, 'Where are you working out?'"
A lot is made of Bryant's similarity to Jordan. He jumps like
Jordan. ("Like Julius, too," his father adds.) He slashes and
creates his own shots, much like Jordan (and Julius), and when
he needs the extra moment to aim his jump shot, he can hang
there, bent forward slightly, as if his shoulder blades have
become little wings.
Every now and then, though less often recently, the Lakers turn
the Bryant-Jordan comparison around. "Sometimes you say Michael
could do things Kobe does," Lakers guard Jon Barry says, "and
sometimes it's unanimous that he couldn't."
Sometimes Bryant even sounds like Jordan, answering an
interviewer's question the way Jordan would. "That's a
by-product of him studying those tapes," says Joe Carbone,
Bryant's personal trainer.
Yes, Bryant has a personal trainer, just like Mike. "I just have
so much energy," Bryant says. On a game day, early in the
morning, he is usually in the gym with Carbone, lifting weights
and stretching before meeting his teammates for the shootaround.
Some nights he will call Carbone and arrange to meet him at a
gym even though the Lakers practiced that afternoon. This
summer, regardless of how far the Lakers go in the playoffs,
Bryant plans to work out at least five hours a day, half of the
time in the weight room, the other half on the basketball floor.
"That's when I'm going to pick up my game another five notches,"
he says.
"It's going to be hard for him to do, because he's not going to
get in a lot of quality games over the summer," warns Harris.
"What he has to work on is his team game."
Wasn't this the same thing Jordan heard the first seven years of
his career? Until June 1991, when he escorted Magic's Lakers out
of the NBA Finals, the mantra Jordan heard was that he would
never be considered as great a player as Johnson or Bird until
he won a championship and proved he could elevate the play of
his teammates.
Jordan was stubborn about it. He was the league's top scorer for
four consecutive seasons without taking Chicago to the Finals.
During the Bulls' five subsequent NBA title runs, he has
continued to lead from the front. Bryant's circumstances in Los
Angeles are different. By no means is the team built around him,
the sixth man; in fact, he says some of his teammates have
complained to him that he should be less aggressive on offense.
"If you watch Jordan, you'll see he's not looking for the
spectacular play anymore," Harris says. "His highlight films are
of him kissing the trophy."
Jordan, meanwhile, has been giving his protege the opposite
advice, as he did after the All-Star Game. "We were talking,
waiting to go into the room for interviews," Bryant says.
"Michael said, 'It's important for you to stay aggressive. You
just have to continue to be aggressive.'"
O'Neal has been offering Bryant similar advice. "When you look
at the NBA champions, most of them had a one-two punch," says
O'Neal, imagining himself and Bryant as that combination.
This debate--should Bryant be more aggressive or more of a team
player?--is going to define his career. He is the Lakers' best
one-on-one player, and his ability to create his own shot, as
well as dish off to his teammates, will be crucial to the team's
success in the playoffs. Bryant is under the most intense
scrutiny, knowing that he will receive a large part of the blame
if the Lakers lose. He will have to trust his instincts if he is
to become the great player who leads his teammates to a title.
"I've been fighting the people around me this year, as far as
them questioning my shot selection and how I should adjust to
them," he says. He has adjusted somewhat. In a recent road game
against the Toronto Raptors he could be seen looking first for
the open man, receiving the ball in different positions and
passing when he could--things often asked of less gifted
players. But he also will have to be stubborn. If he continues
to develop his vision, as Johnson believes he will, the Lakers
will have to adapt to his strengths, on his terms.
Johnson predicts that Bryant will learn to read the game, to let
it flow through him as if he were part of the circuit. "It's
going to take him two more years," Johnson says. He has been of
this opinion since the conference semifinals last May, when he
watched the Lakers' postseason end in Game 5 against the Utah
Jazz with four Bryant air balls--one on the final shot of
regulation, three more in the disastrous overtime. It was as if
Johnson were looking at himself on the TV screen. Twice in his
first five years he was blamed for playoff elimination: in the
first round against Houston and in the Finals against the
Celtics. Each time Johnson recovered to win a championship the
following year.
Last May, on the first morning of the Lakers' off-season, a few
hours after the team's plane had returned from Utah, Johnson was
in the gym at UCLA when who walked in but the 18-year-old
himself. "That was just like me," Johnson says. "I loved seeing
that from him. That's how I reacted, too. This is where he needs
to be."
So it's settled, then. If the rest of us are forever trying to
balance our feminine and masculine sides, the great basketball
players are trying to bring their Michael side into balance with
their Magic side. The Magic side is the one Bryant must develop.
It's certainly there inside him, circulating through him like
something passed down by his father. It's the kind of
personality trait that can develop only in certain environments.
It wouldn't have grown on the East Coast in Joe Bryant's day, it
probably wouldn't blossom in Chicago now, and it certainly
wasn't going to bloom on the courts of Italy or Lower Merion
High, which Bryant led to the Class AAAA Pennsylvania state
championship two years ago.
"It could only have happened in L.A. for Magic," Joe Bryant
says. "When Kobe was heading out to L.A., I was telling people,
'Look, what Kobe is living is a dream, and hopefully he is going
to a place that still believes in dreams.' That's what L.A. is.
You go around there, and everyone's searching for that big movie
deal or trying to become a star. Then you look at Magic."
"I'm a positive person," Johnson says when you ask him about his
health. He has been so aggressive and optimistic in his
treatment that doctors can no longer find traces of HIV in his
blood (which is not to say that the virus has disappeared).
"Kobe's a positive person, too," he continues. "It's like God
blessed that trade so that Kobe could come out here and be
around a guy who can help him by sitting and watching him every
night. I'm going to take care of him, but I'm also going to
criticize him when he has to be criticized. Like the other
night, when he went out and shot five or six or seven times and
wasn't even warmed up. Those are the kinds of things he's going
to have to learn if he's going to be what he wants to be, and
that's the best ever."
So does a happy ending settle with the evening sun in Los
Angeles? In his room overlooking the Pacific, Kobe lies on his
bed and watches a videotape of the Lakers, as he has always
done. But now, instead of studying Magic, he watches himself. He
imagined his future so deeply that he made it come true. Now he
studies how he is doing, asks whether he should have rotated
defensively or passed to the open man, and sometimes he looks
into the corner of the picture, at the big man sitting courtside
in the rich suit, at the amazing sight of Magic Johnson watching
him play.
Bryant knows that after this game ended, he returned backstage
to the very locker that Magic used to occupy like a king on his
throne. The Lakers say locker assignments are made by chance,
but perhaps an astrologer would argue differently.
When Kobe comes out of his bedroom, it's as if nothing has
changed. His parents are still living with him, by his choice;
he is still only 19, after all. In fact, apart from the view of
the ocean and the expensive fixtures, this might be any one of
the places they rented in Italy. He didn't even have to leave
home to make his dream come true.
"And if he keeps on growing?" Magic says, because Kobe is now
6'6", an inch taller than he was a year ago. "If he grows to be
as tall as Joe?" That will mean he's as tall as Magic. "Then
it's just over," Magic says. "Oh, my goodness."