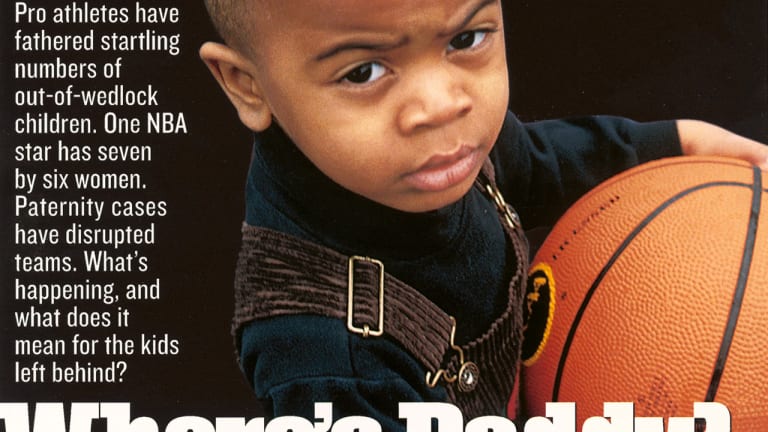 Paternity Ward
Fathering out-of-wedlock kids has become commonplace among athletes, many of whom seem oblivious to the legal, financial and emotional consequences
You would have thought it was a prom date, the way Larry Johnson
choreographed his arrival at the Long Beach (Calif.) Genetics
clinic last Nov. 7. At 9:20 a.m., hours before he was to take
the floor for the New York Knicks against the Los Angeles
Lakers, Johnson pulled up to the curb in a black stretch
limousine. Dressed in his blue Knicks practice shorts, he
stepped out of the car and slowly walked to the building, where
six people were waiting for him: Laura Tate, a 28-year-old
aspiring model from Los Angeles who had conducted a 15-month
affair with Johnson; Tate's father, Dennis; her lawyer; two lab
workers; and a three-month-old girl named Taylor Tate Johnson,
who was resting quietly in Laura's lap, oblivious to the awkward
situation around her.
In an examination room, one of the lab technicians prepared to
draw the blood that would prove whether Johnson was Taylor's
father. The burly forward appeared at ease. "Come on in here,"
he said sarcastically, motioning to everyone out in the hallway.
"We need a crowd."
Johnson laughed, but months earlier he had gone to great pains
to avoid precisely this situation. According to Tate, after
Johnson learned of her pregnancy in December 1996, he called her
as many as four times a day, pleading for her to have an
abortion. Tate says that she also received a phone call on Dec.
19 of that year from Portland Trail Blazers guard Stacey Augmon,
a buddy and former UNLV teammate of Johnson's, who knew Tate
through another mutual friend. In an affidavit filed as part of
a civil suit against Johnson and Augmon, Tate alleged that
Augmon said, "My boy Larry called and told me to take care of
this." According to Tate's affidavit, Augmon went on to say that
if she kept the baby, "I put this on my two sons' lives, I will
get you." (Through his lawyer, Augmon denied that he had
threatened Tate; he is scheduled to appear in Los Angeles County
Superior Court on Aug. 31 to respond to her charges of
intentional infliction of emotional distress.) Tate, who says
she feared for her safety, began taping all her phone
conversations and moved three times. "I've done my very best so
no one can find me," she says. "I just kind of dropped off the
face of the earth."
In the paternity case, the legal endgame moved uncommonly fast.
Tate had given birth to her daughter last Aug. 2. The blood test
that Johnson took in Long Beach showed that he was the child's
father, and on Nov. 17, a Los Angeles County Superior Court
judge ordered Johnson to pay $8,850 per month in child support
in addition to $30,000 a year for a nanny.
For Johnson, who has had two children with his wife of three
years, Celeste, the California episode was only the latest of
his expensive sexual misadventures. On Oct. 4, 1993, Angela
Jeffress, a former flight attendant living in Baltimore, gave
birth to a daughter, Gabrielle Tyler Johnson. DNA testing
determined that the child was Johnson's. The day after Gabrielle
was born, Johnson signed what was then the richest contract in
NBA history, a 12-year, $84 million deal with the Charlotte
Hornets. Jeffress says that didn't keep her and Gabrielle from
living on welfare for nine months, though during that time
Johnson made various support offers, including one of $4,000 per
month that Jeffress rejected. Finally in August 1995, a
Baltimore County circuit court judge awarded Jeffress a monthly
support order of $4,000.
According to documents obtained by SI, Johnson is supporting
five children by four women, including the two children he has
with his wife. But his penchant for unplanned fatherhood hardly
makes him unique. Consider this NBA All-Paternity team of
players who have had children out of wedlock and have
subsequently been the subject of paternity-related lawsuits:
Larry Bird, Patrick Ewing, Juwan Howard, Shawn Kemp, Jason Kidd,
Stephon Marbury, Hakeem Olajuwon, Gary Payton, Scottie Pippen
and Isiah Thomas. Many other NBA players who have never been the
subject of litigation are also supporting out-of-wedlock
children, including Kenny Anderson, Allen Iverson and Latrell
Sprewell, who had three children by three women before he turned
21.
Although there have been no studies on athletes and their
out-of-wedlock kids, those who are familiar with the issue say
the numbers are staggering. "I'd say that there might be more
kids out of wedlock than there are players in the NBA,"
estimates one of the league's top agents, who says he spends
more time dealing with paternity claims than he does negotiating
contracts.
Len Elmore, an ESPN broadcaster and former NBA player, worked as an agent but says he quit in part because of a "lack of responsibility" among his clients. "For numbers, I would guess that one [out-of-wedlock child] for every player is a good ballpark figure," says Elmore. "For every player with none, there's a guy with two or three."
Paternity suits are by no means the exclusive preserve of the
NBA, nor are they unique to this generation. Athletes from Gary
Sheffield to Andre Rison, Juan Gonzalez to Alonzo Spellman, Mark
Messier to Oscar De La Hoya, Roscoe Tanner to Pete Rose, Steve
Garvey to Jim Palmer were all subjected to paternity suits and
paid support for children born out of wedlock. Furthermore, the
reports that make the sports pages with increasing frequency
these days represent only "the tip of the iceberg," according to
Gloria Allred, a prominent Los Angeles family-law attorney who
has represented dozens of mothers in paternity suits against
athletes. Allred estimates that 90% of athlete-related paternity
cases are settled quietly, before they become a matter of public
record. That assertion was echoed to SI by at least 10 other
lawyers who have worked on paternity cases involving athletes.
It could be argued that the spate of out-of-wedlock births among
athletes simply reflects a societal epidemic. According to a
1995 survey by the National Center for Health Statistics, 32% of
U.S. children are born to unmarried mothers, compared with 18%
in 1980. "The issue of family structure in our society goes far
beyond sports, and it is unfair and inaccurate to discuss it in
a way that stereotypes, stigmatizes or singles out athletes,"
says Lem Burnham, the NFL's vice president of player programs.
But the many cases involving athletes raise a number of
substantive questions. Does the distraction of unplanned
fatherhood and paternity suits affect an athlete's performance?
Do the temptations of a professional athlete's lifestyle
encourage irresponsible behavior? Do some women target athletes
in the hope of bearing their children and then enjoying
lucrative child support? How should courts determine the level
of child support when a father earns millions and a mother
subsists on welfare? How does a child deal with having a father
whom he hardly knows and rarely sees except on television? Given
the well-known dangers of unprotected sex, why are athletes so
reckless in their behavior?
It is an inescapable truth: Professional athletes have a lot of
sexual opportunities, and probably always have. Tales about Babe
Ruth's escapades came long before the outrageous boastings of
Wilt Chamberlain or the laments of Magic Johnson. And the flip
attitude toward unplanned fatherhood is hardly a new phenomenon
in the sports world. Consider this quote from boxer Max Baer
after losing the heavyweight championship to James J. Braddock
in 1935: "Well, he's got a wife and children. Maybe I got
children too, out over the country, only I don't know it."
Some experts contend that sports' competitive environment
encourages athletes to try to prove their masculinity through
sexual conquests. "In the world of sports, physical and sexual
prowess play a big role," says Elijah Anderson, a sociology
professor at Penn who specializes in urban culture. "The
physical emphasis, the independence, the doing of battle with
other men all underscore the male identity and dominance."
The consequences of this mentality can affect athletes and their
teams. Take the case of Cleveland Cavaliers forward Kemp, who is
not married but who, at 28, has fathered seven children,
according to Gerald Phillips, an attorney who represented him in
a paternity suit filed by Charlotte Osuna, the mother of Kemp's
two-year-old daughter, Dominique. (Osuna says that Kemp told her
that five other women have also borne his children.) A source
with the Seattle SuperSonics told SI that Kemp's well-publicized
meltdown while playing for Seattle last year resulted primarily
from the increasing pressures of paternity and child-support
obligations, not a drinking problem, as was reported at the
time. In the season's final two months, Kemp missed or was late
to practice five times, including three times in a seven-day
stretch in April. It was then, Osuna says, that
paternity-related issues weighed heavily on Kemp. "It was, like,
every other day somebody was delivering a total bomb to him,"
she says. Kemp averaged 21.3 points and 11.0 rebounds a game
before the All-Star break, but 15.1 points and 8.5 rebounds
after it. The Sonics, who had hoped to return to the NBA Finals,
lost in the second round of the playoffs to the Houston Rockets.
During a press conference shortly before the playoffs last year,
Kemp denied charges of alcoholism and blamed his erratic
behavior on unspecified "personal problems." He did not mention
his out-of-wedlock children. "It wasn't alcohol. It was the cost
of being a father to a bunch of kids," the Sonics source says.
"There's no doubt it was on his mind last year. It definitely
became a drag on him, his game and eventually the whole team. He
found out it was going to be real expensive being a
multimillionaire NBA star with kids around the country."
Kemp apparently was also upset because he was unable to spend
time with some of his children. "For [his last] two years [in
Seattle] he had a really bad problem," according to Osuna, who
says that she and Kemp are still friends, though they're no
longer romantically involved. "I know it takes two to tango, but
he met some bad women. [Shawn told me that] they said, 'Marry
me, or you don't see your kid, and I will cause hell in your
life.' He told them, 'Listen, I pay you all child support. I
want to see my children.'" Kemp declined to comment for this
story.
Kemp's considerable child-support obligations were among the
financial stresses that precipitated his demand to be traded,
according to the Seattle source. Having already borrowed $2.1
million from the Sonics in 1994, Kemp complained last season
that his $3.7 million-a-year salary made him only the team's
sixth-highest-paid player. Under the terms of the collective
bargaining agreement, Seattle was unable to rework Kemp's deal,
but after he was traded, the Cavaliers immediately renegotiated
his contract for $107 million over seven years, an average of
$15.3 million a year.
Running back Dave Meggett of the New England Patriots is another
high-profile athlete whose team became entangled in his
paternity obligations. Last fall Meggett, who had fathered four
out-of-wedlock children by three women, was sued for prenatal
support by a fourth woman, April Estabrook, a 21-year-old dental
assistant from Jupiter, Fla. After Meggett failed to respond to
her support suit (he did not dispute paternity but did claim
that he had never been served with the papers), Estabrook went
to court seeking a default judgment against him. Because Meggett
was scheduled to be in Florida for a Dec. 7 game against the
Jaguars in Jacksonville, the court granted Estabrook a writ of
ne exeat (literally, a "no exit" order) against Meggett, which
would have prevented him from leaving the state until he posted
a $25,000 bond. After being served with the writ in the
Patriots' hotel before the game, Meggett provided the money for
the bond, and is negotiating terms of child support with
Estabrook, according to a lawyer familiar with the case.
(Meggett declined comment.)
Don Lowery, the Patriots' vice president of public and community
relations, was assigned by the team to work with Meggett on the
matter. "We didn't want to get involved in this, but this was
one of our key players, who had the potential of not playing
because he could be arrested," said Lowery. "It was a
distraction for the organization, no question about that."
Paternity can be an expensive proposition. In several states the
baseline amount for a man who is proved to have fathered a child
is roughly 20% of his income as support until the child turns
18. Considerations such as time spent with the child and the
income of the mother are factored into a complex equation and
can slightly reduce or increase the award.
High-wage earners such as athletes present courts with a
dilemma: Should judges follow the 20% guideline, which would
mean a windfall to mothers and children? Or should support
payments cover only the basic needs of the children, depriving
the youngsters of their dads' standard of living? Many judges
have compromised by limiting support--sometimes at $10,000 per
month per child--regardless of the father's income, a decision
that has sparked debate among family-law attorneys.
That figure may move lower in light of a recent decision by the
Florida State Supreme Court. In a unanimous ruling on Jan. 29,
the court upheld the $5,000 monthly support payments of Phoenix
Suns forward Dennis Scott (who earns $3 million a year), less
than half the $10,011 sought by the child's mother. The court
also ordered that $3,000 of the money each month go directly
into a trust fund for the child. In so doing, the court
established the precedent that at least in Florida, courts
should primarily consider how much is needed to raise a child,
not how much a parent can pay.
"Child support is not intended as a vehicle to enable kids to
maintain the lifestyle of their father," says Katherine Kinser,
a Dallas family lawyer whose clientele includes athletes. "It's
intended to reflect the needs of the child, and it's pretty hard
to figure out how a one-year-old needs more than $1,200 or
$1,500 a month to live on."
Martha Fineman, a professor who specializes in family law at
Columbia Law School, says the issue is more complicated than
that. "When you talk about investment in a child, it's not just
buying the Pampers--it's all the things that go into producing
an adult who's a functioning and productive member of society,"
she says. "You can analogize it to what happens to wives in
divorce suits. Should we just look at that amount of support it
will take to keep them off of the welfare rolls? Or are they
entitled to share in the accumulated wealth?"
This tension was evident in court battles involving Sonics guard
Payton and Washington Wizards forward Howard. In 1992, after
Kimberly Sparks of Chicago gave birth to Gary Payton Jr. (not to
be confused with Gary Payton II, who was born to Payton's future
wife, Monique, four months later), Sparks sought 20% of Payton's
income in child support. Had Sparks succeeded, her son initially
would have received $35,000 per month, and support payments
would have risen to $208,333 a month in 1996, when Payton signed
a seven-year, $87.5 million contract. Realizing that such an
award would be rejected out of hand by a judge, Sparks moderated
her demand, and Payton agreed to contribute $5,550 a month in
child support, establish a $175,000 college trust fund and
purchase a $1 million life insurance policy naming the child as
beneficiary.
Howard's case represents the opposite end of the spectrum. In
August 1996 he offered to pay $700 a month to Markita Robinson
of Detroit after it was determined that he was the father of
their son, MarTez D'Shon Robinson. Having just signed a
seven-year, $105 million contract, Howard was volunteering to
contribute about a nickel for every $100 he earned (excluding
endorsements). After rejecting the offer, Robinson, who was
intermittently on welfare from the time of the child's birth in
February 1992 until December 1995, filed a suit seeking more
than $11,000 per month that claimed, "Mr. Howard's initial
response...was that the birth was [my] choice and therefore he
should not have to pay child support." Howard and Robinson
settled out of court and refuse to discuss terms of the
agreement.
Occasionally players go to comic extremes to avoid paying
support. Glen Schwartz, a Los Angeles family-law attorney,
recalls the time he represented a woman seeking child support
from a player then with the San Diego Chargers. When Schwartz
obtained a court order for a blood test, a player arrived at the
lab, where he was fingerprinted and photographed, had blood
drawn and was asked to sign his name. But after the player left
the lab and climbed into his car, the car didn't pull away.
Instead, after five minutes, the player and another like-sized
athlete stepped out of the vehicle and returned to the building.
"Basically, the defendant had his teammate take the test, and
the teammate came back to the car and said, 'Holy s---, they
took my picture, they took my fingerprint. We got busted!'" Adds
Schwartz, "Now that player is paying a lot of support every
month."
Child-support orders are a sore subject for the athletes hit
with them, not only because they mandate large payments but also
because the athletes can't control how the money is spent by the
mother who receives it. "They'll say, 'I don't mind paying for
my kids, but I don't want to pay for her too,'" says Schwartz,
who specializes in paternity litigation, representing plaintiffs
and defendants. "Also, sometimes the woman has had a kid with
another father, so the athlete says, 'Why am I going to be
supporting another child that's not mine?' Which, at $10,000 a
month, he's going to be doing. The law recognizes that
possibility and essentially says, Too bad."
That doesn't sit well with athletes, especially when the
children are products of one-night stands and the moms--virtual
strangers--are collecting five-figure monthly checks. "If the
court system is going to make an athlete pay a substantial
amount of money, there should be a contract for women that they
can't just take the money and spend it on whatever they want,"
says a San Francisco 49ers player who has one out-of-wedlock
son. "You have to take care of the kid, but with the money
that's left over, the women could buy another car or have more
kids."
Phillips, one of Kemp's attorneys in the Osuna case, suggests
that this happened to his client. "She thought she hit the
jackpot when she discovered the pregnancy," says Phillips. "She
quit her job [as a law-office manager] immediately and went
after Shawn." Phillips estimates that based on Osuna's
deposition and her checking-account records, the child received
only $3,000 of the first $70,000 Osuna received in support. Says
Phillips, "She spent the money on gifts for her family, rent,
health clubs and an automobile."
Not so, says Osuna. She says she still lives with her parents in
Newport Beach, Calif., drives a 10-year-old Honda CRX and quit
work because her pregnancy was difficult. "There's no big living
going on here," says Osuna, who gets $5,000 a month from Kemp.
Still, Phillips's suspicions are hardly unique. Mention
paternity suits to athletes, and the word setup inevitably
enters the conversation. "Wherever there's money, there are
going to be women," says veteran Sonics guard Nate McMillan, who
has no out-of-wedlock children but has friends who do. "You find
some women who might be a little lazy and don't want to work,
and they're cute and have an opportunity to be with some of
these players. They're using the kids to take advantage of a
situation. If you don't go in as a couple and plan a family,
then in a sense I think it's a setup."
"I don't condone players who have had affairs, but the fact is,
there are women who hunt pro athletes in the hope of becoming
pregnant and filing paternity suits to make an income," says Pat
Richie, the chaplain for the San Francisco Giants and 49ers.
"I'd say that teams probably have two or three women per year
who are purposely looking for this."
Certainly there have been false charges made against athletes.
Former NBA All-Star Jeff Malone was the victim of a baseless
paternity suit filed by a former college lover. Although genetic
tests had proved he was not the father of the child, Malone says
that on four or five occasions he saw the woman at his games,
telling the child to wave at him. Eventually he submitted to a
second round of tests to further disprove paternity and says he
enlisted NBA security to prevent the woman from harassing him.
"When she came up with the story, there was a big article, but
when word got back that it wasn't my child, there was a tiny
article," says Malone. "Mostly I felt bad for the kid."
Former NHL forward Mike Peluso, also the victim of a groundless
suit, was less sympathetic. After not one but two blood tests
determined that he had not fathered the son of a Chicago woman,
Erica Schulz, Peluso mounted a counterattack. Enraged that
Schulz had persuaded a judge to demand that he take the second
test, Peluso filed a suit seeking reimbursement for his legal
expenses. A Cook County Circuit Court judge ruled in Peluso's
favor, awarding him $4,620 in damages.
To others, the suggestion that women are sirens who lure
athletes into impregnating them is absurd. How can athletes feel
victimized when they made the decision to have unprotected sex?
"It's a two-way street," says Elmore. "The women may be
scheming, they may be an attractive nuisance, but a major part
of the problem is the irresponsibility of athletes."
Among Elmore's former clients is Greg Minor, a reserve swingman
for the Boston Celtics who is a standard-bearer for
irresponsible fatherhood. Between May 1996 and July '97,
according to court records, Minor assaulted Celeste Rowan, his
ex-girlfriend; questioned whether he was indeed the father of
their three children when his support of them was increased by a
court; and finally ceased contact with them. "It breaks my
heart," says Rowan, whose children are now five, four and two
years old. "When I first got pregnant, I told him about how my
father was never there. He talked about how his father was never
around, and he said he would always be there."
After Minor signed a five-year, $12.5 million contract with the
Celtics last spring, a Jefferson County (Ky.) Family Court judge
raised his monthly support payments from the $2,000 that had
been ordered in 1995 to $30,000. Minor responded by appealing
the decision and demanding genetic testing to determine whether
he was the children's father. "That had never even been an issue
before," says Rowan. "Greg was there at the hospital when two of
the three kids were born, and he used to show them off to his
friends and his mom. Only when he had to pay his fair share was
he saying he might not be the dad." Although DNA tests
established that Minor was the father, the family court reviewed
the order in November and found the $30,000 a month to be
excessive and reduced Minor's payments to $7,860, more than half
of which goes into a trust fund.
Minor, who declined to be interviewed for this story, agreed to
undergo counseling in exchange for avoiding a trial on Rowan's
assault charge in 1996. A progress report from a counselor at
Emerge, a clinic in Cambridge, Mass., last Aug. 28 offered this
observation: "Mr. Minor comes across as an extremely immature
person with a history of many short-lived but overlapping
relationships with women." In another report, dated Jan. 27,
1998, a counselor at Emerge wrote, "At one point, Mr. Minor said
that he was not calling his children because Ms. Rowan was
seeking to increase the amount of child support that he pays....
At other times, Mr. Minor has said he had 'too many other things
going on.'"
What could account for such behavior?
"Today's athletes just don't care," says Elmore. "They're hung
up on instant gratification. There's no view of the impact that
present-day decisions have on the future. There's almost a
perverse pride to it, like, Hey, that's my kid."
Why is it that although there are no studies to confirm this and
the NBA refuses to comment, pro basketball appears hardest hit
by paternity problems? If the number of paternity suits reported
in newspapers is an indication, more NBA players--even though
there are fewer of them than players in other leagues--have been
implicated than athletes in any other sport. Among the possible
reasons:
--Road trips. More free time on the road equals more potential
for trouble. NBA players have five times as many road games as
their NFL counterparts and far more free time on trips than do
major league baseball players. Whereas baseball teams get in
three games in three nights on the road, NBA teams will often
arrive in town and cool their heels for 36 hours before a game.
--Money. The NBA's average salary ($2.2 million) is higher than
that of any other sport, a fact that is surely not lost on the
women whom athletes say are setting them up.
--Visibility. NBA teams carry only 12 players, and these
players, most of whom are extremely tall, don't have their faces
hidden by helmets, hats or sunglasses, all of which makes them
easier to spot. "When you get in the big leagues, people see
that you have money, you're famous, they read about you," says
14-year NBA veteran Michael Cage, now of the New Jersey Nets.
"You become an important person, and the stakes get higher. It's
human nature to be attracted to people who can do things you
can't and have things that you don't."
A much thornier issue is race. It's no secret that the NBA has a
higher proportion of black players (80%) than football (67%) or
baseball (17%). Nor is it news that out-of-wedlock births are a
persistent problem in the African-American community. According
to the most recent study by the National Center for Health
Statistics, 70% of black children nationwide are born to
unmarried mothers, compared with 21% for whites and 41% for
Hispanics. Yet it would be simplistic, at best, to end the
discussion there. "A lot of people are ready to see it that way,
but it's much more complicated than that," says sociology
professor Anderson, who is black. "Class and socioeconomics play
the big roles. In middle-class situations people engage in sex
just as much, but there's a different sense of future. I think
if people in the underclass felt like their future would be
derailed by the pregnancy, they would be more circumspect."
Richard Lapchick of Northeastern's Center for the Study of Sport
in Society doubts that sports are different from other
high-paying professions. "My guess is that if FORTUNE looked at
CEOs and another magazine looked at the entertainment industry,
you'd see similar numbers," he says. "I think the common
denominator is high-income earners." Also, Lapchick worries
about viewing such an important issue in racial terms. "The
public is wont to paint athletes with a broad brush every time
an individual is involved," says Lapchick, "and especially when
you talk about basketball and football, you're talking about
black athletes. You have the effect of reinforcing stereotypes."
High-profile white athletes have certainly had their share of
paternity cases. Larry Bird is an out-of-wedlock father who has
not sought a close relationship with his child. In 1975, after
enrolling at Indiana State, Bird married his high school
sweetheart, Janet Condra. They divorced on Oct. 31, 1976, but on
Aug. 14, 1977, Janet gave birth to a daughter, Corrie. Initially
Bird denied he was the father and rejected Janet's request for
$40 a week in support. But he admitted paternity after a blood
test and, before his rookie season with the Celtics, in 1979,
agreed to set up an account from which monthly support checks
could be drawn until Corrie turned 18.
Now a 20-year-old junior at Indiana State majoring in elementary
education, Corrie is unmistakably her father's daughter, from
her aquiline nose to her penetrating eyes to her sandy blonde
hair. With prodding, she even confesses to having a reliable
outside shot. But what she doesn't have, and what she has wanted
for two decades, she says, is a relationship with Bird that goes
beyond physical resemblance and financial support. "When I was
younger, I would send him letters, and my mom would send him my
school pictures and report cards," she says. "We would send them
certified mail to make sure he received them, but he just didn't
respond."
When Bird took the Pacers' coaching job last spring and moved
just an hour from his daughter's apartment, Corrie was
optimistic that their relationship would improve. "I went to see
the Pacers play earlier this season, and I went down to talk to
Dinah [Bird's wife of eight years] and see their kids. [He]
looked over and saw me holding [Bird's daughter, five-year-old]
Mariah, but he just kind of smiled awkwardly. I didn't get to
talk to him, though."
Corrie grew up with the ability to separate Larry Bird the
basketball player from Larry Bird the absent father. Her bedroom
was a shrine to Bird, its walls covered with clippings, posters
and Celtics memorabilia. (Even now, Corrie's black Ford bears a
newly attached Pacers license-plate bracket.) When Corrie made
the basketball team at Northview High in Brazil, Ind., her
choice of uniform number 33 was an easy one. "It sounds corny,
but it kind of made me feel closer to him when I played," she
says. "I put one of his old high school jerseys in my gym bag as
a good-luck charm."
Overlooking the high school graduation that Bird did not attend
and all the times he was playing golf in Terre Haute but never
made the 20-minute drive to see her, Corrie holds out hope of an
ongoing relationship with her dad. "I've never gotten so mad
that I haven't wanted to see him," she says.
Bird declined comment for this story. But on April 17 he visited
with Corrie for the first time since taking over the Pacers.
Dinah left a pair of tickets for Corrie and a friend to attend
the Pacers' last home game of the regular season, and after the
game Bird talked with Corrie. "I was really happy to go to the
game," says Corrie. "Dad seemed interested in what I had to say.
He walked me to my car, and he hugged me. I hope I can see more
of him now."
Another striking example of a detached father is Hall of Fame
pitcher Jim Palmer. In 1986 Palmer's former live-in girlfriend,
Paula Heath, gave birth in Los Angeles to a daughter; blood and
DNA tests later established that Palmer was the father. Although
Palmer has abided by a court-ordered support payment
schedule--making monthly payments of $1,250--a lawyer familiar
with the case says that Palmer has never seen or attempted to
contact his daughter. Palmer declined to comment.
Although Larry Johnson's daughter Gabrielle has seen her dad on
television and in the movie Space Jam, she has met him only
three times, most recently on Jan. 2, 1997, when the Knicks were
in Washington to play the Bullets and Johnson left tickets for
her and Jeffress. After New York's 92-80 win, Jeffress and her
daughter stood by an exit tunnel outside U.S. Air Arena, where
fans had gathered to seek players' autographs. "He saw her for
about 15 minutes," says Jeffress. "I felt really bad for
Gabrielle. With all the people there, she didn't get much direct
attention from him at all."
Jeffress says Johnson's indifference was confusing to the child,
because Gabrielle's previous meeting with her dad--an overnight
stay at his house in Dallas in June 1996--went so well. That
visit, Jeffress says, had come at Johnson's request. He picked
up Jeffress and Gabrielle at the airport in a customized sport
utility vehicle equipped with a TV and VCR. He even cued up a
tape of The Lion King. "She talked about that for the longest
time, that she watched The Lion King in her daddy's car," says
Jeffress. "He never attempted to see her after that."
Not all athletes with out-of-wedlock kids display such apparent
indifference. Kimberly Sparks, for instance, says that although
Payton was absent during her difficult pregnancy, he is now a
"model father" to Gary Jr. The son attended Payton's wedding
last summer and has spent considerable time with his half
brother, Gary II. (Payton declined to be interviewed.)
Similarly, Osuna asserts that Kemp, despite his manifold
paternal obligations, is "an exceptional dad" to Dominique. "He
loves her, he sees her, he takes care of her," Osuna says. "He
makes a valiant effort to try to see his children."
Regardless of athletes' varying levels of emotional involvement
with their out-of-wedlock children, they point out, rightly,
that they are anything but deadbeat dads. Once paternity has
been established, athletes are among the most reliable at paying
support. They are easy for a court to locate, as are their
employers. They are fearful of bad publicity. And, not least,
they can afford the support orders. In some cases, however, even
a player earning millions can fail to meet his obligations. In
1995 slugger Kevin Mitchell, now with the Oakland Athletics, was
making $4.5 million a year. The next year he declared
bankruptcy, in part because he was supporting four children by
four women.
Athletes' out-of-wedlock kids can end up in poverty if their
fathers are cut or retire before the children turn 18. "Often,
you need to tell these women to bank as much money as they can
because it's going to be a very short payday," says Schwartz,
the California paternity lawyer. "I'm handling a case involving
an NBA player who had been making more than $2 million a year
and this year wasn't picked up. The mother was getting more than
$5,000 a month, and suddenly we're talking about $1,000 to
$1,500. That's only because, through good management, he still
has some money. Some of these guys will be pumping gas, if
they're lucky."
That may be unlikely for a star like Kemp. But for a player like
Minor, who averaged five points a game this season, lifelong
wealth is by no means guaranteed. "Our biggest fear is what
happens when his contract runs out," says Maury Kommor, who
represents Rowan. "We hope Greg Minor has a great career,
because those payments are going to go way down once he starts
playing in the CBA or Europe."
Of course, athletes wouldn't be fending off so many paternity
suits if they practiced safe sex. They can't claim ignorance:
"We get enough information from the league that it's crazy for
guys to have unprotected sex," says McMillan. Before every
season the NBA, NFL, NHL and Major League Baseball conduct
rookie-orientation programs designed to help players deal with
the occupational hazards of being an athlete. Topics include
making sound investments, working with the media and dealing
with women. Seminars stress that athletes can easily protect
themselves in sexual situations. At the NFL's rookie orientation
last June, instructors gave each player a banana, with which to
practice putting on a condom. Later, two HIV-positive former NFL
groupies told how they seduced players. "That hit home big
time," says 49ers backup quarterback Jim Druckenmiller. "[They]
wanted to let everyone know that girls out there will take a
chance to get pregnant. They'll do anything, sometimes, to get
some money out of you."
In addition to stressing safe sex during their rookie
orientation, 15 NFL teams participate in an initiative sponsored
by the U.S. Department of Child Services that promotes
involvement by fathers in their kids' lives. Athletes from all
sports would be well served to remember the words of the
public-service announcement featuring various members of the
Detroit Lions: "Whether you're married, divorced or single,
fatherhood is forever."
COLOR PHOTO: DONNA FERRATO COVER Where's Daddy? Special Report Pro athletes have fathered startling numbers of out-of-wedlock children. One NBA star has seven by six women Paternity cases have disrupted teams. What's happening, and what does it mean for the kids left behind? Khalid Minor, son of Celtics guard Greg
MinorCOLOR ILLUSTRATION: ILLUSTRATION BY TIM O'BRIEN [Drawing of baby falling through basketball hoop]COLOR PHOTO: JOHN W. MCDONOUGH Larry JohnsonCOLOR PHOTO: JOHN IACONO Dave MeggettCOLOR PHOTO: DAVID LIAM KYLE Shawn KempCOLOR PHOTO: RICHARD MACKSON Oscar De La HoyaCOLOR PHOTO: ELSA HASH/ALLSPORT Mark MessierCOLOR PHOTO: JOHN W. MCDONOUGH Jason Kidd COLOR PHOTO: JOHN BIEVER Alonzo SpellmanCOLOR PHOTO: JOHN BIEVER Stephon MarburyCOLOR PHOTO: JOHN IACONO Juan GonzalezCOLOR PHOTO: JOHN W. MCDONOUGH Hakeem OlajuwonCOLOR PHOTO: DONNA FERRATO (2) Corrie BirdCOLOR PHOTO: DONNA FERRATO (2) Gary Payton Jr. (with his mom) [Gary Payton Jr. and Kimberly Sparks]COLOR PHOTO: DONNA FERRATO Test results establishing Minor as the father of three. [Framed photographs and blood test results]
"One [out-of-wedlock child] for every player is a good ballpark
figure. For every player with none, there's a guy with two or
three."
It's an inescapable truth: Professional athletes have a lot of
sexual opportunities, and they probably always have.
One top NBA agent says he spends more time on paternity claims
than on contract negotiations.
It's estimated that 90% of athlete-related paternity cases are
settled quietly, before they become a matter of public record.