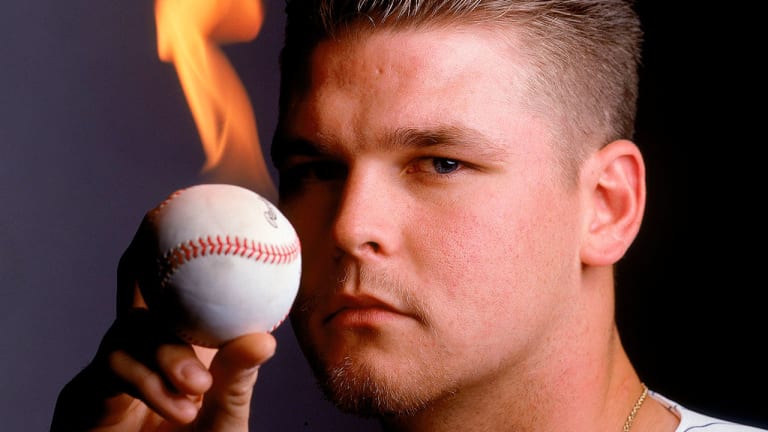 Flame Thrower
The Cubs' Kerry Wood, who's only 20, used a searing heater and sharp breaking balls to strike out 20 Astros in perhaps the most dominant pitching performance in baseball history
Next time, Tom Bujnowski will know better. On May 6, Bujnowski, a 37-year-old middle school gym teacher from Prospect Heights, Ill., took his seat in the leftfield bleachers at Wrigley Field armed with a handful of placards with the letter K on them. He planned to hang one on a nearby railing whenever Kerry Wood, the Chicago Cubs rookie pitcher, fanned a Houston Astros batter. Problem was, Bujnowski had only 16 signs with him, which left him scrambling in the top of the eighth inning, after Wood mowed down Dave Clark with a nasty slider. "Fortunately I was in the bleachers," says Bujnowski, "so it wasn't hard to recruit guys to let me paint the last four K's on their bare chests. I knew Kerry Wood was a power pitcher, but how many people could have predicted a show like that?"
Not many. Especially after Wood began the game by throwing a fastball to Astros leadoff man Craig Biggio that sailed over the head of catcher Sandy Martinez and nailed home plate umpire Jerry Meals in the mask. But after that Nuke LaLoosh pitch, Wood was pure Wonderboy. Complementing hellacious fastballs with curves and sliders that changed speed and direction like the El circling the Loop, Wood pitched a masterful game. The story line read like a play on an old tongue twister: Kerry Wood would chuck strikes, and confounded Astros would carry wood back to the dugout.
Wood started at full throttle, striking out the first five batters he faced. Through three innings he had surrendered only a dubious infield hit to Ricky Gutierrez that nicked the glove of Chicago third baseman Kevin Orie. By the time actor Joe Mantegna led a cacophonous rendition of Take Me Out to the Ball Game in the middle of the seventh inning, Wood had 15 punch-outs. "It felt like a game of catch out there," Wood, a soft-spoken Texan, would say afterward. "It was one of those games where everything you throw was crossing the plate. I was focused, though, so I had no idea how many guys I was striking out."
By the ninth inning the bruise-colored sky, which had been leaking rain since the sixth, really opened up, only adding to the game's surreal quality. One half-expected Glenn Close to stand up and make eye contact with the young star, the way she did in The Natural. Meanwhile, 15,758 fans were on their feet, cheering raucously in the downpour. The first man Wood faced in the ninth, pinch hitter Billy Spiers, went down swinging. The next batter, Biggio, grounded meekly to shortstop. Finally, Derek Bell waved helplessly at a third strike. The Cubs won 2–0, and the Wood carving was complete.
The 20-year-old righthander pumped his fist—his lone emotional gesture all day—and walked off the mound and into history. Never mind that his 20 strikeouts tied the major league record for a nine-inning game and set the National League and rookie marks. The line on the first complete game the 6'5", 225-pound Wood had thrown since his senior year of high school was even more impressive than his strikeout total suggested: nine innings, one (questionable) hit, one hit batsman, no walks, no runs, 122 pitches, 84 strikes. Holy cow indeed.
Yet even the box score failed to convey how commanding Wood's performance, in only his fifth big league start, was. It didn't reveal that, of the eight balls the Astros put in play, only two were hit out of the infield. Or that the heart of the Houston order—Jeff Bagwell, Jack Howell and Moises Alou—barely made contact (Howell hit two foul balls and Bagwell one) while striking out nine times in nine at bats. Or that the only other big league pitcher to have matched his age in strikeouts was 17-year-old Bob Feller in 1936. "I've seen pitchers dominate games before," says Cubs shortstop Jeff Blauser, who played behind some decent arms during his nine seasons with the Atlanta Braves. "I've seen Greg Maddux throw complete-game shutouts in under two hours. But as far as a pitcher just being overpowering, Kerry's game has to rank way up there. He throws heat, but his curveball is so good that you see guys' knees buckling on balls that break over the outside corner."
"There's no one in the National League who has a better arm," says Cubs manager Jim Riggleman, a 24-year baseball man. "That game was one for the memory banks. The best I've ever seen pitched by anybody."
Was it the best ever? After all, it wasn't a perfect game or even a no-hitter. Just two seasons ago another tall, burly righty from Texas, Roger Clemens, also struck out 20 batters in a game. That other tall Texan, Nolan Ryan, had seven career no-hitters. But as a thorough search of the record books bears out (chart, page 50), there has been no pitching performance more dominating than Wood's. Several factors distinguish his masterpiece.
The opposition: Often, the best-pitched high-strikeout games have victimized the weakest teams. Clemens's last 20-strikeout game was against the 1996 Detroit Tigers, a god-awful club whose batters set a major league record for strikeouts in a season. By contrast, going into the game against the Cubs on May 6, the Astros had the fourth-highest batting average in the National League and hadn't been shut out this season.
The weather: In the late innings, when the soaked mound had the footing of a hockey rink, Wood was still on his game. He fanned eight of the last nine batters he faced, most of them with devastating breaking balls that were difficult to grip in the rain.
Guile: Though his cheese twice broke the 100-mph barrier, Wood's curveball left the more indelible impression. "It was just unbelievable the way they were swinging and missing," says Martinez. "I've never seen balls break like that."
Wood, with a head more level than the Texas prairie, survived a postgame siege by the media (after which he described his condition as "pressed out") and left the historical assessment to the grown-ups. Still a month shy of being able to celebrate his success on Rush Street, he grabbed dinner at a Bennigan's and had a "normal, boring night" at his downtown apartment, throwing a Matchbox 20 CD on his stereo and watching the Chicago Bulls and Charlotte Hornets playoff game with his teammate Terry Adams. "I had to take my phone off the hook because my mom and dad were calling me so much," he said. The next morning he got a congratulatory call from his idol, Clemens, who had watched the game at his hotel in Anaheim. "The whole thing has just been wild," says Wood.
Perhaps so, but this magnum opus wasn't wholly unexpected. The Cubs, who took Wood with the fourth pick of the 1995 draft, always believed he had a golden arm. Wrigley Field locker room attendants claim that since Wood was called up from Triple A Iowa in April, he has received as much fan mail as the Cubs' two heretofore most popular players, Sammy Sosa and Mark Grace. "He's the genuine article," says Grace. "You don't want to put too much pressure on the kid, but people ought to come from miles around to see Kerry pitch."
Wood did nothing to diminish the fanfare in his next outing. On Monday night against the Arizona Diamondbacks—the most prolific whiffers in the majors—he struck out 13 in seven innings while improving his record to 4–2. His two-game total of 33 K's was a major league record, breaking the mark of 32 held by a pretty fair trio: Ryan, Dwight Gooden and Randy Johnson.
Before his 20-strikeout game against the Astros, Wood was already turning heads—those of opposing hitters. "He's something special," said St. Louis Cardinals strongman Mark McGwire after going 0 for 3 against Wood on May 1, striking out twice and popping up a 100-mph heater. "You hear about the fastball and you're kind of prepared for that, but you don't appreciate his curveball until you see it. My first at bat, he threw me one, and I was like, Whoa ... O.K."
Wood comes by his curveball honestly. His father, Garry, a quality-control operator for a printing company, taught Kerry and his older brother, Donny, the grip five years ago during one of their countless games of catch in the backyard. A few days later Kerry was throwing the pitch in high school games. Call it a steep learning curve. "Anything baseball related, Kerry picks up real fast," says Garry. "I think at about age five Kerry knew he wanted to be a big leaguer."
Kerry also seems to have that healthy bit of badass that most top pitchers have. Twice this season batters who have asked the home plate umpire to check the ball have been plunked by Wood's subsequent pitch. You think there's something on the ball? Here, get a close-up look. "What I like is that he's got a quiet little mean streak in him," says Blauser.
By the time Wood was a senior at Grand Prairie (Texas) High, there were enough speed guns in the stands to monitor traffic on I-45. "It was normal for 40 scouts to be at his games," says Mike McGilvray, who coached Wood at Grand Prairie. "Luckily, he's always been a mature kid who handles pressure real well." After Wood finished his senior year 14–0, with an 0.77 ERA and 159 strikeouts in 81 innings, he was tapped by the Cubs and rewarded with a $1.265 million signing bonus. The weekend after the draft, in a state playoff series, Wood threw a 146-pitch two-hitter to win the opener of a doubleheader. Then, on 30 minutes' rest, he came back to pitch the nightcap, a 16-4 victory that he cemented by belting a grand slam.
Knowing that for every Roger Clemens to come out of the Lone Star State there are a dozen David Clydes, the Cubs took their time promoting Wood. Even though he averaged nearly 1 1/2 strikeouts per inning in Triple A last year, he didn't make Chicago's Opening Day roster. "When a young player has that kind of talent, there's always the temptation to rush things," says general manager Ed Lynch of the Cubs, a franchise that hasn't had a pitcher strike out 200 batters in a season since Ferguson Jenkins in 1971. "Even now, we're a little nervous that we brought him along too quickly. But I think he gained a lot from spending three years in our system and working on his control."
In the minors Wood also developed his habit of talking to his mom, Terry, an insurance underwriter, before each start. The superstitious Kerry still hasn't quite forgiven Terry for neglecting to call him before his third major league start, against the Los Angeles Dodgers on April 24. He didn't make it through the second inning, surrendering seven runs, all of them earned, including a grand slam by catcher Mike Piazza. Before last week's game Terry called Kerry at 7:30 in the morning to wish him well. "I think I woke him up," she says. "At least he can't say I didn't call."
Terry and Garry will attend a handful of Kerry's games this season, and they'll watch the rest on satellite TV, the way they saw last week's game. "If he struggles, he struggles early, so after the first inning I felt confident," says Garry. "After that, we were hollering and having a great time. The only problem is, now we're getting 50 to 60 calls a day, and I know Kerry's getting more than we are. He just wishes he could play baseball and leave it at that."
A Texas-sized slab of fame has descended on Wood's broad shoulders, and it seems to have settled there permanently. The folks in Cooperstown called requesting a ball from his 20-whiff game and the hat he wore. He immediately rejected an invitation from Jay Leno to appear on the Tonight show, which was taping in Chicago last week. For a day, anyway, he loomed larger in the Windy City than a certain Bulls shooting guard.
"People are making such a big deal out of this, but I'm just a normal kid who lives to play baseball," Wood says. "I can handle it, but the next time I pitch at Wrigley, I'm sure there will be a lot more fans."
No doubt. Tom Bujnowski plans to be one of them. Only this time, he vows to bring five additional K signs with him.