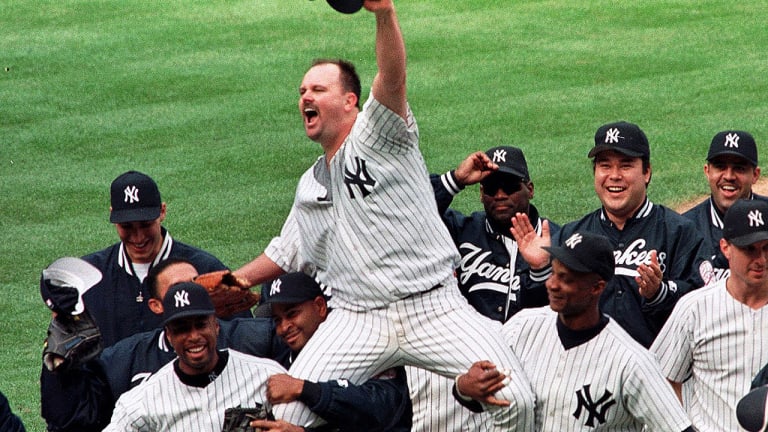 Perfection Firing
With a wicked fastball and a snapping curve, the Yankees' David Wells retired 27 straight Twins to complete only the 13th perfect game this century
Spend a few nanoseconds around the New York Yankees' hefty lefty, David Wells, and it is abundantly clear that he is a man who embraces convention as lustily as Germans embrace Scientology. In the Yankees' cathedral-like clubhouse, a place that almost demands a respectful silence, Wells blasts AC/DC, Metallica and Styx from his stereo. He counts among his friends various Hell's Angels and Mark Fuhrman, who visited Wells in the Yankees locker room in Seattle in April '97. Never mind his pierced ear and the tattoos of his late mother, Eugenia Ann (Attitude Annie) Wells, and his son, Brandon, that adorn Wells's chest and shoulder, respectively. While his colleagues boast bulging veins on their arms and washboards for stomachs, Wells looks as if he just climbed out of the cab of an 18-wheeler. "It's just the way I am," he says, scratching his hairline, which is climbing into the hinterland of his head. "A little different, I guess."
It's no surprise, then, that Wells breaks with tradition on the field as well. One of baseball's time-honored superstitions is that while pitchers are throwing no-hit games, they must be isolated from their teammates between innings, lest they be jinxed by talk about the game. Yet there was Wells on Sunday, midway through a flawless game against the Minnesota Twins, dying to make conversation with someone, anyone, in the dugout. "I just wanted to talk so it would ease my mind a little bit, but no one would come near me," he said later. Finally pitcher David Cone, another bona fide eccentric, engaged him. "Coney comes over to me before the eighth inning and says, 'Guess it's time to break out your knuckleball,'" Wells said. Though he handily retired the side in the eighth, he threw no knucklers. Cone was waiting for him. "He said, 'You showed me nothing out there, you wimp,'" Wells said. "That was all anyone said to me."
An inning later, after Wells completed only the 13th perfect game in this century, he was no longer entombed in silence. As he spoke with reporters who surrounded his locker, he was interrupted by a call from the Boss, Yankees owner George Steinbrenner, with whom he nearly came to blows last year. Next came a call from New York City mayor Rudy Giuliani, who invited Wells to city hall to give him a key to the city. (Wells jokingly replied, "Do you think that's a good idea?") After that Wells fielded a congratulatory call from Don Larsen, who had pitched the only other perfect game in Yankees history, against the Brooklyn Dodgers in the 1956 World Series. In one of those Twilight Zone coincidences that seem to occur only in baseball, the two men confirmed that they had graduated from the same high school, Point Loma in San Diego, Larsen in 1947 and Wells in 1982.
Wells devours Yankees history—particularly the chapters pertaining to Babe Ruth—with the same vigor as he does pregame meals. So he was in awe of his own accomplishment, one of the rarest feats in all of sports. "To pitch a perfect game wearing pinstripes at Yankee Stadium, it's unbelievable," Wells said. "Growing up a Yankee fan, to come out here and make history, it really is a dream come true."
Relying on a blistering fastball and a curve that snapped like a yo-yo on a string, Wells was in total command on the mound, striking out 11 of the 27 Twins he faced. Nevertheless, his bid for perfection was awash in drama. "The fans were going crazy, which was great, but I kind of wanted them to calm down because they were making me nervous," Wells said. "By the end I could barely grip the ball, my hand was shaking so much." Wells got behind in the count on eight of the last nine batters he faced, including Paul Molitor, a member of the 3,000-hit club, who took a strike on a 3-and-1 count before he went down swinging. Wells's biggest scare, though, came in the eighth inning when Ron Coomer's opposite-field smash grounder nearly eluded the glove of Yankees second baseman Chuck Knoblauch. After knocking the ball down, Knoblauch recovered and threw out Coomer by a healthy margin.
"I think we were all getting a little tight out there," Knoblauch said. "You have to want the ball to be hit to you in that situation, but you want a nice, easy one-hopper, not a screamer you have to backhand."
In the ninth inning, as the late-afternoon sun threw shadows on the outfield walls, Wells continued his mastery, inducing a lazy fly ball from Jon Shave and striking out Javier Valentin. Then the Boomer, as he's known, took a deep breath and threw a fastball to Pat Meares that landed safely in the glove of rightfielder Paul O'Neill. Wells clutched his catcher, Jorge Posada, and screamed, "This is great!" As though the moment needed any more emotion, the stadium was suddenly filled with the blaring sound of Frank Sinatra's New York, New York, which always accompanies the end of a Yankees game but was more poignant just three days after Sinatra's death.
Then the 245-pound Wells was hoisted onto the shoulders of teammates Darryl Strawberry, Willie Banks and Bernie Williams and carried off the field. (Should any of them go on the DL in the near future, we'll know why.) "He had everything working today and was just terrific," said manager Joe Torre, who grew up in Brooklyn and claims he was in the bleachers for Larsen's perfect game. "The Boomer can pitch, there was never any doubt about that. But this couldn't have come at a better time for him."
Nor for baseball. In a week when a beleaguered sport was further mocked and pocked by the Florida Marlins' clearance sale, Wells's achievement was a timely tonic for the common fan. Here, after all, is a player who spent last Friday morning as a guest on Howard Stern's radio show, a self-proclaimed "blue-collar kind of guy" who is so fond of amber-colored potation that some Yankees fans drape drawings of beer steins, instead of K placards, over the stadium railing as Wells strikes out opposing hitters. Just two starts ago, after failing to get out of the third inning despite a 9-0 lead against the Texas Rangers, the emotional Wells talked about retiring. "I think the fans really like his, uh, rough edges," Torre said on Sunday. Nevertheless, he criticized Wells after the Texas game, saying the pitcher's extra pounds made him less effective.
Yet for all that's endearing about Wells's persona and physique, he is an athlete, one who is capable of dunking a basketball or throwing a football 70 yards. Though he earned a measure of opprobrium for a bout with gout (gout!) in spring training last season not long after breaking his pitching hand in a bar fight, he has pitched well in New York. Steinbrenner's baseball acumen may have been ridiculed in the final Seinfeld episode last week, but the Boss deserves credit for signing Wells to a three-year, $13.5 million deal. After Sunday, Wells was 5-1 this season—and 21-11 as a Yankee—and had retired 37 straight batters, four short of the major league mark set by the San Francisco Giants' Jim Barr in '72.
Fittingly, Wells's tour de force earned him a spot in one of baseball's most eclectic pantheons (chart). The list of players who have thrown perfect games runs the gamut from Cy Young and Sandy Koufax, who were burnishing their Hall of Fame resumes, to the likes of Mike Witt (who had a 117-116 lifetime record), Len Barker (74-76) and Charlie Robertson (49-80), who simply snagged lightning in a bottle. In all likelihood, history will place Wells, who through Sunday was 111-86 in 11 seasons and who turned 35 this week, somewhere in the middle.
That doesn't really matter. Consider it another of baseball's better qualities: Whatever a player's flaws might be, for one glorious afternoon he can be simply perfect.