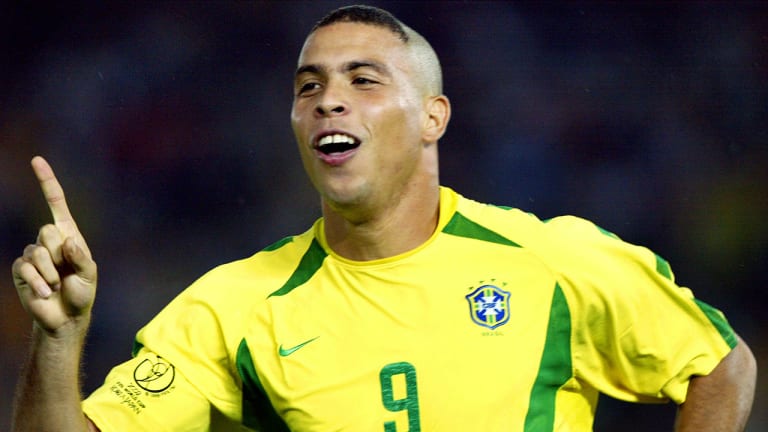 Joy to the World
No one else plays soccer with the infectious glee of Ronaldo, the nonpareil striker who aims to lead Brazil to its unprecedented fifth World Cup title.
Brazil is famous for large steaks and small bikinis and the national motto, Never put off until tomorrow what can be put off until next week. Call the Brazilian soccer federation in May, and you are put on hold to jaunty Christmas carols before being disconnected. If it seems that Brazilians are having more fun than the rest of us, there's a simple explanation: They are.
So it is only natural that the word alegria would be ubiquitous in Brazilians' vocabulary. "It is," says an interpreter for Ronaldo, the 21-year-old Brazilian who is the finest soccer player on earth, "a kind of 'exuberant joy.'"
"When I'm on the field, training or playing, it is alegria, pure alegria," says Ronaldo, resplendent in a blazer and tie in his agent's office in Milan, where he plays professionally for the Italian club Inter. Alegria exhibits itself on the practice pitch when Ronaldo declines to head the ball during header drills, preferring instead to stop it with his chest, then juggle it with his feet. "Brazilians don't like to head the ball," explains an observer at the Inter training ground, "because you can't hog the ball with your head."
But then Inter didn't commit as much as $110 million to Ronaldo over 10 years, through 2007, so that he might pass the ball. "The only thing the coach expects of me is to score," says Ronaldo. "The way I score doesn't matter. As long as I keep my scoring numbers high, they let me do what I like to do."
So he scores, serially and spectacularly, for his club and for his country. In Italy teammates fall to their knees when Ronaldo gets a goal and buff his right boot with imaginary shoeshine rags. It's an act that he notices only later, while basking in the glow of televised highlights. "That particular moment is difficult to describe," Ronaldo says of the instant following a goal. "Because you are...you are out of this world. You can't hear anyone. You don't see anyone. You are blind, you are deaf, you just want to run and scream."
You have achieved, in a word, alegria. Arjen Tamsma, a Dutch employee of Nike who has moved to Milan to be Ronaldo's minder in Italy, sums up his charge in a single sentence. "He is happy," says Tamsma, "like a kid with a ball."
Ronaldo Luiz Nazario de Lima is, in every sense, the biggest name in his sport. Twice in the last two years a panel of more than 100 national-team managers, polled by FIFA, soccer's world governing body, has named him World Player of the Year. It's a title with few rivals in the international arena: pope, for sure; president of the U.S., perhaps.
Ronaldo replica shirts are sold on Las Ramblas in Barcelona and on Copacabana Beach in Rio. He grins bucktoothed from the covers of three Chinese magazines on newsstands in Beijing. When former England star Sir Bobby Charlton recently said of Ronaldo, "He's the best player in the world without question, and I think he'll prove it in the World Cup," he did so on a talk show in Tokyo. Before an exhibition match in Saudi Arabia last December, every member of the Brazilian team shaved his head, hoping to throw Middle Eastern media and fans off Ronaldo's scent.
No man can aspire to live a normal life under such circumstances. "And in Italy this is more difficult because of the pressure, the way the entire country feels soccer, lives soccer—much more than anywhere else," says Ronaldo, whose navy-blue blazer bears the Inter crest, as does his club tie, which is now unknotted. Seated at a burnished conference table in the offices of Branchini Associati, he looks like a prep schooler at the end of a long day.
When Ronaldo appeared in cyberspace in January to promote a Rome-based United Nations food bank, the server took six million hits in 30 minutes, then crashed. Ronaldo does something similar, taking six million hits in 90 minutes of play, whenever he takes the field in Italy's Serie A, the most diabolically defensive-minded league in soccer. The difference: He seldom crashes.
On the night of Oct. 12, 1996, Ronaldo, who had recently turned 20, was playing for Spanish giant Barcelona in a match at Santiago de Compostela. He had just retrieved the ball in his own half, 55 yards from the opposition goal, when he was tripped from behind by a Compostela defender, who then grabbed the back of Ronaldo's jersey and hung on for several yards, as if water-skiing on grass. Shaking himself free with the vigor of a wet dog, Ronaldo slalomed through four other defenders before finally losing the ball behind him in the penalty area. Whereupon he wheeled around and blasted the ball past the keeper in one unfathomable motion. By the time the ball was in the net Ronaldo was on his can, the shot having forced him backward like the recoil on a rifle.
In those 12 seconds all his goods were on display: Ronaldo is faster with a ball at his feet than most defenders are sprinting after him. At 6 feet and 175 pounds, he's large by soccer standards, well-muscled and nearly impossible to knock off the ball. Most strikingly, he throws out electricity like a downed power line.
Of the manifold double takes captured that evening on Spanish television, the best belonged to Ronaldo's coach at the time, white-haired Bobby Robson. When Ronaldo scored, Robson, the two-time World Cup manager of alegria-impaired England, shot off his own bench as if an ejection seat had been detonated beneath him. He first turned to the Compostela crowd, enlisting them as witnesses. (The opposing fans were giving Ronaldo a raucous standing ovation.) He then turned back to the field. "Oh, my god!" the cameras caught him muttering to nobody. He looked shocked in the clinical sense, a victim of trauma. "Un-believable." His mouth was a circle, a rictus of disbelief.
Further analysis of such skills is superfluous. "A divine gift," Ronaldo's father, Nelio, has called his son's rare abilities, and Ronaldo is content to leave it at that. Asked the source of his outrageous talents, he says, "Mainly, it is God."
The Son of God, his arms extended from his sides, stands rigid watch over Rio from His place atop Corcovado, the statue's pose mimicked by Ronaldo in Rio-wide billboards for Pirelli tires. The youngest of three siblings, he was raised in Bento Ribeiro, a Rio suburb that is very poor by U.S. standards, modestly so by Brazilian. His house was without windows or doors. Which is not to say it was without an exit.
Nelio receives poor reviews, having been variously described as "a Rio drug addict" (The Times of London), "an alcoholic" (the Washington Times) and "a cartographer with the state telephone company" who separated from his family (Ronaldo's official bio in press kits put out by Nike, which he represents). Ronaldo still sees his father and doesn't care to pile on. The son wishes to stress that his childhood was a happy one. "I was never a child of the streets," he says, "but my family was very poor."
At 13, around the time of his mother Sonia's divorce from Nelio, he wanted to play for Rio's most popular club, Flamengo, but the team refused to pay the fare for his 45-minute crosstown bus ride to practices. Whoops! By 15, Ronaldo was playing for Cruzeiro, a first-division professional team in the city of Belo Horizonte, for which he scored 58 goals in 60 games.
Before his 17th birthday he moved to Europe and the Dutch club PSV Eindhoven. In the Netherlands, Ronaldo would score 55 goals in 56 games over two seasons, learn Dutch in twice-weekly lessons from a minister and, in 1996, be sold to F.C. Barcelona for a then world-record transfer fee of $20 million. He led the Spanish league with 34 goals in his single spectacular season in Catalonia, and last summer he was sold to Inter for a world-record $30 million. He finished the 1997-98 season as the second-leading scorer in Serie A, with 25 goals in 32 matches, even though he was sometimes sextuple-teamed.
The rewards of all this are handsome. In addition to having received a reported $14 million signing bonus from Inter, Ronaldo gets $5 million a year from the club and has a contract with Nike worth another $15 million over 10 years. When he became engaged to Brazilian model Susana Werner--the marriage was rumored to be on for this August and is now rumored to be off—he could reasonably speculate that the pope might say his wedding Mass.
Ronaldo drives a silver Ferrari. In Barcelona he had a house overlooking the Bay of Casteldefells, which reminded him of Rio's Guanabara Bay. In Milan only one thing reminds him of Rio. "The traffic," he says. Italy has no traffic laws, or none that are observed, which is just as well, because Ronaldo has no place he can reasonably go in Milan. He spends a lot of time at home, playing on the computer and reading his notices each week in the Dutch, Spanish and Brazilian press.
A cell phone bleats, and Ronaldo is summoned from the room. His agent, Giovanni Branchini, is asked if his client is always so relaxed. "If you don't do like that, you get overwhelmed by everything," says Branchini. "It is sad sometimes. You have a bad day—yesterday was a bad day, nothing went right with his club, with himself, with the other results—but if you are a sportsman, you know that this is your life. You have to go on and think of the next game, the next possibility to forget such a day. I think football stars learn this quite early, and by themselves. Otherwise, they could not survive such pressure."
The previous day's match—second-place Inter at sixth-place Parma—had been among the worst of Ronaldo's professional career. Late in the second half Ronaldo took a penalty shot. The goalkeeper, Gianluigi Buffon, deflected the ball and, though it was still in play, left the goal and leaped onto the cyclone fence separating Parma's rabid supporters from the field. He hung there like Spiderman, shaking the fence and stirring the crowd as the ball moved to the other end of the pitch, where Parma scored. Minutes later, the final whistle sounded on Inter's 1-0 loss, and Buffon ripped off his jersey, revealing a red Superman S on his T-shirt.
Parma's Argentine forward, Hernan Crespo, was invited afterward to disparage Ronaldo, but he responded by enunciating very clearly while eyeing reporters' notebooks: "He is still the best player in the world." Nevertheless, Ronaldo was lampooned on national television that evening. A Milan cabbie passed a cemetery, pointed to the gravestones and said, "Ronaldo!"
So it goes. When Ronaldo was enduring a six-match goal drought with Inter in December and January, team owner Massimo Moratti said, "Do I think Ronaldo is in crisis? It definitely seems so to me, and perhaps it would be a good idea if he understood this and got it into his head."
A few weeks later Ronaldo scored all four Inter goals in key back-to-back victories, and Inter manager Gigi Simoni said unequivocally, "Ronaldo has proved he's the best player in the world."
"I Love America," says Ronaldo, and for one simple reason: America doesn't love him. Little more than a year ago he walked the streets of New York City unrecognized, shedding fame as if it were a feckless defender. "Then," he sighs and says, "I made a mistake."
Ronaldo turned at random down a midtown Manhattan street. "The one street," he says, "with all Brazilians." All alegria broke loose on that block of West 46th Street known as Little Brazil. "The Brazilians, they were all going crazy," he says, a smile curling at the corner flags of his mouth. "The Americans, they didn't understand what was going on."
It's ever thus with Americans and soccer. Last October, when the Chicago Bulls played exhibition games in Paris, a Spanish journalist asked Michael Jordan if he knew who Ronaldo was. "I don't know," Jordan said dismissively.
"He's the best soccer player in the world," the man replied, his face falling like a flesh souffle.
"Sorry," sniffed Jordan. "I do know Pele."
The exchange drew horse laughter from some 500 members of the European press and amused Ronaldo in Italy, where he told interviewers that he was a fan of Jordan's and even owned a Jordan highlights video. "Sometimes when I watch and I see what he does," said Ronaldo, "I cry."
Brazilians don't do nuance. They have the ugliest slums, loveliest beaches, slowest switchboards and fastest Formula I drivers in the world. Carnaval is the wildest party of all time, caipirinha the strongest drink in Christendom, tanga the skimpiest swimwear that the law--of nations, of gravity--allows. Brazilians are exhibitionists with their emotions as well. So Jordan makes them sob, and soccer is "the beautiful game," and national squad manager, Mario Zagallo, simply could not help himself when he said last December, "The team will realize my dreams and win the World Cup in France."
You can't stop alegria, nor even hope to contain it. This makes Brazilians the worst diplomats in international sport. When asked to handicap the World Cup, the president of Brazil, Fernando Henrique Cardoso, said, "Obviously, we're going to win."
Obviously? "We have the best players," Ronaldo says flatly. "But to have the best players and to win is not the same thing. We have to prove. It's like when the Dream Team played in the Olympics. Everybody knew that they were a lot better than everybody else. But they had to prove."
This sense of mission makes an omni-talented team, even one diminished by star striker Romario's injury, all the more formidable. Ronaldo has never won a major league title in the top leagues he's played in—not in five first-division club seasons nor, really, at the 1994 World Cup, where, at 17, he didn't play a minute—so he really does have something to prove this summer. Another man who performs part-time in Milan knows the doom that this forecasts for the rest of the world. "I would like to see Italy in the final," says tenor Luciano Pavarotti. "It's a hubristic dream, of course. Brazil is around."
Indeed, Brazil's tallest challenge at the World Cup may be this: loosing alegria on the jaded host nation, which gave the world the words ennui and malaise and blase. It is a hubristic dream—foreign tourists winning over the French. But Brazil is around. And the Brazilians are bringing with them Ronaldo, a confetti cannon of a young man, belching out a kind of exuberant joy.