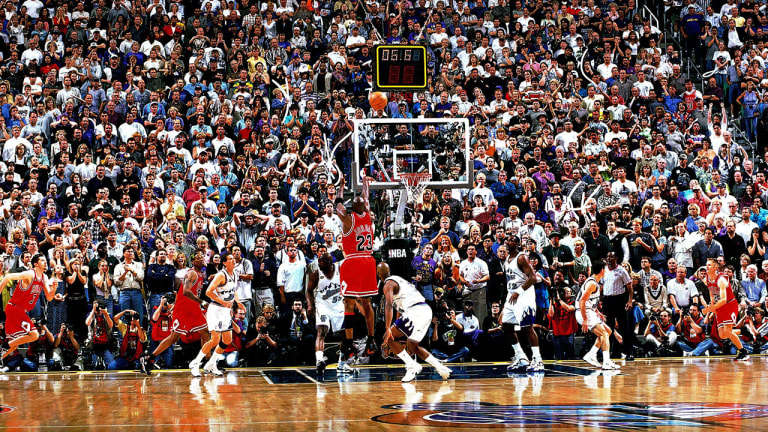 Six Shooter
Saving his best for what may not be his last, the magnificent Michael Jordan coolly broke Utah's heart and led the Bulls to another title
Do not hold them to anything they said on this night, not when so many emotions were crashing around inside them, not when they were elated and relieved and giddy and sad all at once. The Chicago Bulls were all misty-eyed, the way champions get, and through that haze the past is always so much clearer than the future. Yes, the Bulls spoke with an air of finality on Sunday night, after they won their sixth NBA title in eight seasons. They talked about packing up their belongings and about the way they wanted to be remembered. Even as the championship celebration was beginning, they seemed to be saying that the party was over. But save your goodbyes. The Bulls as we know them may not be finished yet.
It's only fair that they return for another season. If they were to leave now, after their thrilling 87-86 victory over the Utah Jazz in the sixth and final game of the NBA Finals, they would be like a poker player who gets up from the table after winning a huge pot. The Bulls at least have to give the rest of the league one more chance to win a hand, don't they? John Stockton thinks they will do exactly that. After Sunday's loss Stockton refused to offer a final tribute to Chicago's wondrous Michael Jordan, who had played perhaps the final game of his career. "I don't think it will be his last one," Stockton said. "It's been a nice story for everybody here, but he's not quitting. He'll be back, and Scottie [Pippen] will be back and Phil Jackson will be back. I'm tired of hearing all of that."
Maybe Stockton simply was in no mood to be sentimental about Jordan, who had just broken the Jazz's heart in the Finals for the second straight year. In one brief, devastating burst of brilliance at the end of Game 6, Jordan had secured another championship. After a Stockton three-pointer with 41.9 seconds left had given Utah an 86-83 lead, Jordan almost immediately got the ball at the other end, drove past the Jazz's Bryon Russell and scored a layup, using up only 4.8 seconds. On the other end Jordan sneaked up behind Utah's Karl Malone and stripped the ball from him. Back upcourt, he faked Russell nearly out of his hightops to free himself for a 17-foot jumper that gave Chicago the lead with 5.2 seconds left. When Stockton missed a three-pointer, the Bulls were champions for the third straight year. Jordan's game-winning sequence, which capped a 45-point performance, may have surpassed the countless other memorable moments of his career, even Game 5 of last year's Finals, in which, despite being sick with a stomach virus, he scored 38 points to lead the Bulls to victory. "I didn't think he could top that," said Jackson. "But he topped it here tonight."
No one, not even Jordan, knows whether Sunday's heroics will stand as the perfect ending to his remarkable career or just the latest in his continuing series of sensational performances. That will be resolved in the coming weeks and months, when Jordan, Pippen, Jackson, Dennis Rodman and the two Jerrys, as they have come to be known in Chicago--Bulls chairman Jerry Reinsdorf and vice president of basketball operations Jerry Krause--begin to wrestle in earnest with the possible breakup of the team. Reinsdorf and Krause have lately managed to be simultaneously optimistic and noncommittal. ("I can only hope and pray that Michael and Scottie will come back and defend the championship one more time," Reinsdorf said after Game 6.) But during the final days of the series, most of the other principals sounded as if they were anticipating the end of Chicago's dynasty.
"Hopefully I've put enough memories out there," Jordan said. "I have another life, and I know I have to get to it at some point in time. Hopefully the fans can understand that." Jackson packed up his office before Game 5 because he knew it would be less emotional than returning to take care of the chore after the series was through. Pippen, when pressed after Sunday's game, said, "I think this is probably it. It's pretty much over." Even center Luc Longley, one of the nine free-agents-to-be on the playoff roster, admitted he thought the end had come. "I hope Michael, Scottie and Phil all come back," he said. "But at this point, I'd be very surprised if they do."
In Krause and Reinsdorf's master plan, they did not envision keeping the team together beyond this season. With so many contracts set to expire at the end of this year--guards Ron Harper and Randy Brown and forward-guard Toni Kukoc are the only Bulls signed for next season--Krause and Reinsdorf planned as far back as 1996 to start the rebuilding of the club by this summer. They anticipated a deep free-agent class, with young stars like Kevin Garnett, Antonio McDyess and Joe Smith available. But Garnett has signed a six-year extension with the Minnesota Timberwolves, McDyess is likely to re-sign with the Phoenix Suns, and Smith (now with the Philadelphia 76ers) has been a disappointment. Suddenly the prospect of tearing down a defending champion and rebuilding it may not be as appealing to the two Jerrys as it once was.
But there is a great deal of negotiating, posturing and spin-doctoring left to be done before the fate of the Bulls is certain. The contracts of Jordan, Pippen, Rodman and Jackson all expire on July 1--the same day the owners probably will lock out the players--and the likelihood of the players re-signing with Chicago depends in large part on the terms of any new agreement now being negotiated between the owners and the National Basketball Players Association. "There are a lot of factors," says Jackson. "Nobody knows what the rules about signing players and how much you can offer your own free agents are going to be, so it's hard to make a prediction on what's going to happen with Michael and Scottie. Even in my situation, what's going to happen is not totally in my control."
The situation is not totally in anyone's control, which is what makes it so hard to read. It is not in Jordan's control, because his decision depends almost entirely on the fate of Pippen and, to a lesser extent, Jackson. It is not even entirely up to Reinsdorf, because it is quite possible that Jackson or Pippen (or both) will choose to leave even if he makes reasonable contract offers to them.
But there is no doubt that if one man holds most of the cards, it is Pippen. "Everybody wants to say it's Michael, but Scottie's the key," says Rodman. "If he comes back, we all come back." Sources within the Suns organization say they are ready to make a long-term contract offer to Pippen as soon as he officially becomes a free agent, and he did nothing but enhance his value with his sterling defensive performance during the playoffs. Pippen is the man with the most options, which may be why he is also the one who has done the most extreme flip-flops. While he was on the injured list in November, he said he would never again play for the Bulls, then he changed his mind and returned to the team in January, as soon as he was fully recovered.
After Game 3 of the Finals he seemed more open to the possibility of returning than he has been all season. "If I'm offered the right thing, maybe I would consider coming back if the guys are here and they're looking forward to winning another championship," he said. But he quickly amended that two days later, when he talked about locking his Bulls uniform away in a trunk. "My options are still the same," he said last Thursday. "I want the opportunity to go out and open all the doors to the free-agent market. I don't have any intentions of coming back next season."
Where does Pippen really stand? A multiyear contract offer from the Bulls would probably keep him in Chicago. Despite his animosity toward the front office, Pippen seems to want to stay with the team, which is understandable. "When you've given your blood, sweat and tears to a franchise, it can't be easy to leave," says Chicago guard Steve Kerr. Pippen has done that, and Game 6 was a case in point. Suffering from a sore lower back as a result of taking charges in Game 3, Pippen received a cortisone shot last Saturday but still found himself in extreme pain during the first half on Sunday night. A dunk early in the game aggravated his injury, leading to spasms in his back and right leg, and after wincing each time he went up and down the court for seven minutes, he was forced to go to the locker room for treatment.
Pippen was in such pain that he couldn't lift his leg onto the training table in the locker room, and several members of the Bulls medical staff worked on him furiously during halftime, including massage therapist Brigitta Kintala, who pounded on his lower back until he felt well enough to start the second half. "We knew Scottie was hurting, and just his presence gave us a lift, offensively, defensively and emotionally," Jordan said.
Pippen wants to continue playing next to Jordan, and would probably say so more definitively if he weren't worried about weakening his bargaining position. His agent Jimmy Sexton says Pippen would not return without at least a three-year deal, but that merely may be a place to begin negotiations. A two-year contract for an average of roughly $10 million per year might very well be enough to convince Pippen (who this season earned a relatively paltry $2.8 million) to re-sign.
Jackson's situation is more complicated. A source close to him describes the Chicago coach as "a physical and emotional wreck," and says there is no chance that he will return for another season. Jackson has hip problems that will eventually require surgery, and his nine seasons as coach have been a drain on him and his family. He is more likely to take a year off than he is to return to the Bulls or to coach another team, though the Denver Nuggets, the Los Angeles Clippers and the Seattle SuperSonics will surely take a run at him. "I know what I feel like right now," he said the day before Game 5. "I feel I'd like to get away from the game for a while and step back and enjoy reflecting on this."
Jordan, meanwhile, has distanced himself from his early-season declaration that he wouldn't play for any coach but Jackson. It now appears that if Pippen returns, Jordan will, too, regardless of Jackson's decision. Jackson's family and friends will no doubt urge him to stick to his plan not to return to Chicago. They will try to convince him that he doesn't need another year of strained relations with Krause or of bizarre behavior by Rodman. But if Pippen and Jordan commit to returning, Jackson will surely be tempted to do the same.
Ironically, Rodman's chances of coming back to the Bulls may be more closely tied to Jackson's than Jordan's are. Some members of the Chicago organization feel it would be a major risk to bring the Wrestlemaniac back under any coach other than Jackson, who seems to have found the perfect bemused approach to dealing with Rodman's antics. When Rodman skipped practice on June 8 and appeared at a pro wrestling event at the Palace of Auburn Hills, Mich., that night, Jackson barely batted an eyelash. Two nights later at the United Center, Rodman contributed four crucial free throws and outstanding defense against Malone that propelled the Bulls to an 86-82 victory that gave them a 3-1 series lead.
Then came a slight stumble as Chicago, victimized by Malone's heroic 39-point performance, dropped Game 5 at home 83-81. Two nights later Jordan carried the Bulls to the title in Game 6. Make no mistake, Jordan won the championship for Chicago. He had very little help on Sunday--Kukoc, who scored 15 points, was the only other Bull in double figures--and had he been even a touch less brilliant, Chicago would have faced the frightening prospect of a seventh game on Utah's home floor, with Pippen still at less than full effectiveness. Jordan rescued the Bulls, and now he asks only one thing: that enough of the team be kept intact for him to keep playing with a reasonable chance to successfully defend the title.
He may well get his wish. Despite Sunday night's nostalgic mood, there is still a strong possibility that these Bulls have a future together. As they celebrated on the bus after the game, with Jordan and Pippen sitting side by side, laughing and smoking stogies, it didn't feel as if the last dance was over. If you listened closely, you could still hear music playing.
COLOR PHOTO: PHOTOGRAPH BY JOHN BIEVER COVER The Man Why no one can be like Mike by Frank DefordThe Shot Why the jumper that buried Utah may not be Michael's last by Phil Taylor[Michael Jordan in game]
COLOR PHOTO: WALTER IOOSS JR. Saving his best for what may not have been his last, the Bulls' Michael Jordan coolly broke the Jazz's heart and clinched another NBA championship for Chicago by Phil Taylor [Michael Jordan wearing champions' T-shirt and smoking cigar--T of C]
COLOR PHOTO: PHOTOGRAPH BY JOHN BIEVER Air forceIn Game 6 even a phalanx of Jazz defenders couldn't faze a focused Jordan. [Michael Jordan shooting in game]
COLOR PHOTO: CHARLES CHERNEY/CHICAGO TRIBUNE Quite a steal Jordan's strip of Malone in the last minute set up his series-winning jumper (cover) at the other end of the floor. [Michael Jordan stealing ball from Karl Malone]
COLOR PHOTO: JOHN W. MCDONOUGH Squirm, Worm When Rodman wasn't AWOL or tangling with Malone (left), he was sparking the Bulls by diving for loose balls or sinking key free throws. [Karl Malone and Dennis Rodman in game]
COLOR PHOTO: JOHN W. MCDONOUGH Charge account After taking a pounding from Malone and other Jazz players, Pippen had an aching back--but wouldn't quit. [Karl Malone defended by Scottie Pippen in game]
COLOR PHOTO: WALTER IOoSS JR. Last hug Not knowing whether they would dance again, Jackson (who's probably leaving) and Jordan (who could be staying) savored the moment. [Phil Jackson and Michael Jordan hugging]