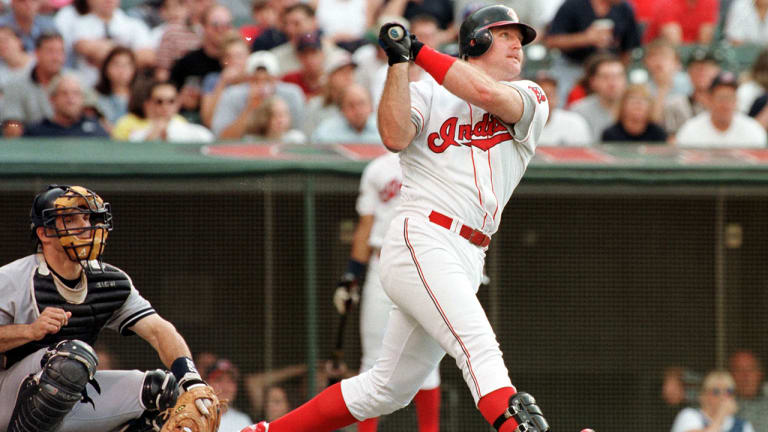 The Pride Of Peoria
Cleveland slugger Jim Thome is an All-Star starter and maybe--just maybe--the best player in his baseball-rich family
The Thome family has been playing ball in Peoria, an old factory town in central Illinois, for about as long as any living person there can remember. In the stands of the little ballparks that are scattered throughout the city, grown men with good memories argue nightly about which Thome was the best ballplayer Peoria has ever raised. There's Jimmy, the first baseman for the Cleveland Indians, a starter in the All-Star Game this week. Nice player, though maybe not in the class of his older brothers, Chuckie and Randy, both high school legends. There's the father, Chuck Jr., who was paid big bucks to play "amateur" ball in a now-defunct softball circuit locals still refer to as the Outlaw League. No speed, no glove, tremendous bat. Then there's Junior's father, Chuck Sr., the grand old man of Peoria baseball. And of course there was Junior's late sister, Carolyn Thome Hart. When she was 15, Caterpillar Tractor created a mail-room job for her so she could play with the grown women on the company softball team, the Dieselettes. "Jimmy's a good young player," one Peoria native, Chuck Siebel, says. "But his aunt could rip it."
Still, the kid's all right. Jim Thome (rhymes with homey) is 27 years old, and at the All-Star break he was batting .326 with 23 home runs and 73 runs batted in. Those numbers, like the player who produced them, do not come out of nowhere. Thome was drafted by the Indians in the 13th round of the 1989 draft, after a year of junior college. He was called up to the bigs in '91, then again in '92 and was called up for good in '93. He has increased his homer total annually, and in the past four seasons his dinger numbers look like a fantasy stock pick--from 20 to 25 to 38 to 40.
Thome came up as a third baseman--he bats left but throws right--and switched to first last year to accommodate the newly acquired Matt Williams. Williams was traded by Cleveland after last season, but Thome has stayed put. When he was initially asked to migrate across the diamond, he became neither cagey nor petulant. He said, "Well, it wouldn't be my first choice, but if it's for the good of the team, then fine."
Evidently Thome is not schooled in the ways of the modern ballplayer. In spirit he is not a modern ballplayer. He's the player his grandfather would have been, had Chuck Sr. had the chance to pursue his dream instead of hiring on at the Hiram Walker Distillery in his early 20s, taking steady work to feed his family.
Now the Thomes, all of them, are making up for lost time and lost chances. When the Indians are in Cleveland, which is a 10-hour drive from Peoria, a Thome, more often than not, is in the stands. When the Tribe is in Chicago or St. Louis or Minneapolis or Kansas City or Detroit, the same. Last week Cleveland had a three-game series in Milwaukee, a mere four hours by car from Peoria, and Jimmy's parents, Chuck and Joyce, were there in the second row of Milwaukee County Stadium, so close to the visitors' dugout they could almost touch the youngest of their five children.
You could say the Thomes get into the game, the whole clan. When Jim ambles into the on-deck circle, wearing a helmet covered with pine tar and his pant legs just below the knee, like guys in the '50s, his father clasps his meaty hands together and gets loud. The son is 6'4" and 225 pounds--all beef, no filler--and his father is about the same. They do things big, father and son. When Chuck yells, "Oh-key now, Jimmy, bang one!" he can be heard in the upper deck. On June 30 in Milwaukee, the home plate umpire, Mark Hirschbeck, ejected Cleveland manager Mike Hargrove for arguing a balk call. From his perch in the dugout, Hargrove invited Hirschbeck to kiss his butt. The quick ring-up got Chuck going, big-time. "That'll make the highlight films!" he barked at the ump. Fans on the first base side, clear across the field from Thome's seat, were laughing. There was even a hint of a smile on his son's broad, earnest face.
In recent weeks the son has been batting cleanup, behind David Justice and in front of Manny Ramirez, a fearsome heart of the order that helps explain why the Indians are third in the American League in run production, 5.6 per game, and have a 10 1/2-game lead in the American League Central. However, like his childhood baseball hero, Dave Kingman, Thome strikes out a lot--more than 100 times in each of the past three seasons, including a career-high 146 last year and 93 already this season.
Peoria is midway between St. Louis and Chicago, so there's no one team that the citizenry roots for, but the Thomes have always been aligned with the Chicago Cubs, for whom Kingman played from 1978 through '80. As a kid Thome would be glued to the tube whenever the Cubs were on, and he waited eagerly for his inaugural journey to Wrigley Field. That trip came in May 1979, when Jimmy was eight. He was pulled out of school for a day, and the trek to Mecca was made.
Buzzing down Lake Shore Drive in Chicago, Jimmy gaped at the boats on Lake Michigan and asked his mother, "Maw, which boat do you suppose is Dave Kingman's?"
"Probably the biggest and most beautiful boat out there," Joyce responded.
"Gee," said the boy.
"And one day," his mother said, "you'll have the biggest and most beautiful boat out there, right beside his."
"Do you think?"
You might say this is the family that time forgot.
At Wrigley, young Jimmy was determined to get Kingman's autograph. When the usual methods failed, the boy tried a bolder approach. At the conclusion of batting practice he slipped away from his family, hopped over the little wall that separates the seats from the field and searched for his man. His parents, in a panic, were looking under the seats and in the aisles for their missing boy when a man in a Cubs uniform suddenly appeared, carrying an eight-year-old kid. "Is this yours?" Barry Foote, a Cubs catcher, asked Joyce and Chuck. "We found him in the clubhouse." Jimmy, beaming, was clutching a baseball covered with Cubs signatures, though the one he wanted most continued to elude him. Nearly two decades later, Thome finds it hard to turn down a polite request for a signature.
Not that he is overburdened by such requests. Given his numbers, and the fact that he's been to the last two All Star Games and two of the last three World Series, you would think Thome's fame would extend far beyond Cleveland and Peoria. (His fiancee, Andrea Pascione, has an Ohio following, too; she worked as a TV reporter in Cleveland.) But on the national sports landscape, Thome is, at best, only faintly famous. "You can't really say he's underrated, because everybody considers him one of the top hitters in the American League," says Jeromy Burnitz, a former teammate who is now with the Brewers. "But he's surrounded by so many good players, it's hard to stand out on that team."
For a while, it didn't appear that Thome would stand out at anything. It looked as if he would follow the pattern set by his grandfather and father and brothers: graduate from high school, take a job in town, become a local legend in Peoria's Sunday Morning League. At Limestone High, Thome was as good at basketball (his nickname was Bird) as he was at baseball--an all-state player in both. But he was twig-thin and not fast, and no four-year colleges showed serious interest in him for either sport. In his first season in pro ball, playing for the Indians' Rookie League Gulf Coast team in '89, Thome batted a sickly .237 with no homers in 186 at bats.
But something significant happened that year. Thome fell under the spell of Charlie Manuel, a hitting instructor, coach and manager in the Cleveland organization, who over the years has taught Thome how to be a player. Today, Manuel is the Indians' hitting instructor again, and he typically works with Thome three times a day. In mid-afternoon he watches Thome hit in an indoor cage. Around 6 p.m. he watches Thome take batting practice. After BP he tosses underhand pitches to his pupil, who smashes them into a net. Manuel believes Thome's immense strength is inherited. But, says Manuel, Thome's talent in the batter's box and in the field (where he is reliable and improving) has been painstakingly cultivated.
"All the credit goes to Jimmy, because he works so hard and he's real coachable," says Manuel, leaning against the batting cage in Milwaukee, watching Thome with considerable care. "One thing we came up with together. I was managing him at Charlotte in '93, on the AAA team, and we were in the clubhouse and the movie The Natural was on the TV. Robert Redford steps in, batting left, just like Jimmy. We were looking for a swing key, something that would open Jimmy up, let him hit to all fields. Redford steps in there and holds the bat with his right hand, way out in front of him, shoulder high. We both said, 'Let's try that.' Right away, it worked."
Since he got to the majors, Thome has been influenced the most by Eddie Murray, who was his teammate for nearly three seasons beginning in '94. "Eddie taught me to play the game exactly the same when you fail and when you succeed," Thome says. He has bright eyes, a loud speaking voice and a simple, direct manner. When he wants to make a point he taps you on the knee with the back of his hand. "Hit a home run, hey, enjoy the moment, but then let it go. If you strike out with the bases loaded, same thing, let it go. Eddie was always real relaxed, the same guy no matter what happened. You've got to be that way in this game, because there's no perfect player. You're going to have your good streaks and your slumps. I don't smash helmets when I strike out, because it's not the helmet's fault, it's my fault."
That sort of simplicity comes naturally to Thome. The license plate on one of his trucks reads 25 DBTH, for his jersey number and his operating philosophy: Don't believe the hype. Thome is in the first year of a four-year contract extension that will pay him a minimum of $24.6 million, but looking at him you would never know he's rich. His main concession to wealth is the 100 wooded acres in Ellisville, Ill., a 45-minute drive from Peoria, that he bought for deer hunting last year.
In a way Peoria is still the center of Thome's universe. He continues to keep a lot of his stuff--souvenir balls, T-shirts, a CD called Country Dance Super Hits--in his bedroom in his parents' house, the house where he was raised with his two brothers and two sisters. It's a little house, long since paid off with the wages Chuck earned working at Caterpillar for 39 years. The TV room is a shrine to Jimmy's career. "He deserves the attention," says Jenny Thome Ellis, Jim's twin (older by 90 seconds), speaking for her older sister and two brothers. "It don't bother us. You can't be jealous of somebody you love."
One night last week Jenny, a bank teller, was driving around Peoria in her Chevy Blazer. (Her Illinois license plate reads INDIANS.) She was making the rounds, checking the ball fields, seeing what games were being played. It was 6:30 and everybody in town was finished with supper. Her parents were up in Milwaukee, about to watch the second game of the Indians-Brewers series. Her brother was about to begin the 726th game of his major league life. "He'll get two hits tonight," she said suddenly. "I get these feelings. Can't explain it. Two hits. He'll drive in two runs. The Indians will win 5-3."
Not much surprise in the next morning's paper for Jenny. Jimmy got a hit, and reached on an error that could have been ruled a hit. Cleveland won 5-2. He drove in two of the five. As they say in Peoria, same old, same old. You know those Thomes. For baseball, they got a knack.