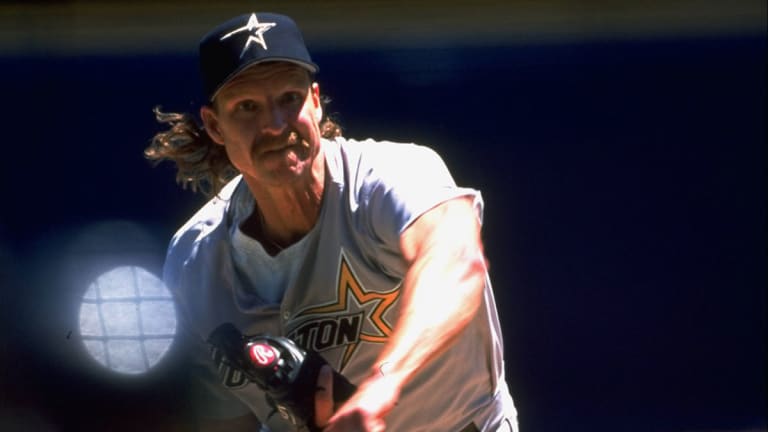 Houston, We Have Liftoff
The arrival of Randy Johnson sent the expectations of the Astros and their fans skyrocketing
If it's possible to be completely stumped by a Rorschach test, the Houston Astros are just the shapeless, colorless blot to do it. Upon learning last Friday night that he had been traded to Houston, Randy Johnson had the usual reaction when the Astros come to mind. "Nothing," Johnson said. "I really don't know much about the team, and I don't know much about Houston."
Welcome to the club. The Astros have camouflaged themselves as a small-to-middle-market franchise, even though Houston is the fourth-biggest city in the U.S. Of course, most of its citizens think horsehide is something to be branded, ridden or roped, not batted or thrown. The Astros have never drawn as many as 2.3 million fans in their 35-year history.
Then again, it's tough to get stoked about an organization that has won as many postseason series as the Arizona Diamondbacks (chart, page 37). When you talk about important chapters in Astros history, 11 usually comes to mind. "This team has a long history of financial problems," says general manager Gerry Hunsicker, "and a lot of people over the years have developed a kind of boring Triple A mentality."
But in the final seconds before the 1998 major league trading deadline passed at midnight EDT, Houston finally put itself on the baseball map. When Hunsicker called Nancy Crofts, the National League executive director of player records, to report that the Astros had traded three minor leaguers to the Seattle Mariners to get Johnson, Crofts said, "Gerry, I'm looking at my clock right now, and it says 12 o'clock. If you'd called one minute later, I don't know if I could have allowed it."
By winning out over marquee clubs like the Cleveland Indians, the Los Angeles Dodgers and the New York Yankees, Houston shocked most everyone in baseball, including the man who pulled the trigger. Hunsicker made the deal from his house, after leaving his office at 8:30 p.m. convinced that his team was out of the running. "I wasn't quite in my pajamas," he says.
When the spotlight finally found the Astros, this is what Johnson and the rest of America suddenly discovered: Houston leads the National League in runs ("Is that right?" Johnson asked) and boasts a hellacious pitching staff that can shut down anyone. The Astros made the Johnson deal not to hold off the second-place Chicago Cubs, whom they led by 4 1/2 games in the National League Central after Sunday's games, but to--hold on to your 10-gallon hat, pardner--bring the World Series to Texas for the first time. All that for a payroll of $40 million makes Houston the best dollar-for-dollar team in baseball.
"I think those were gulps you heard around midnight Friday from Atlanta, San Diego and Chicago," says Braves third baseman Chipper Jones. "Picking up Johnson has to make Houston the favorite. In a [seven-game] series, you are going to have to face Randy at least twice, which means you may have to win four games against pitchers like [Mike] Hampton and [Shane] Reynolds. Those guys could be Number 1 starters on a lot of other teams."
Houstonians noticed too. They lit up the Astros' switchboard last Saturday, snapping up partial season tickets (Houston had 29 home games left) and asking when Johnson would pitch in the Astrodome. Local television stations fanned the city for man-on-the-street stories. And while Larry Dierker, J.R. Richard, Nolan Ryan and Mike Scott have excelled on the mound for the Astros, the best lefthanded pitcher in club history, Bob Knepper, was 93-100 with Houston. (The K isn't pronounced in either his name or his pitching.) The Astros, 6-13 in postseason games, have never gotten a playoff win from a lefthanded starter. "The Big Unit can do in Houston what Mark McGwire did in St. Louis," Hampton says. "There's going to be lots of excitement."
Johnson left even his new teammates in awe on Sunday, his first day in an Astros uniform, however ill-fitting it was. "The last time I wore pants like this, I was in Little League," said the 6'10" Johnson, glancing down at his well-above-the-ankles hem.
"Maybe they'll have to sew two pairs of pants together," a trainer said.
"Don't laugh," Johnson said. "I've had it done before."
Only seven innings into his Houston debut on Sunday, Johnson had struck out 12 batters, more in one game than any Astros lefty in 29 years. When the relentless Houston offense scored four times in the eighth inning with two outs, the Big Unit earned the victory in what became a 6-2 decision. "Man, I knew he was 6'10"," Hampton said, "but on the mound he looks like he's 8'10"."
"To be honest with you," said leftfielder Moises Alou, "I had goose bumps in the outfield during the game."
"The first pitch of the first inning," said first baseman Jeff Bagwell, "I thought, Wow—the Big Unit playing for us, the Astros."
So nondescript is Houston's major league history that eight months ago, when Hunsicker obtained Alou, a solid player but one who had never hit 25 home runs, he rightfully noted that Alou was the biggest name the Astros had ever acquired in a trade. Hunsicker topped that by getting Johnson, a Cy Young Award winner who was 75-20 from 1993 through '97 and through Sunday had struck out 10.5 batters per nine innings in his major league career. No one since Neil Armstrong had delivered bigger news to Houston--and this giant leap also left people recalling exactly where they were at the time they heard about the trade.
Bagwell was in a bar across from Pittsburgh's Three Rivers Stadium with several teammates and club officials. After the Astros' traveling secretary received a message informing him of the deal, Bagwell bought drinks for everybody in the house.
Hampton woke up, groggy, at 6 a.m. in his hotel room to find the trade news crawling across the bottom of the television screen. After a stunned moment or two, Hampton realized he was actually awake.
Then there was Alou, who went to bed with no expectations that his team would add to its payroll. These were the Astros, after all, a team whose owner, Drayton McLane, had been one of the fiercest of the economic doomsday hawks of the 1994-95 strike, a team that made one trade all of last season--picking up Tony Pena, a 40-year-old catcher on his way out of baseball, for the pennant drive.
After Alou awoke last Saturday morning, he showered and dressed without having caught even a bit of sports news, then got on the team bus and said with a smart-aleck laugh, "So, who'd we get?"
"Randy Johnson," someone blurted.
"Yeah, right," Alou said.
The shrewd Hunsicker has improved the Astros without joining the top tier of payrolls; 12 of Houston's 25 players have come aboard in Hunsicker's 33 months on the job. His master plan was to make the Astros a World Series team in 2000, the year they are scheduled to open a retractable-roofed, 42,000-seat ballpark. But with Houston rolling to its best record ever through July (65-44), Hunsicker decided to strike now. Alou, Bagwell and Derek Bell are each on pace to drive in 100 runs, while the Astros, who have never scored 800 runs in a season, might crack 900. "I can't imagine having a better core of [every-day] players than we have now," Hunsicker says. "How many times does a middle-market team have an opportunity like this? I knew something was missing. Without a dominant Number 1 starter in the postseason, it's almost impossible to advance."
Johnson, who is in the last year of a four-year, $20 million contract, was available because the Mariners would not commit to another long-term deal. As formidable as Johnson has been in the 1990s, he turns 35 next month, has thrown a lot of pitches in crucial late-season games, missed almost all of the 1996 season with a back injury and was 9-10 with a 4.33 ERA in 23 starts with Seattle this year. He wants a multiyear deal worth at least $10 million a year.
In early July, Hunsicker asked Seattle general manager Woody Woodward about Johnson, but Woodward was hanging on to him as long as the Mariners had a shot at the wild card. It was not until July 27 that Woodward told Hunsicker that he was willing to talk to him about a deal involving Johnson.
Hunsicker briefed McLane, who was in Poland on business for his grocery-distribution firm. On July 29 the Toronto Blue Jays called to offer righthander Roger Clemens to the Astros, but their asking price was so high that Hunsicker quickly dismissed any possibility of a deal. McLane returned to Houston that night and met with Hunsicker the following morning. It made sense, they agreed, to take on Johnson's remaining salary of $2 million. "Just building a new stadium isn't enough to draw people," McLane said on Sunday.
Woodward asked for Scott Elarton, 22, a 6'7" righthander with a 95-mph fastball, and 23-year-old outfielder Richard Hidalgo, both of whom were on the major league roster. Over the next two days Hunsicker refused to give up either one of them in any deal, offering lesser prospects with no major league experience. When Hunsicker went home at 8:30 p.m. last Friday, he hadn't heard from Woodward for three hours.
"I assumed they were going with the Yankees or Cleveland," Hunsicker says. "The Mariners said all along they wouldn't make a trade without getting a starting pitcher to put in their rotation now. As long as other teams were willing to do that, I figured we had no chance."
At 11:10 p.m. Hunsicker called Woodward "just to satisfy my curiosity and make a last-ditch effort." Woodward said he would call back. The Mariners had spent eight months putting Johnson on and off the trading block. They had turned down deals that would have brought them Mariano Rivera from the Yankees, Chad Ogea from the Indians and Ismael Valdes from the Dodgers. But at 11:20 p.m. last Friday--40 minutes before the trading deadline--it had come to this: Woodward telephoned Hunsicker and indicated he was willing to talk about the Astros' second-tier prospects. Hunsicker offered him three minor leaguers, none of whom satisfied Seattle's demand for a big league pitcher.
Woodward again said he would call back. "I got nervous," Hunsicker says, "because at 11:45, I was still waiting around for him to call." Between calls to Hunsicker, Woodward was making one last fishing trip to the Yankees' talent pool. But New York refused to give up righthander Hideki Irabu and third base prospect Mike Lowell.
At 11:50 p.m. the phone rang in Hunsicker's house. "We have a deal," Woodward said. The Mariners agreed to take Carlos Guillen, a switch-hitting infielder with power; Freddy Garcia, a righthanded power pitcher; and a minor leaguer to be announced later. Garcia may be a dominant major league starter "in two to three years," Hunsicker says. Or maybe not. As far as trades go, Seattle is having a bad decade. While a lack of pitching depth has kept otherwise immensely talented Mariners teams out of the World Series, Seattle has traded pitchers Hampton, Shawn Estes, Dave Burba and now Johnson without having any players on their current roster to show for them.
"I don't think I was appreciated there," says Johnson, relieved to be freed from trade purgatory, even if his desire to stay in the American League makes a 1999 return to Houston unlikely. "The fans appreciated me. But the team...I threw a one-hitter [in July] and [president] Chuck Armstrong walked past me and didn't say a word. I'm just glad it's over. It was like the Clinton-Lewinsky thing. You're sick of hearing about it."
Said Bagwell on Sunday afternoon, "I'm as surprised as anybody he's here. What a weekend. We took three games and picked up the Big Unit."
Elarton closed out Johnson's win with two perfect innings. The present and future aces combined for 14 strikeouts while regularly blowing 93- to 97-mph fastballs past the young Pirates. Talk about a lesson in Astrophysics.
As fitting as that seemed, Elarton's most symbolic contribution actually occurred before the game. At the moment Johnson walked into the Houston clubhouse for the first time--the most distinguishable figure in baseball extended his long arm and superfluously offered, "Hi, I'm Randy Johnson"--Elarton was sitting rapt in front of a computer baseball game. On screen the Astros were playing the Yankees in a virtual World Series. Never before had the possibility seemed so real.