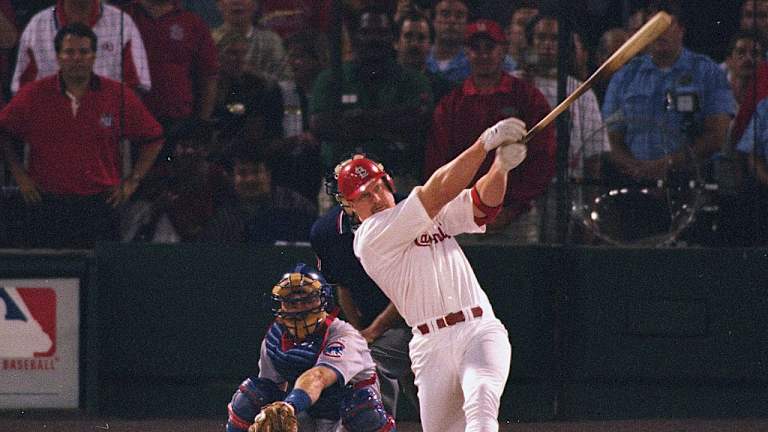 Record Smasher
With this mighty swing, Mark McGwire sent his 62nd home run over the fence and himself into a special place in America's pantheon
He was 20 years old, a member of the touring 1984 U.S. Olympic team and two summers away from his first major league game when he opened the door for the first time to the redbrick building at 25 Main Street in Cooperstown, N.Y. But then something odd happened as Mark David McGwire stepped across the threshold of the Baseball Hall of Fame. He stopped cold. He found himself saying aloud to himself, "I'm not ready for this history." And then he abruptly turned around and left--and hasn't been back.
Fourteen years later, with an adoring nation held spellbound, his time arrived. McGwire made a permanent place for himself not only in Cooperstown but also in American folklore. On Tuesday night McGwire broke the most mythologized, most revered and most American of sporting records. He hit his 62nd home run of a season that has rekindled the country's interest in baseball.
Sixty-one, a number that needs no introduction, has lost its magic. Its owner, the tragically poignant Roger Maris, has lost the single-season record after 37 years of ownership. McGwire's blow, a bases-empty shot off Steve Trachsel of the Chicago Cubs, occurred two days before what would have been Maris's 64th birthday.
Earlier in the day the stock market soared 380 1/2 points, the first day of trading after a Labor Day weekend in which McGwire hit number 60--measured at 381 feet--and number 61. Coincidence? Who knew anymore, not after McGwire himself had marveled at his accomplishments in this season of serendipity.
The home run is America--appealing to its roots of rugged individualism and its fascination with grand scale. Americans gape at McGwire's blasts the same way they do at Mount Rushmore, Hoover Dam and the Empire State Building. "We have," Cubs manager Jim Riggelman said before Tuesday's game, "a fascination with power."
How deliciously ironic, then, that the biggest home run of McGwire's record season turned out to be the shortest of his 62, a 341-foot piece of sweet simplicity. McGwire stepped into the batter's box with two outs and no one on base in the fourth inning at 8:18 p.m. CDT, having stuck to his unwavering on-deck routine. He doesn't take practice swings. He's a man of reserved ferocity. He swings the bat to inflict damage upon a ball.
In the first inning Trachsel had induced McGwire to ground out to shortstop on a 3-and-0 pitch--a hitter's count on which McGwire had not hit a home run all year. This time he decided to start McGwire with a first-pitch sinking fastball, exactly the sort of pitch McGwire devours. The ball arrived at 88 mph, accompanied by the usual strobe show of fans' camera flashes.
McGwire lashed at the pitch, sending it so low toward the leftfield corner that he sprinted out of the box, thinking it would stay in the park. The ball cleared the wall by about five feet and only three feet in from the foul pole, the 12 ball--in a set of 48 specially numbered balls prepared by Major League Baseball for all of his at bats after his 59th homer--into the corner pocket.
The ball caromed off an advertising sign and dropped into a field-level concourse that rings the stadium under the seats. A groundskeeper, Tim Forneris, fetched it and ran through the concourse to the Cardinals' clubhouse.
"I got the ball! I got the ball!" he yelled to equipment manager Buddy Bates. Bates ran it into his office, closed the door behind him, put it into a wall safe and called baseball security officials. They quickly arrived with a black bag containing a black-light lamp. When they turned it on and placed the ball under it, it glowed with the invisible ink devised specifically for the occasion.
Just after the ball went over the wall, McGwire reached first base and leaped into the arms of coach Dave McKay with such excitement that he bounded over first base. Laughing, he retraced his steps and touched the bag. The entire Cardinals team greeted him at home plate. Also there was his 10-year-old son, Matthew, in his pint-sized uniform holding his father's bat. Mark picked up his son and held him so high aloft, the helmet fell from Mark's head. Soon McGwire ran to the first row of seats next to the St. Louis dugout and hugged Maris's children. The Cubs' Sammy Sosa, his home-run-race rival, who had become comedy-team partner, soul mate and adopted little brother to McGwire during this chase, ran from rightfield to embrace him.
Meanwhile, someone threw a ball on the field marked with a number 3, the Rosie Ruiz of baseballs. Somehow that ball made it to McGwire. On one side of the ball was a message: GOTCHA. McGwire, though, saw only the words "Official League" and knew right away it was a phony. "Take it back," he told a security officer.
McGwire had huddled with two representatives of the Hall of Fame two hours before the game in the Cardinals' clubhouse, the same clubhouse where Maris had dressed during his last two seasons in the big leagues. He vowed his cooperation with the Hall in donating his paraphernalia from the record home run. Then Jeff Idleson, the Hall's director of communications, showed McGwire the 34 1/2-inch, 32-ounce bat Maris had used to club his 61st home run in 1961. McGwire clutched the bat, rubbed the barrel over his heart and said, "Roger, you're with me." Now McGwire stands alone.
After the game, McGwire presented the Hall of Fame the ball, the bat used to hit homers 56 through 62, his full uniform, spikes and hat, and the jersey his son was wearing. The Cardinals presented McGwire with a red Corvette--a '62, of course--during a ceremony at second base. McGwire invited the Maris family to join him in the ceremony. Randy Maris, who was born in the summer of '61, wiped a tear from his eye as he stood with his three brothers and two sisters. "It was sad," Randy explained, "but Mark's such a great guy, what can you say? The guy deserved it. We never thought we'd see this day come. That's why I was sad."
The day came earlier than even McGwire expected--in St. Louis's 145th game. "All the pressure that's been on him," teammate Tom Lampkin said, "and I haven't seen how it has affected him at all. Amazing."
America is a Baseball Nation again, and McGwire is its head of state. Every time he marches to the plate at Busch Stadium in St. Louis, every fan in attendance rises to his feet out of respect and awe. Virtually all Americans cheer him with a loving acceptance that sadly escaped the two men before him who drove Babe Ruth from the record book. It escaped Hank Aaron, whose crimes against the ignorant in 1974, when he broke Ruth's career home run mark with his 715th homer, were that his skin was black and that he had batted 2,900 more times than Ruth. It escaped Maris, too, when he hit 61 homers in '61, because he had played eight more games than Ruth did while hitting 60 in '27, leading commissioner Ford Frick to devalue Maris's accomplishment with an asterisk. Maris suffered, too, because he was not an anointed descendent in the Ruth-DiMaggio-Mantle Yankees dynasty. It didn't help that neither before nor after '61 did he hit even 40 home runs in a season. "I think it's great for Mark," Randy Maris said last weekend about the country's support for McGwire, "but you sort of wish Dad had had the same thing."
Neither asterisks nor animosity weighed on McGwire. He's the rightful heir to one of sport's great crowns, an ascent that began with his birth on Oct. 1, 1963--two years to the day after Maris hit number 61 off Tracy Stallard. "No one ever told me that growing up," McGwire says. "I just never knew until recently."
He arrived in the big leagues in August 1986, eight months after Maris was buried under a tombstone engraved with 61 and '61, and almost immediately he was seen as a threat to the home run record. In '87, his first full season, he smashed 33 homers before the All-Star break. "The questions about 61 go all the way back to then," he says.
Even before this season began McGwire was expected to endanger Maris's mark: He had improved his totals in the three previous years from 39 to 52 to 58 and, like Maris, would have expansion-team pitchers to feast on. He hit a grand slam on Opening Day, hit another home run the next game and the game after that and the game after that, and soon he became baseball's answer to the Dow Jones, only without weekends off.
McGwire defied the conventional wisdom that as in scaling a mountain, the closer a hitter drew to the home run summit, the more difficult the climb would become. Beginning on Aug. 19, with a pair of homers against the Cubs at Wrigley Field, McGwire mounted a furious three-week charge at Maris. He cranked out 15 home runs in 66 at bats. Through Sept. 8, either McGwire or Sosa had homered on exactly half of the 158 days on which games were scheduled--including 15 of 21 starting with that tete-a-tete at Wrigley. "What's amazing is that they're making it look easy," said Cardinals second baseman Delino DeShields last Saturday. "It's not easy, man. That's a gift."
Said McGwire after hitting number 61 on Monday, "I have been thinking about the record since I reached the 50 plateau. But you think about it, and then you let it go because you can't waste many brain cells on hours of thinking about it."
His humility and respect for the game have made McGwire a national treasure, which is why Major League Baseball assigned two detectives to protect him around the clock when St. Louis is on the road. They were guarding him even as he lunched at Chuck's Steakhouse in Fort Lauderdale on Sept. 1. They watched him (without incident) eat steak and chicken, pound two home runs that night and then order up the same fare the next day: steak and chicken followed by a double dip of dingers. That binge put McGwire at 59 heading into a five-game homestand. On the eve of that series, during his only off day in a month, McGwire spent eight hours at Busch Stadium filming a public service announcement designed to help stop sexual abuse of children.
Number 60 came last Saturday on a sweltering afternoon. There was one out and one runner on in the first inning when umpire Larry Poncino gave Cincinnati Reds lefthander Dennis Reyes one of the four dozen baseballs reserved for McGwire's at bats. Baseball security officials, working with the U.S. Treasury Department, had marked the balls so that McGwire's 60th home run and those thereafter could later be authenticated. They covered them with an invisible ink that glows when placed under an infrared light. They also put a small black numeral, from 1 through 48, on each ball beside the s in rawlings.
Poncino gave Reyes ball number 2, the same one Cincinnati pitcher Scott Sullivan had used to strike out McGwire the previous night, but Reyes asked for another. "It was too white," he said after the game. "It didn't have enough mud rubbed on it for me. I have small hands, and if the ball is too white it feels slippery."
So Poncino gave him another. On the third pitch with ball number 3, McGwire tied Ruth, the great number 3, and became the third man ever to hit 60 home runs in a season. The homer bounced among frenzied fans in section 282 in left until 22-year-old Deni Allen grabbed it off the ground. Allen gave it back to McGwire in exchange for two autographed bats and a cap.
McGwire already had bettered a number of Ruth's accomplishments this year (fastest to 400 career homers, most consecutive 50-home run seasons and most home runs over two and three consecutive seasons), but the 60th homer, hit in the 142nd game of the season, made it clear that McGwire is the closest thing to Ruth ever seen. "I really truly believe he's up there watching," McGwire said of the Babe.
Home run number 61 would provide more chills. After a homerless Sunday game, McGwire dined with his family and friends, including his father, John, who would turn 61 the next day. "Wouldn't it be something?" Mark said, as they talked about the possibility of tying the record on his father's birthday.
"If I could do 61," John said, "you could do 61."
The next morning Mark put off a phone call to John to wish him a happy birthday. "As I was driving to the ballpark I said, This is meant to be, to give him this birthday present," Mark would later say.
One important person was not yet in place, however. Mark's son, Matthew, arrived at Busch Stadium from California on Monday, 14 minutes before the first pitch. He raced to the clubhouse, donned his batboy uniform and hustled to the Cardinals' dugout, getting there after the Cubs had batted. Mark was reaching into the bat rack to get his bat just as Matt got there. The father smiled at the son and said, "I love you." Then he bent and kissed him.
At 1:21 p.m. McGwire stepped into the batter's box and one minute later propelled a pitch from 38-year-old righthander Mike Morgan into the history books. The baseball flew close to the leftfield foul pole, but McGwire threw his arms up in celebration even before the ball banged off the club-level facade. The man knows his homers, having hit more than 400 of them. The 37-year pursuit of Maris was over.
Some Cubs congratulated McGwire as he ran around the bases. Sosa clapped his glove in rightfield. Mark touched home plate and pointed to John in the stands behind the backstop. "Happy birthday, Dad!" he yelled.
"Last year I gave him a card," Mark said with a laugh after the game. "Now you tell me--is all that fate, or what? The man upstairs has a plan for me, I guess."
About two weeks earlier a fan left a voice-mail message for Reds manager Jack McKeon, whose team had walked McGwire 11 times in six games before this series started. "Please pitch to McGwire," the fan pleaded. "This is what we need. This is what the country needs to help with the healing process and all the trouble that's going on in Washington. This will help cure the ills of the country."
"So," said McKeon, "I did my part for the healing process. We pitched to him. I'd feel a lot better if someone said pitching to him helps the stock market."
For the moment, political and financial woes--not to mention the malaise that has beset baseball in recent seasons--were all forgotten as three generations of McGwires shared their joy in front of us: John, leaning on his cane, a man who could not play baseball because of a childhood bout with polio; Mark, hugging his chubby-cheeked son in those arms as massive as bridge cables; and Matthew, grinning wildly, one of many who fell in love with baseball for the first time in this special summer.
Right then you'd have to have had a heart made of tin not to believe in the power of baseball, and you didn't need to hold one of those glowing balls in your hands to feel it. This one belonged to John, a gift from a son to his father. A happy 61st indeed.
Sixty-two would belong to the rest of us, a welcome touchstone in a cynical age. That's the good news according to Mark.