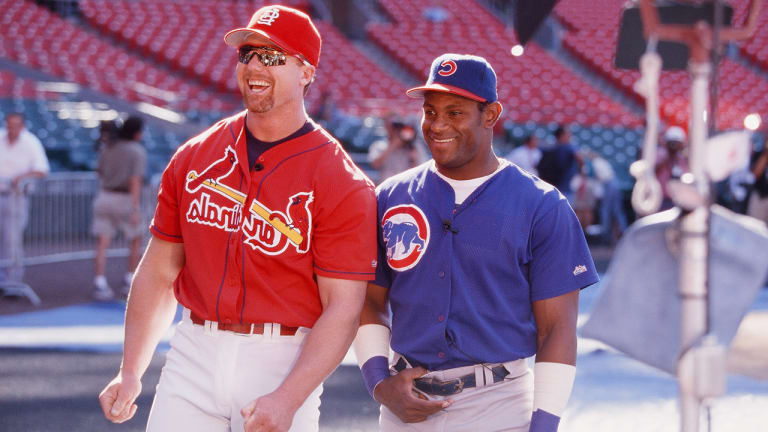 The Race Is On
With a hot bat and little fanfare, Sammy Sosa served notice that the home run record is up for grabs
Where was the commissioner? Where were the 600 media members? Where were Roger Maris's sons? Send the word! Tell 'em quick! Sammy did it too!
Where were the 350-bucks-a-bleacher-seat scalpers? Where were the Blue Angels screaming over the stadium's rim? Where was America looking last weekend when Sammy Sosa of the Dominican Republic belted four baseballs over the ramparts and through the palace door to halt the coronation of Mark McGwire?
Where were the zillion camera flashes last Friday night when Sosa hammered number 59 out of Wrigley Field and onto Sheffield Avenue in the Chicago Cubs' wild 13–11 loss to the Milwaukee Brewers? Where were the major-network cameras last Saturday when Sammy crushed number 60 onto Waveland Avenue in an even wilder come-from-behind 15–12 Cubs victory? Where were the balls with infrared markers in the fifth inning on Sunday when he walloped number 61 onto Kenmore Avenue? Where, oh, where was the '62 Corvette when four innings later he poleaxed number 62, onto Waveland once more, in the wildest game of all, a 10-inning 11–10 Cubs triumph?
For 34 years Babe Ruth's record of 60 home runs shimmered in the distance. For 37 years Maris's mark of 61 went untouched. McGwire's record 62 stood alone for 116 hours. Then Sammy tied it and cried.
The race is on. To the split-screen finish. Baseball's greatest individual race ever, seemingly spent after Big Mac went on a seven-homers-in-seven-games jag that climaxed with his historic shot on Sept. 8, has its second wind, 10 miles per hour to dead left.
People piled into the streets in the Dominican Republic to celebrate Sosa's 62nd, tears streamed down grown men's cheeks at Wrigley, and the thunder of 40,846 fans took six minutes and three curtain calls to subside . . . as baseball officials, sports editors and TV producers everywhere gulped hard.
No need to squirm. Don't bother alibiing. Don't try to explain away the disparity between the national response to Mac's 62nd and Sammy's. Don't open America's chest and search for rotting racial reasons why the Caucasian is creaming the Hispanic in magazine covers and slo-mo replays--well, all right, go ahead, but not now. Sammy wouldn't want it. Sammy loves the cool of Big Mac's shade. Don't you dare blow his cover.
He has drafted behind McGwire for nearly three months, tying him for the fifth time on Sunday but nudging ahead of him only once--for three innings of a game on Aug. 19--making sure at all times to lean over Big Mac's shoulder and blow kisses and hosannas in his ear. Sosa's other camouflage, of course, is the Cubs' quest for the National League wild-card berth. Who but Sammy could tie Ruth one day, becoming the first non-American-born or nonwhite player ever to belt 60 in a season, then tie Maris and Mac the following day and watch both games end with bench-emptying, game-winning, bear-hugging home run celebrations at home plate . . . for someone else? Orlando Merced's three-run jolt won Saturday's heart attack, then Mark Grace's solo shot in the 10th closed Sunday's, and it was almost as an afterthought, after the Cubs lifted Grace to their shoulders, that Cubs catchers Tyler Houston and Scott Servais hoisted the man who had just thunder-struck baseball. Then Sosa ducked into the Brewers' clubhouse to thank manager Phil Garner for pitching to him—as well he should, after feasting on Milwaukee for 10 home runs this season—and stepped before the media, eyes glistening, to coo at Mac again.
"I'm so emotional right now," said Sosa. "Mark, you know I love you. It's been unbelievable. I wish you could be here with me today. I know you are watching me, and I know you have the same feeling for me as I have for you in my heart." He did the signature Sammy Sosa heart thump and added, "That's for you, Mark."
He had second-fiddled for Mac in St. Louis on Sept. 7 and 8, stroking just a pair of singles as America toasted McGwire. He applauded Mac. He hugged Mac. Then he ambushed Mac, breaking a 23-at-bat, five-game homerless silence with four weekend bombs that gave him 148 RBIs for the year, kept the Cubs one game ahead of the Mets in the wild-card race and likely salted away the National League MVP award.
Truth was, Big Mac wasn't watching Sosa either. When Sammy's 61st screamed 480 feet to left, and as he circled the bases pumping his fist, McGwire was sitting in the trainer's room at Houston's Astrodome, where his Cardinals teammates were watching the Cowboys-Broncos game on TV. As Sammy's 62nd, off Brewers reliever Eric Plunk, pulled the Cubs to within 10–9 in the ninth and Sosa thumped his heart, kissed his fingers and mouthed the words "I love you, Mama" to a TV camera, McGwire was working up a pregame lather in an indoor batting cage.
"I think it's awesome," Mac said when reporters delivered the news. "I've said a thousand times that I'm not competing against him. I can only take care of myself. Imagine if we're tied at the end. What a beautiful way to end the season." He then took the field, hit two ground balls to short—making him a homerless 1 for 14 since the champagne bottles popped—and left the game when his back muscles, like America's heart, went into minor spasms.
Moments after the Sunday game at Wrigley, Major League Baseball tried desperately to scoop up the ball it had dropped. Commissioner Bud Selig and Maris's son Randy placed phone calls as swiftly as cheeks blush and electrical impulses travel. Selig, who lives in Milwaukee, 90 miles north of Chicago, pleaded that he and baseball's brass couldn't follow two men all over the country, that the first man who walks on the moon is the one who gets the parade and that Sammy, too, will receive the new Commissioner's Historic Achievement Award, which was presented to Big Mac five days earlier. But how, given one hasty glance at the numbers, could so many have been gazing there instead of here? Since May 24, when McGwire had 24 home runs to Sosa's nine, Sammy has hit 53 to Big Mac's 38.
"It's unfortunate," said Grace after Sunday's game. "Mark McGwire got so much more because he was the first to do it. Now it's like, 'Oh, by the way,Sammy has 62 homers, too.'"
John Witt wasn't caught napping. On a small TV in a friend's van just outside Wrigley, the 29-year-old Witt watched number 61 leave the yard, then turned and saw it bouncing toward him. Give it back? Unlikely. He was just divorced, he said, nearly broke and had already received a five-figure offer. Number 62 set off a frightening free-for-all in which a man named Gary Mullins claimed he had his hand bitten while the ball was wrenched away from him. Another man, Brendan Cunningham, emerged from the melee with a ball and fled down an alley before police swept him away for his own protection. Because baseball officials hadn't treated the ball with the infrared markers that had been used to identify McGwire's historic homers, the gnashing might well have been for naught.
The possibilities, as we hurtle to the end of the home run chase, are delightful. After Monday night, when neither man homered, McGwire had 12 games remaining and Sosa had 11—unless the Cubs finish deadlocked with the Mets or Giants in the wild-card scramble and play a 12th game to untangle the knot, in which case any home runs he hits will count in the regular-season statistics, just the way Bobby Thomson's did in 1951 and Bucky Dent's did in '78.
Who has the edge, psychologically: McGwire, whose team is out of the running, or Sosa? "I've heard people say Mark has an edge because his team's not in a pennant race," said Cardinals manager Tony La Russa on Sunday. "I don't agree. Don't you think there's more energy before a game in their clubhouse than in ours?"
One thing, and only one thing, is sure: We won't be fooled again. Thump our hearts and hope to die.