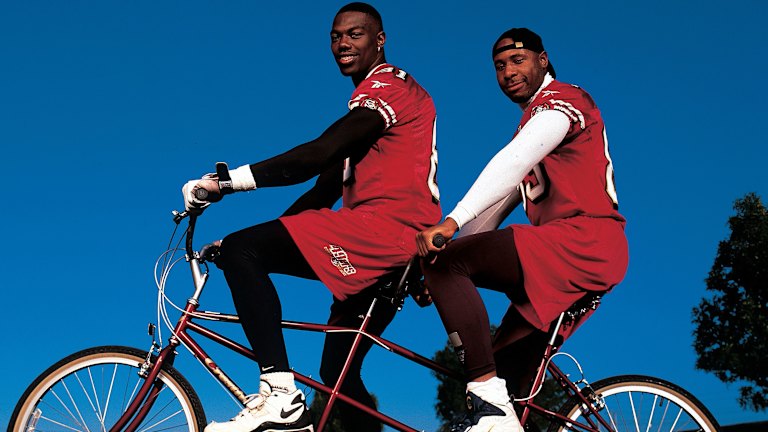 Tip-top Tandem
Move over, Jerry Rice! Wideouts Terrell Owens and J.J. Stokes of the 49ers have gotten their games in gear. No wonder San Francisco's offense remains on a roll
All Terrell Owens wanted to do was dance. As a tall, dark and lonesome adolescent outcast in his hometown of Alexander City, Ala., he aspired to be part of the Quiet Storm, a popular high school dance ensemble. Derided for his raven skin, beanpole physique and reticence, Terrell, at 14, was presented with a humiliating offer: He could be in the group--but only as the stooge who ran out and collected the dancers' hats after they tossed them at the conclusion of one song.
Desperate for acceptance, Terrell took the gig. He'd go onstage and get hooted at, but that wasn't the worst of it. He got no play from girls and tons of grief from almost everyone else. Other blacks with skin lighter than his called him Purple Pal and Shine, and schoolmates teased him for being skinny. They also picked fights with him, leaving Terrell with two choices: get his butt kicked or run. One time an older boy confronted him at a crowded rec center, and when Terrell bolted, the boy chased him all the way home. A quarter mile later, after Terrell had made it safely to his front door, he felt as if the whole neighborhood was laughing. "Everybody wanted to fight me," Owens says. "I was pretty much the most picked-on guy in high school, and I took a lot of beatings. Being dark-skinned wasn't in back then, so I'd hear stuff like, 'You should be glad you don't go to night school, because the teacher would call you absent.'"
Owens can laugh about it now, as he sits in a restaurant near the San Francisco 49ers' training facility in Santa Clara, Calif., and talks about the fame and fortune headed his way. Having turned 25 on Dec. 7, he's a superstar-in-waiting, a dazzling third-year wideout who has emerged as the successor to Jerry Rice, the greatest receiver of all time. Along with fourth-year wideout J.J. Stokes, Owens has brought renewed zest to the NFL's longest-running air show, a 19-year revue that began with Joe Montana throwing to Dwight Clark and has produced five Super Bowl victories.
With the Niners (10-3) having achieved a record 16th consecutive season of at least 10 victories, Owens has 56 catches for 935 yards and 11 touchdowns, and was recently featured in a calendar highlighting the NFL's best bodies. "I want to be a guy everyone notices," Owens says. "I feel like it's just a matter of time before I get a lot of exposure and recognition."
Like characters out of a cheesy cop flick, Owens and Stokes have vastly different backgrounds and personalities but bring out the best in each other. They emerged as reliable playmakers after Rice tore anterior cruciate and medial collateral ligaments in his left knee during last season's opener. This year the three wideouts have combined to give the Niners a triple-threat passing offense rivaling that of the Minnesota Vikings' triumvirate of Cris Carter, Randy Moss and Jake Reed. However, there has been one unhappy side effect: Rice has felt threatened by the presence of Owens and Stokes. Though he's tied for the lead in the NFC with 69 receptions, Rice has twice complained about not getting enough balls thrown his way. Most recently, after San Francisco's 31-20 victory over the New Orleans Saints on Nov. 22 (the 49ers were sparked by a pair of Owens touchdown catches), Rice suggested he might retire because of his frustration with his role.
Even with the 36-year-old Rice winding down, the San Francisco pass-receiving duties could be in good hands for another decade, with one catch: Owens and Stokes both have contracts that will expire at the end of this season, and each figures to command annual compensation in the $4 million range. With Rice scheduled to earn $7 million in 1999, it might seem imprudent for San Francisco to commit so much salary-cap money to one position. But given the importance of receivers to the 49ers' run of success--deep threat Freddie Solomon complemented Clark on the Niners' first two Super Bowl teams, and Rice and John Taylor formed the league's best tandem in the late '80s and early '90s--it's hard to conceive of San Francisco's allowing either Owens or Stokes to leave. "Getting them back will be our top priority once the season ends," San Francisco coach Steve Mariucci says.
Owens will be a restricted free agent, meaning that if the 49ers match an offer he accepts from another team, he must remain with San Francisco. Stokes, 26, will be an unrestricted free agent, but the Niners have the option of designating him their franchise player, which, in effect, means he has to stay in San Francisco. John McVay, director of football operations, says he anticipates both players returning, which, in turn, would provide ample incentive for 37-year-old quarterback Steve Young to keep playing.
The muscular Owens, who stands 6'3" and weighs 217 pounds, combines Rice's effortless bursts and penchant for slipping loose after the catch with the relentlessly physical style of Taylor. Garrison Hearst's 96-yard touchdown run in San Francisco's season-opening victory over the New York Jets was punctuated by Owens's coming out of nowhere to deliver a crushing block on 280-pound defensive end Anthony Pleasant. Stokes is bigger (6'4", 223), slower and a bit softer than Owens, but he has a knack for getting open, using his body to screen off defenders and grinding out extra yards after making tough catches in stride. "Defensive backs are getting bigger and bigger because of bigger receivers, but I don't know how you're supposed to deal with those two," Kansas City Chiefs safety Jerome Woods says.
As long as the money is there, Owens and Stokes plan to keep making the Niners' opponents pay. Says Stokes, who this year has 55 catches for 671 yards and 8 touchdowns, "I'd love to continue to play with Terrell. We could lead this team to championships for years to come."
While Owens, a third-round draft pick from Tennessee-Chattanooga in 1996, was regarded as a pleasant surprise upon his arrival, Stokes struggled under the weight of being hailed as the Next Jerry Rice. After the Niners traded four draft picks, including a future first-rounder, to snag him from UCLA with the 10th selection of the '95 draft, Stokes arrived with a passive approach to practice, which was in stark contrast to Rice's obsessiveness. Other Niners quickly got on Stokes, but even after he picked up his energy level, the stigma endured in the media. As a result, Owens, a man so hungry for publicity that members of the San Francisco public relations staff call him X--short for exposure--stopped doing interviews for several weeks last season in a show of support for his teammate. "I'm a compassionate, emotional person, and I was feeling his hurt," Owens says. "If you start hearing a lot of negative stuff, it's going to affect you sooner or later, and I think it did get to J.J."
Owens's empathy is easily understood given the way he was dogged in his youth. "He was one of those people who just didn't fit in," recalls Jeremy Freeman, one of Owens's few close friends from Alexander City. "If there was a party, he probably wasn't invited, and if he showed up, no one would talk to him." Terrell (pronounced TERR-ell), who has three younger siblings, was not only a mama's boy but also a grandma's boy. He didn't meet his father, L.C. Russell, until he was about 12, and he was raised by his mother, Marilyn Heard, and her mom, Alice Black. At one point Terrell moved in with his grandmother, who was religious, strict and protective. "I got a bike for Christmas one time," Owens recalls, "but I couldn't get any use out of it. Guys would go for bike rides on Saturdays, and I'd be pedaling up and down the driveway. I guess my grandma thought I'd be too easily influenced." That was hardly Owens's worst holiday memory, however. "After I met my dad," Owens says, "I remember Christmases where he'd promise me something--a basketball hoop or whatever--and I wouldn't get it." (Says Russell, "I had five other kids to buy for, so sometimes even though I wanted to buy things I didn't have enough to afford them.")
Paternal attention wasn't all Owens didn't get back then. Freeman, who now sells vacuum cleaners in Montgomery, Ala., and is still close to Owens, says, "Girls just didn't like him, and he had nothing to offer. He didn't have an open personality, a car or nice clothes. He'd just stay inside and suffer." It wasn't until Owens got to college and began hitting the weight room that his suffering ended. "I was a stick figure in high school," he says. "I kind of grew into my looks. I wasn't getting girls until my junior or senior year of college." By then Owens was the sixth man on the Tennessee-Chattanooga basketball team that reached the 1995 NCAA tournament. Hoops remains his first love. He satisfies his basketball jones by appearing on the Niners' off-season charity team, having succeeded Rice as the unit's marquee player. In one of Owens's first games with the team, running back Terry Kirby threw an alley-oop pass from behind the half-court line, and Owens gracefully went skyward and slammed the ball. Says Kirby, "The guy has some mad hoppers."
Owens's athleticism also made a strong impression on the practice field, and when in the middle of the 1996 season Stokes suffered a dislocated right wrist that finished him for the year, Owens stepped in for him. He caught 35 passes for 520 yards and four touchdowns without really grasping the Niners' intricate offense. "My college playbook was like a Dr. Seuss book," Owens says. "With the 49ers, it's like a cookbook."
Stokes knows all about cookbooks; his older brother, John, is the chef at a resort in Lucerne, Switzerland. As the youngest of John and Annie Stokes's four sons, J.J.--short for Jeral Jamal--has no war stories to tell about his upbringing. While growing up in a tract home in a middle-class San Diego neighborhood, J.J. was a quiet, happy kid. "I've had it lucky," he says.
His early NFL career, though, was not so sunny. Stokes broke his right hand midway through his rookie training camp, causing him to miss the first four games and hampering him through much of the rest of the season. He caught 38 passes for 517 yards and four touchdowns as the backup to Taylor, who retired after that year. The next year Stokes hit bottom in a Monday-night game in Green Bay, dropping four passes, including a crucial third-down throw shortly before the Packers' game-winning field goal in overtime. When he got to training camp in the summer of '97, he read a kick-in-the-butt quote from Young: "I yelled and screamed at him, tried to embarrass him and just left him alone. The key belongs to him. He has to motivate himself."
With Owens viewed as the front-runner to start opposite Rice, Stokes ratcheted up his game and made the competition interesting. Then when Rice went down in the '97 season opener, he and Owens took turns carrying the load. Stokes caught 58 passes for 733 yards and four touchdowns, while Owens led San Francisco with 60 receptions for 936 yards and eight scores. "I admire both of them for their willingness to jump in and mix it up," Young says. "Jerry can overwhelm you with his work ethic and intensity, but they've hung in there and tried to match it."
Another element of Rice's personality--his insistence on being the Man--increases the potential for unrest, but so far the wideouts have refrained from griping directly at each other. While Owens has been San Francisco's most dangerous receiver this season, Rice has still been the featured target (chart). Yet Rice has been the one most vocal in demanding the ball, and his lobbying efforts have been effective. During the second game of the season, against the Washington Redskins, he complained to Mariucci; on the following Sunday against the Atlanta Falcons, Young's first five passes went to Rice. This wasn't lost on Stokes, who says, "I hadn't complained in the past, but I did complain a couple of times after that--and I got the ball because of it. So I'll do it more."
Owens is less comfortable asserting himself. "I don't think it would be advantageous on my part to have an outburst, to say, 'Give me the damn ball,'" Owens says. "I've never been a ball hog. I know there's been a lot of hype lately about them injecting me into the game plan, but if you look at what's going on, that's really not the case. I'm just trying to be the silent assassin and let my play do my lobbying for me."
If anything, Owens has been undemanding. He stunned Mariucci shortly before the season opener by approaching him on the practice field and saying, "You know, I don't have to start"--defusing a potential controversy, though the Niners' frequent use of three-receiver sets has rendered the matter moot. Owens figured Rice deserved to start at the flanker position he had moved into during Rice's absence, while Stokes was the incumbent split end. Could it be that after all those years of trying in vain to fit in, Owens is reluctant to mess with this killer combination?
"We've got a great thing going here," Owens responds. "Look, Jerry's going to be who he is. He's been the focal point of this offense for so long, and it kind of spoiled him. I don't blame him for complaining. But J.J. and I can't let that distract us from what we're trying to accomplish: getting through the playoffs and trying to win the Super Bowl."
In the meantime, the kid who couldn't make the high school ensemble will be dancing up a storm--in the end zone.