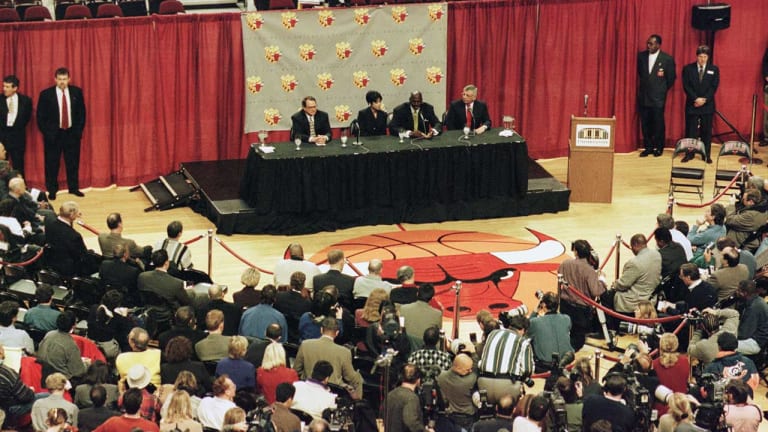 Jesus Christ, Superstar
The coverage of Michael Jordan's retirement was reverent enough to suit a Supreme Being
The media have done what Craig Ehlo couldn't: We have covered Michael Jordan without looking silly. We brought a sense of proportion to his most recent retirement, treating the Second Going as we would the Second Coming. They were, evidently, one and the same.
Michael Jordan is the Supreme Being. All the sound bites told us so. "He is not human" (Reggie Miller), "He is God disguised as Michael Jordan" (Larry Bird), he is "Jesus" (Jayson Williams).
He is the Creator. "I would not be here were it not for Michael Jordan," NBA analyst David Aldridge said on ESPN, which opened one of its editions of SportsCenter last week with Jordan highlights set to a heavenly choir.
He is a spiritual role model to millions. "People go to Nepal and sit in an ashram for 10 years to learn what Michael [has] already incorporated into his being," Jordan hagiographer Mark Vancil told a solemnly nodding Charlie Rose on the latter's PBS talk show last week. Vancil is president of Rare Air Media, which published For the Love of the Game, a coffee-table biography of Jordan so superior to all of humankind's previous literary efforts that standard publishing technology was unworthy of it. "It was printed on specially created paper ('100# Rare Air Gloss Text')," reported The New York Times, "and manufactured in the United States by the same printers who print brochures for Rolls-Royce."
In short, Jordan is bigger than life. Or as "international designer" Bijan was recruited to say on SportsCenter, "E ees beeger dan lahf."
By the end of last week, "bigger than life" was selling Jordan short. To describe him in a single front-page story, USA Today employed three "greats," five "greatests," one "greatness," two "marvelouses," three "extraordinarys," one "unbelievable," one "unmatched," two "awe-inspirings," two "staggerings" and one "superstar." When that didn't quite make the point, the paper called MJ a "great superstar" before hyperventilating into a brown paper bag.
So it seemed woefully inadequate--almost heretical--when talking heads suggested on SportsCenter that Jordan might now reasonably aspire to the presidency or "to compete with Bill Gates" in the business arena. The tenor of these arguments was correct: The best player in the brief history of basketball should, if he so desires, govern the world's only superpower or at least control 90% of the global software market. But why trifle with the most powerful office on earth, or waste time as the planet's wealthiest citizen, when you can already halt the rotation of the earth on its axis? Given Magic Johnson's four-word assessment of Jordan's career last week ("He stopped the world"), those would be lateral moves at best, no?
Jordan has long denied his own divinity. He did so in Barcelona in '92 and again last week, when he told reporters, with what now passes for self-deprecation, "I can't save the world." His denial had the ring of plausibility to it: He spoke not through a burning bush, nor even through Ahmad Rashad, which raises some sobering theological questions.
What if Jordan isn't Jesus Christ Superstar, but mere...superstar? What if he is simply the world's best basketball player, a solid citizen and prodigiously successful salesman? What if there's a real God, occupying even Rarer Air than Jordan, and He is serious about that whole graven image thing?
Then we're all headed for a very warm place. And it ain't the Bob Hope Chrysler Classic.