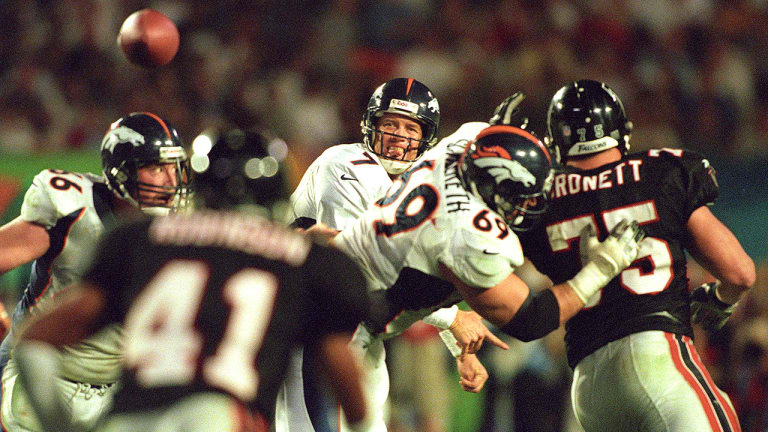 The Magnificent 7
The gunslinger from out West, John Elway, cut down the Falcons in rapid-fire fashion to give the Broncos their second straight Super Bowl title.
The rain was pouring down early Monday morning as John Elway stepped onto the balcony of his Fort Lauderdale hotel room and let out a resounding roar that reverberated eight stories below. Elway had just played the game of his life in Super Bowl XXXIII, throwing for 336 yards and a touchdown to earn MVP honors in the Denver Broncos' 34–19 victory over the Atlanta Falcons. With water splashing on his face, a Cuban cigar in his left hand and an American beer in his right, Elway looked and felt like the king of the world. His broad grin reflected a victory that went beyond a second consecutive NFL championship. Challenged to a duel by his former boss and tormentor, Atlanta coach Dan Reeves, the 38-year-old gunslinger displayed his grit, slaying not only the Falcons but also his remaining demons in what was probably the last game of his Hall of Fame career.
"I never thought it could get any better than last year, but just look at this scene," Elway said, gesturing toward the revelers who had gathered at the entrance to the team's hotel. "You couldn't have planned it more perfectly—no wind during the game, warm weather, a full moon—and now it pours, like a great, big release. I never, ever thought I would be the Super Bowl MVP."
Elway drew on his cigar and flicked some ashes into the rain. The man has always had a flair for the fantastic finish. Had he retired after last season, when he won his first Super Bowl in four tries despite a lukewarm performance against the Green Bay Packers, Elway's finale would have been heartwarming. If Sunday's game was indeed his last, he will have gone out in a blaze of glory. "All week long, all the Falcons talked about was stopping our running game," Elway said, his eyes hardening. "I knew they were saying, 'Make Elway beat us.' My thought was, Good, let's go. I was so motivated, it wasn't even funny."
There was plenty of comedy during the week leading up to American sports' gaudiest spectacle, from the spiked dog collar Atlanta cornerback Ray Buchanan wore on media day, to the insults he exchanged with Broncos tight end Shannon Sharpe, to the embarrassing arrest of Falcons free safety Eugene Robinson for soliciting oral sex from an undercover police officer on the eve of the game (THE LIFE OF REILLY, page 118), to the legions of jokes made at Robinson's expense on Sunday. Despite Elway's stellar play, which robbed this showdown of much of its suspense, Super Bowl XXXIII will be remembered for its off-field drama.
Most football fans are well versed in the contentious history involving Reeves, Elway and Broncos coach Mike Shanahan, but when Reeves provided the world with a refresher course during an emotional press conference 11 days before the game, it set off a war of wills he was unlikely to win. As Denver's coach, Reeves had fired Shanahan, his offensive coordinator, following the '91 season, because he believed that Shanahan was trying to undermine his relationship with Elway. (Shanahan has repeatedly denied this.) Despite acts of reconciliation among the three men over the past year, Reeves chose his Jan. 20 meeting with the media to reaffirm his view that Shanahan's work behind the scenes had cost him his job in Denver. (Reeves's contract was not renewed after the '92 season.) In the wake of Reeves's emotional comeback from quadruple-bypass surgery in December, those old wounds were reopened and the Atlanta coach came off looking like the victim again. He had no idea how victimized he was about to be.
"For Mike, this game was personal," Elway said. "I've never seen him more ready for a football game. I knew it meant more to him than any game he has ever coached."
Hell hath no fury like a genius scorned. It's hard enough to deal with a Shanahan game plan when he has two weeks to prepare—in last year's Super Bowl he exploited a flaw in the favored Packers' defense to create running room for Terrell Davis—but the enmity he felt toward Reeves kicked Shanahan's notorious intensity to an otherworldly level. Think De Niro in Taxi Driver, Pacino in The Godfather Part II and Brando in Apocalypse Now, and you're getting warm.
Four days before the game, as he rode to practice in a sport-utility vehicle, Shanahan revealed the depth of his anger toward Reeves, who went 0-3 in the Super Bowl during his 12 seasons as Denver's coach. "Dan made a point of coming up to me at the scouting combine last February, and he looked me square in the eyes and spent 20 minutes telling me how happy he was for me, John and the city of Denver that we had won the Super Bowl," Shanahan recalled. "That really got my respect, and then he asked me to play golf with him at the owners' meetings [in Orlando], and I figured it was his way of letting bygones be bygones. Then, all of a sudden, we're in the Super Bowl, and he's got a national audience, and he's accusing me of insubordination. I thought it was either a tactical move, to try to make me lose my concentration, or, well, you can figure out the rest.
"Dan talked about how getting fired hurt his family. Well, he fired a lot of assistant coaches during his time in Denver. What about the hurt he caused their families? We'll shake hands after the game—I'll shake anyone's hand in that context—but this will never be worked out."
Shanahan refuses to be outworked. "I don't think he was ever without his game plan card all week," Elway said. On Sunday, some six hours before kickoff, Shanahan was sitting in his suite watching A Night at the Roxbury with his 19-year-old son, Kyle, when he abruptly grabbed his game plan folder and ran down to Elway's room. The quarterback was watching The Rolex 24 auto race and doing breathing exercises when Shanahan interrupted. "He wanted to go over plays for specific coverages, and he could barely sit still," Elway said. "Mike's usually very calm before a game, but he was going a hundred miles an hour."
Shanahan's team came out of the blocks quickly, as it has so often over the past three seasons, answering an Atlanta field goal with a touchdown on its first drive. The Falcons geared their defense to stop Davis, and although last year's Super Bowl MVP ran for 102 yards on 25 carries, he didn't dominate as he had against the Packers. Buchanan, whose inflammatory statements leading up to the game included a victory guarantee, shut out Pro Bowl wideout Ed McCaffrey in the first half. (McCaffrey had five catches for 72 yards in the second.) And Sharpe missed the final three quarters after suffering a sprained left knee on a tackle by Buchanan near the goal line during Denver's opening drive.
But the Broncos' defense bedeviled the Falcons (box, page 38), forcing four turnovers—including three interceptions of Chris Chandler, whose quarterback rating over the previous six games had been 125.0—and allowing only a pair of field goals until a garbage-time touchdown with 2:04 remaining. Offensively, Elway seized the moment, completing 18 of 29 passes with one interception, on a drop by Sharpe. "They took Terrell out of the game and dared John to beat 'em," said Tom Nalen, Denver's Pro Bowl center. "Well, John beat 'em. It was weird. Even the defensive backs weren't really respecting him. I'd never seen that."
Shanahan surprised the Falcons by having Elway fake handoffs to Davis on several short-yardage plays and instead give the ball to fullback Howard Griffith, who scored on a pair of one-yard touchdown runs. On Denver's other rushing touchdown, Griffith, the lone running back, went in motion to the left, and Elway scored on a three-yard quarterback draw. That gave the Broncos a 31-6 lead with 11:20 to go and sent 74,803 fans into postgame party-planning mode.
Rather than forcing the ball to McCaffrey in the first half, Elway locked in on wideout Rod Smith, a practice-squad player in '94 who carries a wrinkled, one-dollar food stamp in his wallet to remind him of his less fortunate past. Smith, held without a catch in last year's Super Bowl, had five receptions for 152 yards. On the Broncos' fifth offensive play, Smith lined up in the backfield, went in motion to the right and found a seam in Atlanta's zone, turning a quick pass into a 41-yard gain. "You give this staff two weeks to prepare," Smith said, "and it's going to be hell on a defense."
Yet Shanahan and offensive coordinator Gary Kubiak made the game's most significant adjustment on the fly. When they studied a photo of a second-quarter play that resulted in an 18-yard Elway pass to Smith, they noticed the Falcons' safeties had bitten on a play fake to Davis, leaving themselves vulnerable in the deep middle of the field. Shanahan suggested Elway run the play again but change Smith's route from a buttonhook to a post pattern. "We hadn't used it in six or seven weeks," Shanahan said. "We certainly hadn't practiced it that way in some time." Shanahan thought the revised play, Fake 19 Handoff QB Keep Right X Post, could go for a touchdown, and he waited for an ideal situation to call it: After Atlanta's Morten Andersen missed a 26-yard field goal with 5:07 left in the first half, allowing the Broncos to keep their 10-3 lead, Denver took over at its own 20. Elway faked a handoff to Davis and hummed one of the sweetest spirals he has ever thrown. Smith blew by Robinson with an inside-out move, caught the ball in stride at the Falcons' 43 and coasted into the end zone.
"I'd say there have only been a handful of times this year when we called something in a game that we hadn't practiced that week," said Denver left guard Mark Schlereth. "This play was not only a testament to how we prepare but also to how much Mike trusts the players."
As disturbing as Robinson's Saturday-night ordeal was, the Broncos couldn't resist making light of his plight during the game. When Robinson missed a tackle near the Denver sideline, allowing a 39-yard catch-and-run by Davis that set up the Broncos' final touchdown, several players screamed, "You look a little tired, Eugene. Up late last night?" It didn't escape the Broncos, who received two free in-room movies as part of their daily hotel allowance, that Robinson, through the magic of Spectravision, could have saved $31.05 and achieved practically the same thing. "That would have been easier," Elway said, "but I guess the Falcons didn't get the free movies."
While most of the Falcons said Robinson's arrest had no effect on their performance, Reeves conceded that "little things make a big difference in any ball game; it certainly didn't help us."
Elway called the incident "a major tragedy that must have affected his game, because there's no doubt he was embarrassed. The whole team had to deal with it, and that cost them. I know from experience—and it took me a while to learn this—that the whole deal with the Super Bowl is keeping your focus on football, and Mike does a great job of keeping us away from the hype."
All week long Elway maintained a healthy perspective on the ultimate game. On the Monday night before the Super Bowl, he and several teammates traveled by helicopter to a private party in Miami. When the chopper approached Pro Player Stadium, Elway asked the pilot to circle a few times so he could admire the view. "It was just so cool to see it from that vantage point," Elway said. "It made the whole spectacle seem a little smaller."
Three nights later Elway's wife, Janet, arrived in Fort Lauderdale, and the two of them rode in a limousine to a party in South Beach. Saddled with a sinus infection and hassled by the heavy traffic, Janet began complaining, and John gently took her hand. Recalls Janet, "He spent the next 25 minutes giving me the best pep talk of my life. He said, 'This is why we've worked so hard all these years, and if I know you're enjoying it, I can enjoy it.' He brought up the comments Dan [Reeves] had made and said, 'Don't get caught up in all the b.s.'"
Elway was so loose during the week that he adopted the name of his boyhood hero. Each time he ordered room service or spoke to a hotel operator, he would chuckle as he was addressed by his alias. Strange, but true: He was registered as John Wayne.
Early on Monday, long after victory was his, the old gunslinger hobbled back to room 870 and fielded the only remaining question about his football legacy: Will he ride off into the sunset? For now the answer is yes, but it's not final, and he'll take his sweet time making it official. "Not now," he said as he stepped onto the balcony. There were drinks to down and cigars to puff and loved ones to embrace and nurture.