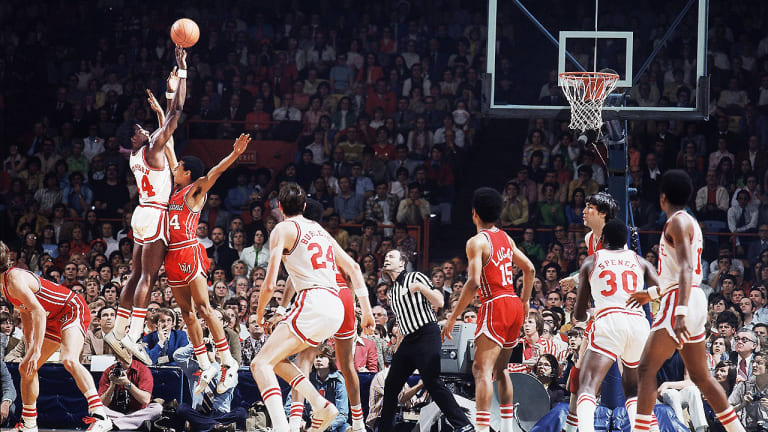 Losers Weepers
The year before the NCAA added at-large berths to the Big Dance, North Carolina State and Maryland played an epic of a winner-take-all final in the ACC tournament. For the Terps, the result was a crying shame
Twenty-five years later John Lucas still has nightmares about the turnover. "There's Lenny Elmore," says Lucas in his distinctive rasp, as if he's looking at a videotape playing in his mind. "He's open! I'm so tired. But I know he's open. And I throw it over his head. Oh, man!" The errant pass by Lucas, the erstwhile Maryland point guard who's now a Denver Nuggets assistant coach, came in the waning moments of overtime in the Terrapins' 1974 ACC tournament final against North Carolina State. "You know," he says laughing ruefully, "I remember it like it was yesterday."
Like it was yesterday. How many people who were either involved in or witnessed that classic game remember it like it was yesterday? How many consider it the best game they ever appeared in or saw? Lucas, who played 14 seasons in the NBA and has coached for four more, thinks it is. Norm Sloan does too, even though two weeks after that game he coached N.C. State to its first national crown. Tom Burleson and Monte Towe do. They were, respectively, the Wolfpack's center and point guard, the biggest man (7'4") and the smallest (5'5") in major college basketball that season. Their teammate David Thompson does, too, and all he did four years later as a Nugget was score 73 points, the third-highest single-game total in NBA history.
Few games resonate like that March 9, 1974, matchup at Greensboro Coliseum. "Well, you're only about the thousandth person to ask me about it," drawled Lefty Driesell, who coached Maryland that season and, at 67, is still stomping along the sidelines, at Georgia State. "I guess nobody will ever forget the dang thing."
There are many reasons to toast the dang thing's silver anniversary at this week's ACC tournament in Charlotte. First, there were the stakes. Listen up, all you 16-12 teams waving your RPI rating and crowing about your invite to the Big Dance: No. 1-ranked North Carolina State came into that 1974 game 25-1 and No. 4 Maryland was 23-4, but only the winner would get a bid to the NCAAs. There had been a drumbeat of support for expanding the tournament field to deserving teams other than conference champions, but a proposal to do that had been "temporarily rejected" by the NCAA before the 1973-74 season.
Second, the game had a Sisyphean aspect to it for the Terps. Five times over two seasons they had taken the court against the Wolfpack with perhaps their strongest team ever. Both sides had unforgettable players. N.C. State with the high-flying Thompson, the Ichabod Crane-like Burleson, the gnomish Towe; Maryland with the peppery southpaw quarterback Lucas; the stern and studious Elmore, all New York City nastiness in Afro and muttonchop sideburns; and Tom McMillen, the future congressman who had a center's height (6'11") and a guard's sweet stroke from the outside. These guys could play a little, too; seven of the 10 starters, the aforementioned sextet plus Lucas's backcourt mate, Mo Howard, went on to the NBA.
There was personality and pizzazz on the sidelines. For that ACC final Sloan wore a ghastly plaid sport coat and yellow slacks that might've turned up in Boogie Nights. Both he and Driesell were characters: candid and intense. They were friends united in their antipathy toward North Carolina coach Dean Smith. They were united, too, in hearing the criticism that all they did was recruit superior talent and roll out the balls at practice.
The final--and best--reason to celebrate this Maryland-N.C. State showdown is the quality of the game. The play was furious but never sloppy, even though it was the Terps' third game in as many nights. (N.C. State, which had a first-round bye, needed to win only one game to make the final.) Though the Wolfpack had the nation's top offensive performer in Thompson, as well as a human lighthouse in Burleson, it rarely slowed the tempo to set up those two players, rarely turned the game into the plodding post-this-guy-up or isolate-that-one waltz that occurs so much these days. The result? Forty-five minutes that flowed, an up-and-down classic in which both teams scored in triple figures (without a shot clock) and in which no more than five points separated the protagonists during the final 20 minutes. Recently SI brought together Burleson, Elmore and Thompson in a Raleigh hotel room and replayed the videotape. Their recollections and the magic of the game made for a memorable session.
It would've been almost impossible for Maryland to have played a better first half than it did that night. There was much talk by the color commentator working his first ACC tournament, a former Wake Forest point guard named Billy Packer, that the Terrapins would be fatigued because of their 105-85 rout of North Carolina in the semifinals the night before. ("That's the tape we should be looking at," said Elmore jokingly.) But Maryland forced the action through the first 20 minutes and led 55-50 at intermission. McMillen had 16 points; Elmore was a force under the boards with 13 rebounds; and Lucas, a sophomore, was the best player on the floor in that half, dribbling around and through the Wolfpack defense as his tight Afro--"I was a legit 6'4" then," says the 6'1" Lucas--barely moved.
But N.C. State came out fired up for the second half. When Towe forced a jump ball on Lucas and then converted a putback on the ensuing fast break, the Wolfpack took its first lead, 58-57, with 18:20 to go. "I remember the first time I saw Monte. I thought he was the kid brother of one of the players," says Thompson. "I'm thinking, This is our point guard? But Monte was the heart and soul of our team."
At 16:46 the Wolfpack went ahead 64-61 when the 6'9" Elmore was whistled for goaltending on a hook shot by Burleson, the second such call in the game. The refs, Hank Nichols (now supervisor of officials for the NCAA) and Jim Hernjak, apparently were of the opinion that any hook shot by Burleson that was blocked had to be goaltending because no one could reach the ball before it started its downward flight. Twenty-five years later those calls still sting Elmore. "We always felt we were the outsiders on Tobacco Road," he says, "that we were never quite accepted in what was essentially a Carolina league." Sitting on the couch next to him, Burleson whistled softly. "Do you know what this is, Lenny?" he asked, moving his hands back and forth. "It's the world's smallest violin."
Whatever the justice of those goaltending calls, Burleson had the game of his life, finishing with 38 points. Yet his performance didn't diminish the reputation of Elmore, who was one of the toughest defenders in the college game. Rather, it reflected the tenor of the times, better times for those who don't think basketball should be the hand-to-hand combat it has since become. Burleson got himself into good position in the paint because Elmore was simply not allowed by the refs to body, elbow or outright push him out of it. There were none of the converge-on-the-ball-and-smother-it tactics that bog down games these days.
But even as Burleson began to dominate, Maryland wouldn't fold. Consider these plays that occurred midway through the second half: Lucas stole the ball from Thompson and fed it to a streaking Howard for a layup; Lucas rebounded a short miss by the Wolfpack's Moe Rivers and again found Howard on a long pass for another layup; Lucas took the inbounds pass after a Towe basket and, almost unbelievably, spotted Howard sneaking behind the defense again. Howard's third basket gave the Terrapins a 77-72 lead with 11:40 left. Sure, that kind of defense would send, say, Pat Riley into therapy, but this was an era when teams weren't afraid to run and take quick shots, when they didn't handle the basketball as if it were a family heirloom.
With 5:18 left and Maryland's Owen Brown in his face, Thompson hit a 20-foot jumper to cut the Terps' lead to 89-88. Unlike many of today's supertalented athletes, who spend most of their time in high school and college attempting to fly to the basket, the 6'4" Thompson didn't have to learn how to shoot a jumper when he got to the pros. His outside shot was as deadly as any in the college game, and it kept defenders from playing off him too far. Though he remains a legend in the ACC, Thompson's place in the broader history of college basketball seems lost. Because of NCAA violations that N.C. State committed during his recruitment, Thompson and the rest of the 27-0 Wolfpack of 1972-73 didn't go to the NCAAs. The 1974-75 team (22-6) didn't make it out of the ACC tournament. That gave Thompson only one season in the national spotlight. Then, too, had he been able to use his 45-inch vertical leap for show-stopping jams--he played in the era of the so-called Alcindor Rule that prohibited dunking--the Thompson legend would've grown a hundredfold. After college his drug and alcohol abuse cut short what should have been an immortal NBA career. He played nine years for the Nuggets (the first season in the ABA) and the Seattle SuperSonics, but the 73-point game notwithstanding, he never reached his promise. "I played against Bill Walton, and he was great," says Elmore, "but there were ways to stop him." He points to Thompson. "There was no way to stop this guy."
Yet for the most part Maryland employed only one man, either Brown or backup forward Tom Roy, to guard Thompson. At the same time N.C. State didn't clear out all that often to get the ball to its best player. The absence of such tactics kept the game moving, kept it clean. Thompson would finish with 24 shot attempts (and 29 points), but that wasn't an inordinate number considering that N.C. State took 80 shots, about 20 more than the average attempts a team takes in a game today. (Maryland took 77.)
It wasn't until the 4:25 mark that either team slowed the furious pace. The score was tied at 91 when Sloan ordered Rivers, Thompson and Towe into a game of keepaway, figuring--accurately, according to Elmore--that Maryland would exhaust itself chasing the ball. Towe finally weaved through the defense and fed Burleson for a layup that gave N.C. State a 93-91 lead with 3 :39 remaining. McMillen banked in a shot, but the Wolfpack regained the lead, 95-93, when Burleson threw a pass between McMillen's legs to Phil Spence for a layup with 2:58 left. Forty-six seconds later Burleson hit two free throws, and the Wolfpack's lead was four. Burleson is a charming and laid-back fellow from the western Carolina mountains, where he was born, raised and still lives, but he has long chafed at the perception that he was nothing more than one of those stiff, Erector Set giants. This game remains Exhibit A that he was a pivotman with a complete arsenal.
When Roy, an unlikely offensive source, banked in a jumper at 1:43 and, 31 seconds later, McMillen, falling out-of-bounds, found Elmore underneath for a layup, the game was tied at 97. Backup guard Mark Moeller, in the game to give the Wolfpack another ball handler, threw away a pass, and with nine seconds left Maryland had a chance to win. Driesell called timeout and sketched a play on which Lucas was to drive to the hoop and either shoot or kick it out for a jumper on the wing. But Lucas, played tightly by Rivers, failed to penetrate and passed the ball to Howard. Though he been shooting well (10 of 15), Howard passed up a good look from 20 feet out and threw the ball back to Lucas, who had time only for a desperation heave that fell short. Overtime.
Consider what was at stake as the teams took the court for the extra period. Maryland had won 46 games over two seasons and had lost only 11, including the five (by a total of 27 points) to the Wolfpack. Beat N.C. State and, heck, the NCAA tournament might look easy. Lose and let the nightmares about the Wolfpack continue. Over the same two seasons N.C. State had put together a 52-1 record (its lone loss had been 84-66 to UCLA early in the 1973-74 season) and had won 31 consecutive ACC games. But lose to Maryland and go home with no national stage, no national championship, no enduring legacy.
Both teams played cautiously in overtime, but even that added to the majesty of the game. They were like two exhausted heavyweights holding each other up, still toe-to-toe in the center of the ring. Thompson remembers feeling the pressure of each possession wash over him. An Elmore free throw at 3:50 gave Maryland a 98-97 lead, but Burleson countered with a hook. Howard put Maryland ahead 100-99 with two free throws, but with 2:04 left Towe found Spence alone for a layup and N.C. State led again.
By this point Lucas had had it. The relentless up-and-down tempo he had helped create had finally gotten to him. With about 15 seconds to go (play-by-play sheets were not as all-encompassing as they are now and TV broadcasts didn't include a clock graphic), Lucas dribbled to his right, reversed and found himself doubled by Towe, who had left Howard. Towe's intrusion forced Lucas to give up his dribble. On the other side of the court, about 10 feet from the basket, Elmore was open. But Lucas's pass sailed far over Elmore's head. That's the play that haunts Lucas.
At the other end Towe was fouled with six seconds remaining. As was his custom, he took the ball from the official and shot it almost instantly. The first free throw swished, and the second took a soft bounce on the front rim, another against the backboard and fell through. N.C. State led 103-100, and Maryland could summon only a desperation shot from backup guard Billy Hahn, who's now a Terrapins assistant. It wouldn't have mattered anyway--there was no three-point shot then.
Several reporters at the tournament immediately labeled it the best game in ACC history. Some still think it is. In any case, it was the conference's last tournament game that was played with a there's-only-one-bid-and-we've-got-to-get-it fury. With the memory of Maryland's sad fate fresh in its mind, the NCAA tournament committee voted later that year to expand the field from 25 to 32 teams starting with the 1975 tournament. (Expansions to 40, 48 and 64 occurred in '79, '80 and '85, respectively.) From 1975 on, the ACC has sent at least two representatives to the NCAAs.
Sixteen days later, again in Greensboro, N.C. State won the NCAA title with a 76-64 victory over Marquette. That followed a pulsating 80-77 double-overtime defeat of the Walton-led UCLA in the semis, a game that Sloan insists wasn't as memorable as the Wolfpack's win over Maryland. "We wouldn't have been at the Final Four if we hadn't escaped that night," he says. "I tell you, it was a tragedy a team of Maryland's caliber wasn't able to participate."