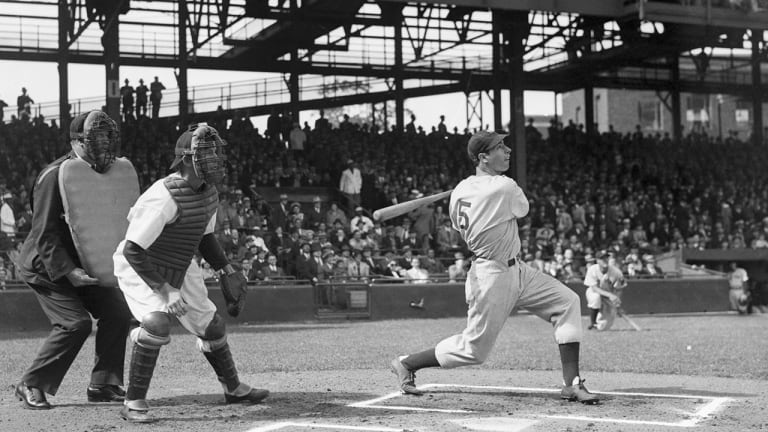 No Ordinary Joe
Through the years the enigmatic DiMaggio endured as both a cultural icon and an American hero.
He had fame that transcended mere celebrity. For nearly half a century after his playing days had ended, Joe DiMaggio remained a regal presence in the public eye, a species of American aristocrat. And this in an age when the limelight shines too brightly and fades all too swiftly on an undeserving too many. But DiMaggio's renown never really disappeared, even in his relatively subdued final years.
I've known people who couldn't tell an infield fly from a household pest who nevertheless held the Yankee Clipper in awe. DiMaggio himself was fond of telling how, when he was introduced to the British royal couple on their 1983 visit to San Francisco, Prince Philip stopped dead in his tracks and noisily exclaimed, "Are you the Joe DiMaggio?"
Of course, Joe always looked like somebody important. Tall (until age and infirmity stooped him) and darkly handsome in a horse-faced way, dressed always with impeccable taste, consistently maintaining a discreet distance from his adoring public, he cut a most dignified figure. At the same time, this is just a ballplayer we're talking about here, the son of a fisherman, a man of so little formal education that his friends from the old San Francisco neighborhood say that he walked in one door at Galileo High School and out the other, all in his first day, never to be seen in that particular grove of academe again.
He was not at all articulate, although, like his contemporary Joe Louis, he was capable of the occasional pithy observation. "Joe, you've never heard such cheering," DiMaggio's then wife, Marilyn Monroe, famously told him in 1954 on returning from entertaining troops overseas. "Yes," said Joe, "I have."
DiMaggio was uncomfortable with strangers. In his playing days he did have some newspaper friends (most notably the columnist Jimmy Cannon), but he submitted to precious few interviews after he retired. Then again, Joe not only knew enough to keep his mouth shut in public, he made reticence a veritable art form.
He was a bundle of contradictions, though. He was an intensely private man who nevertheless married two actresses (the first was Dorothy Arnold), neither of whom was noticeably embarrassed by publicity and one of whom was an international sex symbol. He was fiercely protective of his dignity, but he was not above selling coffeemakers or the services of a bank in television commercials. He was capable of warm friendships, but, like another of his contemporaries, Frank Sinatra, he could end them abruptly and for reasons often trivial and usually unexplained.
So what did we all see in him? He was, beyond question, a magnificent ballplayer, some still say the best ever. And he played in the nation's media capital on some of the game's greatest teams. But ballplayers come and go, and athletic fame in these days of the blinking public eye is as fleeting as it is for any entertainer. For that matter, there may be nothing sadder than an old baseball player, unless, as Ring Lardner once suggested, it's an old baseball writer.
Surely there must be something else, some inner nobility that we all must have sensed. I don't pretend to have any unusual insights here, but because DiMaggio and I, fellow San Franciscans, had some friends in common, I've been fortunate to see, largely through them, something of what it was that made this man so special.
One such friend was Joe Vetrano, who had been a placekicker and halfback for the original 1946 San Francisco 49ers and thereafter an immensely popular man about town. Born in New Jersey, he had gone to college at Southern Mississippi and had somehow melded the dialects of both regions into his own inimitable patois. He was a charming man, fond of recalling his football past, and he had a deep-throated laugh that had the unnerving intonation of a man strangling.
He and the Clipper had been golfing and drinking buddies for years when DiMaggio inexplicably cut him off. Vetrano was hurt and mystified, but the rift in no way damaged his affection for his old pal. Then, again without explanation, DiMaggio welcomed him back into the fold. And, if anything, their friendship grew even stronger. It was as if nothing had ever happened between them.
In the mid-'90s Vetrano got very sick. His heart had failed him, and after some weeks in the hospital he was, for all intents and purposes, sent home to die. When he learned of Vetrano's illness, DiMaggio hurried back to the Bay Area from his new home in Florida. No one outside of his own and Vetrano's family knew he was back in town. Vetrano's son, Joe Jr., told me of the two friends' last moments together.
"They were sitting on the porch, laughing and telling old stories the way they always did. Then my dad turned to Joe and whispered, 'I'm going now, Joe.' And Joe said, 'Going? Where?' Dad just smiled at this and then put his head down. He died in Joe DiMaggio's arms."
It is said we are a people who need heroes. Joe DiMaggio did his best to fill that daunting role, first as the superb player he was, then as someone who kept alive his own legacy. But it may well be far more important that in small ways not publicly known, he was actually a pretty damn nice guy.