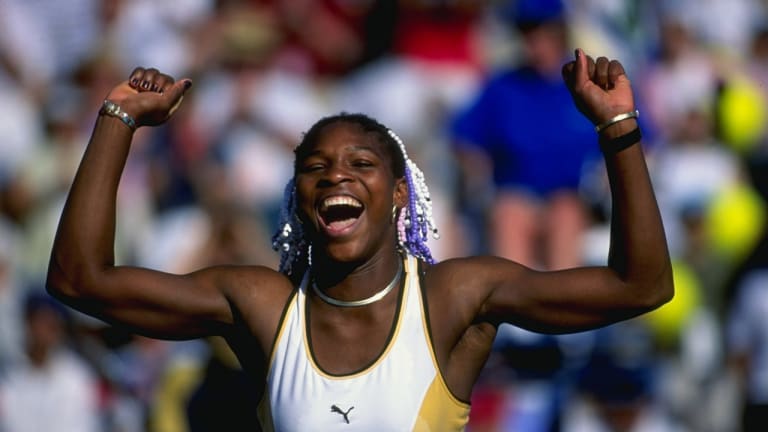 Serena's at Peace with Herself
After back-to-back titles, Serena Williams has no doubt she can win big
The way 17-year-old Serena Williams tells it, her rise came after a fall. Sixteen months before she thrust herself to the forefront of women's tennis with a stirring victory over Steffi Graf in last Saturday's Evert Cup final in Indian Wells, Calif., Williams took a scary tumble that changed her game. One morning Williams played hooky from the private school she attended in Miami, blowing off chemistry class for a few rides on her long, red skateboard. She wiped out on a sidewalk and broke the fall with her left wrist, jamming it in the process. For the next several weeks Williams, who's a righty, winced each time she hit her two-handed backhand. She adapted by running around her favorite stroke and developing an imposing forehand. Williams's pain was tennis's gain: Not only did her ferocious forehand help Williams gut out her dramatic triumph over Graf, but it may also end up swaying the balance of power on the WTA tour, not to mention in her own family.
The biggest points in Williams's 6–3, 3–6, 7–5 win played out in a manner no one could have envisioned during Graf's glory days: Graf wound up and pounded forehands at Williams, who walloped the ball back at even more treacherous velocities. Fraulein Forehand, meet Madame Mash. Just as Serena's 18-year-old sister, Venus, rocked the tennis world by reaching the final of the 1997 U.S. Open, this year's Evert Cup, one of the tour's most prominent non-Grand Slam events, was Serena's Monterey Pop. The ebullient younger Williams, who had a difficult 1998 that included blowing a big lead in the French Open and pulling out of her Wimbledon singles match with a dubious injury, has found her groove, causing some in the tennis community to project a brighter future for her than for Venus.
The notion of the Williams sisters battling in Grand Slam finals, their hair beads and gargantuan groundstrokes whipping through the wind, is beyond the delicious fantasy stage. In the past three weeks Serena has won 11 consecutive matches, including victories over second-ranked Lindsay Davenport and No. 8 Mary Pierce, to gain her first two tournament titles. Now ranked 16th, the agile, 5'10", 145-pound Williams has no intention of curbing her climb. "I'm tired of losing to people I should beat," she says. "Whatever my potential is, I want to reach it—now. And if I do, I see Venus as my biggest competition."
What Venus saw on Saturday from her courtside seat (she played only doubles at Indian Wells, teaming with Serena to reach the semifinals) was a polite repudiation of Graf's mystique. Though the 29-year-old Graf has had some shaky stretches during her yearlong comeback from knee surgery, she's as close to money in big matches as anyone the sport has known. In her last 22 appearances in tournament finals, Graf had won 19 times, lost once, defaulted once and retired due to injury on another occasion. Her most recent outright defeat had been her epic U.S. Open final match against Arantxa Sanchez Vicario in 1994, just before Serena turned 13.
Yet Williams was hardly trembling at the prospect of facing Graf, to whom she had lost a close three-set match in an Australian Open tune-up two months earlier. Last Friday, an hour after dispatching SandrineTestud, Williams's long hands were steady as she sat in the tournament's traveling salon awaiting a manicure. While someone applied cotton to the fingers on Williams's right hand, Williams, who had her braces taken off four months ago, reached back with her left hand and pulled a retainer out of the back pocket of her shorts. She placed the retainer in her mouth and said, "No, I'm not intimidated by Steffi. I've never been intimidated by anyone, and unless I'm across the net from someone who's 10 feet tall and green, I won't be. On the other hand, because of my size and skills, I can intimidate anyone."
Serena, though more outgoing and friendly off the court than Venus, has a meaner game face and makes little effort to bond with other players. "I'd prefer it for people to regard me as unapproachable," she continued, before letting out a girlish giggle. "Of course, there are certain people I wouldn't mind approaching me, if you know what I mean." She means boys, though Williams says she's "too busy" to date right now.
Any potential suitors had to be impressed with her spunk against Graf. Williams served a love game to open the match and controlled the first set. Graf recovered to win the second set and seemed to take command of the match by breaking serve to open the third. But Williams became increasingly aggressive, breaking to tie the match at 4-all and again to end it. Graf conceded she'd lost because Williams "was going for her shots more than I did. She took more risks." One risk bothered Richard Williams, Serena's father and coach: Five days earlier, an MRI revealed soft tissue inflammation below Serena's right knee. "I begged her to pack up and go home, but she wouldn't listen," Richard said after last Saturday's victory. "Even though she won, I still think she made a mistake."
Richard hopes Serena will pull out of the Lipton Championships in Key Biscayne, Fla., which begin this week and of which Venus is the defending women's champion. Separating the sisters is the current family strategy, the premise being that Serena and Venus each feel less pressure without having to worry about facing the other. So Serena and her mother, Oracene, spent the last week of February in Paris, while Richard and Venus went to—ouch!—Oklahoma City. The sisters won their respective tournaments and spent most of their free time chatting to one another on-line.
Everyone else, it seems, is chatting about them. Says tour veteran Mary Joe Fernandez, who is coming back from 1997 wrist surgery, "It's tough to say this, because there are so many great young players, but if the two of them keep improving like you'd expect them to, I see them dominating within a couple of years." It's difficult to say who has the greater upside. The 6'1" Venus has the tour's fastest serve, but Serena's may be more consistently potent. Venus probably has the better backhand, but Serena's quick-launch forehand, compared favorably with Graf's by Testud, gets the edge. And, says Fernandez, "it looks like Serena tries to do a little bit more tactically, but Venus may be mentally tougher to this point." They've met twice, most recently at the 1998 Italian Open, and Venus has yet to surrender a set.
Their future meetings will be mesmerizing because they're so close that they sometimes seem to be in each other's heads. Last Friday, as the manicurist applied lavender polish to Serena's nails, Venus popped in unannounced while her sister was recounting the fateful skateboard spill. "Oh, my, that was terrible," Venus interrupted, holding her hand over her mouth, "but what made it worse was when you went out later that day and started hitting in the rain." Said Serena, "Yep, and on a clay court. That was mistake number 2."
Serena tried to change the subject, but Venus wouldn't let it die. "The session was over, but you said, 'Just let me hit one more ball.' Of course, you slipped and fell right on the wrist. Then you lay there screaming."
For a second, maybe two, Serena flashed her game face, and Venus glared back. Soon, they'll be staring each other down from across the net, with the tennis world watching. Fuzzy yellow balls are going to pay.