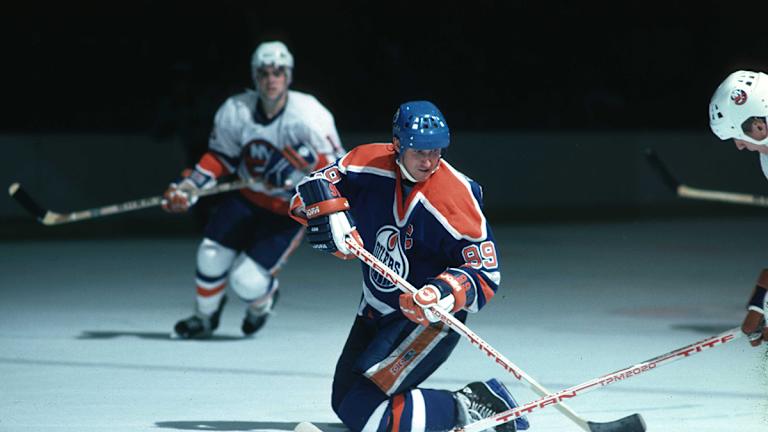 No Fuss Necessary In Wayne's World
I've dug ditches, lubed jackhammers and manned the graveyard shift at a 7-Eleven. But the worst job I ever had was writing Wayne Gretzky's autobiography.
It was like trying to draw personal revelations out of a 1970 Plymouth Duster. The only thing Gretzky hates worse than going into the corners is going on about himself. Humility's O.K., I guess, but it tends to give ghostwriters facial tics.
"Gretz, seriously, you've got to go into a little more detail about yourself," I'd moan.
"All right, all right," he'd say. "What year are we up to now?"
"Nineteen eighty-four."
"I didn't do much that year, did I?"
"Oh, no, not really, except you led the freaking league in goals and assists! Won the Hart Trophy! Won the damn Cup!"
"Good. Go with that. Now, what happened in '85?"
Last week everybody up to and including the prime minister of Canada begged Gretzky to play one more season, give the world one last chance to ticker-tape the greatest team athlete in history.
Gretzky would rather spend a year flossing rhinos than do that. The man hates a fuss, and farewell tours are fuss times 80. Throughout his career, any time games would be delayed so Gretzky could accept giant crystal bowls or get handed keys to Rolls-Royces, he'd feel bad for his teammates. "They're ready to play a game," he'd groan. "They're athletes, and they have to just sit there, waiting."
If Gretzky was about anything, it was team. Do you realize Gretzky had more assists than Bobby Orr, Frank Mahovlich and Mike Bossy combined? He broke Gordie Howe's alltime assist record in 1,086 fewer games than Howe took to set it. That's 13 seasons! Do you know that Gretzky has the first, second, third, fourth, fifth, sixth, seventh, eighth, 10th, 11th and 12th greatest assists seasons in NHL history?
On Sunday, as Gretzky played his last game, I heard people say he was the Michael Jordan of hockey. Horsepuck. Jordan was the Gretzky of basketball. In 1983-84 Gretzky could've stopped playing on Jan. 7 and still won the scoring title. That's almost three months before the end of the season. How's this? Gretzky took the single-season points record from 152 to 215, an increase of 41%. Jordan would've had to average 71 points a game to do that!
Did anybody do more for his sport than Gretzky did for hockey? He snatched it from the bullies. He showed how ugly violence could be when set next to grace. He gave the game an imagination, passing off nets and skates and Gatorade bottles. One night in St. Louis, he flipped in a goal from behind the net off the back of goalie Mike Liut and scored not once but twice on face-offs. Liut is still in therapy.
Yet to sit next to Gretzky on a plane, you were sure he ran a small life-insurance agency in Keokuk, Iowa. For one thing, he didn't have to click in his teeth before the meal. For another, he was 5'11" tops, 175 pounds including headphones, and he benched a whopping 140. For a third, he was usually imbedding his fingernails into the armrests, white as snow, sweating like a Dubai dry cleaner.
The plane would hit a patch of rough air, and before you could get him calmed down, he'd be sitting up with the pilots, making sure they had all the needles and levers in the right position. When the plane would finally level out, he'd come back, smile and say, "Just flicked a couple switches." That's another reason to be happy for Gretzky. He never has to go wheels-up the rest of his life.
For a legend, he desperately needed a couple years at Ego School. He'd ask tongue-tied kids if they wanted anything signed. He'd screw up something and say, with a grin, "Hey, that's why they call me the Great One." We'd want to go to dinner at Morton's or Spago, and the place would be booked. "Do it, Wayne," his wife, Janet, would say. "Just give them your name." He'd pick up the phone, puff out his chest and then chicken out. Another night ordering in.
Be happy for Gretzky. He's finally free. He's been a celebrity since he was six. He's been in national magazines since he was 11. Been a pro since high school. After 32 years, the pressure is finally off.
Starting this week, Gretzky never has to be Great again.