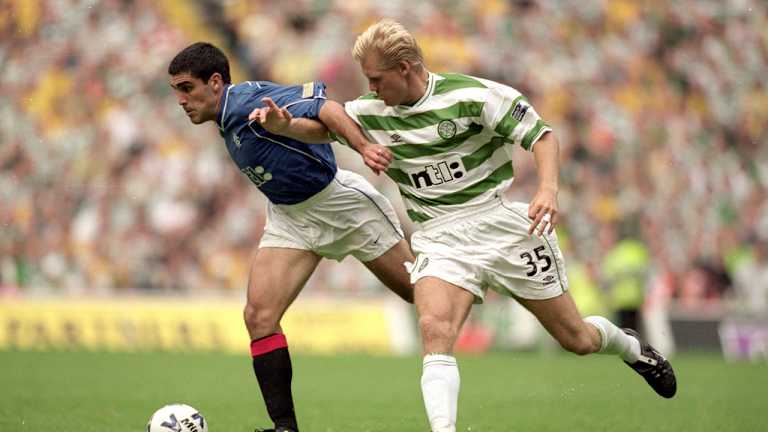 Holy War
After arriving in Glasgow, an American star experienced the fiercest soccer rivalry in the world: Celtic versus Rangers
The miseducation of Claudio Reyna ended abruptly in late April.
Reyna, the U.S. soccer team captain, had just joined the
Scottish powerhouse Glasgow Rangers, and one chilly afternoon he
wore a green sweatshirt to practice. That's all it was, a simple
green sweatshirt. To Glaswegians, though, the sport they call
fitba is never simple, and if you're on Rangers turf, donning
green–the color of hated rival Glasgow Celtic–is like wearing
a yarmulke in Gaza or a Bulls jersey in a Crips hood. "What are
you doing, Claudio?" said teammate Ian Ferguson. "Get that off
you!"
Reyna may still be a newcomer to Glasgow, but please don't call
him a greenhorn. Not after what took place on May 2 at Celtic
Park, where he became the first American to play in
Celtic-Rangers, the world's most bitter club rivalry. While
soccer may have other hallowed matches–Barcelona-Real Madrid,
Boca Juniors-River Plate in Buenos Aires, Roma-Lazio in Rome,
Flamengo-Fluminense in Rio–none come close to matching
Celtic-Rangers for a purity of hatred that involves politics,
class and, above all, religion. In fin de siecle European sports
there is no greater symbol of sectarian strife. Stabbings and
bar fights in Glasgow, a city of 688,500, are regularly
investigated for Celtic-Rangers links. And this year, as has
often been the case, a Scottish championship was on the line.
"There's nothing like it," says the 25-year-old Reyna. "All you
can tell people is that you have to come here to believe it."
Believe this, if you can: 59,918 wild-eyed fans–neighbors,
even–divided into two religious camps by a human wall of
police. Two hours of eardrum-shattering noise, including chants
about Catholic scum from one side and Irish Republican Army
songs from the other. Hundreds of Union Jacks and Irish
tricolors fanning the flames of nationalist bitterness. A
referee beaned by a coin, his head spouting blood.
Imagine trying to play soccer amid all this, trying to clinch a
title in front of a stadium full of people, most of whom hate
you from the bottom of their souls. Only then will you have an
idea of why Reyna sat slack-jawed at breakfast the next morning.
"Sometimes you don't experience all those things in your entire
career," he said. "They happened to me in the same game."
Welcome to the holy war universally known as the Old Firm, which
has pitted Celtic's Irish Catholic faithful against Rangers'
Protestant supporters for 111 years. A social organization
founded in 1888 to aid Glasgow's poor Catholic immigrants,
Celtic and its successful soccer team have aroused the undying
resentment of the Protestant establishment, symbolized by
blue-clad Rangers. It's why Rangers forward Paul Gascoigne
famously celebrated a goal against Celtic by mimicking a flute
player to commemorate William of Orange's victory over the
Catholics at the Battle of the Boyne in 1690. And it's why
Celtic players take special pride in crossing themselves when
they score against Rangers. "It's the last bastion of the sins
of our fathers," says Ian McGarry, a soccer writer for the
Scottish Daily Mail. "In the past the division represented
itself in the workplace and in everyday society, but now the
only place where it's still acceptable is a sporting occasion."
Americans may be surprised to learn the Old Firm hits close to
home, and not just because of Reyna. If there's a lightning rod
in this rivalry, it's Mo Johnston, a forward for MLS's Kansas
City Wizards. In 1989 Johnston, a former Celtic star from
Glasgow, became the first Catholic to sign with Rangers since
World War I. The response was ugly: Rangers fans burned their
team scarves and season tickets, while Celtic supporters,
claiming Johnston had betrayed his religion, sent him death
threats. Ten years later emotions still run high. Just check out
Johnston's official Web site, which invites users to leave a
message and "come harmoniously together in the guest book."
Harmoniously? Message 1, Celtic fan: "Mo you are still a c---,
but Celtic won the league and we didn't need a tosser like
you.... Stay in America you traitor scum and if you set foot in
Parkhead [Celtic Park] again I will tear your ugly ginger head
from your scrawney [sic] wee body!" Message 2, Rangers fan:
"Burn in hell you manky IRA loving tarriers!" Message 3, Celtic
fan: "Up the IRA! Mo is a Protestant-loving Judas."
What would happen if Johnston ever came to Glasgow's heavily
Catholic East End? "He'd be assaulted, and everyone here would
just laugh," says Peter Rooney, 60, who's sipping whiskey at
Bairds Bar, a tiny slice of Ireland, with its walls covered with
photos of Celtic greats, posters of John F. Kennedy and a
picture of Padraic Pearce, a famous IRA revolutionary. Rooney, a
retired railroad worker, has sold programs at Celtic Park for 52
years, and he estimates that he has witnessed 2,500 Celtic
matches, including every road game for the past five decades. He
certainly knows his symbols. Besides wearing a shirt by team
sponsor Umbro (Celtic supporters avoid wearing anything by
Rangers sponsor Nike), Rooney doesn't own a single piece of
clothing that is blue (not even jeans) or orange (for William of
Orange). White-haired and rheumy-eyed, he speaks freely and
smiles as often as he sips–until you ask him about Rangers. "It
all comes down to Catholics and Protestants," he growls as an
Irish jig thunders through the bar. "I hate them, and that won't
ever change."
To understand why, hop into a taxi and head to the Louden
Tavern, a Rangers shrine on Duke Street only 10 minutes from
Bairds. ("That's an unusual one," says the cabbie. "I've never
taken anyone from one to the other.") Bluer than a Caribbean
lagoon, the Louden is loaded with enough symbols to infuriate
any good Celtic fan. The outdoor sign bears the image of nine
trophies (one for each Rangers championship from 1989 to '97),
and inside, portraits of Rangers legends stare magisterially
from the walls. The response to Bairds' IRA revolutionary is a
painting of the Queen that guards the entrance. "The Old Firm?
It's the Jews against the Arabs times a hundred," says owner
Robert Marshall, an oak-necked man who encourages you to visit
the Highlander, an equally rabid Rangers pub in...Puerto Rico.
If you're looking for the personification of this rivalry,
though, your guy is seated in the corner. He's Paul Levery, a
30-year-old janitor who sports a gold earring, hair that's
barely beyond skinhead length and two meaty fists that have
pounded a few dozen Celtic fans in their day. Levery isn't one
for introspection about the opposition. "They're animals," he
says. "I hate everything they stand for, everything they believe
in. As soon as I see them, my blood starts boiling." Asked why,
he shrugs and says, "It's just the way I was brought up."
Glasgow's great paradox is that while the Old Firm breeds
contempt and violence on game days, the city hasn't been
targeted by the sectarian terrorism that has plagued other parts
of the United Kingdom. The continued tensions are all the more
baffling when you consider that 10 years after signing Johnston,
Rangers has more Catholics in its starting lineup than Celtic.
For its part, Celtic management launched a program called Bhoys
Against Bigotry three years ago to "promote religious and ethnic
harmony" at more than a hundred Glasgow schools. And those
Rangers portraits at the Louden Tavern? They're painted by a
Celtic season-ticket holder.
Yet somehow the animosity persists. As a result, Reyna has had to
adapt to more than just the breakneck pace of the Scottish game
and the demands of playing out of his normal attacking position
as a holding midfielder. Soon after he arrived in Glasgow, Reyna
met with teammate Derek McInnes for lunch at a downtown cafe,
where McInnes explained the history of the Old Firm as well as
which parts of town are safe for Rangers players and which are
best avoided. One of the instructions that Rangers give their
Catholic players, Reyna included, is not to cross themselves on
the field.
None of this, however, could have prepared Reyna for the surreal
events that unfolded during his first Old Firm match. In
hindsight, the circumstances of the game almost guaranteed
mayhem. For the first time in 334 Old Firm meetings, Rangers
could clinch the Scottish title on Celtic's home turf with a
win. Moreover, thanks to the 6 p.m. start for worldwide
television, fans in the East End had been drinking all day.
It made for a first half that Reyna would call the strangest of
his career. Soon after Rangers took a 1-0 lead, referee Hugh
Dallas ejected Celtic defender Stephane Mahe for dissent.
Enraged Celtic fans began tossing coins at Dallas until one
finally connected. On the restart, Dallas whistled a dubious
penalty kick: 2-0, Rangers. Four Celtic supporters stormed the
field before halftime, but the behavior of Rangers partisans was
scarcely any better. "Fenian scum!" they chanted, even as a
Catholic, Neil McCann, was scoring two of the team's goals.
Rangers may have won 3-0, but the soccer was not nearly as
memorable as the ugliness in the stands.
Still, the victory concluded a whirlwind three weeks for Reyna
in which he and his wife, Danielle, had their first child; he
moved from Wolfsburg, a lightly regarded German club, to one of
the most famous teams in Europe; and he won the first
championship of his pro career. He was 3,000 miles from his
hometown of Springfield, N.J., but if he looked closely, there
were still a few reminders of America. Among Rangers faithful
stood U.S. goalkeeper Brad Friedel, who had driven three hours
from Liverpool, where he plays, to lend moral support. As Reyna
celebrated with his teammates on the turf afterward, you could
make out, amid the supporters' sea of Union Jacks, a lone
American flag.
Celtic reaction was--how to say?--less positive. Outside the
stadium, a band of zealots would attack the Louden Tavern and
clash with Paul Levery and his buddies. There would be street
fighting in Gallowgate, a stabbing on London Road, 113 arrests
and more than 100 injuries.
But the epicenter of the hatred was inside Celtic Park. There a
six-year-old boy stood alone atop his chair after the match
ended and held his green scarf aloft, defiantly challenging the
enemy. Lime-clad supporters raced as close as they could to the
police DMZ, then hurled coins and obscenities at the small
pocket of joyous Rangers fans. In the south stand a woman draped
in green stared at the untoward scene and captured the moment
better than she probably realized.
"For god's sake," she said. "For god's sake."