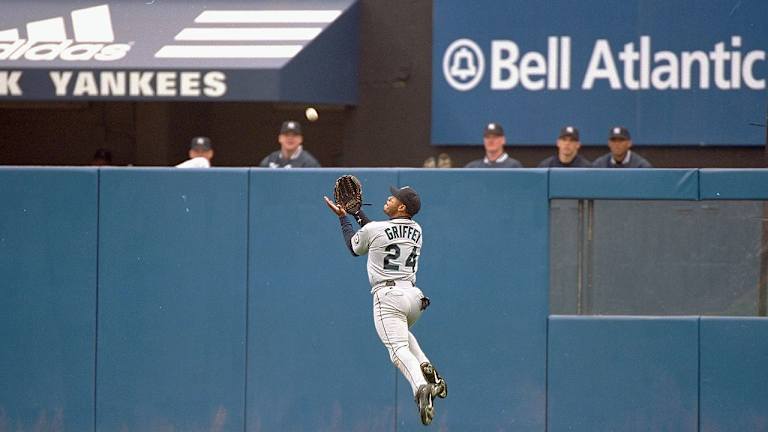 Joltin' Junior
Playing on Joe DiMaggio's home turf, Ken Griffey Jr., the game's most consistent slugger, matched the Clipper's lifetime home run mark
Ken Griffey Jr. was completely fooled. The greatest home run hitter, at his age, in the history of baseball didn't have a clue. A soft-throwing New York Yankees rookie reliever named Jay Tessmer made him look clueless. It wasn't Tessmer's pitches that fooled him, mind you. It was only the mention of the name Tessmer by a reporter last Saturday afternoon that twisted Griffey's mug into a brow-furrowed knot.
"Who?" Griffey asked.
Jay Tessmer.
"Who is that?"
Uh, it's the guy off whom you just hit your 361st home run, which gives you—even though you're still seven months shy of your 30th birthday—as many homers as Joe DiMaggio hit in his entire career. Jay Tessmer is the guy who made possible this wonderful convergence of Junior and Joltin' Joe at 46th on the alltime home run list, on the very grounds of DiMaggio's own heroics, Yankee Stadium. That Jay Tessmer.
"Who?" Griffey said again. "I told you, I don't watch baseball on television."
Tessmer was just another bug splattered on Griffey's windshield. The Seattle Mariners' centerfielder had no recollection of facing him before, though he did fly out twice against Tessmer last year in their only previous matchups. As he waited in the on-deck circle to face the Yankees' reliever in the sixth inning, Griffey exhibited more interest in the people in the stands behind his team's dugout than he did in studying the righthander's funky sidewinding delivery.
When his turn came to hit, Griffey looked at a strike on the inside corner. When Tessmer tried to sneak another pitch by in the same location, Griffey lashed into it with that short stride and long finish that is iambic poetry in motion--the hands flashing through, the body torquing off the back leg and the bat finishing majestically high. Number 361—equaling DiMaggio and 17 short of halfway to Hank Aaron's alltime record—sailed on a pretty if only modestly long arc into the rightfield seats.
"Is that right, Joe DiMaggio?" said Mariners rightfielder Jay Buhner in the Seattle clubhouse after what was a typically unkempt 14–5 Mariners victory. "I didn't know that. Nobody said anything. Of course, Junior didn't say anything. It's just another example of how he's taken for granted. I mean, he just keeps moving along, shattering all these records and moving past these famous names, and he's just smiling and having a good time and nobody notices. Mr. Consistency. That's him."
The home run was Griffey's 11th of the season, tying him for the major league lead and providing the only semblance of normalcy to the start of a home run race spiced by comebacks (Fred McGriff, Matt Williams) and breakthroughs (Fernando Tatis). In the early going, many of those usually in Griffey's company among the big boppers have been simply human (Mark McGwire, Sammy Sosa, Albert Belle, Greg Vaughn) or hurt (Barry Bonds, Alex Rodriguez). Last year Griffey hit the quietest 56 home runs in history. Only seven men have ever hit more in a season, but two did so in 1998. Griffey was a contented bit player in the Mac and Sammy Show.
"The only guys I care about are the other 24 guys on my team," Griffey says. "Nothing against Sammy and Mark, but that didn't concern me. They didn't help my team win a single ball game. That's all that matters to me."
If this keeps up, Griffey will be baseball's van Gogh, the abundance and beauty of his work underappreciated in its time. Well, people, it's time to stop and smell the sunflowers. Griffey is the most dependable player in baseball. "My dad taught me about the importance of consistency," Griffey says, referring to Ken Griffey Sr., who played 19 years in the big leagues. "He told me if you're consistent, you can last longer."
The father also armed his son with a low-maintenance lefthanded batting stroke designed to sustain consistency. If you do hit a snag, Senior reasoned, a short swing can be quickly corrected. That was apparent last week when the two of them shared a Mariners off day in the Reds' batting cage at Cinergy Field. After just two pitches, the first of which Junior didn't swing at, the father had identified his son's problem: He wasn't properly "separating" his arms and his legs during his stride to the ball.
"I've never seen him in a long slump," says Mariners designated hitter Edgar Martinez, a teammate for every one of Griffey Jr.'s 11 seasons. "He always finds a way to get out of it quickly. And that's because his swing is so consistent. His mechanics are so good."
Just how reliable is Griffey? Chew on these assorted nuggets:
• Griffey has come within a total of four dingers of winning every American League home run crown in his past five full seasons. He has finished first three times (1994, '97 and 98), second once ('93) and third once ('96). He missed most of 1995 with a broken wrist.
• He drove in 140 or more runs in each of the past three seasons. Babe Ruth and Lou Gehrig are the only other players to have accomplished that feat.
• His projected numbers for this year, based on Seattle's first 31 games, would add to his metronomic consistency since that fractured 1995 season: in hits (165, 185, 180 and a projected 162), home runs (49, 56, 56, 57), RBIs (140, 147, 146, 151) and runs (125, 125, 120, 131).
"What really sets him apart," says Seattle manager Lou Piniella, "is that he does it with his glove, too. He does it on both sides of the ball while playing a premium position."
On the day Griffey tied DiMaggio, for instance, "[the home run] wasn't even the most amazing thing he did," according to Buhner. In the seventh inning Griffey gracefully ran down a 400-foot fly ball off the bat of the Yankees' Paul O'Neill. Griffey snared it only steps from the left centerfield wall—just in front of DiMaggio's two-week-old granite memorial in Yankee Stadium's Monument Park. Picture Jerry Rice running a 50-yard post pattern without pads and with a wall waiting in his path. Ho hum: It was the third straight day Griffey had made a running catch near the wall with his back to the infield. Said Buhner afterward, "The ball went up and I said, 'No way.' What's amazing is that he was kind of gliding after it. He's unbelievable. He covers so much ground, it's sick."
Junior's achievements might get more notice if the man himself worked up more enthusiasm for them. He has been consistently uninterested in knowing and discussing his statistics throughout his career. He claimed, for instance, he had no idea that he had been approaching DiMaggio's home run total until a cameraman near the dugout informed him after the blast. (He must have forgotten a reporter's query about it only the day before.)
"Records don't drive me," Griffey says. "I'm going to do whatever I can to help the team. Plain and simple. It doesn't matter what numbers you put up, the most important ones are in the won-lost column."
Such a lack of self-indulgence is no surprise, coming from someone who still plays with the insouciance of a child in a pickup game. He doesn't bother stretching with the team before games, saying with his typical coyness, "Why should I stretch? Does a cheetah stretch before it chases its prey?" (In fact, teammates say he stretches a bit on his own.) He doesn't bother to catalog pitchers, as evidenced by his mano a manos with Mr. Tessmer. He doesn't exactly push his body with training. He denied that he had hired a personal trainer this year ("C'mon. Do I look like I have a trainer?" he said on Saturday) and ended his one experimentation with the popular muscle-building supplement creatine after only two days. "I got cramps," explains the 6'3", 205-pound Griffey. "Besides, I don't need it. I play centerfield. I've got to run all the time."
"Junior is looking in the stands, having fun, always jovial, while Mac is sweating bullets, intensely focused," says Seattle catcher Tom Lampkin, who played with McGwire in St. Louis last year. "But one thing stands out as being very similar. It seems like when there's a play that has to be made, they make it. Whether it's the big grand slam or the hit with the game on the line or the home run to tie the game, these guys do it time and time again."
Both Griffey and McGwire have to be considered as challengers to Aaron's major league record of 755 career home runs. Griffey has a head start like no one before him, having reached 350 home runs last season at a younger age—by nearly a full year—than anyone in history. The oft-injured McGwire took longer to get to 350, but if he hits 53 home runs this year, he'll have as many homers on his 35th birthday as Aaron did (510).
Griffey, naturally, won't bite on questions regarding his chances of catching Aaron. His manager, however, suggests that there is more of a competitive fire burning in his centerfielder than Griffey lets on. "If he's chasing Aaron, he'll keep playing," Piniella says. "That will keep him going." When asked if he intends to play as long as his father, Griffey answered, "Nineteen seasons? That's only eight more. That's nothing."
Griffey's best power years should still be forthcoming. Aaron's highest five-year home run output, for instance, occurred between his 35th and 40th birthdays. (He hit 203, or 15 fewer than Griffey hit in the past five seasons.) Griffey already fits into the baseball actuarial tables that show hitters gain power but lose points off their average as they age. After seven .300 seasons in his first nine years, Griffey hit .284 last year and this season was hitting .270 through Sunday. He has become such a pull hitter that several teams overshift their infielders on him. "He's pulling the ball more and more," Piniella says, "and it shows in his batting average now."
Griffey's run at Aaron's record might depend on whether he remains in Seattle. On July 15 the Mariners will move out of the climate-controlled Kingdome, where Griffey has hit 53% of his home runs, and into Safeco Field, an open-air stadium with a sliding roof. Privately, Mariners hitters are grumbling about the heavy, moist air that will dominate April, May and September games and the larger dimensions of the new park (326 down the rightfield line, versus 312 in the Kingdome). "It'll cost him 100 home runs if he stays," says one teammate.
"They asked us," Griffey says about the ballpark design, "but I don't know if they listened. They did what they wanted to."
Griffey and Rodriguez, the Seattle shortstop who could play Gehrig to Griffey's Ruth, will be eligible for free agency after next season. Seattle has engaged in preliminary talks about contract extensions for both, but without progress. Says Griffey, who is earning $8.5 million this season, "The Mariners panicked after Kevin Brown signed [for $105 million over seven years with the Dodgers], but I'm not making a decision until I have to. It's not about the money. It's about what's best for myself and my family."
Rodriguez, who could hit free agency at 25, seems the more likely to depart. "He's more of a big-city kind of guy," says one of his friends. Another friend says the Orioles, Dodgers and Mets are the early favorites to lure A-Rod. "I definitely don't want to sign here if Junior's not here," says Rodriguez.
Both players are waiting to see if Seattle will significantly improve over the next 17 months. The Mariners, 14-17 at week's end, have the worst pitching in baseball. (Through Sunday, the club's ERA was a major league high 6.34.) The staff includes seven youngsters with fewer than four years of combined major league service. The Seattle mound corps is so bad that it is a threat to break the the American League records for worst ERA and most hits and home runs allowed.
"We need an ace," Rodriguez says. "We need more guys who have been around awhile. I'm talking about getting a Curt Schilling. We don't scare anybody, not like when we had Randy Johnson."
Without a frontline pitcher, Griffey won't be able to improve on the one stat he'll readily talk about: World Series appearances—zero. Of the 45 players still ahead of him on the home run list, only seven never made it to the World Series (Ernie Banks, Rocky Colavito, Andre Dawson, Ralph Kiner, Dave Kingman, Dale Murphy and Billy Williams), and an eighth (Barry Bonds) has yet to do so. "I don't think you play this game for any other reason than to go to the World Series," he says. "I've thought about it since Little League, when you dream of hitting that home run in the ninth inning."
It is the one element of consistency he burns to eliminate from his game. Griffey keeps chasing it, gliding as he would under another impossibly long fly ball to the gap. Nothing ever seems out of his splendid grasp.