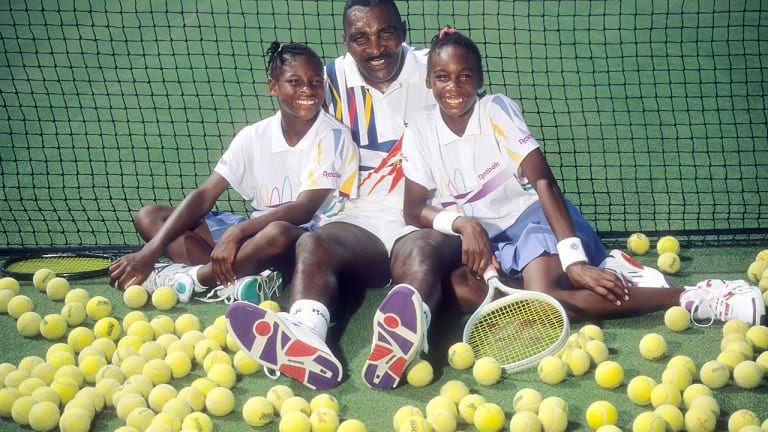 Who's Your Daddy?
Call Richard Williams what you want—bizarre, deceitful or, perhaps, mad—but be sure of one thing: He has brilliantly guided the careers and lives of his daughters Venus and Serena, the hottest players in tennis
The Hollywood producer has seen them come and go over the last 24 years: blowhards and egomaniacs and self-deluding hacks, wunderkinds and wondrous talents and a staggering parade of frauds. He has clashed with Oliver Stone, launched Julia Roberts, survived Barbra Streisand. The Hollywood producer reads people for a living. He has become very rich. He met Richard Williams—father, coach and manager of tennis stars Venus and Serena Williams—​​late in 1997, after having bought a big chunk of the Puma sneaker and apparel company and deciding to pursue an endorsement deal with Serena. The two men began to talk. Then they began to negotiate. The Hollywood producer had rarely been so confounded.
"You know when you meet somebody, and you think he's either insane or he's a genius?" says the producer, Arnon Milchan, founder of New Regency Productions. "But if he's insane, he's still fascinating, because you've never seen somebody so crazy in that way? You say, 'It's probably impossible, but this guy looks like he's in good faith.' What he's saying you've never heard before.
"He's saying, 'I knew. I was planning this before the girls were born.' That's like I would tell you that I knew Pretty Woman would exist before it was a script, and that it would be a great script, and I knew I was going to discover Julia Roberts, and she was going to be Number 1. In my world if I say those things, somebody will say, 'What mushrooms did Arnon take?'"
Forgive Milchan his discombobulation. It's 4:30 a.m., the
mid-May morning just beginning to break over the Mediterranean.
Milchan is staying in the French town of Antibes while attending
the 52nd Cannes International Film Festival, and he needs his
rest. Today two of his megabudget films premiere, Entrapment at
Cannes and William Shakespeare's A Midsummer Night's Dream in
the U.S. But jet lag and the recent screen tests Milchan
arranged for Venus and Serena have him babbling at high speed.
When he sat across his desk from Richard Dove Williams that day
a year and a half ago, Milchan faced a cotton picker's son who
had dropped out of high school at 16; raised his family in the
gangland jungle of Compton, Calif.; taught himself tennis; felt
beyond reason that his girls would be great at the sport; and
gambled plenty of money that he was right. Serena was ranked
99th in the world then, but Richard--against the advice of his
closest advisers--kept bending the bargaining away from a big
payment up front and toward huge incentive payoffs when, not if,
Serena cracked the Top 10, the Top 5, the top spot at last.
Milchan, a man who's estimated to be worth more than some movie< studios, didn't understand. How could this man have such confidence? What about the unknown? What about injuries? "Then you think, Wait a minute, where's the upside for him if he's lying?" Milchan says. "There's no upside. So there are only two possibilities: Either he's totally crazy--but that's impossible, because there's something totally sane and healthy about his family--or he knows something I don't."
Milchan has never found out all that Richard Williams knows. He
sees only what everyone else has seen this spring: After years
of hype and hope and controversy, Venus and Serena Williams have
become the hottest players--male or female--in tennis, an
unprecedented sister act that threatens to overwhelm the sport
with power, athleticism and in-your-face attitude. Already this
year 18-year-old Venus and 17-year-old Serena have met in a
historic final (at the Lipton Championships in Key Biscayne,
Fla., on March 28), won WTA tournaments on the same day (Venus
the IGA Superthrift Tennis Classic in Oklahoma City and Serena
the Open Gaz de France in Paris on Feb. 28) and, with six
tournament wins between them (four for fifth-ranked Venus and
two for No. 10 Serena), begun to crowd No. 1 Martina Hingis atop
the money list like a pair of bullies plotting to take her milk
money. "They're the strongest opponents on tour," Hingis says.
"I wasn't expecting them so fast, you know?" says 19th-ranked
Irina Spirlea, who infamously bumped Venus during a changeover
at the 1997 U.S. Open, beat Serena on the same court a year
later and was manhandled 6-2, 6-3 by Serena three weeks ago at
the Italian Open in Rome. "Sometimes I'm in awe. They have
something the others don't have."
And, boy, do they know it. Now that their braces have been
removed, Venus and Serena have taken off the gloves as well,
vowing to make the French Open and Wimbledon singles trophies
family property. Serena, who is in just her second year on
tour--and is still looking to advance past the fourth round in
the singles of a Grand Slam--blithely predicts that she will win
at the All-England Club in July. "I can see myself lifting that
plate for sure," she says. "I just can't see it not happening."
To which Venus, who has only been to one Slam final, at the 1997 U.S. Open, responds, "If she's going to take Wimbledon, I have to take the French. That's how I feel."
That both girls deliver such mind-bending pronouncements while
alternately giggling and glowering is part of their charm. "They
bring life to the game, a different dimension to the game," says
Bruce Schilling, director of U.S. sports marketing for Nike.
"Tennis is a finite world. They expand the boundaries, and that
is--uh, would have been--good for us."
Forgive Schilling his disappointment. Nike lost out to Puma in
the bidding for Serena 16 months ago--just as it lost out when
Reebok signed Venus in May 1995--but how was Schilling or anyone
else at Nike to know that a big sneaker deal wouldn't be mega
enough for Richard Williams? Richard is predicting that his
girls will be "bigger than Michael Jordan," and who better than
a movie mogul to set his crossover conquest in motion?
On April 15 Serena cracked the Top 10 for the first time,
tilting the deal Richard struck with Milchan in Serena's favor
to the tune of $2.5 million a year for the remainder of the
five-year contract. "Now we're paying a ton of money to Serena,
and we love it!" says Milchan, who also owns the WTA's
international television rights. Better yet, after Venus's and
Serena's screen tests last March, Milchan is convinced that the
Williamses "have the goods" to be multimedia stars, players in
movies or TV sitcoms. "The camera loves them," Milchan says,
"and the incredible thing is, they're not even 20 years old."
Yesterday's fool is driving 90 mph with no hands. His left thigh
is wedged under the steering wheel of the black Mercedes ML320,
and with the slightest nudge Richard Williams makes the SUV
glide from lane to lane. His large hands flutter about, juggling
two constantly chirping cellular phones and a rumpled green pack
of cigarillos. It's 8:20 on the morning of April 27, and the sun
is beginning to sizzle on I-95 outside Jupiter, Fla. Serena is
on one of the three courts back at the family house in Palm
Beach Gardens, practicing on clay. Venus and her mother,
Oracene, are in Hamburg for a tournament. Richard is rocketing
north to Fort Pierce to give what he calls a "motivational
speech" to administrators at an elementary school. He's 57 years
old. Even while he squints against the harsh light, his eyes
glitter like precious stones.
Richard begins reciting the family saga, worn smooth by years of
constant handling: How he met Oracene at a bus stop in Los
Angeles and loved "her big old gorgeous beautiful legs" and told
her right then and there that he wanted to marry her and have
five girls. How one day, after the first three
daughters--Yetunde, Isha and Lyndrea--were born, he saw Virginia
Ruzici receive a $30,000 check on television for winning a
tennis tournament, and he decided his next two kids would play
tennis. How Oracene resisted having more children, and he hid
her birth-control pills and wooed her with romantic dinners. How
Venus ran a 5:29 mile at eight years old and how Richard grew so
disgusted that year with the maniacal parents infesting junior
tennis that he tried to make Venus quit the game. "She used to
love it so much, I had to try to take the racket from her,"
Richard says, "but she wouldn't give it up. Right now we would
like her to retire at 22. I don't think she will."
Thirty seconds later he says, "When we got started in tennis, it
was to go out and make a lot of money. Believe me, we have made
tons, and I'll make even more."
A cell phone beeps. It's Richard Dove Williams III, 33, one of
his two sons from an earlier marriage. Richard III and his wife
are helping to run his father's various enterprises, including a
newly created charter bus service called Williams & Williams.
The son is calling about someone trying to drop off a car at the
Williamses' family compound. The father first commands his son
to donate the car to Goodwill and then changes his mind. "Go
back to the office and do whatever you were doing," he says.
"Have a good morning and thank you very much my son I love you
very much good morning."
Richard puts down the phone. He says that pro tennis is
detrimental to all families but that his is too strong to be
damaged by it. He says that Jim Pierce, the infamous father of
No. 8-ranked Mary Pierce, "is one of the best parents I have
ever known." He says you shouldn't ever blame race for your
troubles. He says that he's finished coaching his daughters: "If
Venus and Serena don't have enough sense to go out there and
teach themselves, that's their problem. I've done my job."
It's 8:50 a.m. A half-hour conversation with Richard Williams is
a fun house ride of contradiction, twisted logic, mangled
language and startling pronouncements delivered with an air more
suited to someone ordering breakfast. His verbal gyrations have
become part and parcel of his daughters' rise over the last
decade, the disconcerting kick on an already overpowering serve.
"I hope you win," he said to Arantxa Sanchez Vicario, then No. 2
in the world, before she played Venus in the latter's debut
tournament in 1994.
"A big tall white turkey," he called Spirlea after her collision
with Venus at the 1997 U.S. Open.
"I think Serena would kick her butt going and coming," Richard
said of Hingis last August, before Hingis crushed Serena 6-4, 6-1
in the Acura Classic in Manhattan Beach, Calif. "Sometimes he
should watch his mouth," Hingis said after the match.
He hit bizarre new heights at the 1999 Lipton, when Venus and
Serena became the first sisters to meet in a pro-level
tournament final in 115 years. Before, while and after his
daughters engaged in a curiously flat match—which Venus won 6-1, 4-6, 6-4—Richard put on a one-man sideshow, holding up
handprinted signs (I TOLD YOU SO!) in the stands and holding two
spectacularly jarring press conferences, one before and one
after the match, in which he declared: 1) Steffi Graf was his
favorite player; 2) he wasn't capitalizing as much as he could
on his daughters' success because he does so much work for "the
Chinese peoples and the Japanese peoples"; and 3) "As a matter
of fact, we thinking now about buying Rockefeller Center for
$3,900,000,000, so I don't have time to even think about tennis
no more."
Before the Lipton final Richard claimed that he creates three
businesses a year that he expects to be worth $10 million to $15
million each, though the specific names of these companies,
apart from the Williams & Williams charter bus service, remain a
mystery. He spoke of plans to publish comic books and said that
as a singer he could become good enough to "push" Michael
Jackson. After the match he said he had left the stands at one
point because he felt like crying, only to end up arguing with a
vendor because he had only $1.50 to spend on a $3 pretzel. His
hands shook as he spoke. "I actually feel like a fool," he said.
For a man described by his defenders as a loving father and
shrewd dealmaker and by his critics as controlling and
manipulative, this was the weirdest incarnation yet: Richard
Williams out of touch, benign and bumbling.
But those who know Richard best don't buy it. "Rockefeller
Center? I've heard a million things crazier than that," says
Rick Macci, who coached Venus and Serena from September 1991 to
July '95 at his Delray Beach, Fla., tennis academy. "He did an
interview when Venus first moved to the academy and told the
interviewer someone offered him $78 million for the rights to
the kids." Richard would call and say that the girls wouldn't be
around some weekend because 'we're going to the White House.' I
didn't know if he meant the white house down the road or the
real White House. When I'd tell him he throws a better curve
than Greg Maddux, he'd just say, 'I've got to keep everybody off
balance.'"
"There's a method to his madness," says Keven Davis, the
family's agent and legal adviser for the last 11 years.
"Everything he says is very well thought out and intends a
certain result. Ninety-nine times out of 100, he gets that
result. Don't ever underestimate Richard."
Don't ever take what he says completely at face value, either.
At the Lipton, Richard said that his daughter Isha, 25, "is
getting ready to graduate from law school," and "she's already
taking classes to become a surgeon." Isha, who was enrolled at
Howard as a senior last semester, says that she will enter
Georgetown Law next fall and that she's thinking about going on
to medical school afterward.
At the Lipton, Richard also spoke of a psychiatrist named
Michael J. Goldstein, who had advised Venus and Serena to limit
the number of tournaments they both would play in. But more
recently Richard, who receives a salary for coaching and
managing his daughters and also claims to make a living lending
money, buying and selling property, and developing businesses,
said, "Dr. Michael J. Goldstein, Rubenstein and Weinstein are in
charge of collecting [raising] money from the Jews for me."
In 1991 Richard told SI that his Compton security firm, Samson
Security, employed six people. Today he says that Samson, which
closed in '92, had 55 employees at its peak.
None of these inconsistencies bother Richard. "The key to success is looking at something you want and dreaming it's yours," he says. "People used to look at me and say, 'That man can lie.' My wife used to say to me, 'What's your problem? Why do you lie so much?' Because when people would see me, I'd say, 'I'm a millionaire.' They'd say, 'Man, you live in that raggedy old house.' I'd say, 'So what? Didn't you know millionaires live in raggedy houses? You ever been in Beverly Hills? I own every house and every car down there.' Today I do own a home in Beverly Hills, I own a home in Brentwood."
Such flakiness, of course, doesn't put Richard in the first rank
of obliviously overbearing tennis parents such as Pierce,
Stefano Capriati and Marinko Lucic. When it comes to the
development of Venus and Serena as players and people, in fact,
Richard has been unerring. In 1991, against the advice of tennis
experts, Richard, who had learned to play in part by watching
instructional videos, pulled both daughters off the Southern
California junior tennis circuit. He moved the family to Florida
and enrolled Venus and Serena in Macci's academy, and, while he
deftly worked a homemade hype machine, he and Oracene demanded
that the girls expend as much energy on education as they did on
practice. "Richard and I had ups and downs over a lot of
things," says Macci, who had a long-running dispute with
Williams over unpaid coaching fees until they reached a
settlement in December 1997, "but he's always been an incredible
father to those two girls. If he'd wanted more money, he
could've had them playing more. But I can remember 50 times when
he called off practice because Venus's grades were down. They'd
be in my office studying French, and I'd be saying, 'Hey, we've
got to work.'"
The result: Besides reaching the Top 10 in tennis, Venus and
Serena maintained 3.0-plus averages at The Driftwood Academy, an
accredited 30-student private high school in Lake Park, Fla.
According to Driftwood founder and administrator Sandra
MacManus, Venus graduated in January 1998 and Serena the
following August. Both are now mulling over going to college and
seize every opportunity to show off their knowledge. They write
and edit a newsletter called The Tennis Monthly Recap, which
they distribute in the players' lounge during tournaments and
also offer to subscribers. Venus studies French and German and
wants to learn Italian. She raves about her "ramified"
interests, writes poetry and wants to work in fashion design.
Serena has learned some Russian from her mixed doubles partner,
Max Mirnyi, and after winning her first tournament, in Paris in
February, she gave a short acceptance speech in French. Then she
fielded a few questions in French in the postmatch press
conference. The point isn't that the Williams sisters are
intellectuals but that they're fearless to the point of
arrogance. During her U.S. Open debut last year, Serena tussled
with a roomful of journalists over the origin of the word
ghetto. Confronted by the fact that her explanation was off by a
couple of hundred years, Serena said, "You have your
information, and I have mine." If they don't like a particular
question, they'll glare at the questioner until the topic dies.
"My kids were brought up working," Richard says. "Every kid in
the house was working at two years old; Venus and Serena were
delivering phone books. I taught my kids to be very, very
independent. My wife would get upset about it, but I didn't care
who got upset. One day that kid would have to be on her own."
Richard grew up in the Cedar Grove section of Shreveport, La.,
the oldest son of Julia Mae Williams, a single mother of five
who picked cotton, whipped him when he was disobedient, harped
on his potential for greatness and insisted that he solve
problems on his own. He says he saw no reason to raise his
daughters any differently.
He nudges the Mercedes onto an exit ramp, realizes he's early
for his meeting and begins cruising slowly down a shabby stretch
of Orange Avenue. He pulls into a car wash and steps out in his
bare feet, walking for a while on the asphalt with a cell phone
to his ear. An attendant cranks up the pressure hose and begins
spraying water and soap over the mammoth likenesses of Venus and
Serena stuck on the sides of the SUV. After a few moments
Richard tugs on a pair of Reeboks. Then he leans into the
Mercedes and begins fiddling with the dials on the stereo. He
turns the volume up and smiles. The interior of the vehicle
fills with sound: a manic organ, a crew of backup vocalists, a
man reciting. It's Richard.
Being misunderstood never bothered me none. I grew up my whole
life that way. So to what people think and say about me and my
wife and my daughters, my methods, my views and my statements:
It really don't bother me none. (Bother me none!) ...
People often ask me (How did I think!) how did I think that I
could be (Think that I could be!) the mental force behind two
winning female tennis stars? Even though I had no real exposure
to the game? The answer to that: I didn't think I could do
anything. I could help my daughters. I didn't think I could help
them. I didn't think I could make them something special: I knew
I could make them. I knew I could help my daughters be
successful. (I knew.) ...
Now, I see some of you shaking your heads (Shaking your heads!),
getting ready to call me ignorant son of a you-know-what. (Son of
a what?) And I might say I do sound cocky. But I say it because
if you believe in yourself, it can happen. (It can happen!)
Richard Williams. (Richard Williams!) Richard Williams.
The organ fades. When asked the name of his keyboard player,
Richard jabs a thumb into his chest. "I bought it at Circuit
City," he says.
The next morning Richard is on the family clay court, brushing
the white lines, picking up loose balls like any tennis coach.
He's less talkative today, seems smaller, as if dwarfed by the
expanse of his own success. With a front lawn broad enough to
accommodate a circus, the Williams place sits in a clearing on
21 acres of leafy isolation. The house is roomy, white and
simple. A big, half-empty pond stretches across the lawn. Serena
walks toward the court slowly, past placards reading SERENA YOU
MUST LEARN TO LISTEN and VENUS WHEN YOU FAIL YOU FAIL ALONE and
SERENA YOU MUST USE MORE TOPSPIN ON BALL. She warms up her
serving motion by hurling into the air broken rackets taken one
by one from a massive pile by the side of the court.
Richard sets an orange cone in the deuce service court. For a
couple of minutes Serena serves ball after ball, but none touch
the cone. Richard approaches Serena and stands silently no more
than four feet from her. He folds his hands. Serena tosses,
stretches and serves the ball, her racket whistling past
Richard's face. He doesn't flinch. The ball hits the cone. She
hits another. The ball hits the cone. "Five more," he says.
Serena finishes, walks over to the table and chairs at courtside
and files her nails. After two minutes she walks back on the
court, throws a few balls over the net, serves a few lefthanded,
rallies for 10 minutes with Richard. He slaps most of his shots
wide, some into the net, a few on target. "Keep your old ass
down," he mumbles to himself. "You're not looking at it." Serena
hammers a few lax forehands, and Richard abruptly stops,
approaches the net and says, chuckling, "Come here." Serena
trudges up, and Richard hugs her, and they kiss lightly on the
lips. "I love you," he says, and just like that, the session ends.
Oracene says that Richard and Serena are very much alike, both
more outgoing and verbal than Venus. For years Richard has
proclaimed that Serena will be the better player of the two, and
people may soon have to admit he was right about that, too. No
one has ever risen as fast through the WTA ranks--from 453 to
the Top 20--than Serena did in her first eight months on tour,
beginning in October 1997, and she hasn't slackened the pace.
After she won a season-best 16 straight matches this year,
beating Grand Slam queens Graf, Hingis, Monica Seles and Lindsay
Davenport in the process, everyone from Mary Pierce to Anna
Kournikova to Venus agreed that of the two sisters, Serena plays
with greater variety and ease. "I think Serena has more clean
shots than her sister," says Spirlea. "She hits the ball harder.
She can mix it easier than Venus. She can be Number 1."
Plus Serena benefits from the motivation of both love and
revenge. Venus can take or leave tennis anytime, Oracene says,
but Serena adores the game and "she's meaner. Venus is more
controlled. Serena can be very calculating if you do anything to
her. She won't forget it. She'll pop you." Serena learned early:
Somebody always pays. Once, when she was much younger and
driving in the car with her father, Richard was lecturing her on
the virtues of admitting when you commit a wrong. So Serena
confessed, "Remember, Daddy, when you lost your dentures last
week? I threw them away." Richard says he drove to the next
stoplight, "got out and whipped her ass."
Asked what she likes best about the game, Serena doesn't
hesitate: "Winning. I like going out and beating up on people. I
get joy out of that. I really do."
Serena says she is "destined" to be a champion. During that
12-hour negotiating session between Milchan and Richard, Serena
put her head down on the desk and fell asleep. But when Milchan
asked Richard how he could be so sure of her greatness, Serena
bolted upright and snapped, "Do you have any doubt I'll be in
the top five?"
Venus is the only opponent she hasn't solved. Serena hasn't
beaten her in three matches on the tour, and their relatives as
well as other players agree that Serena is still intimidated by
the family pecking order. She also says that whenever she
envisions winning a Grand Slam title, the only opponent she can
conjure up is Venus. Serena also says she's happy that, for the
most part, they aren't playing the same tournaments. "I've never
lost to anyone three times in a row, not even the Number 1
player in the world," Serena says, sounding dumbfounded. "I have
to realize I can win."
It has been 20 minutes already, and still only one man in the
room knows why he's here. The other nine people gathered around
the table--teachers and administrators at Fort Pierce's Garden
City Technology Elementary Magnet School and local community
leaders--have been staring politely at Richard Williams as he
has rambled from subject to subject, from his new bus company to
Jewish-owned TV stations to computers to the educational and
anticrime programs he has supported with time and money in
Haines City, Fla., and Pahokee, Fla., from the values of "white
peoples" to the making of TV commercials to Venus's and Serena's
future careers in modeling. His hosts were expecting something
different--a chance for the school's students to meet Serena and
a commitment from Richard to finance an outreach program for
kids in Fort Pierce--and when Richard says something about the
importance of making a plan, the principal of Garden City
Elementary, Dr. Martha Rahming, grabs her opening.
"So...as far as Garden City is concerned--that's where my heart
is--are we, ah, talking about developing a plan with you?" she
says.
"My plan is so huge, I don't even know if I can do it," Richard
says. "My plan would be to take a small church and make that
church bigger than any church in the U.S. To do all that, you
have to have the involvement of a school and a lot of peoples
involved. You have to have major media. I love to have the media
bash me. You know why? You do something good and save someone's
life, no one cares. But all of us saw the news last week in
Colorado--and why, do you know? Because it was bad news. You
want to be famous? Get you some bad news."
Someone comes in to tell Richard his SUV is blocking the
driveway. When he leaves the room, a community representative
says, "We've got to tone him down and get him to what he's going
to do for this county."
Rahming blows out a mouthful of air. Another woman looks up from
her handwritten notes and says, "I'd like him to come to the
point."
They don't know: Richard Williams can't be rushed. When, in
1994, the 14-year old Venus was a week away from making her
long-awaited debut in a pro tournament in Oakland, Macci urged
Richard to allow him to crank up the intensity of her practices.
Richard agreed but then called Macci the next day to announce
that he was taking the family for a weeklong trip to Disney World.
Meanwhile Davis, Richard's legal adviser, urged him to sign a
sneaker deal before the tournament, in case Venus's debut was a
disaster. "But Richard said he wasn't going to do anything right
then," Davis says. "I thought he was taking a serious gamble. He
proved us all wrong." Venus won her first match and pushed
Sanchez Vicario to three sets in her second. As soon as the
tournament ended, Richard began entertaining offers from shoe
companies entranced by Venus's showing. Seven months later she
signed a five-year deal with Reebok worth a reported $12
million, unheard-of numbers for a player with her limited
experience.
There are, Richard says, many prominent as well as obscure
charities in which he has taken an interest as his daughters'
income has increased. Over the past two years he has directed
nearly $60,000 to a family developmental center in Pahokee
called Concerned Youth for Community Improvement (CYCI). "They
kept us alive; they kept feeding us," says CYCI founder the
Reverend Patricia Wallace of the Williams family. Richard says
he and his daughters also help finance the Venus and Serena
Williams Tutorial/Tennis Academy in South Central Los Angeles
and other educational programs in Winston-Salem, N.C., and West
Dallas, Texas. He adds that in the past week alone, Serena has
"donated" $110,000 to his charity efforts, and Venus has
"donated" $115,000. But pinning down Richard on the specifics is
no easier for potential beneficiaries of his largesse than it is
for tennis officials, journalists and his own advisers.
"So," Rahming interrupts again, "when are you going to know the
plan? When are you going to know if it comes together?"
Richard hedges. "I don't know if it's going to work," he says.
"I don't want to promise anything.... I'm so very busy."
Recently Rahming talked to a woman in Richard's office and was
told that Richard would set up something for Fort Pierce by the
end of the school year.
Driving home, Richard stops for gas. The front page of The Palm
Beach Post features a story on his new bus company, complete
with a color picture of him. Richard buys three copies. "Most
people don't know nothing about me 'cause when I'm talking I
always talk like I'm stupid," he says. "I prefer people to think
I'm stupid."
Big day for the Williams family. It's May 6, and Venus and
Serena are in Rome for the Italian Open, playing in the same
tournament for the first time since their Lipton final. Venus
has just trampled Kournikova 6-2, 6-2, reducing her opponent's
usual haughtiness to meek confusion. "She's all arms and legs,"
Kournikova says. "She was always a step faster than me."
"Serena!" Venus shouts from 50 feet away. She's coming down the
narrow hallway under the Foro Italico, and Serena's eyes widen
as she waits with her mother and sister Isha. Venus rushes up,
kisses Oracene on the cheek, and she and Serena lean together
and rush off, arms, hips, sides bumping in a giggly tangle. The
sisters' tight bond has been depicted as twinlike and rudely
exclusionary, and they make no apologies. "We're the same
people," Serena says. "We have two separate hearts," Venus says.
"At least I think so." When Venus traveled to Hamburg without
Serena before the Italian Open, she fell quiet and calm. The
moment she arrived in Rome, though, "I was just out of control,"
she says. "When we get together, I just get, I don't know, crazy."
Oracene trudges down the hallway, saying little and watching
all. Because Richard is staying home all spring and summer,
Oracene, who also learned the game from Richard, is serving as
the sisters' coach, butting into their practice sessions against
a male hitting partner with a soft word, sitting through all the
matches. Oracene is the family's quiet authority. She balances
Richard's bombast with her strong faith (Richard is the only
non-Jehovah's Witness in the Williams household) and clear-eyed
judgment. After Richard complicated Venus's run at the 1997 U.S.
Open with his inflammatory comments about Spirlea, Oracene told
him he had been wrong to spout off. "He didn't say anything, but
he hears me," Oracene says. Richard publicly apologized for his
remarks.
Oracene never wanted to live in Compton. A graduate of Eastern
Michigan with a degree in education, she had dreams of being an
R&B singer. Then she started having children; thereafter, she
says, "my life ended." She worked as a private-duty nurse and
refused to let the failure of so many others in Compton affect
her daughters. "I never had the ghetto frame of mind," Oracene
says. "When I first moved there I hated it. Where I was raised,
we had trees and a house. It was nice. I was ashamed to say I
lived in Compton. After a while I got used to it. But my mind
was never in Compton. If my daughters said they couldn't do
anything, I'd say, 'Yes, you can. You can do anything you want.
Nothing is unattainable.'"
They all believed her, then and now. The oldest daughter,
Yetunde, 26, works as an intensive-care nurse in Southern
California. Isha says she plans to get an M.B.A. along with her
law degree at Georgetown and then perhaps go on to medical
school. Lyndrea, 21, is majoring in computer science and
international business at Howard. "I was never comfortable,"
says Isha. "My family was never comfortable. We're not
comfortable now. We're always seeking ways to push ourselves."
Of course, in tennis, positive thinking only takes you so far;
eventually everybody must lose. This is the concept Venus and
Serena have found most difficult to swallow. Last year's
Wimbledon was a family debacle. After falling behind 7-5, 4-1 to
Virginia Ruano-Pascual in a third-round match, Serena abruptly
pulled up lame with a calf injury and retired, neglecting to
shake Ruano-Pascual's hand. She showed no sign of injury,
however, in winning the Wimbledon mixed-doubles title with
Mirnyi. "I read later that she was so hurt," says Davenport.
"She was getting her ass kicked. I thought she was a complete
wimp about it. I played her [two days later] in mixed, and she
was jumping for lobs."
Then Venus lost her composure after a series of line calls went
against her in a quarterfinal match against eventual champion
Jana Novotna. Venus had been pressing Novotna to her limit, but
after a couple of adverse line calls she started to fall apart.
"Why is this happening?" she cried. Venus cracked again at the
1999 Australian Open. In a quarterfinal match against Davenport,
she was assessed an unprecedented--but legitimate--point penalty
after some beads fell from her hair and bounded about the court.
"This has never happened to me before," Venus told chair umpire
Denis Overberg. She didn't win another game in the match.
"There's no question Venus is going to be a great player,"
Davenport says, but it's also clear that she and Serena have yet
to demonstrate poise under pressure on the sport's grandest
stages. Oracene refuses, however, even to consider the matter.
"There's no such thing as pressure," she says. "As black
Americans, that's all we've ever had. It's life. So where's the
pressure?"
She's sitting in an overstuffed chair in the lobby of a posh
hotel overlooking Rome. The issue of race, of course, would be a
subtext for the Williamses even if no one ever spoke of it. No
important black tennis player--not Althea Gibson, Arthur Ashe,
Zina Garrison or Mal Washington--ever carried himself or herself
with the casual sense of entitlement that envelops Venus and
Serena. "Most of all, we do our own thing," Venus says. "We do
what we want. We're very different from everyone else, because
we think differently."
Oracene keeps track. She notices whenever people take her
daughters to task for cockiness. "It's like, Squish them down,
they can't have that confidence!" Oracene says. "I teach my kids
to live in reality: You're black, you always have to work
harder--but you don't have to prove yourself to anybody. I don't
expect you to, and I don't expect you to apologize. Ever."
Abruptly Oracene breaks into a wide smile. Her face shines in
the soft lobby light. "It's like the Bible says: If someone is
talking bad about you, be happy," she says. "I schooled the
girls on the nigger issue. I said, You might get called that,
and if you do, just say, 'Thank you!' I love it. You know, I am
so sick of people saying the n word. Forget it. 'It's what you
are! Say it! Go on!' Eventually when they see it doesn't bother
you, they'll leave it alone. I can't wait for someone to say it.
I've been planning on it."
Here's what it's like to be 18 years old and delighted with
being alive. Venus pulls up in a shiny new Porsche coupe and
sits down smiling at a sheltered picnic table in a park near the
Williamses' house. It's just two days since her dominating win
over Pierce in the Italian Open final--her second tour victory
on clay in two weeks--and she's feeling quite sure that her time
has come. "I'm trying to think of whom I should lose to and
why," Venus says, "and I can't think of any reasons why I should."